Adata is a manufacturer of RAM and storage, it is its core business. But like all other manufacturers, the opportunity to enter new markets is always good to take. Because it allows you to find new outlets for your own products and because the amount of work required to get started is almost zero today.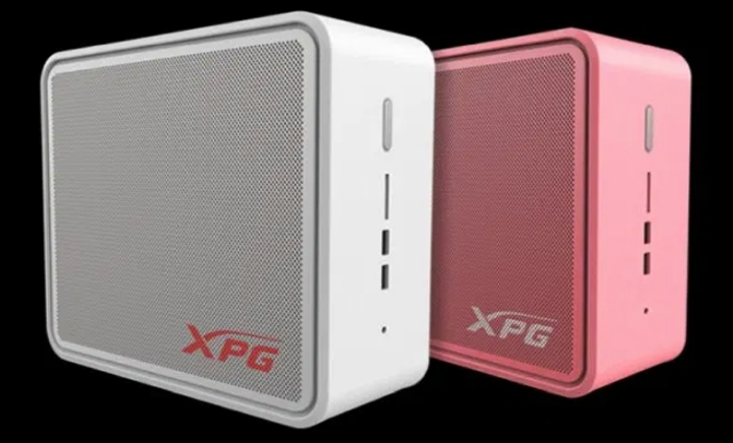 Thus Adata will announce at CES in January its first gaming laptop, a pro screen and a mini-machine: The XPG Gaia MiniPC. For these three elements, the brand was content with 3 things not very complicated. Draw up specifications that it sent to a third-party manufacturer by drawing from its option catalog, sent files containing its logos so that the manufacturer could affix them to the chassis and … made a bank transfer. Building a laptop today is mostly a big money deal. Manufacturers are able to offer you machines of all ranges by responding to your calls for tenders. The larger your order, the less your laptop will cost you. If you also provide RAM and storage, as Adata can do.
Adata therefore announces the XPG Gaia MiniPC, a device that looks very much like what Intel will offer shortly with the NUC Ghost Canyon, the first MiniPCs of the brand to use the The Element solution.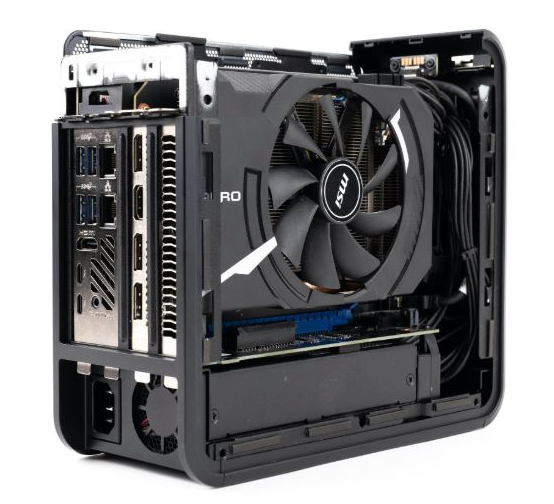 I will try to be clear because these names and other code names do not help us navigate. Intel has been building NUCs for years, this designation means Next Unit of Computing and grouped together at the beginning only MiniPCs less than 13 cm wide. It has gradually evolved to launch more complete machines with Hades Canyon type machines which have explored other formats. And not long ago, Intel even started to build laptops under the name NUC in OEM for other brands . The format has therefore constantly evolved and the manufacturer is constantly exploring new avenues for its MiniPC format.
The brand recently announced The Element, which is nothing more than an evolution of the motherboard format. It is not a card that is laid out flat at the bottom of a case, but a fully integrated and upgradeable PC mounted on a daughter card. With The Element, Intel wants the owner of a PC to be able to change the processor by removing a single screw. The brand also wants that from the same chassis we can move from a standard PC to a gaming solution or a workstation.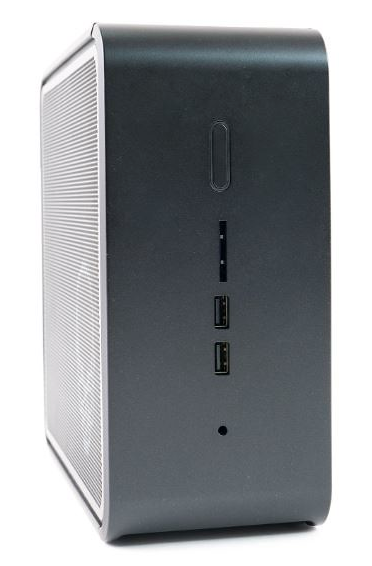 From this concept, Intel already provides two solutions: Quartz Canyon which is none other than a MiniPC equipped with a The Element card under Intel Xeon and intended for the workstation market. And Ghost Canyon, a version intended for the game which should be launched very soon with three already known models. The NUC Ghost Canyon X NUC9i9QNX under Core i9 9980HK, the NUC Ghost Canyon X NUC9i9QNX under Core i7-9750H and another unknown reference under Core i5-9300H.
I strongly suspect that the Adata XPG Gaia is nothing other than a MiniPC Ghost Canyon or one of its derivatives offered by Intel. It could be a Quartz Canyon also since the formats are very close but I do not see Adata advancing on the market for Xeon machines. Potential buyers will not be particularly seduced by the brand. The high-end consumer machine market is more buoyant for the brand and it will be able to integrate its own memory and storage products without worries.
The chassis of the two machines is at first sight very similar in format. Same connection layout on the front and identical design of the box. On the side an XPG logo appeared but apart from that, the devices are clones. We can therefore expect a machine completely identical to that of Intel which is transformed here into pure and hard OEM manufacturer. The little message signaling that this is a collaboration between Intel and Adata finishes convincing me as we can see below.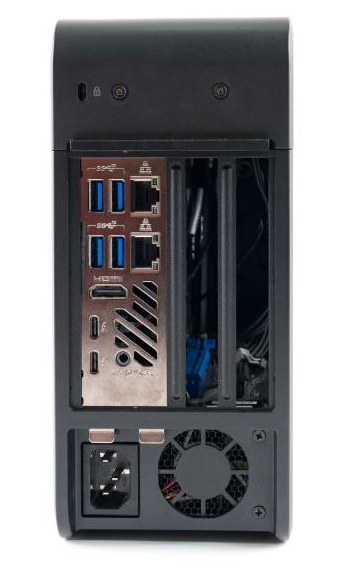 The components should therefore be the same and the listing above, which describes the MiniPC Ghost Canyon, is likely to be identical in the Adata machine: A processor that can mount up to 64 GB of DDR4, three slots M.2 with the possibility of integrating an Optane solution, an Intel 45 Watts processor, a Wifi 6… all in a 5 liter format. But that's not all, Adata also plans to launch a laptop so and I would bet my shirt that this is also an Intel NUC. A probable NUC QC71B or a derivative of it as it did for Eluktronics.
Devices like marketing are indeed very similar. We find the same front face with a long colored LED bar, a LED backlit keyboard and the same 15.6 inch format very oriented Gaming. The Intel logo associated with the brand highlighted, separated by a thin bar above the little phrase A design collaboration also show a marketing approach that must come from the founder. The characteristics of this Gaming PC must therefore be close to or completely identical to the Eluktronics MAG-15 solution. Adata also announces a 27 inch screen and will launch a whole new range of classic products at CES 2020: RAM and storage in addition to headsets and mice. History of having a complete PC solution.