In recent years, the haze has been coming, and the people's concern for air quality issues has been increasing. Although we can not change the outdoor air quality, but we are doing our best to provide a good air environment at home, so the air purifier has become one of the necessary equipment.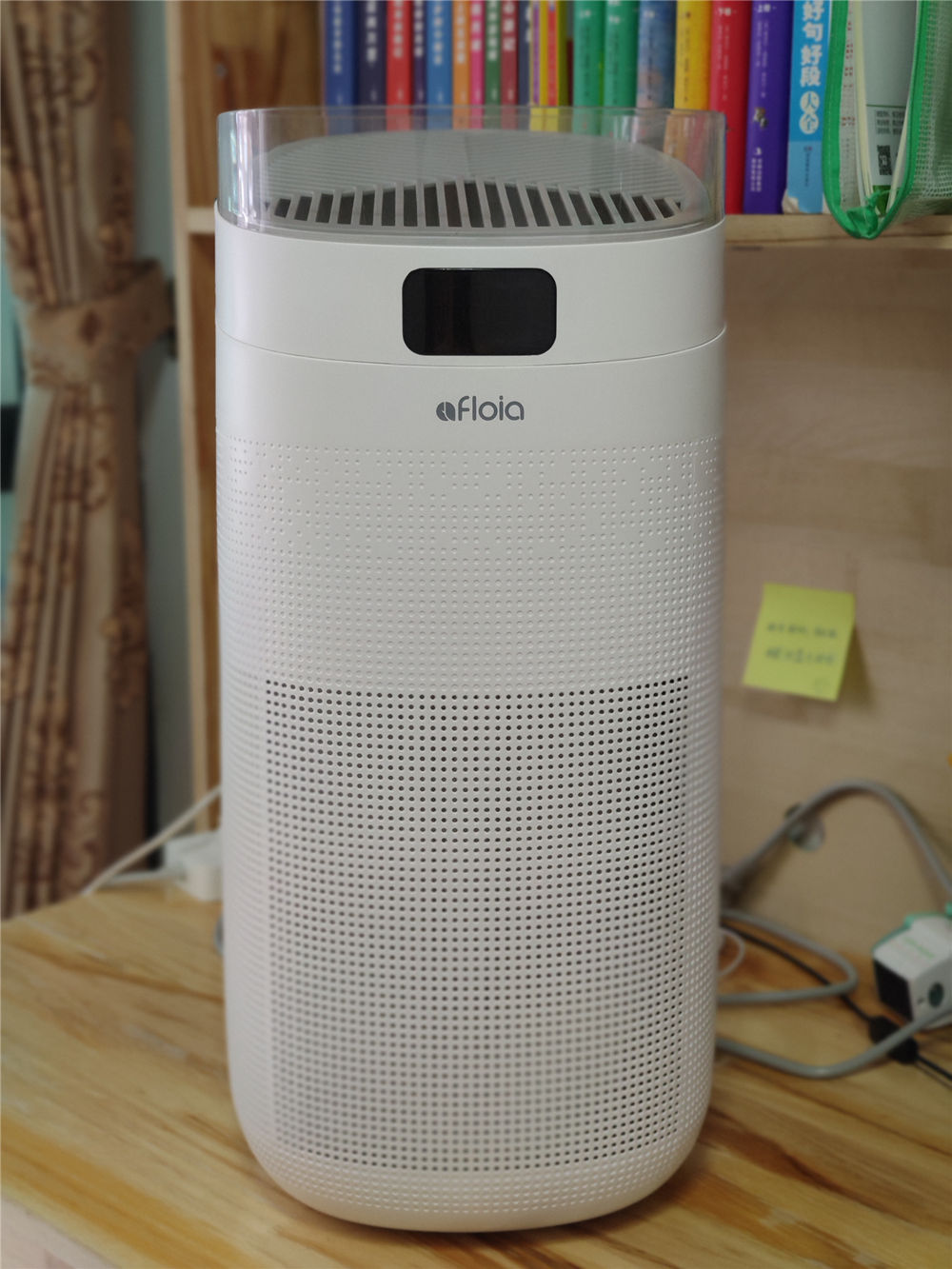 Throughout the market today, there are actually a lot of air purifier devices that have emerged. And with the constant updating of manufacturers' products, air purifiers can not only effectively prevent haze, but also purify the air of particles, bacteria and formaldehyde and other harmful substances to provide a comfortable environment at home. However, for the ordinary people, in the face of a wide range of products and prices vary, the choice is quite tangled.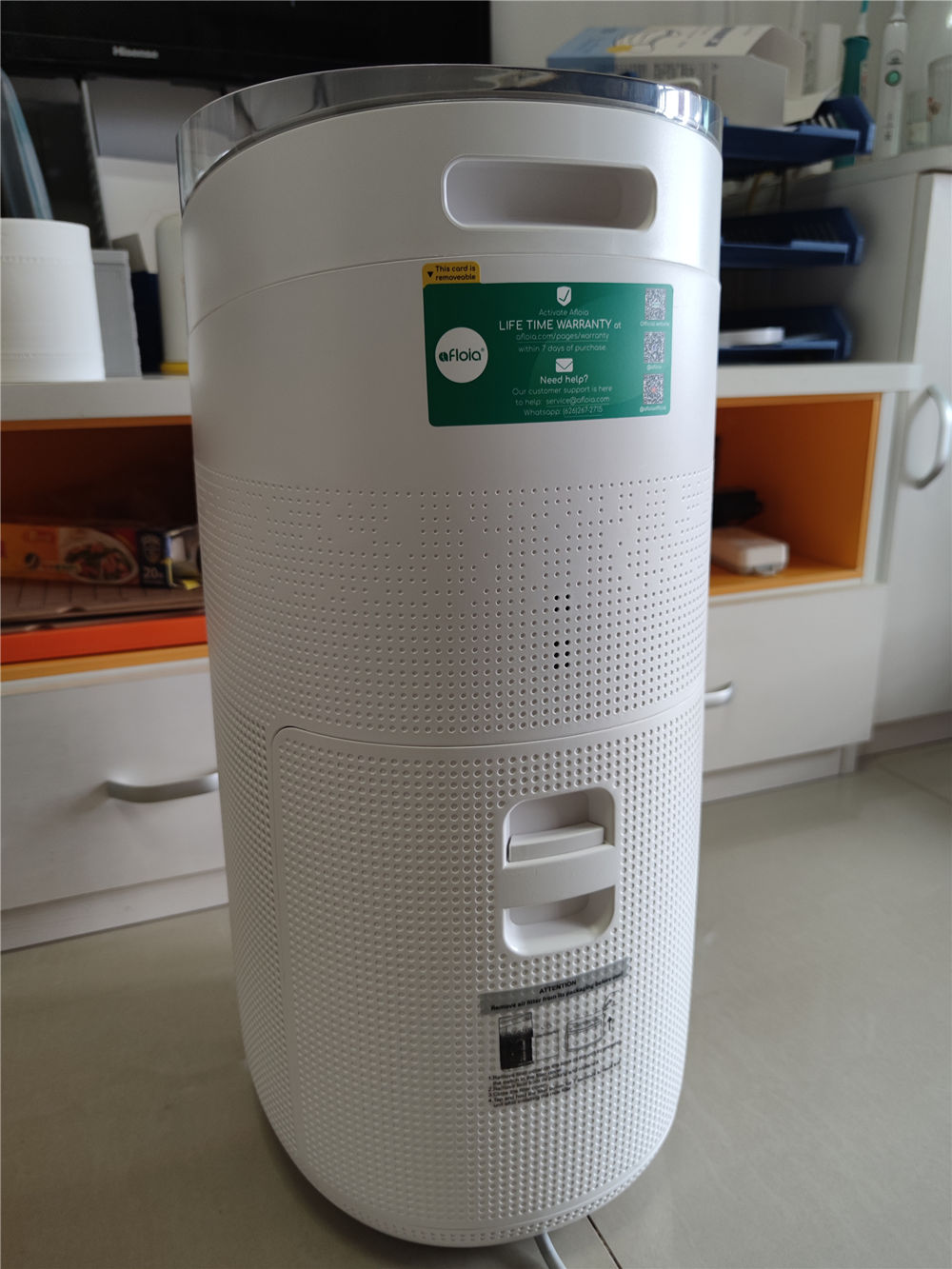 Recently, Afloia updated its air purifier products, launched particle filtration, ultraviolet disinfection, odor removal, net haze 4 effects in 1 air purifier H13. then follow me to see how the actual use of this air purifier effect.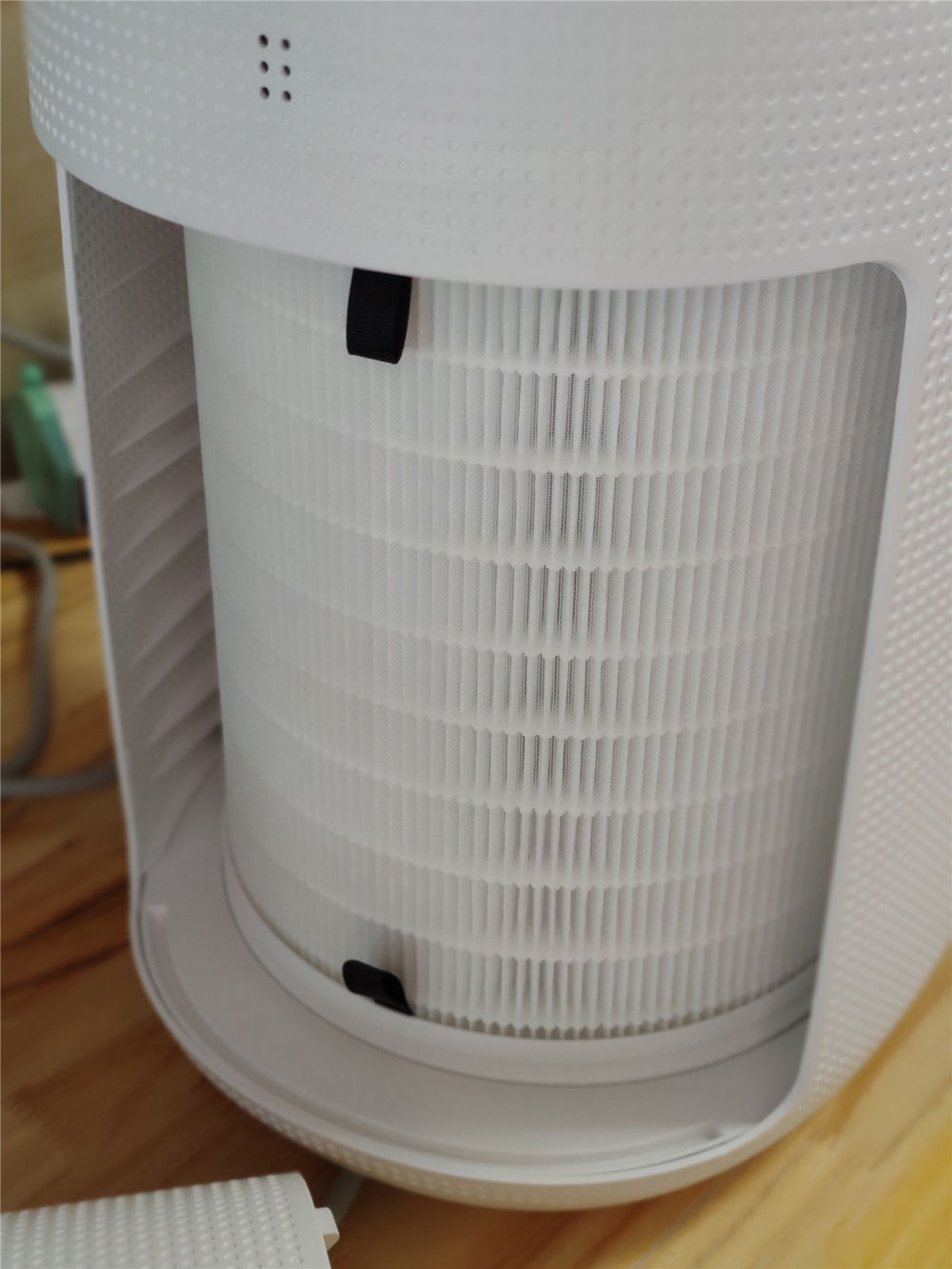 Design: simple and elegant, versatile style
Nowadays, with the gradual popularity of air purifiers, they have basically become a necessary electrical device at home, so manufacturers also pay great attention to the appearance of the product design, so as to achieve a harmonious match with the furniture. When it comes to Mijia's products, the simple design style has become a signature feature, and Afloia H13 is no exception.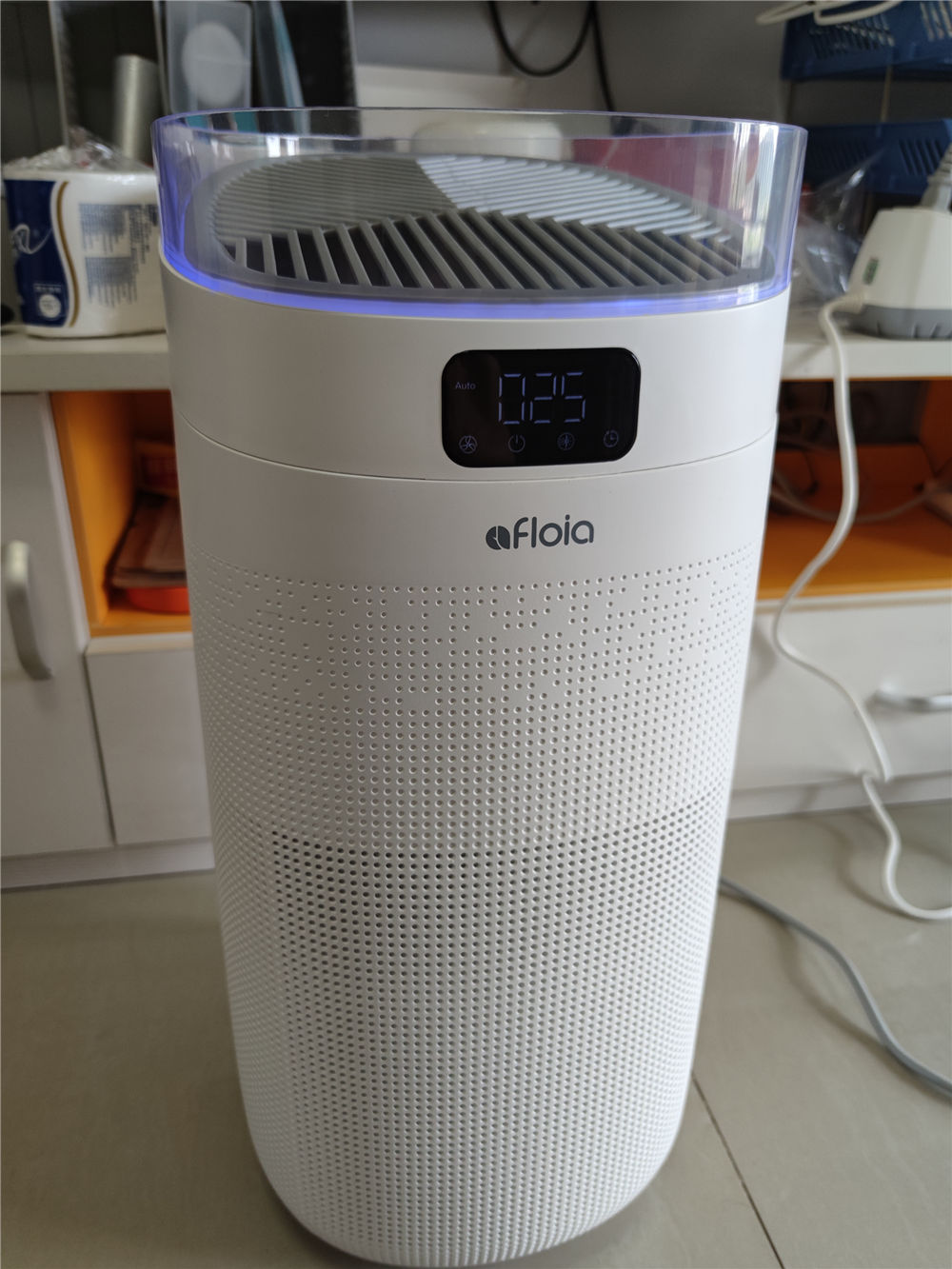 The Afloia H13 air purifier is still in pure white color, which brings a very simple and elegant temperament. With the cylindrical shape, it is durable and can also be integrated into various decoration styles, and is a versatile type. It is worth mentioning that the body of this air purifier has been curved around to maintain a sense of three-dimensionality without looking too rigid, so it will look more intimate when placed in the home.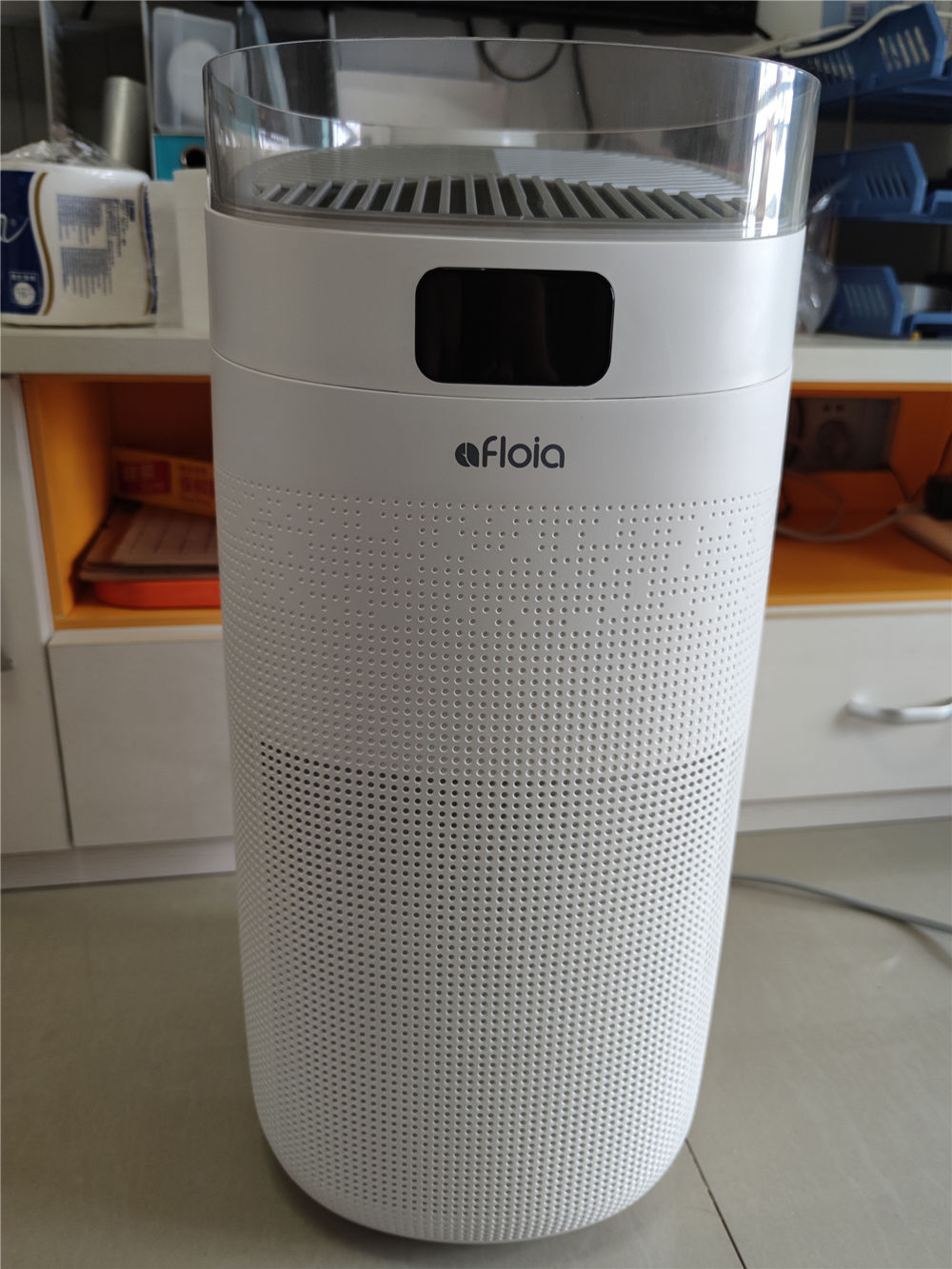 The overall size of the unit is 12 x 11 x 23 inches, making it compact enough to fit in even small rooms. It also weighs about 11.73 pounds, so it doesn't take much effort to move it around.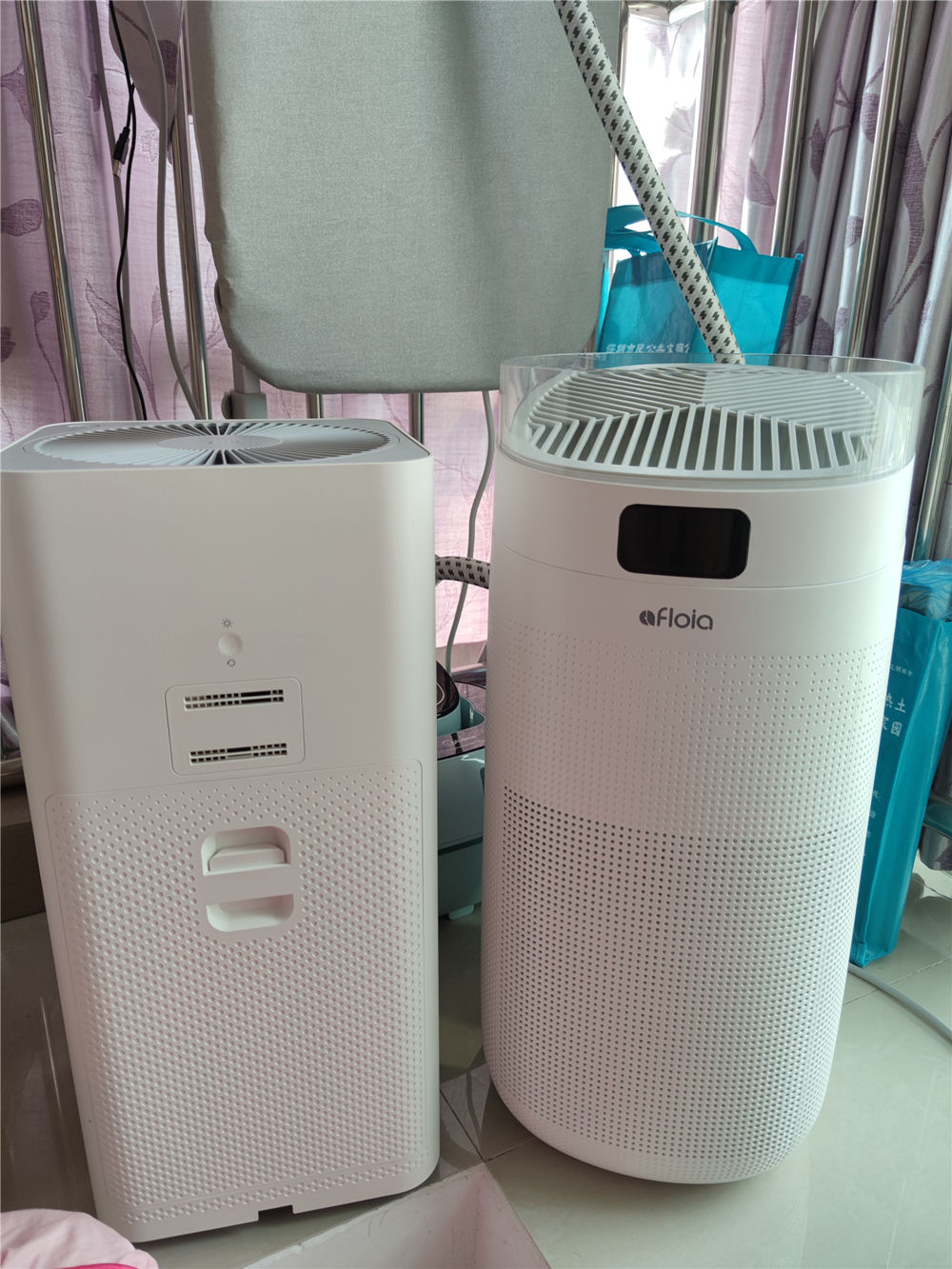 In terms of details, Afloia H13 air purifier has a display on the front of the body, it supports touch control, there are power button, timing button, wind speed button, etc., you can check the PM2.5 value in real time, so you can understand the indoor air situation clearly even for the elderly, very convenient.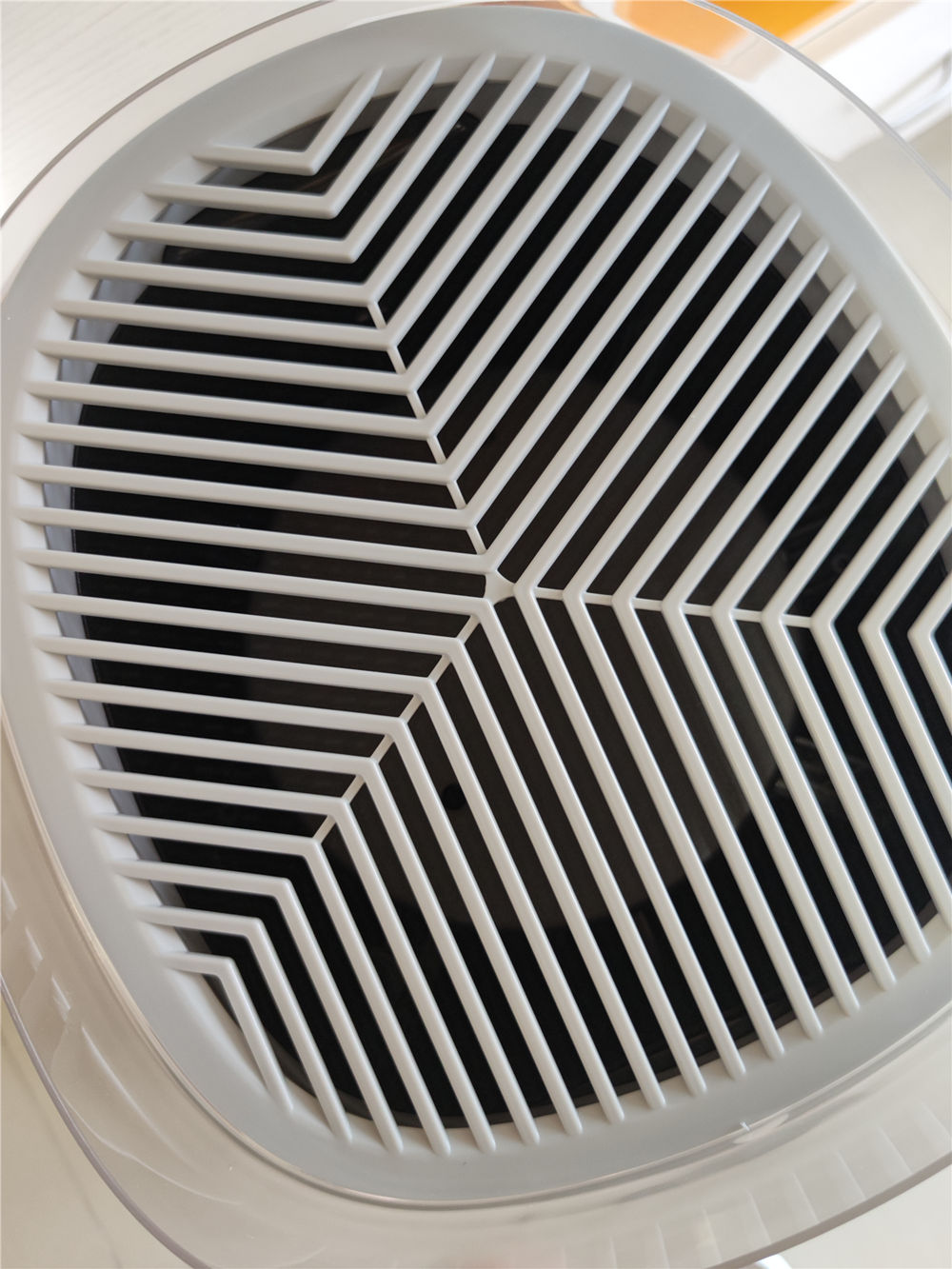 It has a large hollow area on the back and two sides of the body, thus ensuring effective use of all the space where the air can enter the body to achieve good air circulation. The three surfaces of the hollowed out parts are very regular, which also makes the body look more coordinated.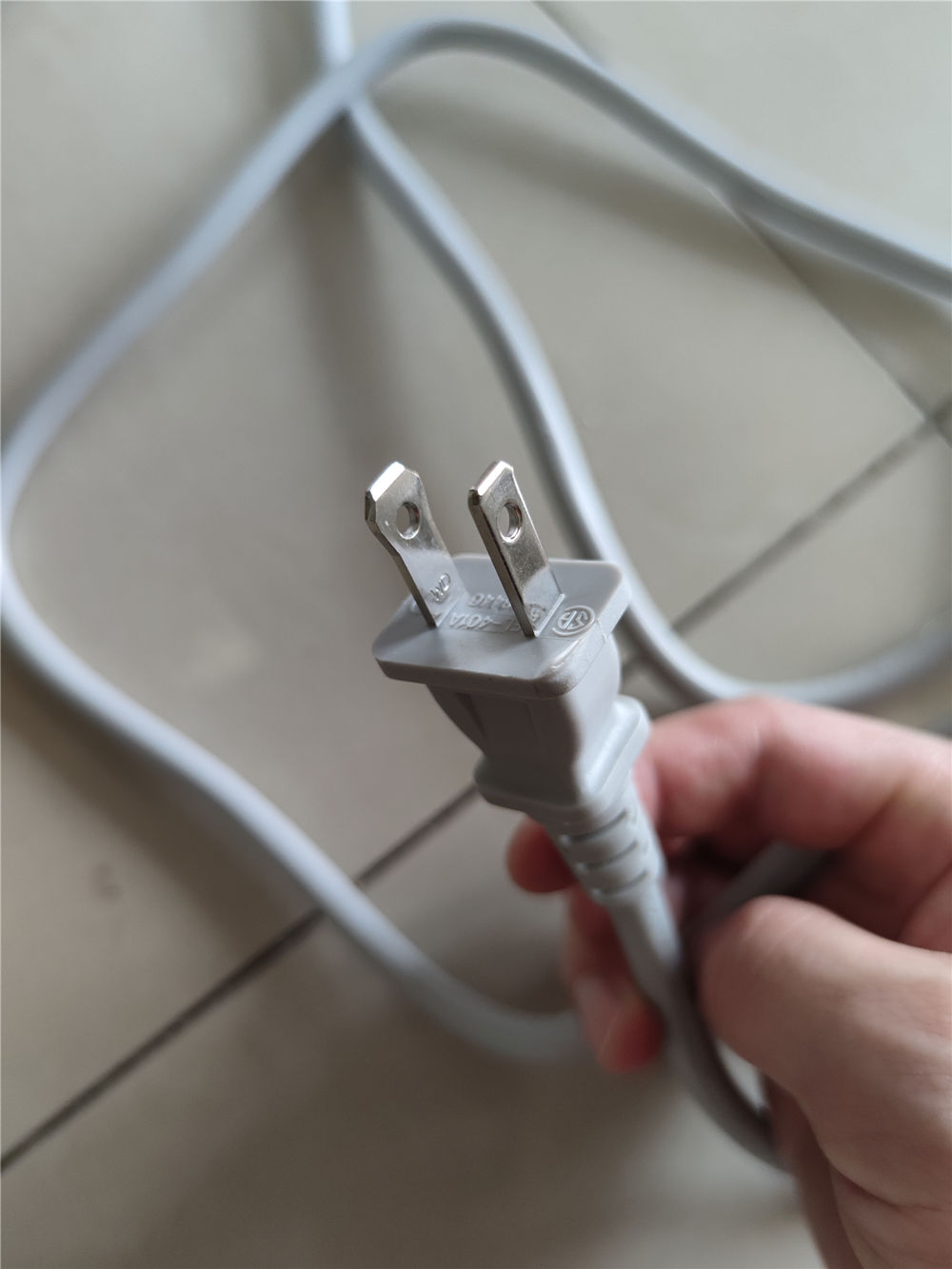 The cover on the back of the body is in the form of a snap, which can be easily opened and the cartridge is built into it, making it very easy to replace. It is worth mentioning that this air purifier also has the function of automatic power off when opening the hatch to ensure the safety of the user when replacing the cartridge. The upper part of the cover is a high-precision sensor area for real-time monitoring of PM2.5.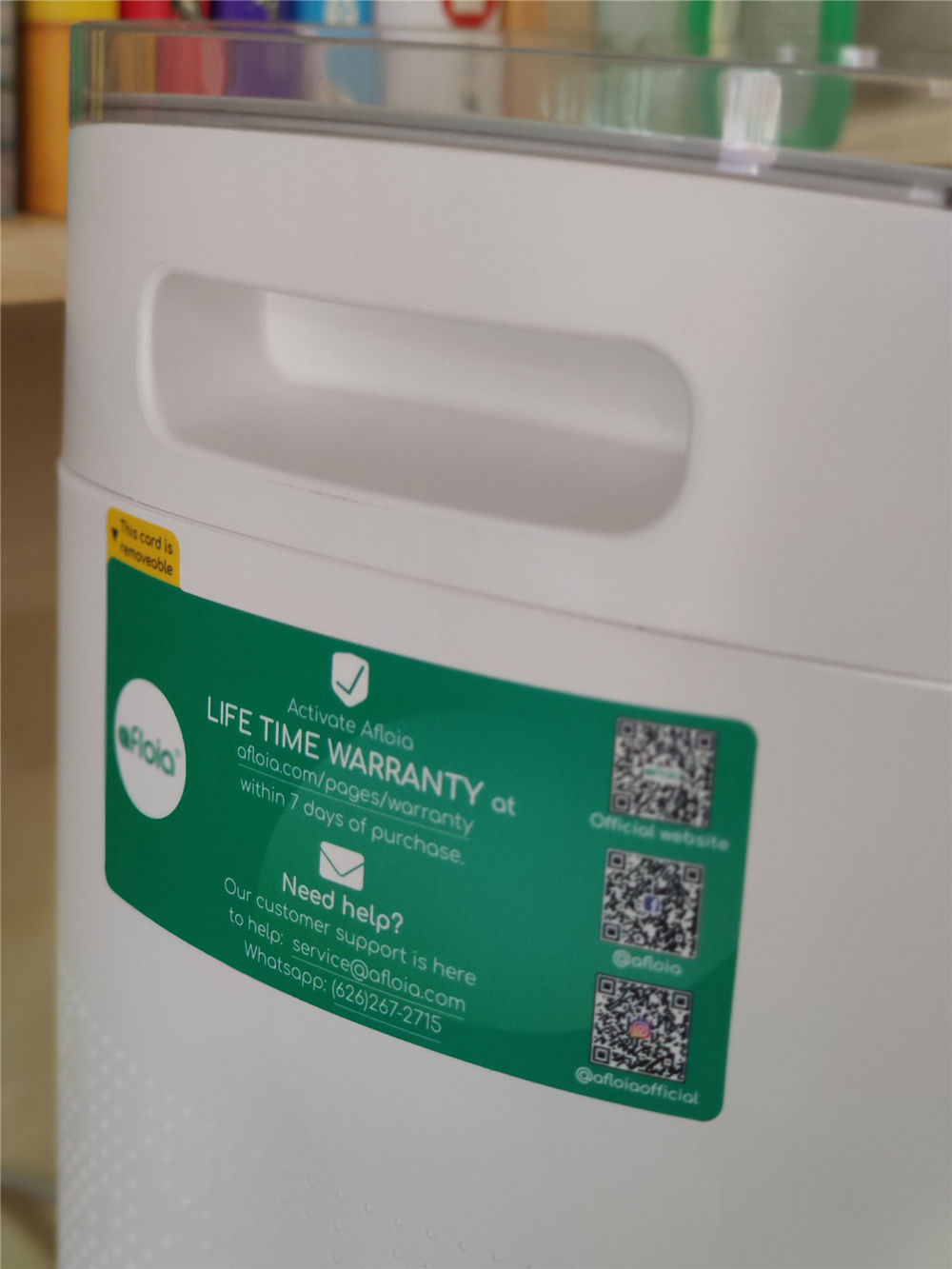 Afloia H13 air purifier's cartridge adopts integrated barrel design to fill up the internal space of the body as much as possible, and also can play a 360° full-effect purification. The cartridge is equipped with a three-layer composite filter, the first layer of nylon mesh to filter out hair and other large particles; the second layer of H13-class HEPA filter can remove PM0.3, PM2.5 and other micron-level ultra-fine particles and play an antibacterial role; the third layer of high-quality activated carbon can efficiently adsorb formaldehyde, toluene and volatile organic compounds in the air. Through three layers of filtration to achieve the most ideal purification effect.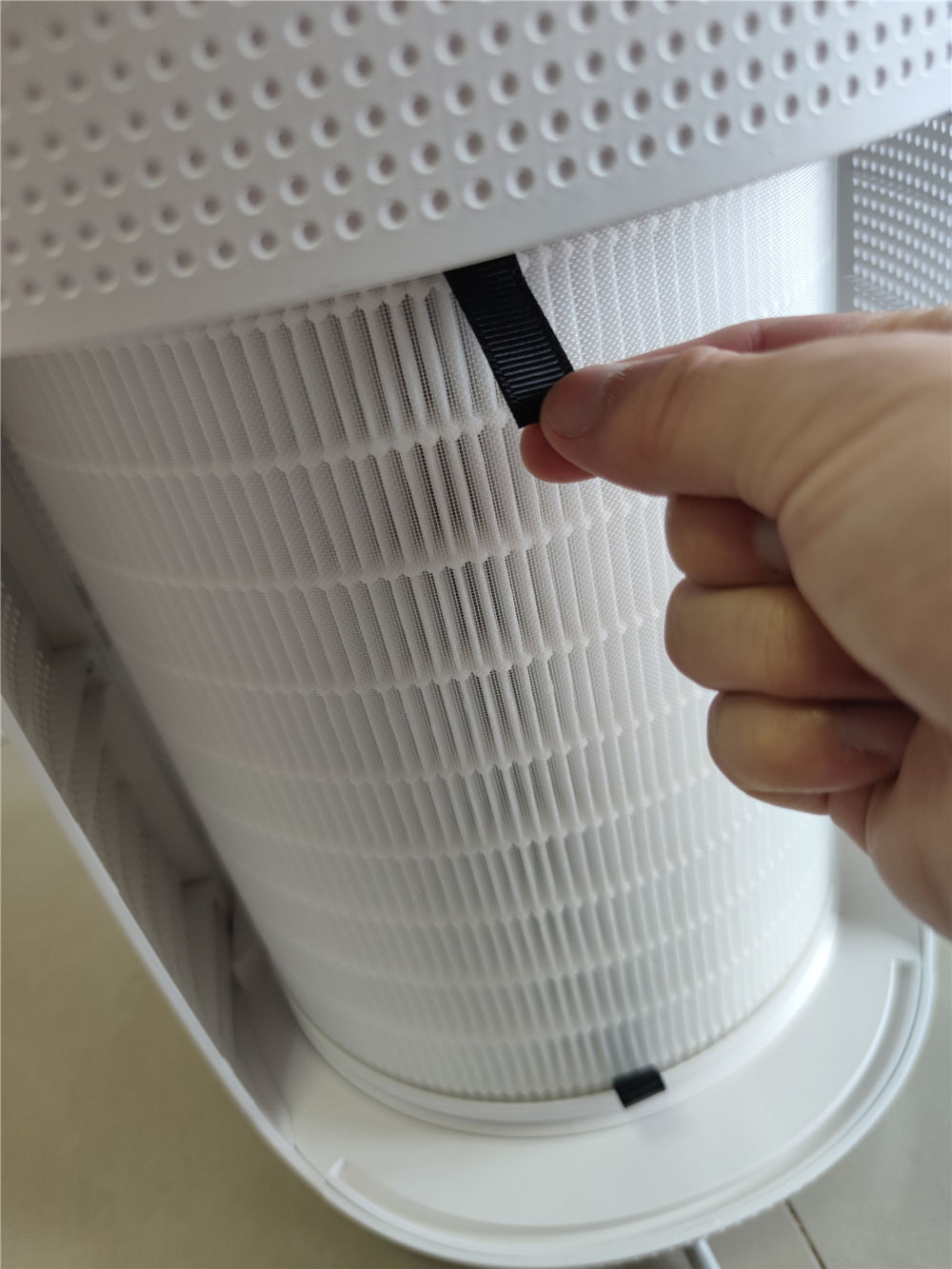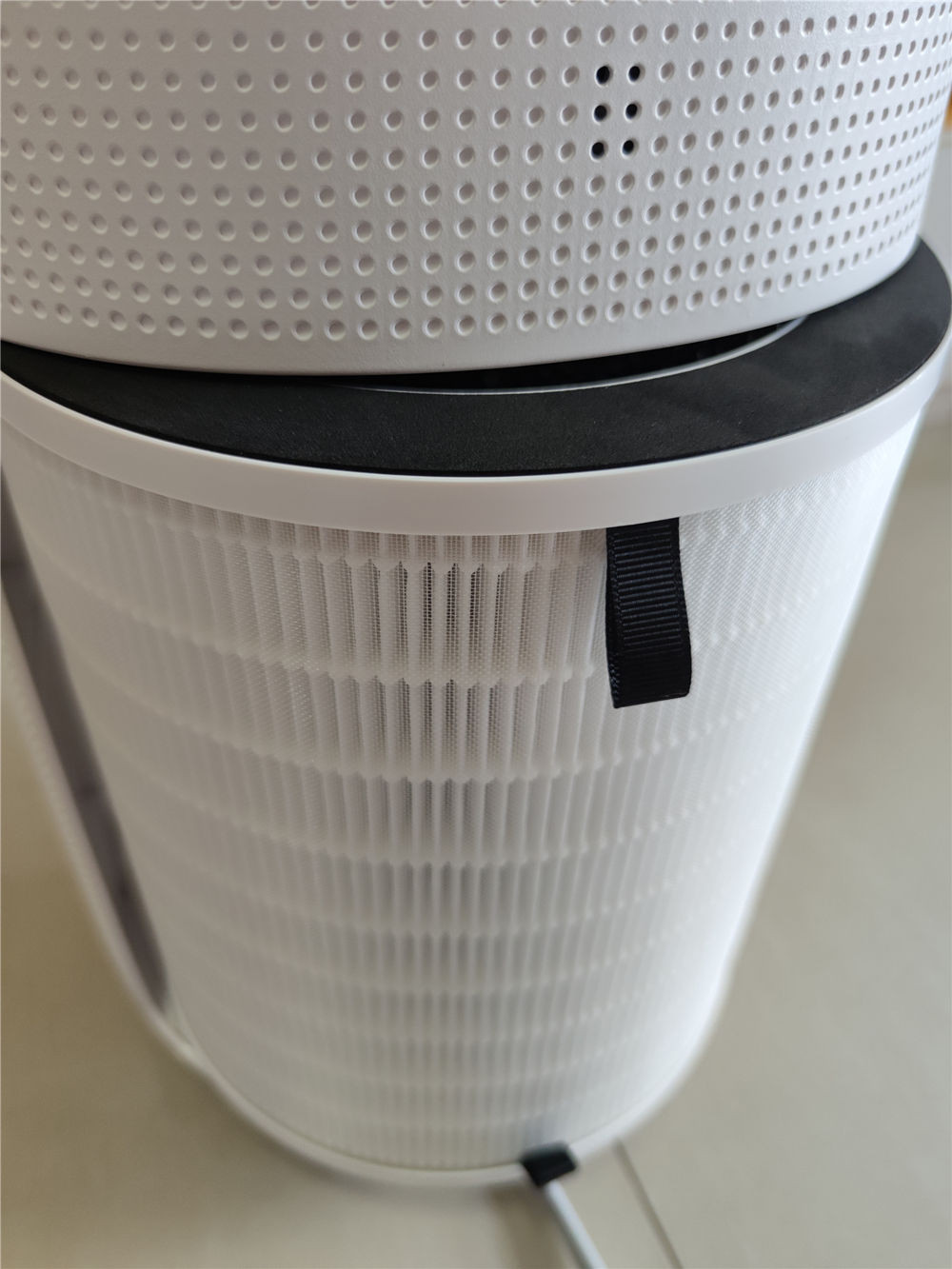 The air outlet is still designed in the top of the body, and has a protective Gushan; as for the bottom printed with product-specific information and non-slip pads to ensure that it is placed on tile, wood floors and other ground more solid, but also to avoid long-term contact with the ground caused by wear and tear.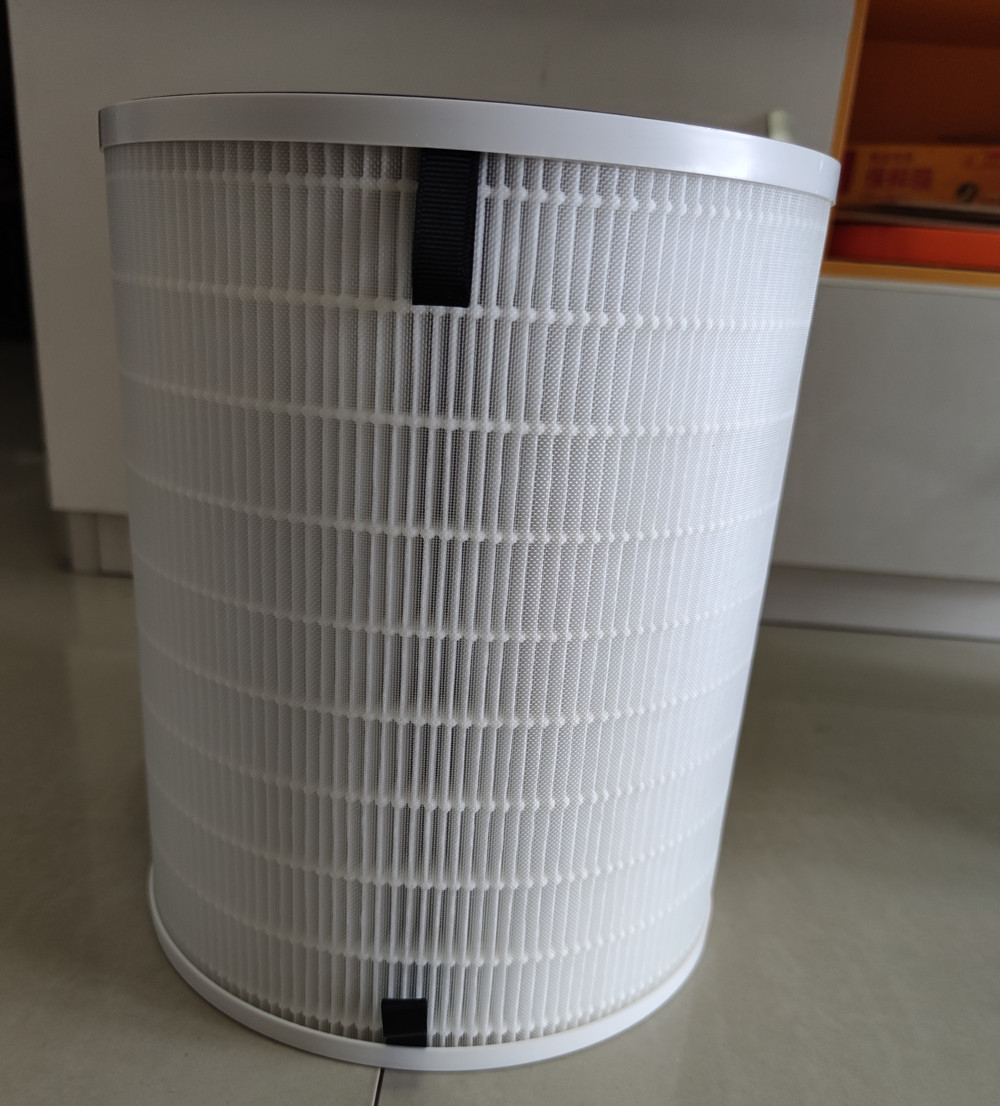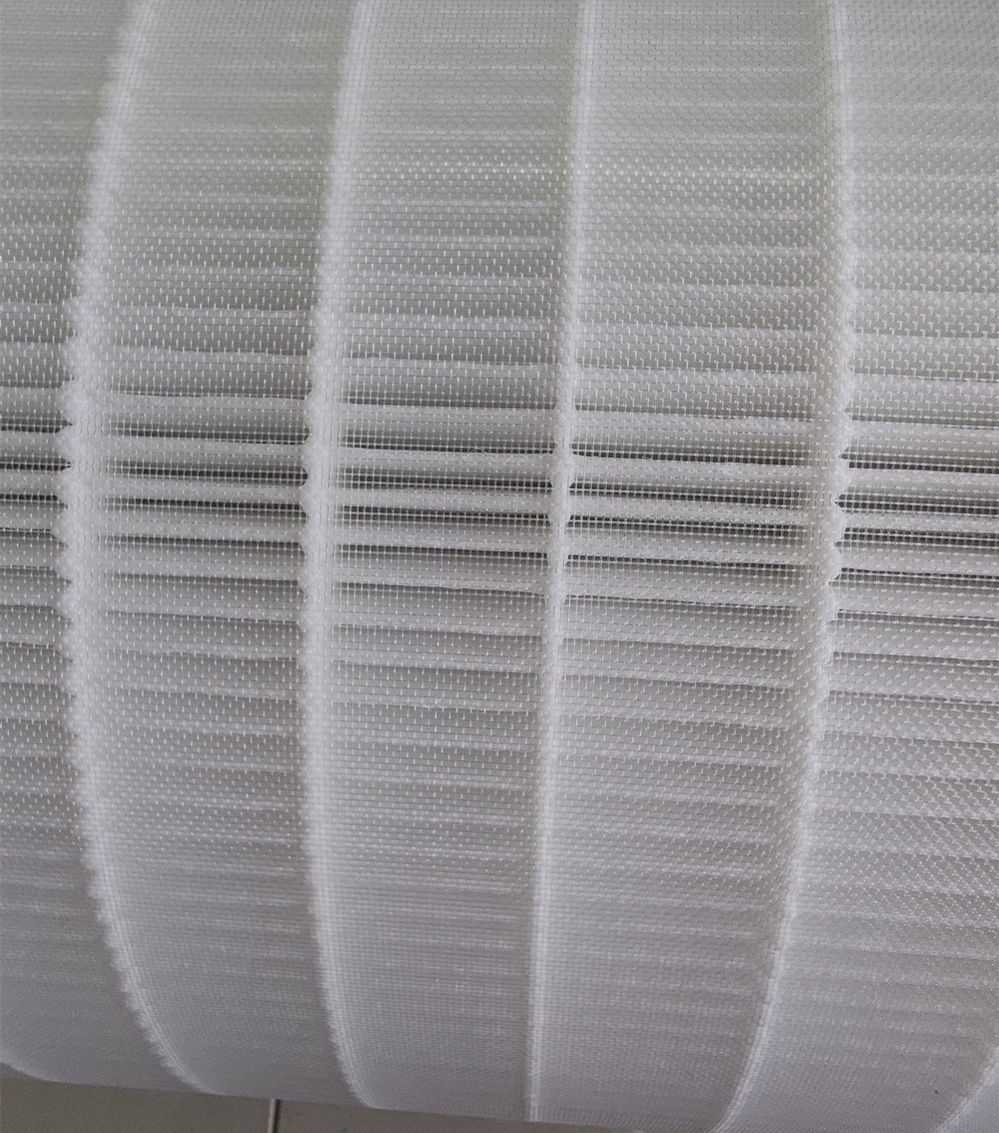 In general, Afloia H13 maintains its simple and elegant characteristics in appearance and shape, which can basically meet the needs of most families in terms of placement and style.
Practical testing: 4-in-1 with outstanding results
More detailed filtering: 3-stage filtration system, which can effectively remove 99.7% of airborne particles as small as 0.3 microns.Afloia Air Purifier true HEPA air filter can reduce pet odors, and it can capture pet hair, pollen, dust and smoke and other particles.
Smart monitoring system: Smart sensors monitor the air quality in your room and automatically purify it according to the air quality. The red LED indicates poor air quality and the blue LED indicates good air quality. While purifying, the UV light will also play a bactericidal effect. Afloia air purifier 100% does not produce ozone.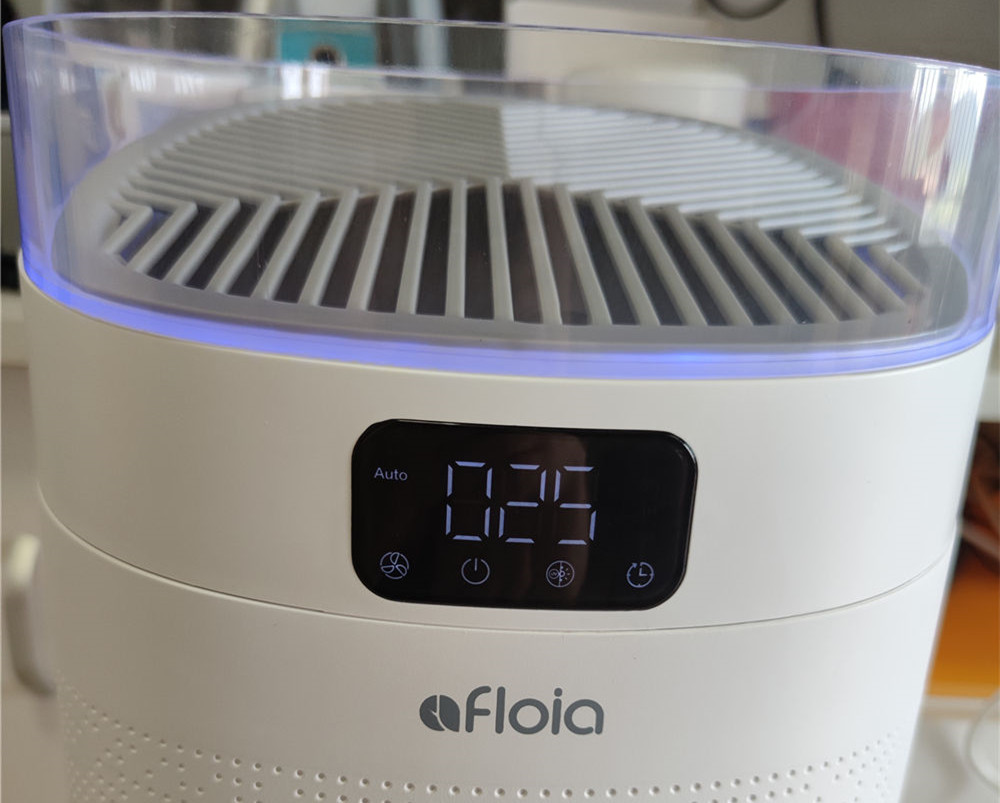 Faster speed: Air purifier CADR quantity of 400m³/h, can purify a 200 to 299sqft room in 4 minutes. Distribute fresh air to the living room, bedroom, office, kitchen, children's room. It can significantly improve the indoor air quality, making it easy for you and your family to breathe.
So how is the actual effect? We also conducted a practical test in a room with an area of about 25㎡, and the results are as follows:
| | | |
| --- | --- | --- |
| | Before use | One hour after |
| PM2.5 | 125μg/m³ | 2μg/m³ |
| PM10 | 143μg/m³ | 2μg/m³ |
| PM1.0 | 74μg/m³ | 1μg/m³ |
| Formaldehyde | 0.004mg/m³ | 0.001mg/m³ |
| 0.3μm Granule | 13248 | 393 |
| 0.5μm Granule | 3999 | 122 |
| 1μm Granule | 929 | 13 |
| 2.5μm Granule | 115 | 1 |
| 5μm Granule | 26 | 0 |
| 10μm Granule | 3 | 0 |
As you can see from the data, the Afloia H13 air purifier works in automatic mode for 1 hour, the indoor air quality has significantly improved, including PM2.5, PM10, PM1.0 and formaldehyde, all indicators have dropped significantly. In addition, from the number of particles display value also has a great degree of reduction, which for very small diameter particles cleaning effect is obvious, it can be seen Afloia H13 performance is still very strong.
It uses a high quality DC brushless motor, and its strong power is the basis for keeping the indoor air fresh. The Afloia H13 also offers a sleep mode, which maintains low noise operation through multi-dimensional noise reduction, continuously delivering fresh air while creating a more comfortable sleeping environment for oh there is that household.
Where to Buy
Afloia is a great company, they specialize in the development and production of smart homes and insist on providing quality services to their customers. Click to go to the Product Details page.
If you are interested in the Afloia H13 air purifier, then I recommend you to buy it from their official Amazon flagship store, where I have provided you with a private coupon.
Coupon code:

D2UBLY7G

(30% off), after code the price is $118.99 (reg: $169.99)
The code time is: 4/16 00:01PDT – 5/15 00:01PDT