Who plague as much as a fan of Bepo keyboard? 3: 2 screen fans! The weakness of the market offer on these categories pushes certain users to cringe regularly in comment at its exit of yet another portable in 16: 9… And one can understand them.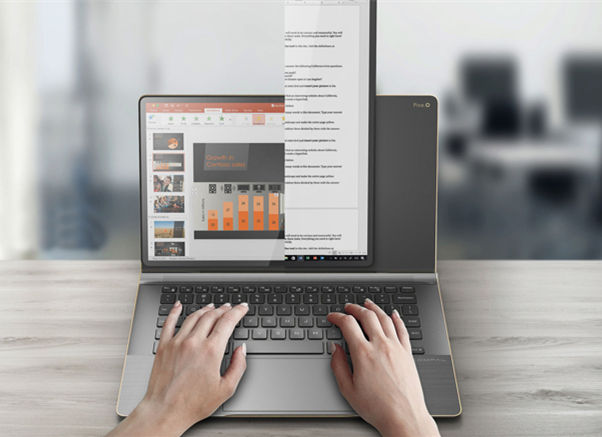 For some uses, these 16: 9 or 16:10 screens are not suitable. If the market has retained them for the most part, it is above all because they caress the most media use of a computer today: Video. However for the consultation of web pages or office automation, the format 3: 2 is frankly more adapted.
The Compal PivoBook seeks consensus by offering a rotating screen solution. The user of this machine will be able to rotate his screen so that it switches from landscape to portrait in a simple movement. So that the 14 inch diagonal of this FullHD OLED screen can be adapted to classic multimedia use … Without the famous big "black bands" around the video. Then switch to a height display to write a text, program, consult web pages or simply read documents.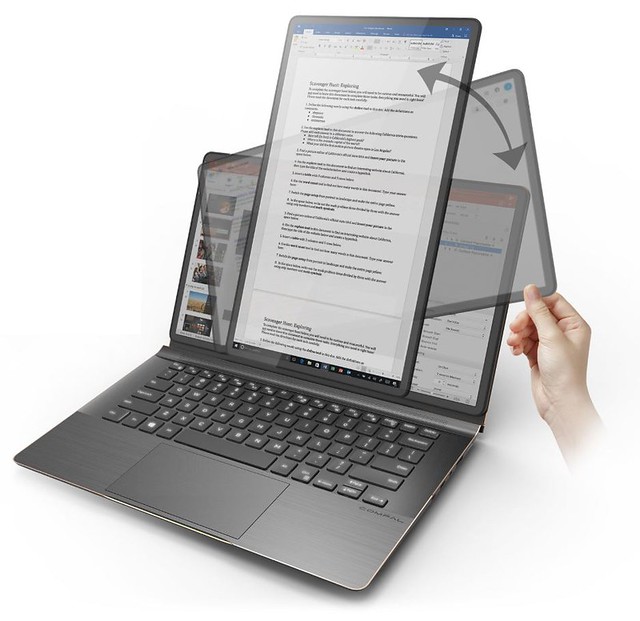 The idea is good but nothing is known about the technology used. How does the PivoBook manage not only to change its screen layout, but above all what is the connection between the graphic part, the power supply and the panel? What mechanism is used? How does it resist these repeated movements over time? Is it simply a support carrying a screen in the form of a touch pad offering two series of POGO connectors that would connect to the rest of the chassis in portrait or landscape? Like a kind of Asus Transformer Book but a little more advanced?
Compal is an ODM manufacturer and its productions never see the light of day under its brand but always through its customers who take up its solutions and have them manufactured. For the moment therefore this prototype is a project and we do not know if a customer of the manufacturer will be interested to market it. Compal won an IF Design award with this concept which could be of interest to partners.
This price allows you to fill in a few boxes on the solution presented, even if this is not a manufacturing guarantee. The PivoBook is a 14 inch and Compal has chosen to use a FullHD touchscreen OLED panel on its prototype. Of course a customer who decides to market such a product could prefer a non-touch IPS UltraHD screen, this information is only a possibility left by the manufacturer.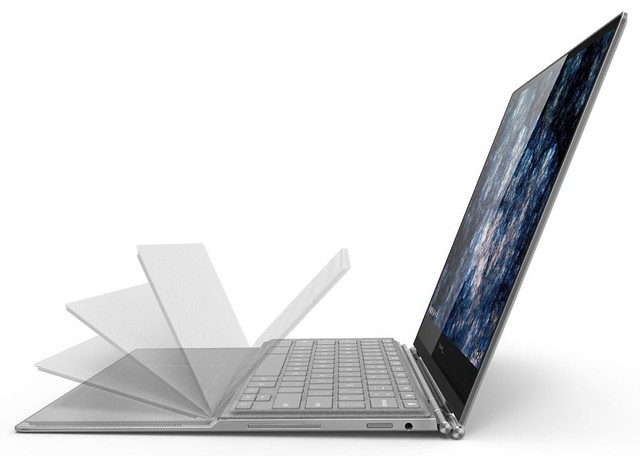 The portable thus equipped would weigh only 1.5 Kilo. Its particular screen is described as very thin, easy to manipulate with one hand. The PivoBook is supposed to be released in 2020 but nothing is known about the terms of this appearance on the market. It would target Asia and the United States but of course it is enough that one of the brand's many customers is interested in Europe to see it emerge with us.
Note, however, that many of the brand's prototypes have never had commercial production in the past. We remember the Compal Dual Cylindrical or the Compal Duoflip for example….