Total blackout and energy crisis—these are the most terrifying words you can come across in this age of technology where everything needs power. Fortunately for all of us, there is a clear source of energy we can rely on as a backup during a power outage. It's what we know today as solar energy. So whether you're traveling or not, you ought to have a reliable power grid to accompany you. One of the best to consider is Zendure's portable power station, SuperBase Pro 2000. With the best portable power station, you can gain true power independence.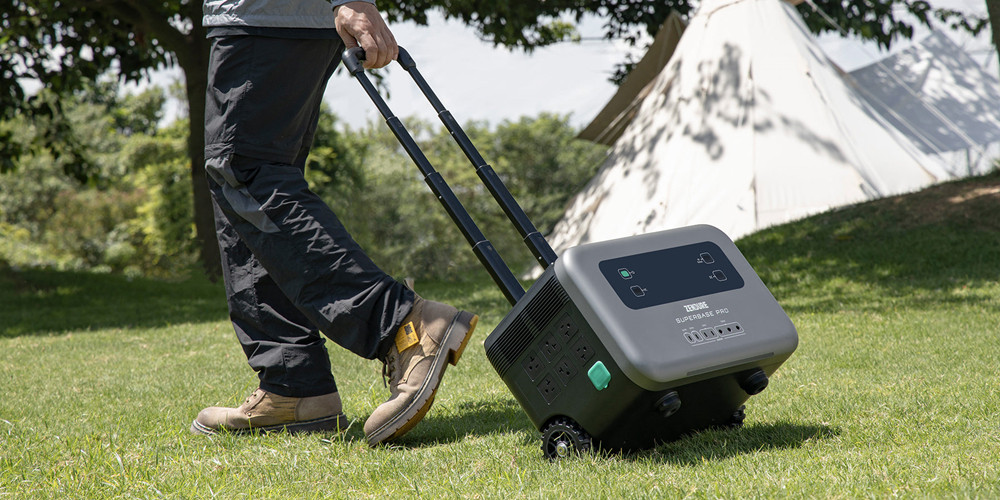 Zendure SuperBase Pro 2000, also known as SBP 2000, can power practically everything you can think of. When you're on the go, you need a portable power station to charge your gadgets like laptops, led bulbs, drones, mini-fridges, and projectors. SBP 2000 has 2,096Wh capacity, making it ideal to charge all your electronics for off-grid camping for long periods and on-the-go events. If you anticipate power outages at home, this can power up heavy-duty appliances and power tools. SBP 2000 can also serve as a backup for your Starlink and electric car. According to Zendure's testing, SBP 2000 can add 7 kilometers to a Tesla Model 3.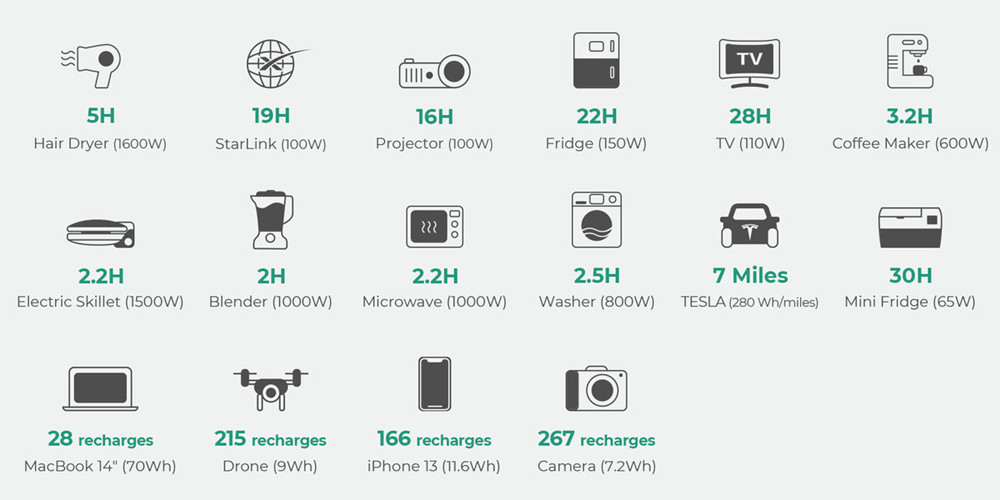 Zendure SuperBase Pro 2000 is one of the Fastest Solar Recharging IoT Power Station. It comes with 2096Wh Capacity and 2000W output and 14 output ports that can be simultaneously used on various devices. The power station can power devices up to 3000W. This means your daily gadgets and appliances like Laptops, LED lamps, smartphones, drones, mini-fridges, etc can be charged for a long period. It can also supply up to 4000W surge power for heavy-duty devices that require extra current to start. SuperBase Pro 2000 is so powerful that it can even charge your Tesla.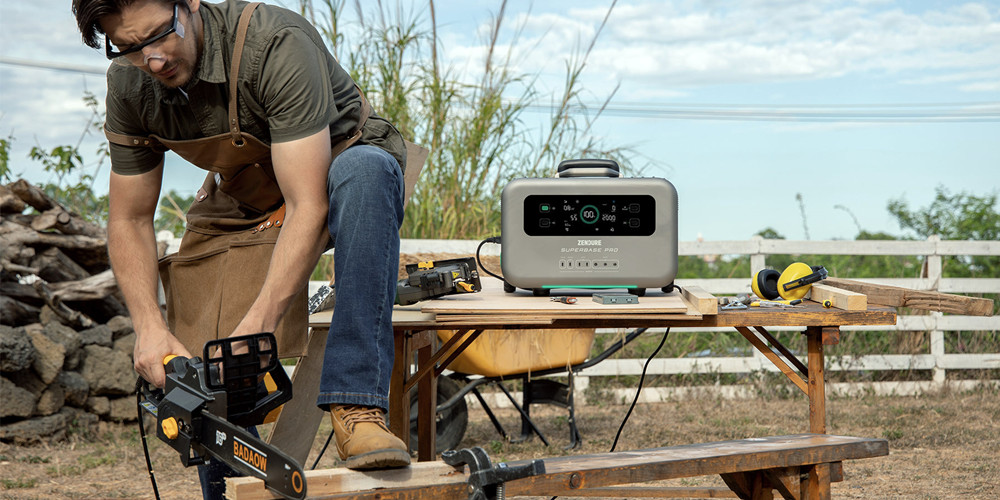 The power station also works as a household-grade Uninterruptible Power Supply (UPS). Simply connect your essential devices to SuperBase Pro and then connect your power station to a power outlet. If the power goes out, SuperBase Pro will switch over to battery power automatically and keep your essentials running. During an emergency power outage or natural disaster, the SuperBase Pro 2000 is your life saver as it will keep your home equipment like electric fan, kettle, toaster, coffee maker, hairdryer, blender, fridge, etc running for a long period.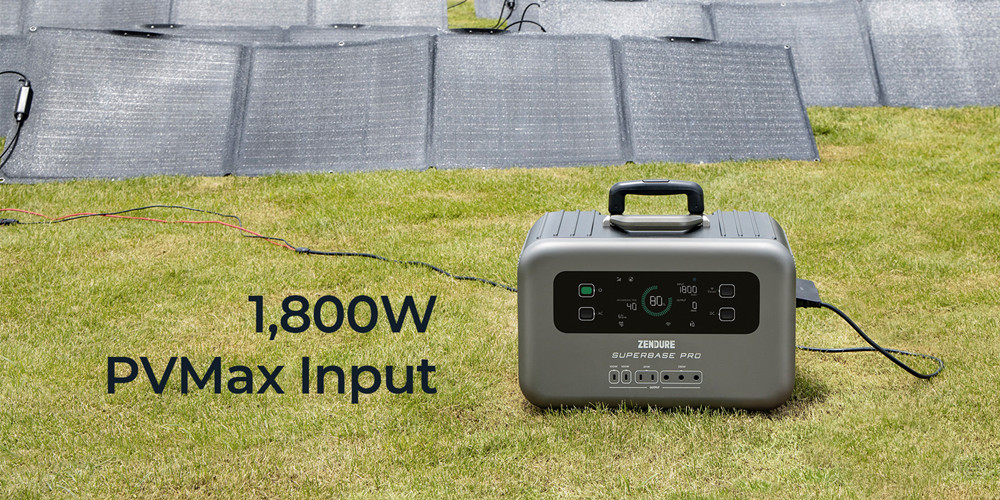 Zendure SuperBase Pro 2000 power station is one of the best in the market as it is extremely easy and quick to charge this solar generator. The device comes with the patented PVMax tech that supports up to 7 charging methods. You can recharge your power station to 80% within 1.5 hours using solar power + AC input. To achieve this feat, Zendure uses industries fastest solar panel charging technology and the highest solar power input of 2400W.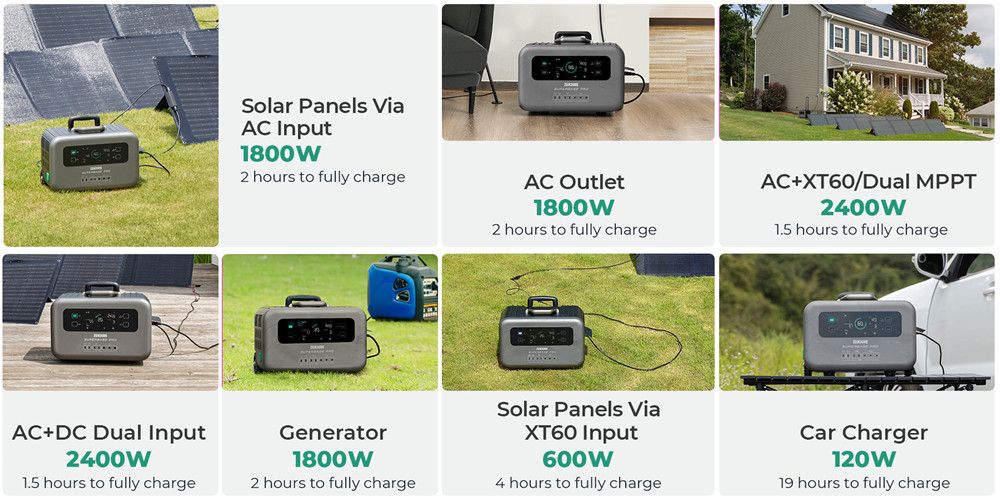 SuperBase Pro 2000 is the world's first solar charger that supports 4G off-grid. It comes with a built-in GPS and 4GIoT. The highlight feature is the OTA support which provides online technical consultation. This means you can resolve all software issues remotely through internet updates, without physically returning the device. This powerful portable power station comes with a BMS, battery management system that monitors voltage, current, short circuit, and temperature in real-time to protect you and your equipment.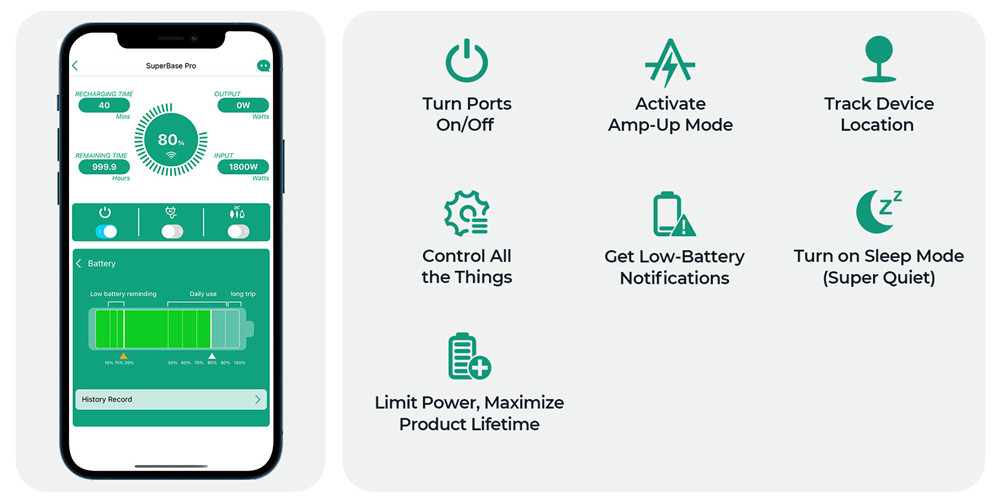 The portable power station features a captivating trolley luggage design that makes it easy to haul around and transport to different places. The device comes with industrial-grade wheels, and telescopic aluminum handles that make it easy to travel with. Designed with a low center of gravity, you can easily roll SuperBase Pro across different terrains making it perfect for your outdoor adventures.
Price and Coupon
At $1,499, the fastest solar charging power station is a worthwhile investment. Well, if you like the sound of the SuperBase Pro 2000 Portable Power Station, there's a promotion that might sweeten the deal. This brings the price of it down to $1349.00 by using Discount Coupon: zendureSBP (Works with both site Zendure.com and Amazon.com).
With a local US warehouse, you get fast and free shipping and a 2-year warranty. Zendure also Supports installment payments; Split your purchase into 4 equal payments so you can spread the cost of your purchase over time. Enter the credit or debit card of your choice for automatic payments every two weeks beginning at the time your order is confirmed. No interest or added fees when you pay on time!