Gear up for an unforgettable shopping extravaganza at the much-anticipated 11.11 Gearberry Sale! With the biggest discounts and a plethora of exciting rewards up for grabs, get ready to elevate your shopping experience to new heights. Mark your calendars for two unmissable phases:
Kingroon KLP1 CoreXY 3D Printer
Falsh Sale:

20 USD OFF

Original Price: $399.00 ; Current Price: $379.00
The Kingroon KLP1 CoreXY 3D printer is a fast-print-speed 3D printer with Klipper firmware and a protective enclosure. It has a powerful mainboard with Klipper firmware installed, and no Raspberry Pi is required. The printer has 500mm/s high-speed printing and 10000mm/s² acceleration, and it features a CoreXY structure and linear rail guides on the X-axis and Y-axis, which makes the printer accurate, fast, and durable during fast movement.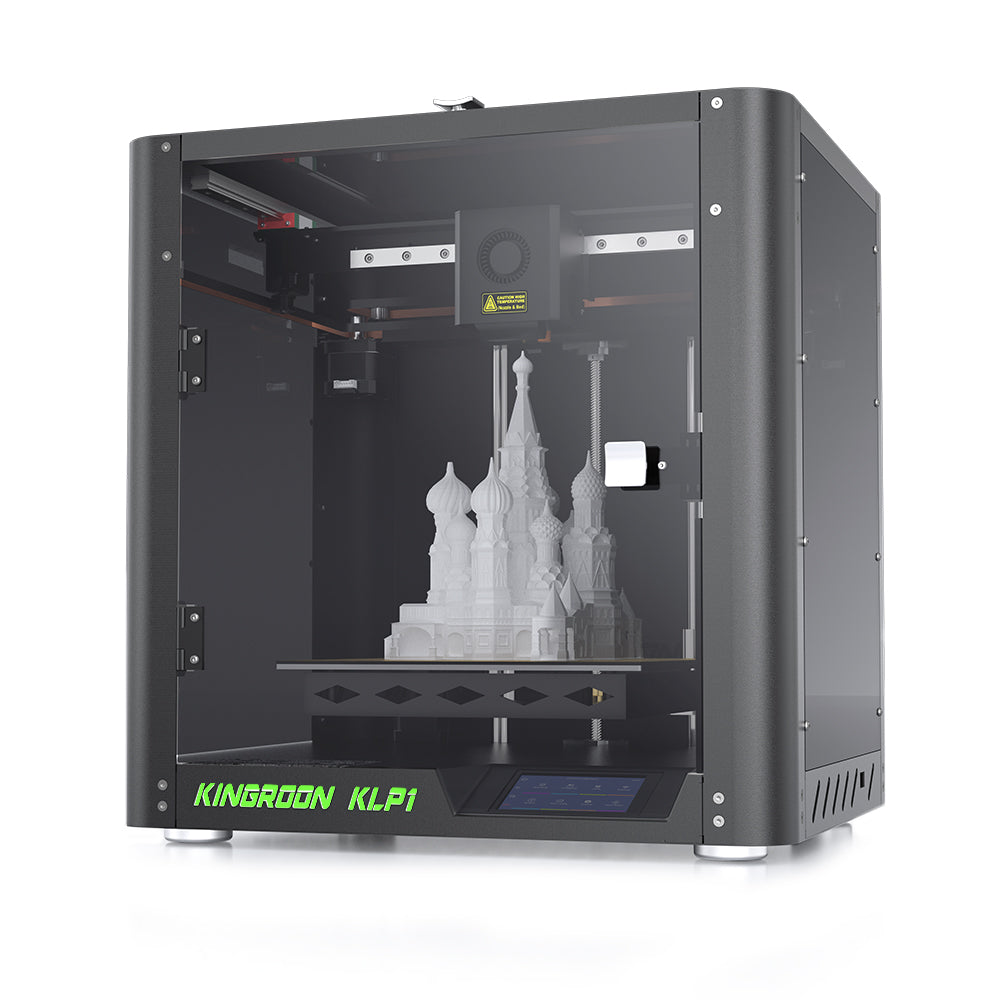 The printer also has a 5:1 gear ratio, all-metal hotend, and a smart microprocessor. The built-in ADXL345 module ensures high-quality print under fast print speed with active vibration compensation. The printer is capable of printing a wide range of materials, including conventional materials like PLA, ABS, PETG, TPU, and wood, as well as high-temperature materials like nylon and CF.
The printer also features easy access with multi-interface options, auto bed leveling, and is available in multiple languages. The printer has received positive reviews from users and experts alike, with some calling it the best 3D printer of 2023.
Twotrees TTC 450 CNC Router Machine
Coupon Code:

GBTT20

Original Price: $449.00 ; Current Price: $429.00
The Twotrees TTC 450 CNC Router Machine is a desktop CNC router that can be used for engraving and milling. It has a work area of 460 x 460 x 80mm and a metal frame and aluminum 4080U profile body material.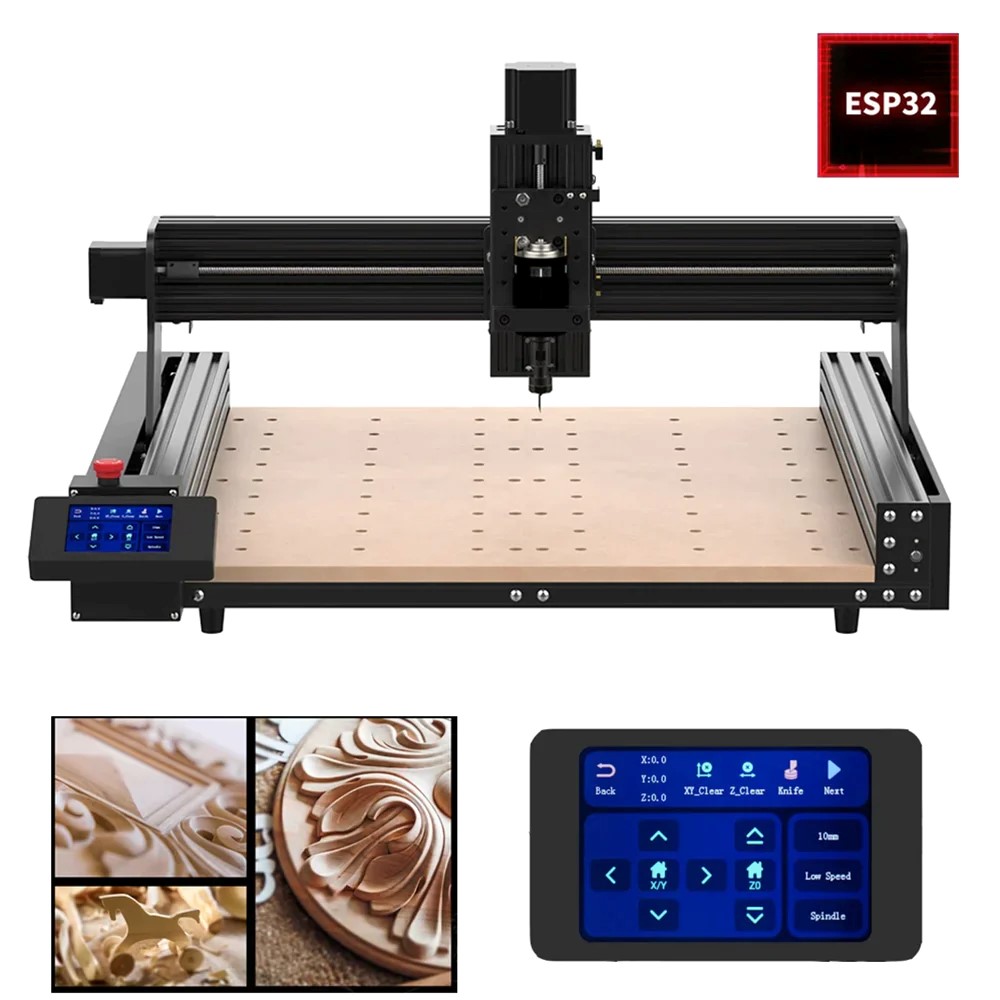 The machine has a translation screw drive with a double Y-axis system, a 120W CNC module, a 32-bit ESP32 integrated motherboard, and a Wi-Fi touchscreen. The machine has a Z accuracy of 0.0025mm and a dimensional accuracy of up to 0.01mm. The machine is pre-assembled up to 70%. It comes with a standard 80W spindle that reaches 7000rpm, and an upgraded spindle of 500W that reaches 12000rpm.
The machine supports Windows and Mac operating systems and comes with Laser GRBL, an open-source free software that supports Win XP/Win 7/Win 8/Win 10 system, and LightBurn, a paid software that supports Win XP/Win 7/Win 8/Win 11 system, Mac system. The machine can work with a variety of materials such as wood, acrylic, solid wood, nylon, PCB, carbon fiberboard, etc.
AlgoLaser Alpha 22W Laser Engraver
Discount:

$300 OFF

Original Price: $1099.00 ; Current Price: $799.00
The Algolaser Alpha 22W Laser Engraver is a powerful machine that boasts a 22W output laser module and is capable of cutting and engraving a variety of materials. It has a maximum movement speed of 30,000 mm/min and a maximum engraving speed of 20,000 mm/min.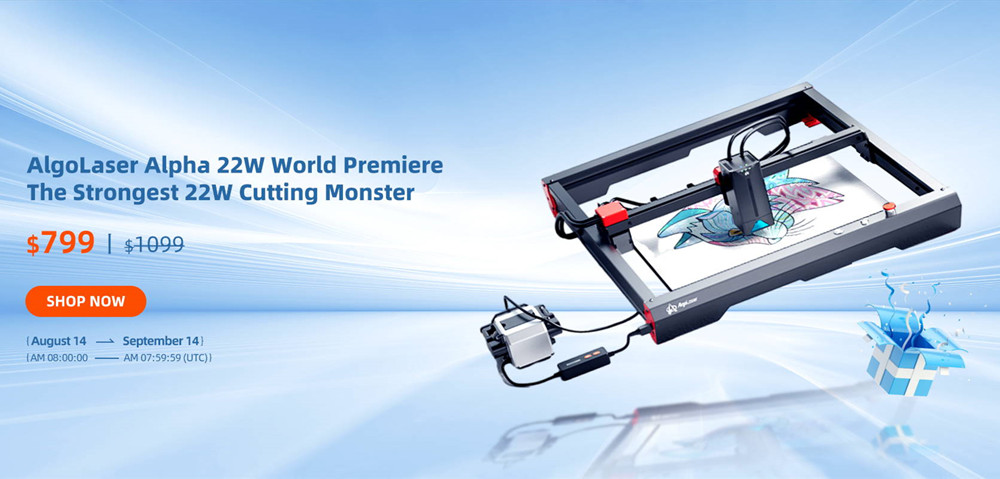 The spot size is 0.060.05mm and the engraving area is X400Y400mm. The laser type is diode and the wavelength is 455±5nm. The machine uses Nema 17 stepper motors for motion drive and has a variety of connection options including Wifi (2.4G), TF Card, USB, and WebUI. The Algolaser Alpha 22W uses Laser GRBL (free) control software and is compatible with LightBurn (60usd/year) and Mobile APP.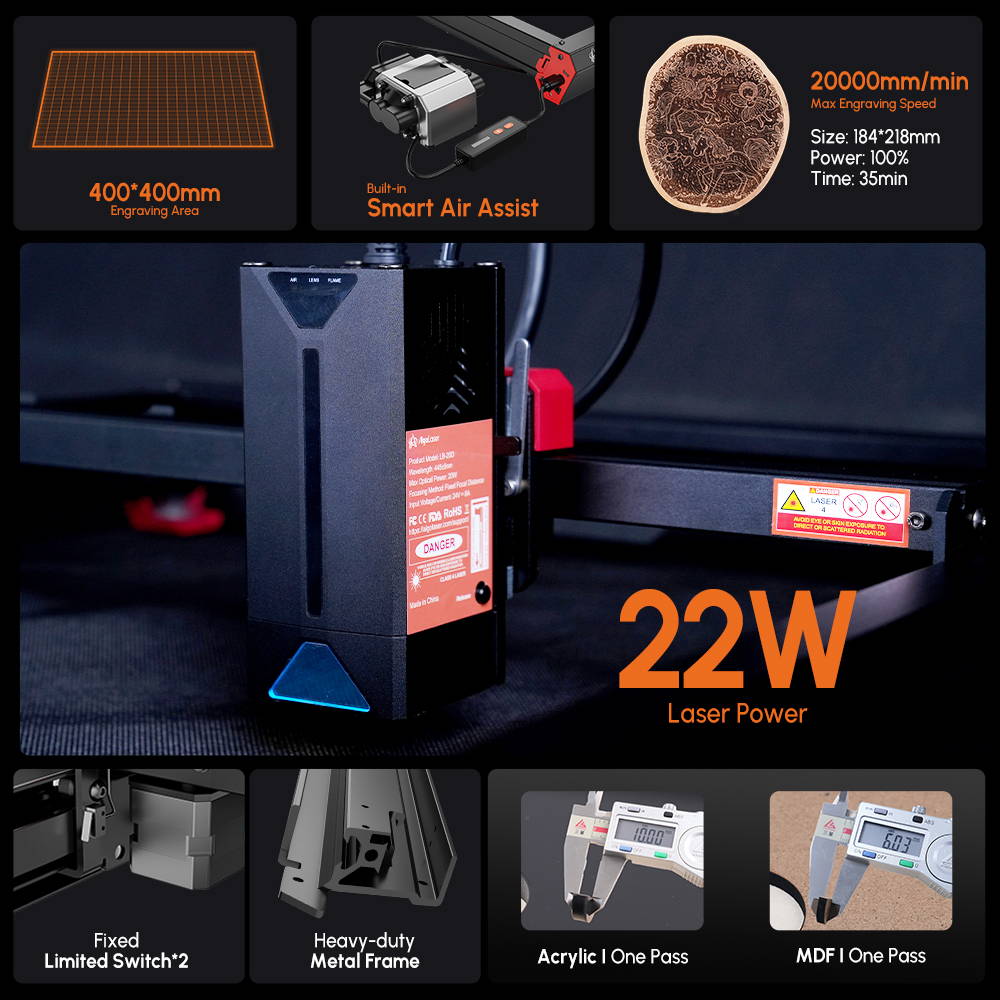 The hardware safety features of the Algolaser Alpha 22W include an emergency switch, a safety lock key, and homing cycle support. The machine uses a 24V/6A power adapter and has a replaceable protective lens.