Suffice it to say that 2022 could be the year of the diode laser engraver industry. I have seen many brands introduce their 10W laser output machines, and Creality is no exception. We see a lot of possibilities with this Creality CR-Laser Falcon 10W machine. So, it is worth throwing out the question, will it be as brilliant in the field of laser engraving machines as they have been in the field of 3D printers?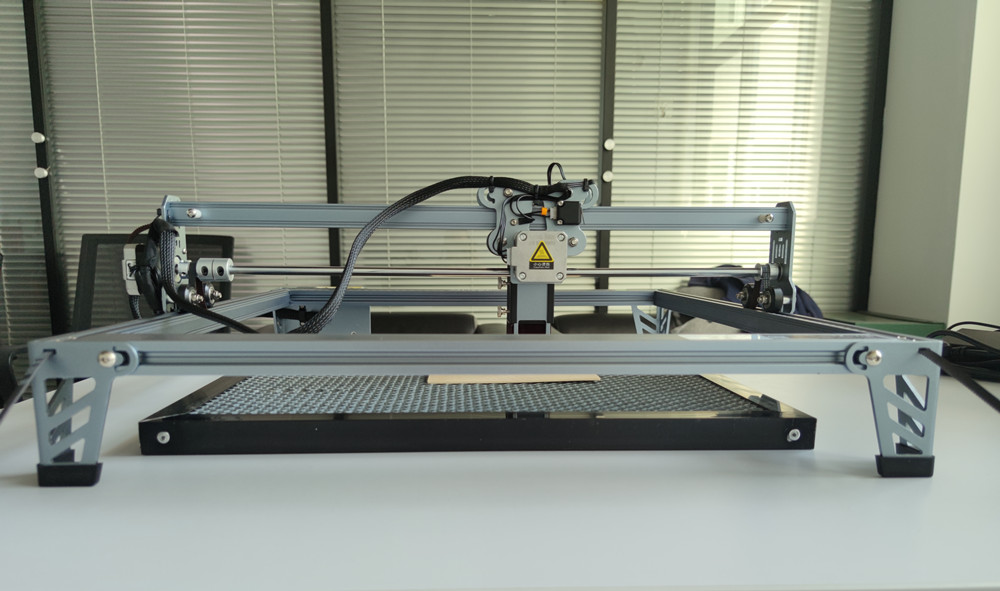 Creality is a company known for being a manufacturer of 3D printers. However recently they have added laser engravers to their lineup. The most recently released model is the CR-Laser Falcon, which comes with both a 5W and 10W laser head. Today I bring you a review of the 10W version and I hope you like it.
Unboxing
Honestly, the package is still quite light and small in size. Since the frame is made of aluminum alloy, it is not heavy. We can see that these removable parts are wrapped in foam and will be very safe for long-distance transportation.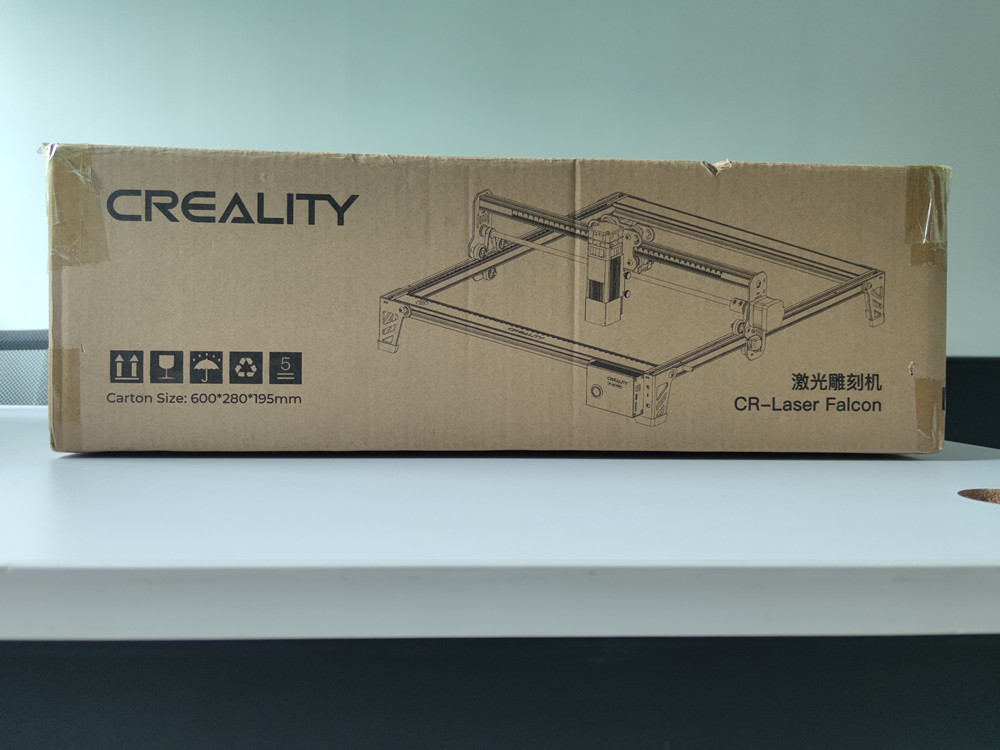 The advantage of the modular design is that it allows consumers to install and use it quickly and avoid the annoyance caused by not being able to install the device.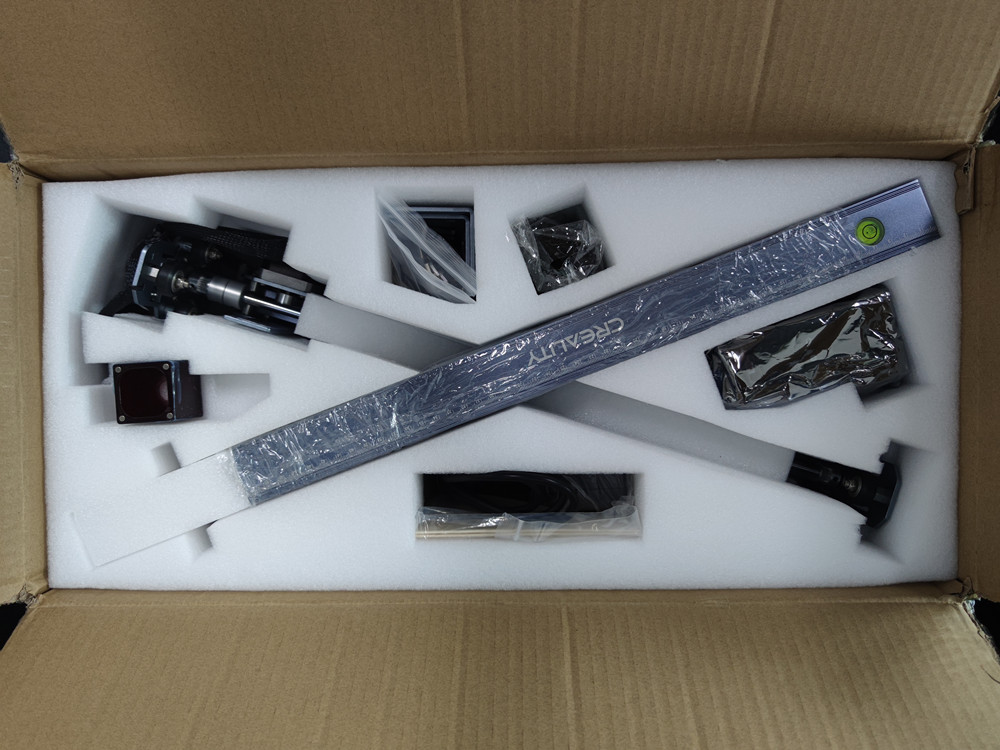 As you can see, there is quite a bit included here. Goggles and a cloth to clean the lenses are nice additions that we don't often see. There's even a wooden board included so customers can do a quick test of laser engraving or cutting.
Assembly
There is no doubt that the modular design can save a lot of trouble. For a novice, it is possible to assemble the CR-Laser Falcon in less than 20 minutes by following the instructions.
If you are familiar with how laser engraving machines, CNC machines or 3D printers work, then I bet you can assemble it in less than 10 minutes.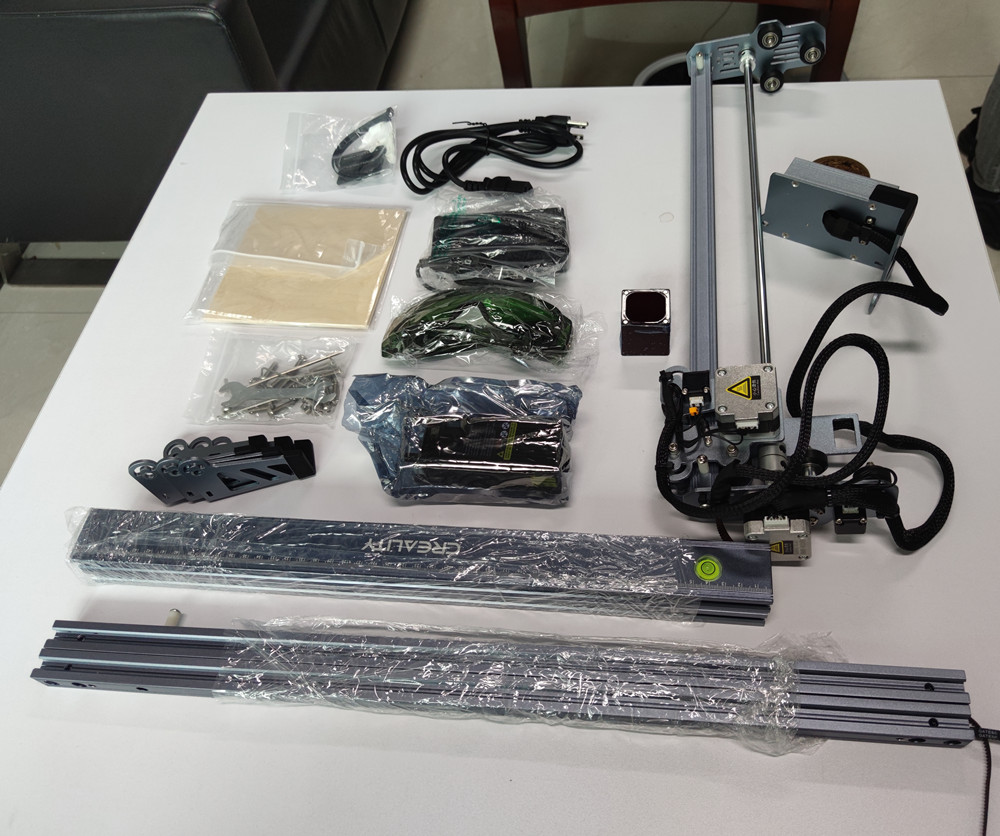 The first step is to connect the X-axis assembly to the Y-axis extrusions. This involves running the timing belt up and down through the V-wheels and pulleys, which can be a bit challenging. We recommend using a pair of tweezers to grab the belt and guide it through the components.
The manual recommends tightening the Y-axis timing belts after this step, but we think it is better to wait until the frame is fully assembled. That way, it is easier to ensure that both sides of the Y-axis have the same tension and that the X-axis gantry ends up square with the frame.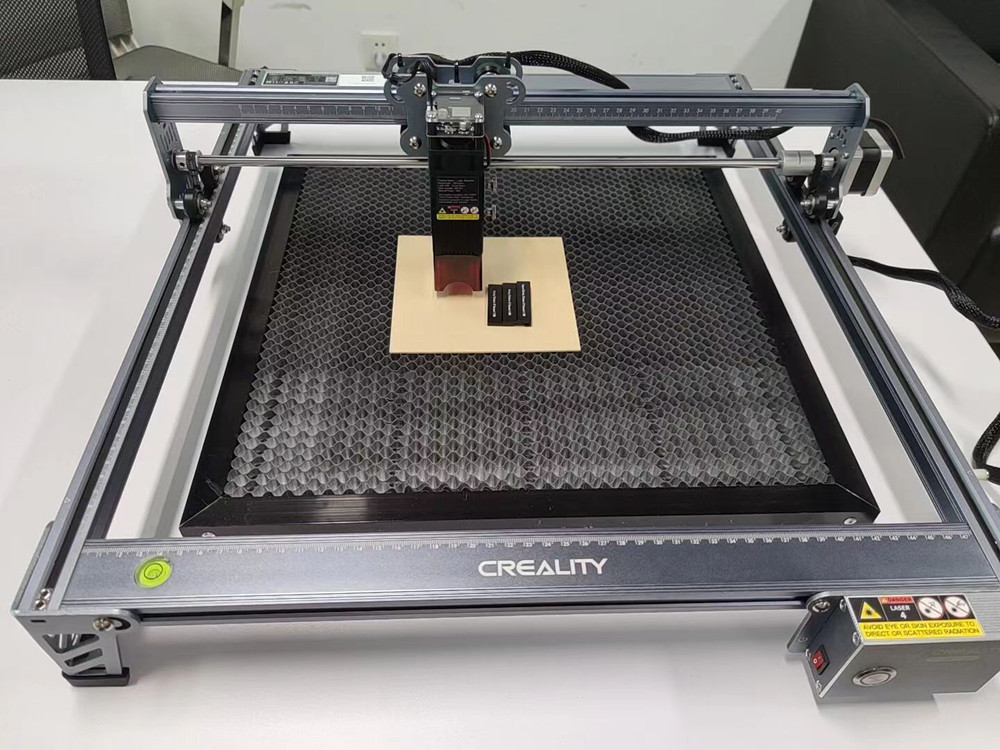 Next is to use the included bolts to assemble the outer frame of the Creality CR-Laser Falcon.
What we like about the construction of the frame is that it is automatically squared by the aluminum extrusions that are used. As a result, you don't have to put time into measuring and making any adjustments during assembly.
After this, attach the included feet to the frame and make sure to run the Y-axis timing belts through the gaps in the feet. At this point, you'll want to properly tighten these belts with the same amount of tension on each side, so that the X-axis gantry does not end up crooked.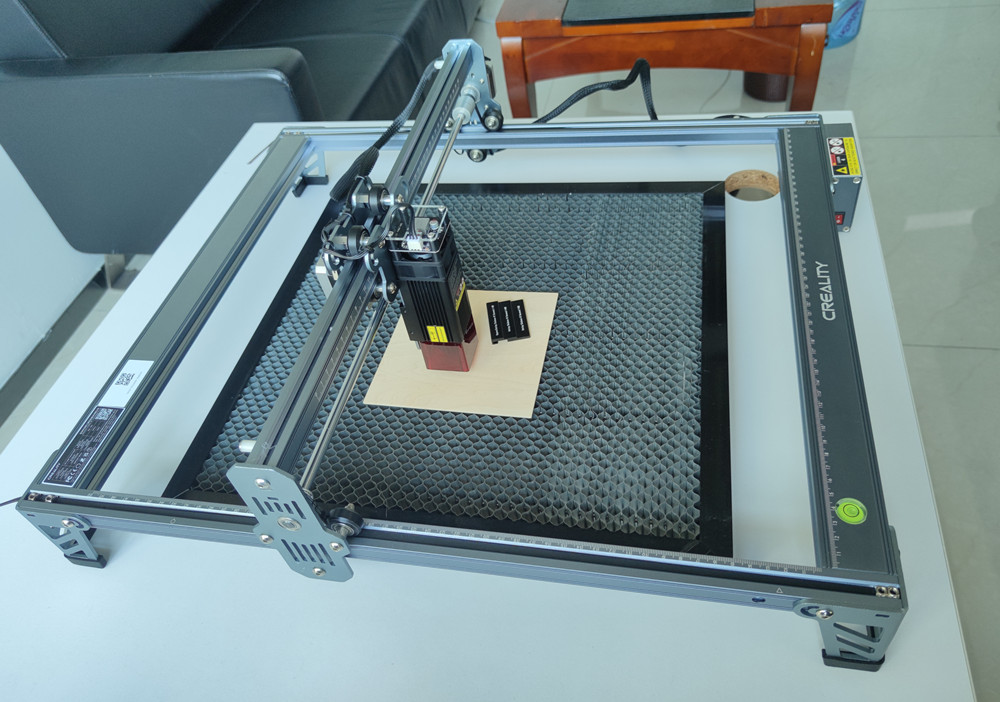 The only thing that remains now is to install and plug in the laser head. All the wiring from the X-axis carriage to the control box is already pre-connected, so you only have to use the included cable ties to tidy things up a bit.
It's a pretty straightforward assembly process, but we do wish that the instructions were better translated and more detailed.
Design
The CR Laser Falcon consists of an aluminum frame and X-axis gantry with a silver finish and almost Art Deco patterned feet. It looks like a stylish cousin to many Creality 3D printers.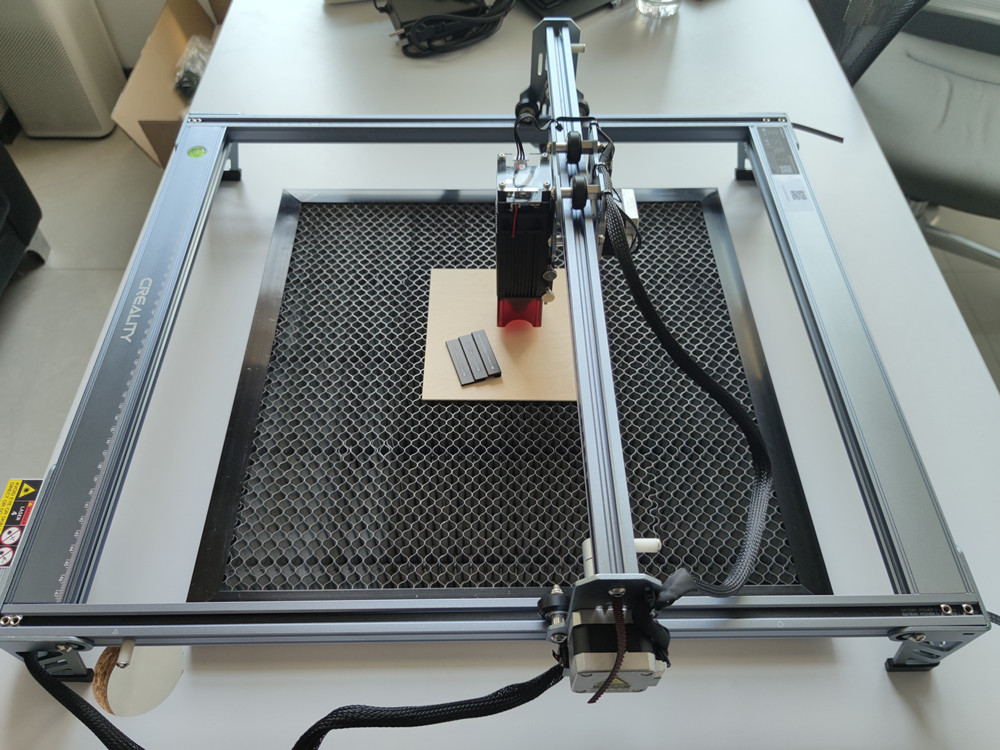 There's no hiding the cables on an open frame machine like this, but Creality tried to keep the look clean by bundling everything into tidy mesh sleeves.
A spot level is built into the frame to ensure the laser is sitting flat on the table. The stepper motors are located at the top of the X-axis, which leaves plenty of space between the legs to straddle longer pieces of material.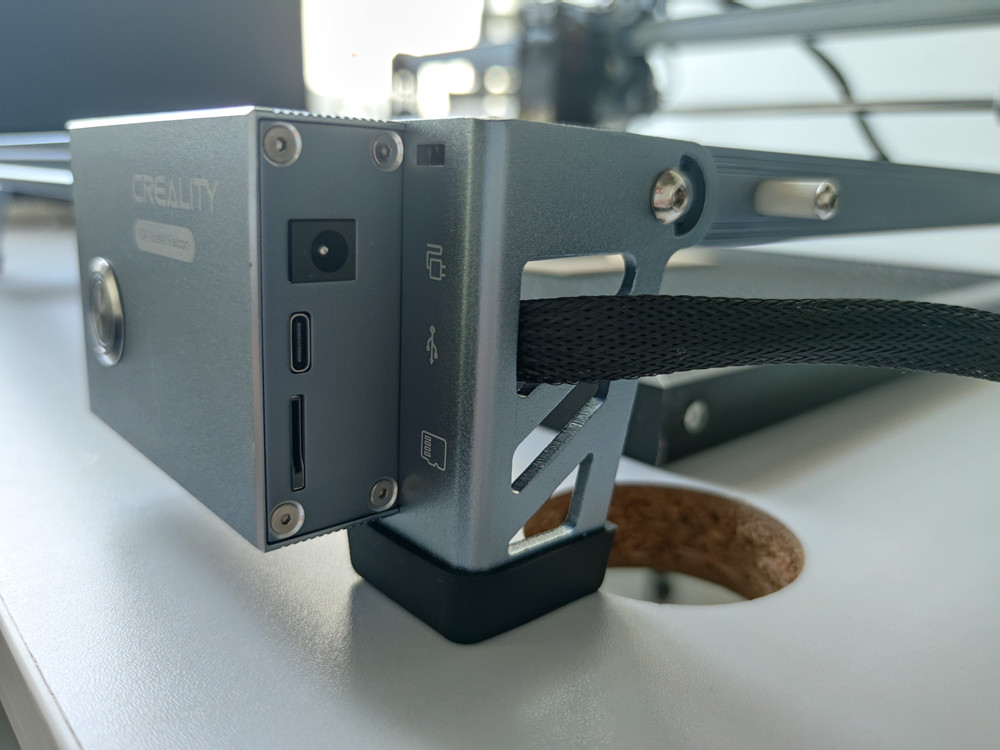 The CR Laser Falcon does not have a monitor of any sort and can be operated with a single button when working from the microSD card. It can also be used while tethered to a computer running LightBurn or Laser GRBL which provides more accurate live control. However, the required USB to USB-C cord is not provided.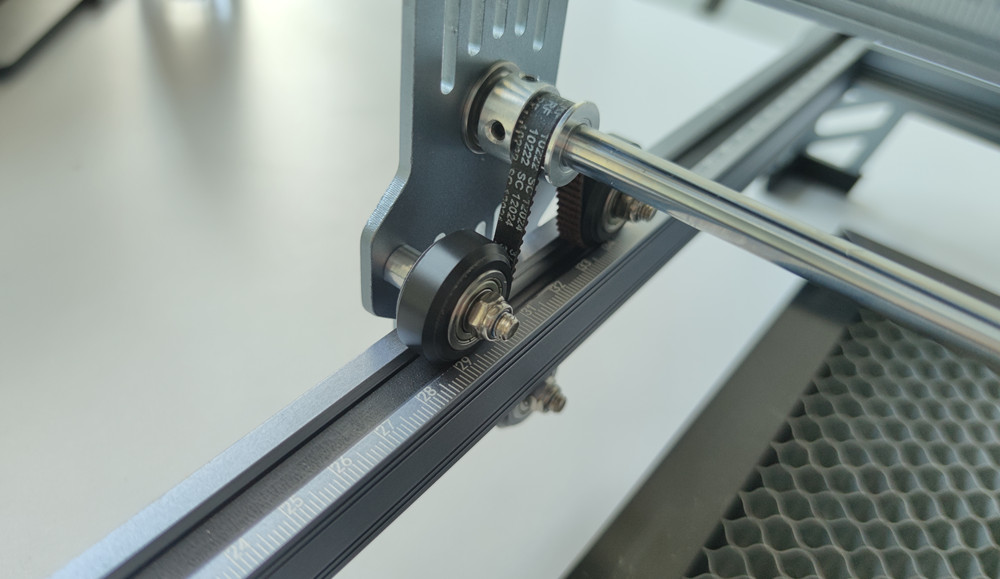 The laser module is adjusted by thumb screws to slide up and down a bracket – allowing you to work on various thicknesses of material. The CR Laser Falcon can work on items as thin as paper and up to 4.5 cm thick. If you wish to engrave thicker items, the machine can be placed on blocks you provide.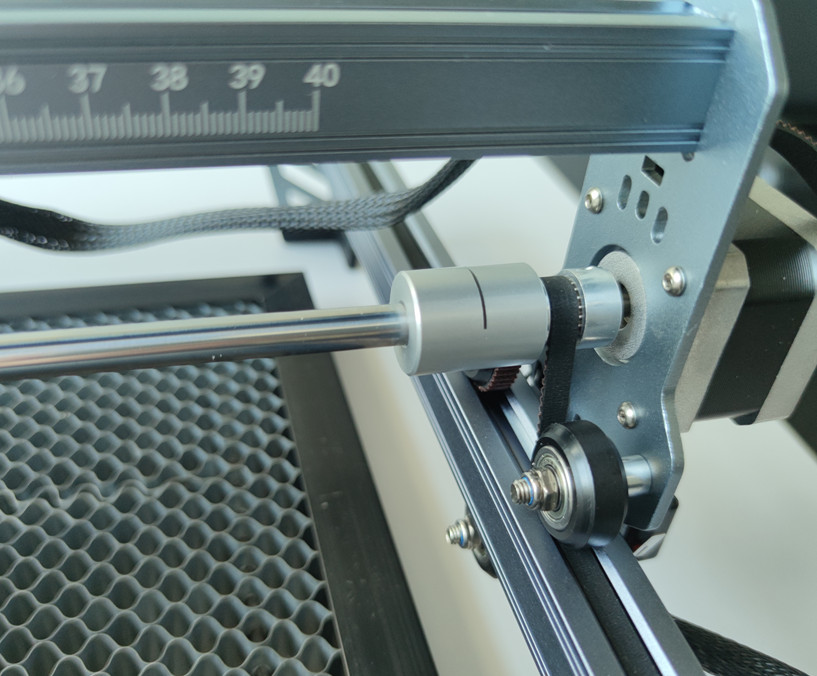 Safety is a major concern when operating laser devices. Creality has included a transparent shield attached to the laser module to prevent you from looking directly at the laser beam. A small fan and filter system is mounted behind the laser lens to reduced smoke and fumes.
Software
You can now install the software you want to use. A lot of people prefer Lightburn for its extensive feature set, but the machine is also compatible with LaserGRBL. The latter has fewer features, but it is free to use.
LaserGRBL is a Windows program available for free and allows for basic control of the CR Laser Falcon. Your computer will need to be tethered to the laser via a USB cord during operation.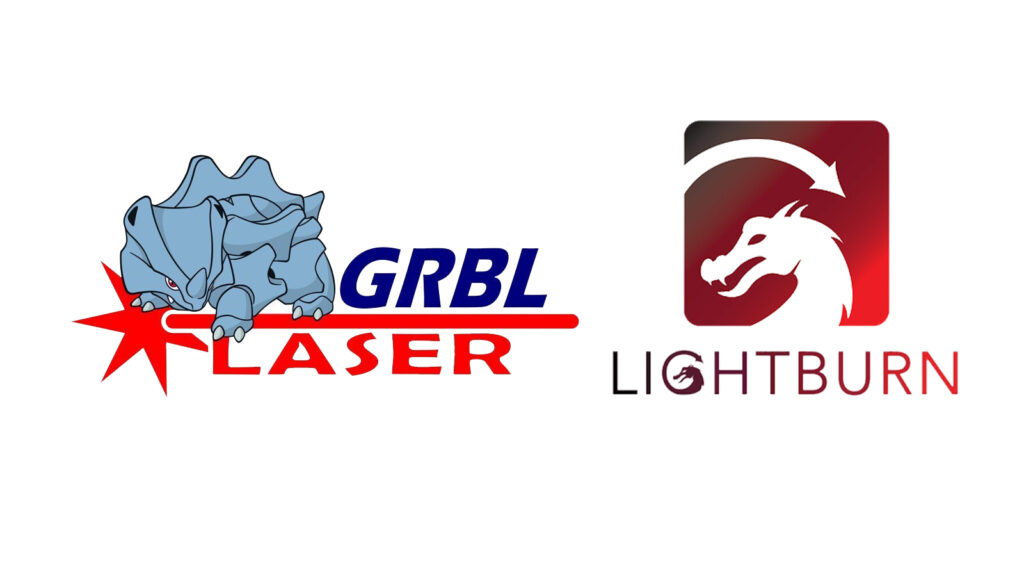 LightBurn is a complete layout, design and control software that operates on Windows, Mac OS and Linux. They offer a free 30-day trial of the complete program. It currently costs $60 to purchase a year-long license key for a diode laser, and $30 each additional year to keep your software up to date. You can use LightBurn with as many lasers as you might have.
LightBurn can operate your laser while tethered via USB cord, or save a file onto a microSD card. Although the machine can be operated without an attached computer, I found it easier to line up the material when running it directly from my laptop.
Creality includes a video tutorial for both Laser GRBL and LightBurn to get you started with setup and operation.
Focus-Free Management
To achieve fast focus for the machine, you just need to loose the laser head screw and slide it so that your eye can easily see throught he protective cover. Locktighten again once you have found a good spot for viewing!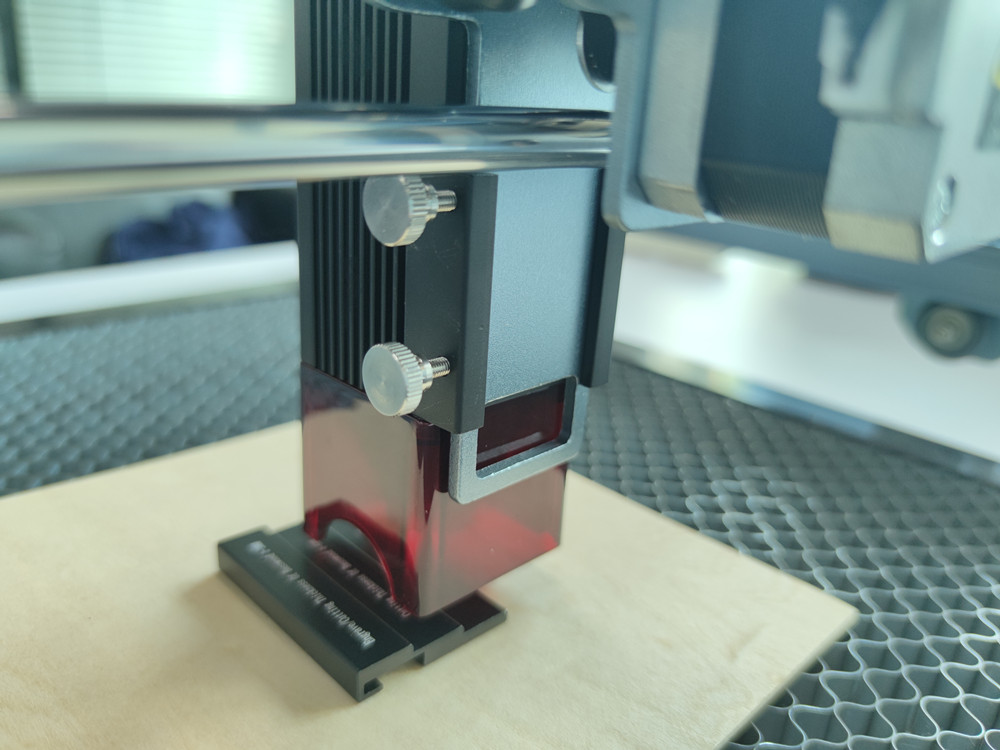 Multi Level Focus Block
This little block helps me find the best focusing distance for different depths of materials without having to measure one by one, very convenient tools.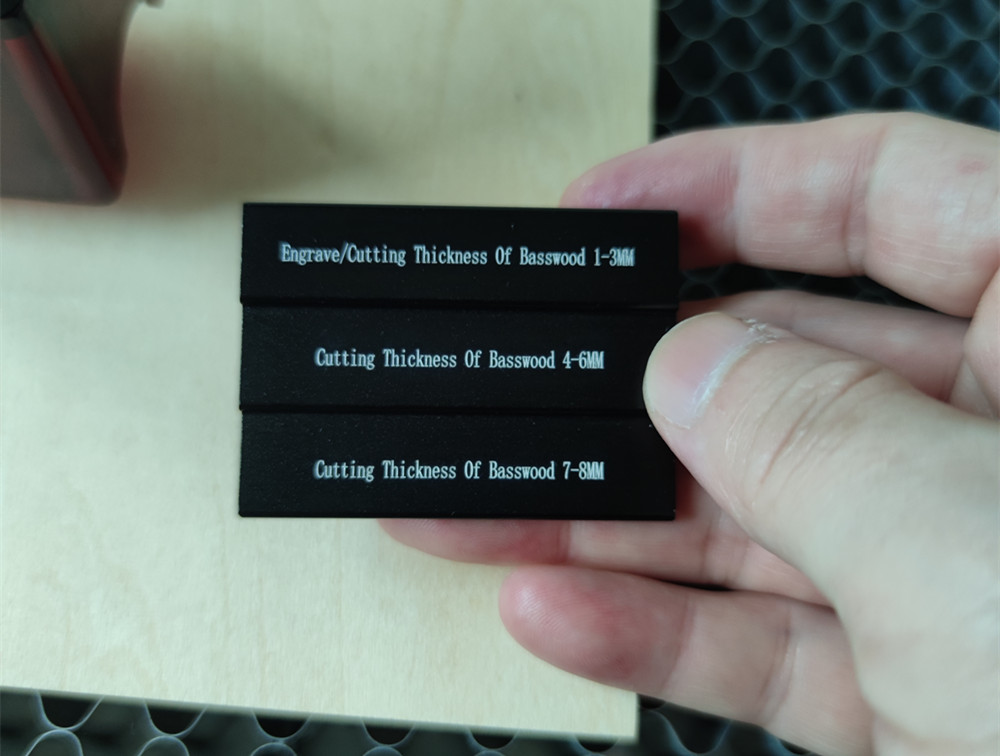 Always Spot On
For ease of use, the CR-Laser Falcon also comes equipped with a preview function for lining up the laser lines before a job is commenced, it makes easier to ensure that you are engrave rigating in the right place. The continuous blue light emissions from your machine will show where on whatever surface has been selected for cutting, ensuring accuracy every time!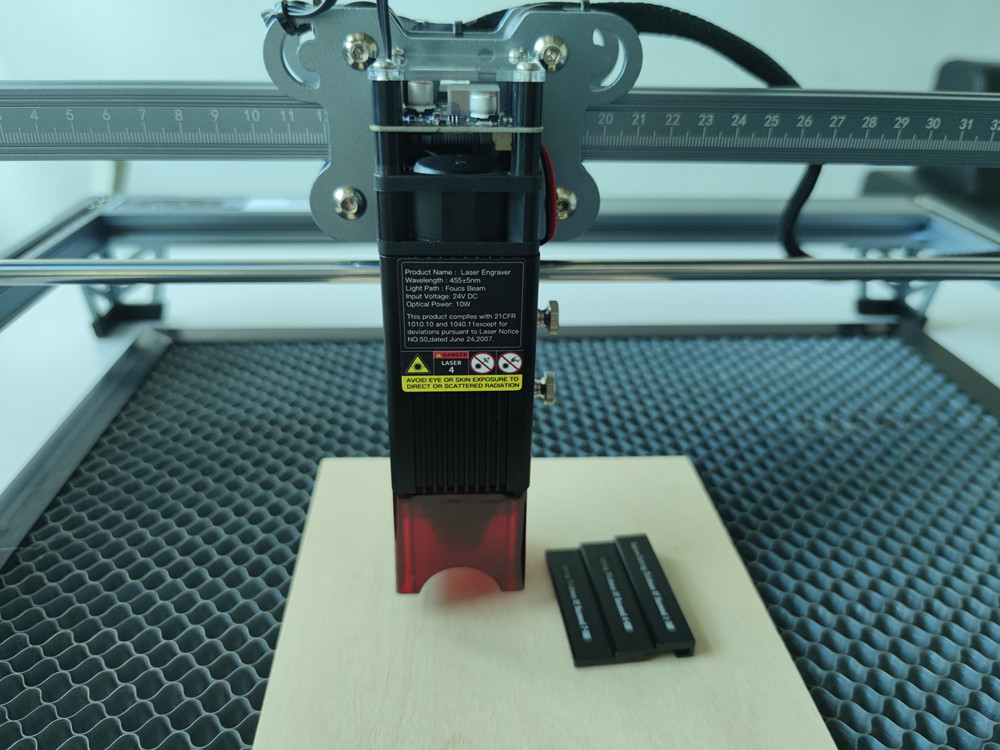 Build In Leveler
It is included a convenient bubble level to ensure that the gantry will operate parallel with its surface, this is quite useful if your working table is not that flat.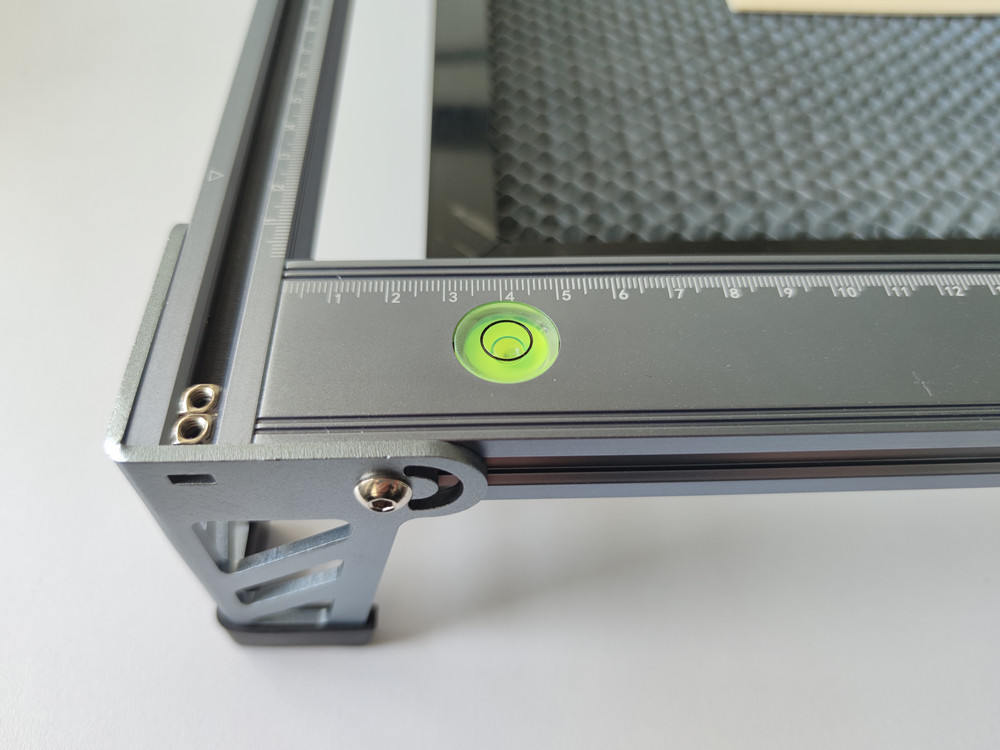 One Button Management
Unlike other brand machine, Creality do not have LCD screen, it only has one button to manage every function. You can press the button to control working status,including preview , engrave, pause and restart.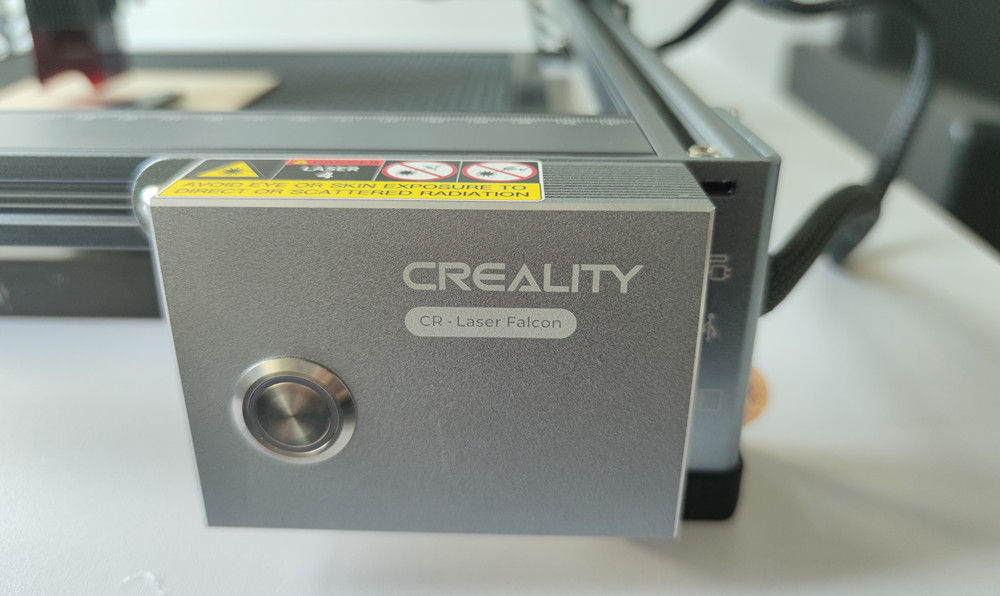 Safety Management
The protective cover can filter 90% UV light, it enable users to inpsect workdout during engraving without wearing goggles, and a small fan and filter system is mounted behind the laser lens to reduce smoke and fumes. But again, I still highly recommend putting on safety goggles all the time.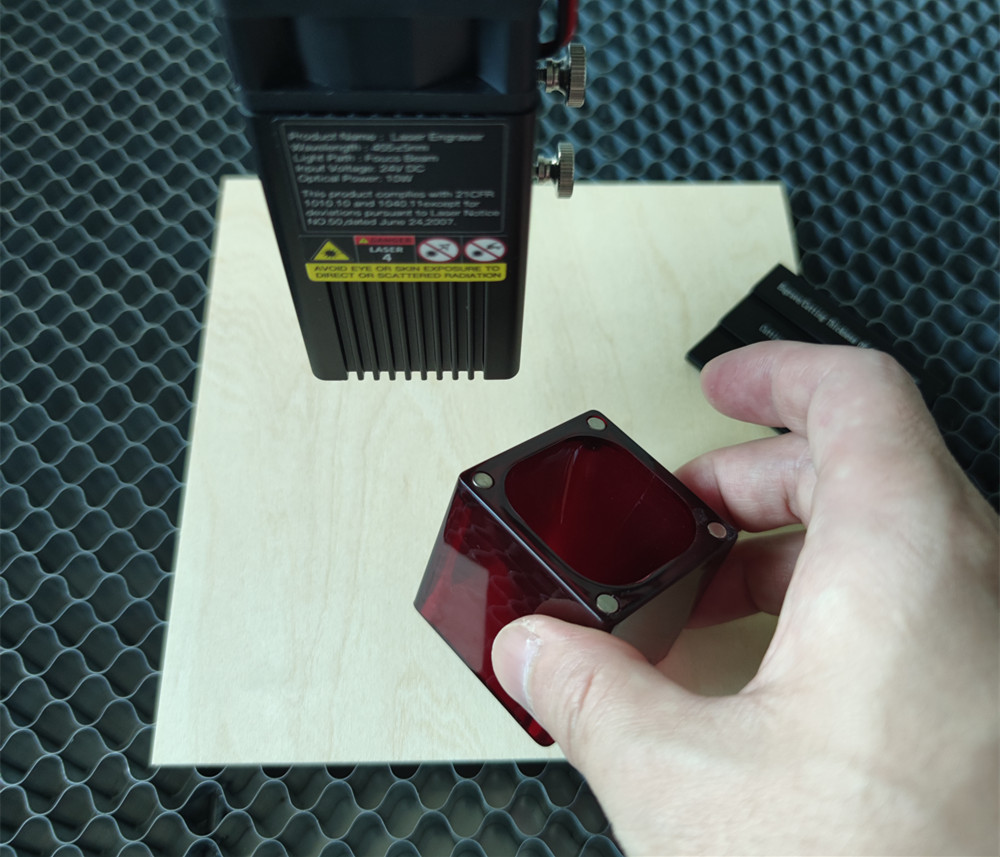 Also please remind that It's best to work in well-ventilated areas and never leave the device running without monitoring it closely, because of its fumes which are toxic for some people.
Appreciation of works
In fact, they don't have a touch screen, so I don't like to use TF card for offline work. Therefore, I need to prepare a Type-C cable to connect the computer to work.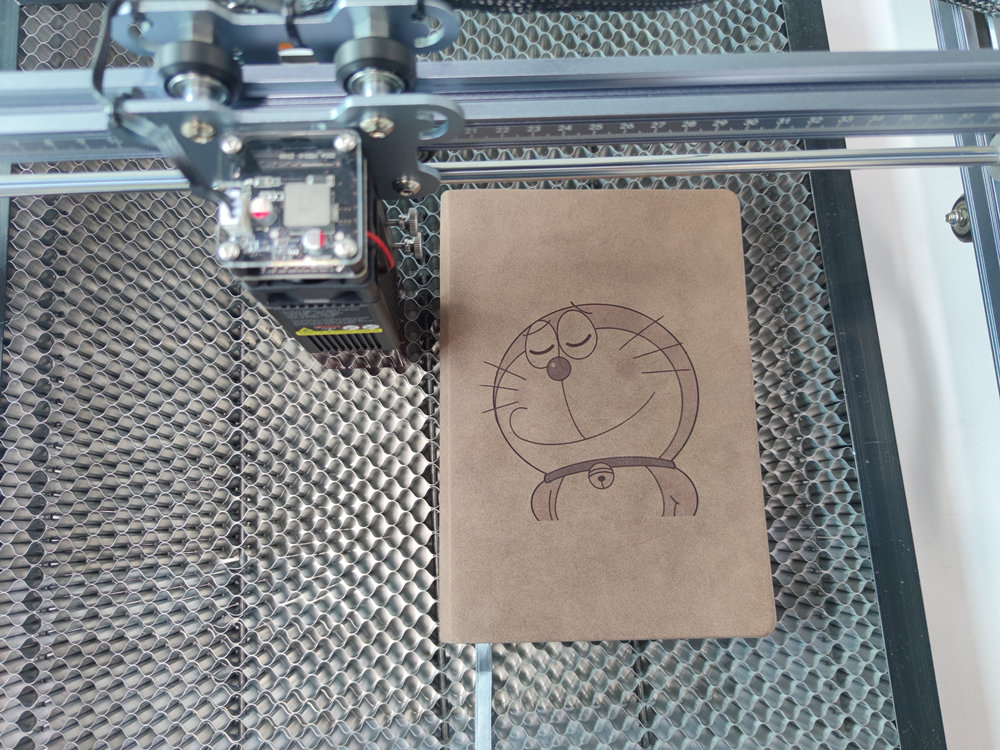 Summary
The Creality CR Laser Falcon 10W is a remarkable Mid-level hobby laser that retails for $519. You get a large working area, which makes it great for creating big engravings. In addition, the 10W laser module it carries is also the current mainstream configuration, which can meet almost any daily engraving and cutting needs.
If you are interested, then please visit their official website and Amazon store:
Creality Official website – use coupon: Falcon30 ($30 Off)
Amazon Creality Store – use coupon: 05ULJ9WS (5% OFF)