Creality Ender 3 is a three-dimensional R&D team of Imagine. After months of painstaking research, from appearance to internal parts, it has been repeatedly tested. It has greatly improved the function and ease of use. It pays more attention to the user experience and greatly reduces the user 's The use threshold is more convenient and simple to use. It has not been listed yet. It has been warmly sought after by domestic and foreign users in the pre-sale of major online malls.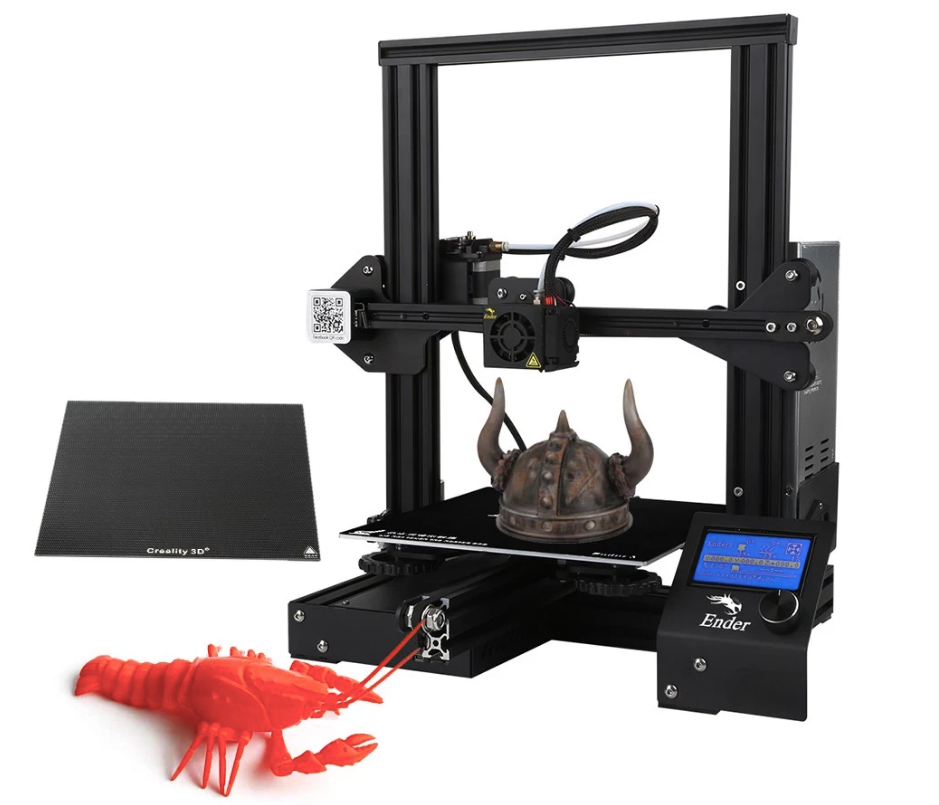 Let's take a look at the highlights Creality 3D Ender 3 3D Printer
Highlight 1: Creality Ender 3 uses a V-shaped profiles to build an I3 architecture, with extremely innovative design, keep pace with the trend, integrate classic elements, and create a new generation of trend-setting economical 3D printers.
Highlight 2: The integrated structure and large print size save space but print the world.
Highlight 3: Creality Ender 3 power supply of the safety protection device realizes rapid heating and ensures long-term printing.
Highlight 4: It takes only 5 minutes to configure a high-power hot bed to heat to 110 USD, which is rare in a $200 3D printer.
Highlight 5: Creality Ender 3 CNC machining Y-axis mounting slot, precise positioning, stable structure, and high-precision printing.
Highlight 6: Patented technology 1: MK-10 extrusion mechanism to reduce the risk of plugging and bad overflow. Patented technology 2: V-shaped profile and PEM steel pulley, the movement is smooth, smooth, low noise and wear-resistant.
Highlight 7: Creality Ender 3 new self-adhesive printing platform sticker replaces traditional masking paper and glue, solves the problem of printing warpage and saves printing costs.
Highlight 8: The large-sized hand-twisted nut that integrates human mechanics and aesthetics is easy to adjust the platform.
Highlight 9: Creality Ender 3 key parts have been tested for more than 24 hours, with a one-year warranty and after-sales service.
Highlight 10: $200 Creality Ender 3 3D printers not only provide a reasonable cost for beginners, but also provide good performance for enthusiasts.
In terms of price, Creality Ender 3 has always been "make the public affordable 3D printers" as the purpose, under the premise of equal quality, lower than other peers. Such a $200 3D printer, overall, the appearance and corresponding configuration have been greatly upgraded, its biggest feature is the ultra-high cost performance. "In addition, in the celebration of the three-year celebration of Imagination 3D, more discounts will be introduced to give back to new and old customers, so that customers can get this economical 3D printer at a low price.
Where to buy Creality Ender 3 3D printer?
It is shipped from the US Warehouse of Tomtop, remember to select priority direct mail in order to have international tax free shipping. You can also check local warehouses offers, available directly on the product page!
COUPON:

TOS0954US

Free shipping from US Warehouse