Every year when it comes to the middle of the year, there is Amazon's Primeday promotion where we can usually enjoy very big discounts on all kinds of products. If you are planning to buy a laser engraver in the near future, then LONGER official website is having a mid-year promotion.
Laser engravers are lately in high demand for all the creatives, because of their utility and scope of options. And of course the current level of specs and features. Modern home laser engraver machines are really on par with the professional machines just from few years ago.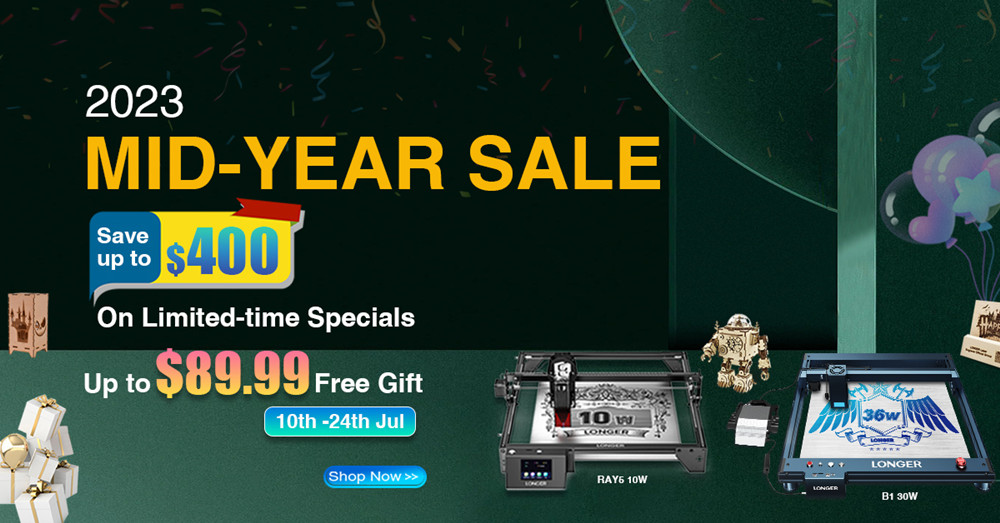 The laser engraving machine of this time, the laser power covers three grades of 10W, 20W, 30W, you can choose the one that suits you according to your needs.
Original Price: $529.99, Promo Price: $359.99
Promo Time: 4th July – 24 July
The Longer RAY5 10W laser engraver is a high-quality machine that provides exceptional performance and precision. It offers a 400*400 mm engraving size and a maximum 10000mm/min engraving speed. Compared to its less powerful sibling, the newest Ray 5 offers a full 10W of laser power, making it twice as powerful.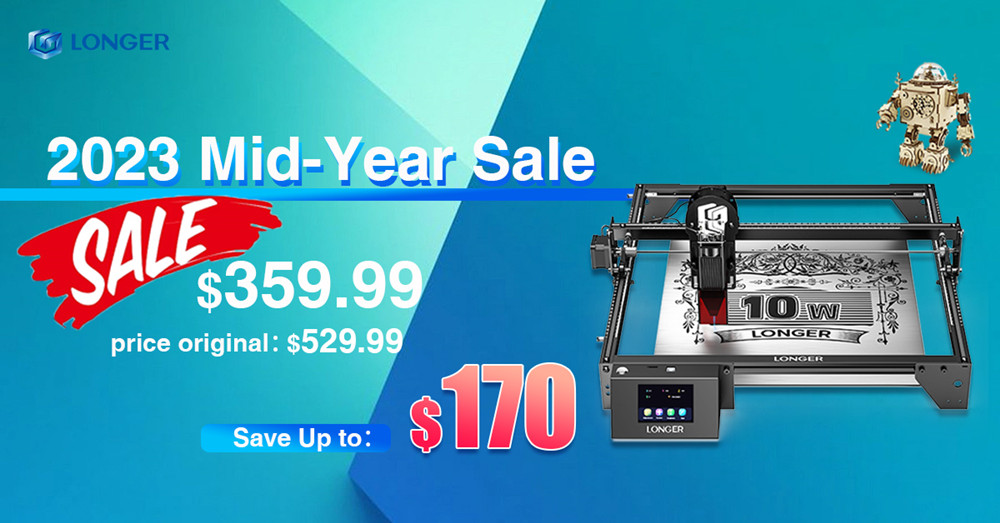 The 10W module is available at a reasonable price, and the easy upgrade procedure of the Longer Ray5 makes it a great buy. With dual beam technology, the Ray5 10W has a stronger laser power, which enables better cutting and engraving capacity. It is able to cut 0.8"/20mm thick wood board and 1.2"/30mm acrylic.
The Ray5 adopts the latest compressed laser technology, which generates an ultra-fine laser spot, two times thinner than ordinary lasers, making Ray5's cutting and engraving work more precise and consistent, with thinner lines, clearer texture, and more delicate and beautiful artwork. The machine is equipped with a thermal sensor, which triggers an alarm in case of a flame, ensuring safety.
Original Price: $999.99, Promo Price: $659.99
Promo Time: 4th July – 24 July
The Longer RAY5 20W Laser Engraver is a powerful and budget-friendly laser engraving machine that offers exceptional performance and precision. It features a 20W powerful laser output power and 120W electric power, which allows for deeper cutting at one time, smoother engraving with high power at high speed, and wider cutting.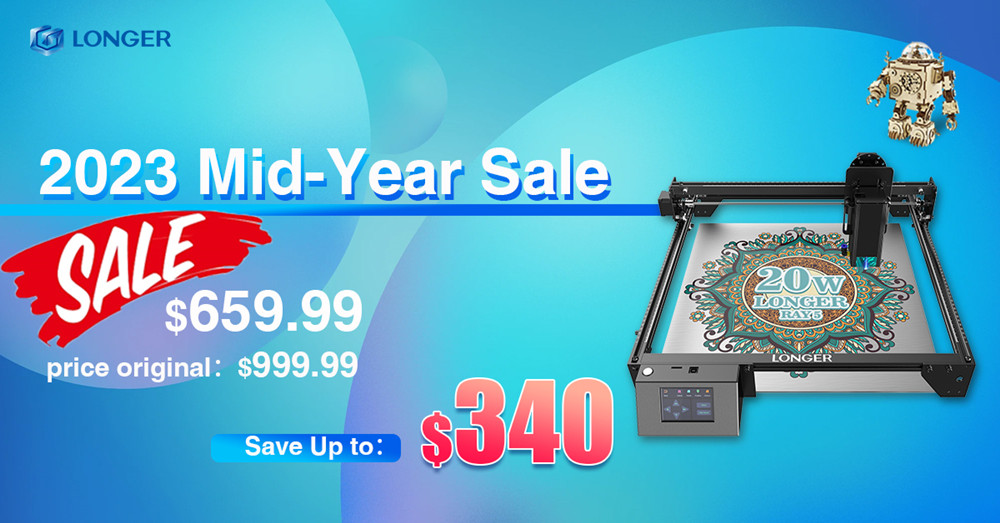 The laser can cut 0.59″/15mm pine wood and 0.31″/8mm acrylic in one pass, 25mm wood and 35mm acrylic in multiple passes, and cut 0.002″/0.05mm stainless steel. The RAY5 20W Laser Engraver has a 3.5″ touch screen for offline operation and XY-axis limit switches, which can accurately locate the position of the laser module.
The Longer RAY5 20W Laser Engraver is easy to install and comes with necessary tools and accessories. It also has safety features, such as an emergency stop button, laser safety glasses, and tilt detection system, to protect you and your workspace.
Original Price: $1399.99, Promo Price: $999.99
Promo Time: 4th July – 24 July
The Longer Laser B1 30W is a powerful and versatile laser engraving machine that offers exceptional performance and precision. It is equipped with a six-core diode laser that can cut through 25mm of wood, 50mm black acrylic, or even 0.1 mm stainless steel. The highly concentrated laser beam increases cutting capabilities by 20%, and can cut through 25mm basswood and 50mm acrylic. The Laser B1 boasts a working area of 450 x 440 mm, an increase of 23.75% compared to competitors, making it ideal for A3 panels.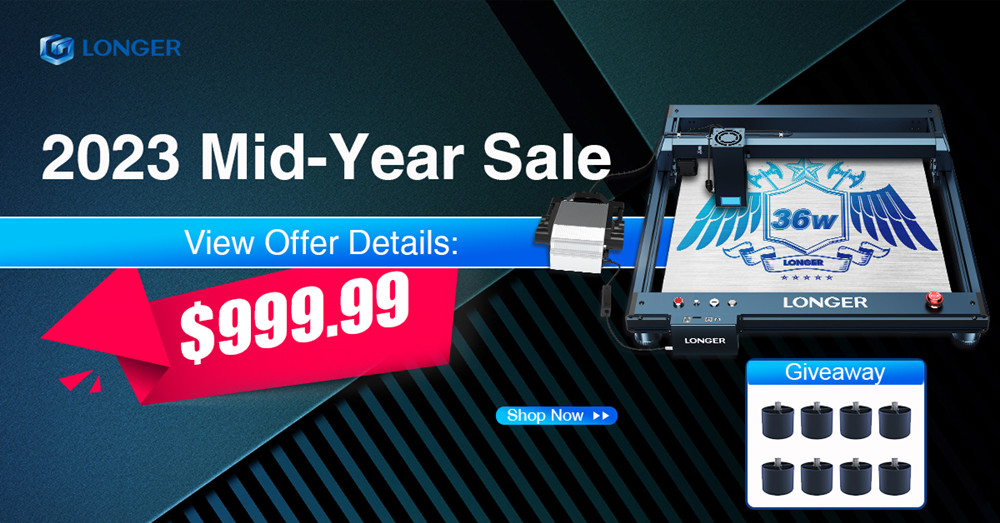 The Laser B1 is equipped with a new 32-bit motherboard, which allows engraving speed up to 36,000mm/min, four times faster than ordinary laser engraving machines. It also features a smart air-assist system that can be automatically turned on and off, improving the precision and quality when cutting. The Laser B1 is designed for durability and consistent performance over time.
If you are considering purchasing the Longer Laser B1 30W, it is recommended to watch some instructional videos and read reviews to get a better understanding of its capabilities and limitations. Assembling the machine is not difficult, and the quick start guide does a commendable job of illustrating the process.
Original Price: $1099.99, Promo Price: $799.99
Promo Time: 4th July – 24 July
Lets start with the LONGER Laser B1 20W, using quad-core laser tech and being one of the most powerful diode lasers in the market. It is strong enough to cut cleanly 15mm of pine wood, 8mm of black acrylic or even 0.05mm stainless steel in just one go. And with multiple passes you can cut 25mm wood board or 35mm black acrylic as well. Big working area of 450 x 440 mm is yet another plus of the machine.
New 32-bit motherboard also brings great 30.000 mm/min engraving speed. And TMC2209 silent driver effectively cuts on the operating noise. Another highlight is the air-assist system, which can be turned on/off automatically. Like eight major safety protections, XY axis limit switch, sturdy metal frame, focus bar for the laser module, laser lens protection and much more. You even get access to multicolor engraving.