Every one of us must take our teeth seriously.
As we pay attention to oral health, there are more and more tools for brushing teeth. Many people are entangled whether to choose a manual toothbrush or an electric toothbrush. In fact, after ensuring the correct brushing method and time, both can effectively care for their teeth. But who can guarantee brushing for more than three minutes a day? Electric toothbrushes can save time, effort and efficiency.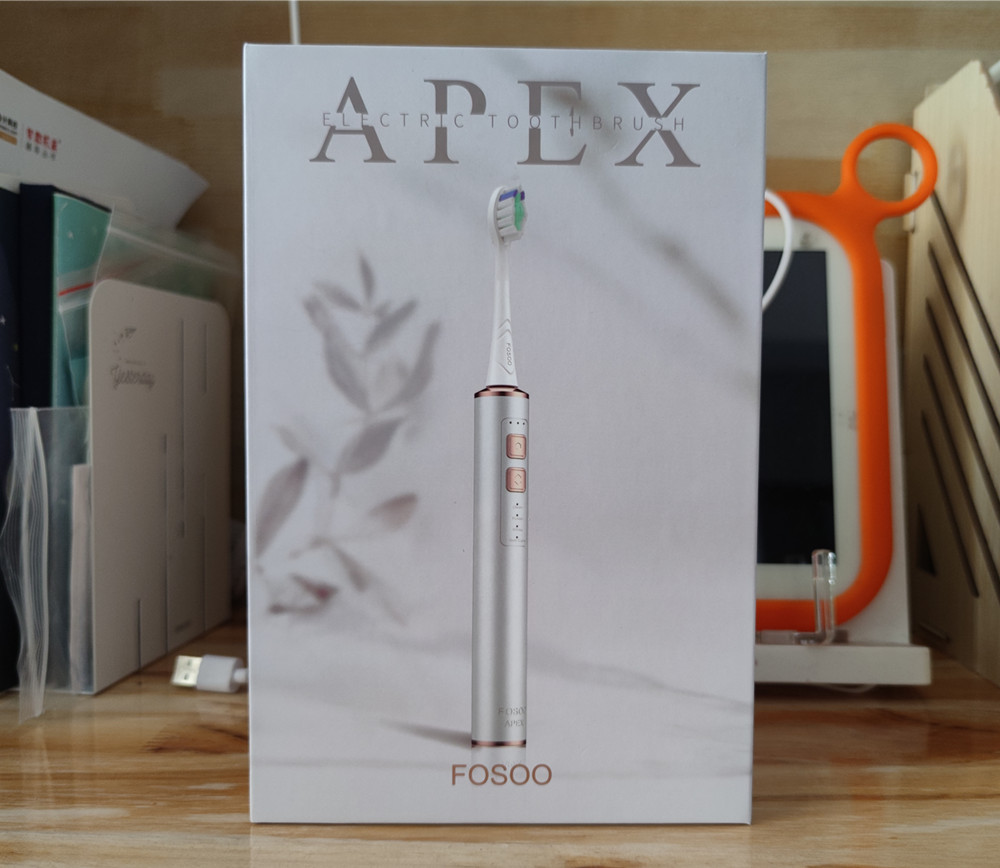 Compared with manually cleaned toothbrushes, the high-frequency sonic vibration of the electric toothbrush combined with soft bristles can not only achieve oral cleaning, but also some places that cannot be manually brushed can be achieved by an electric toothbrush.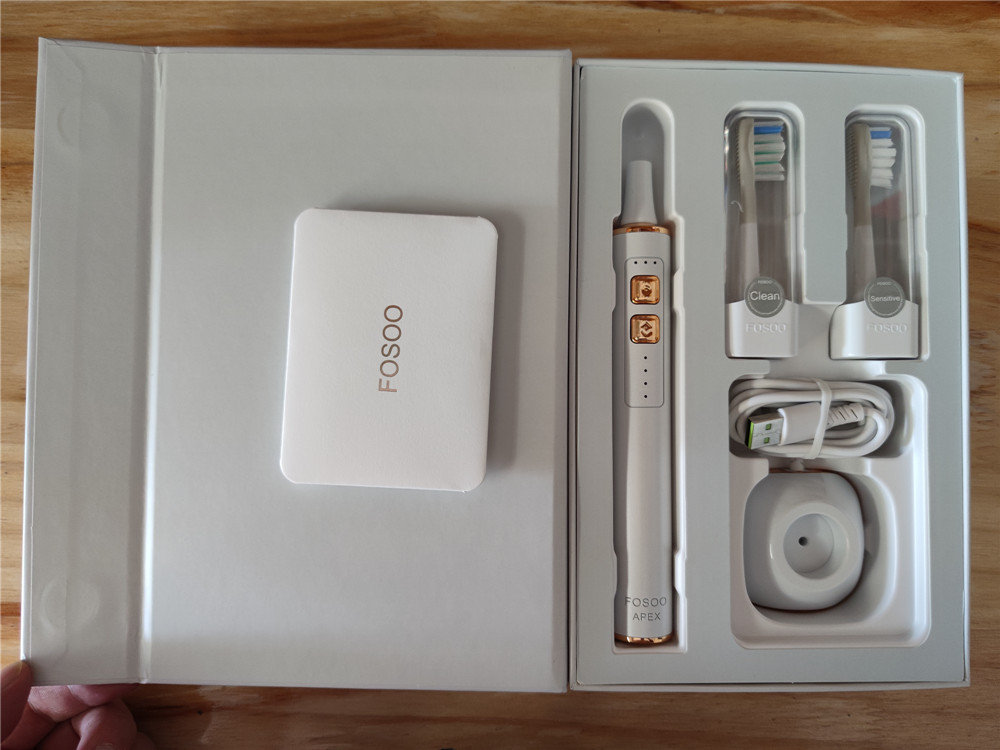 Let's take everyone to experience this FOSOO APEX sonic electric toothbrush. What is the effect of its use?
Design and Process
Honestly, I love the metal body of the FOSOO APEX electric toothbrush, which feels cold in my hand. It has a slim looking body and the handle is actually more manageable compared to my Philips Sonicare Diamond Clean. The FOSOO APEX is made of zinc alloy and measures 23.85 cm including the brush head. In the brush body area, it has a diameter of about 23.5 mm. The body weighs 170 grams.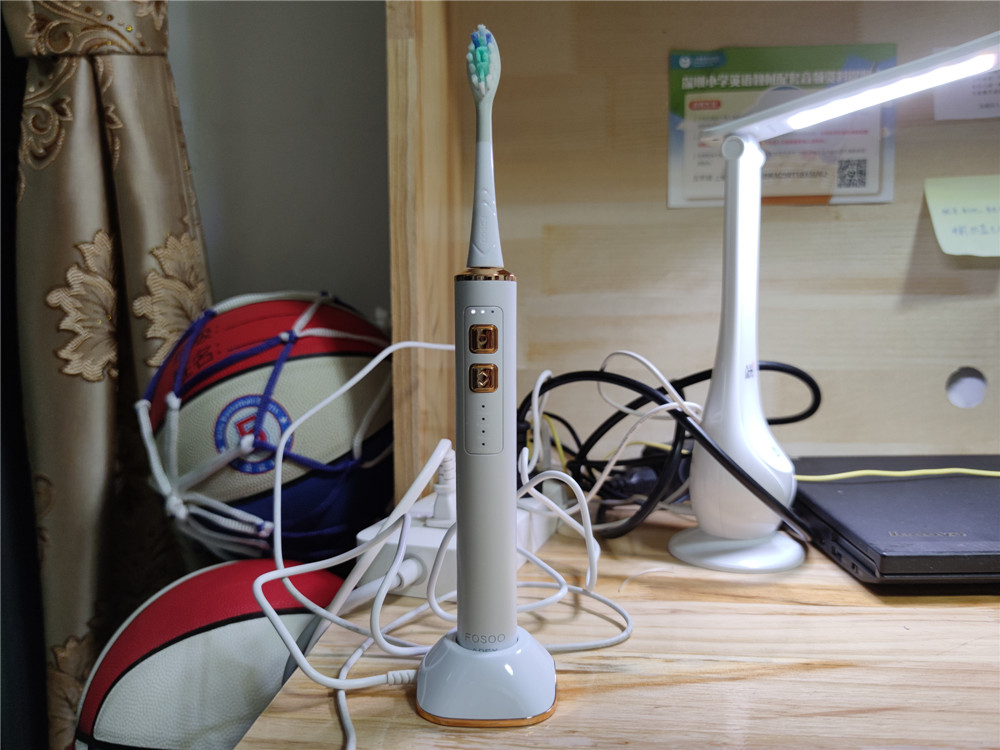 The FOSOO APEX is operated by means of a button on the front. It has four different cleaning modes: including cleaning, whitening, gum care, and polishing mode. In addition, in terms of intensity, it has three levels of intensity, low, medium and high, so you can switch at will according to your situation.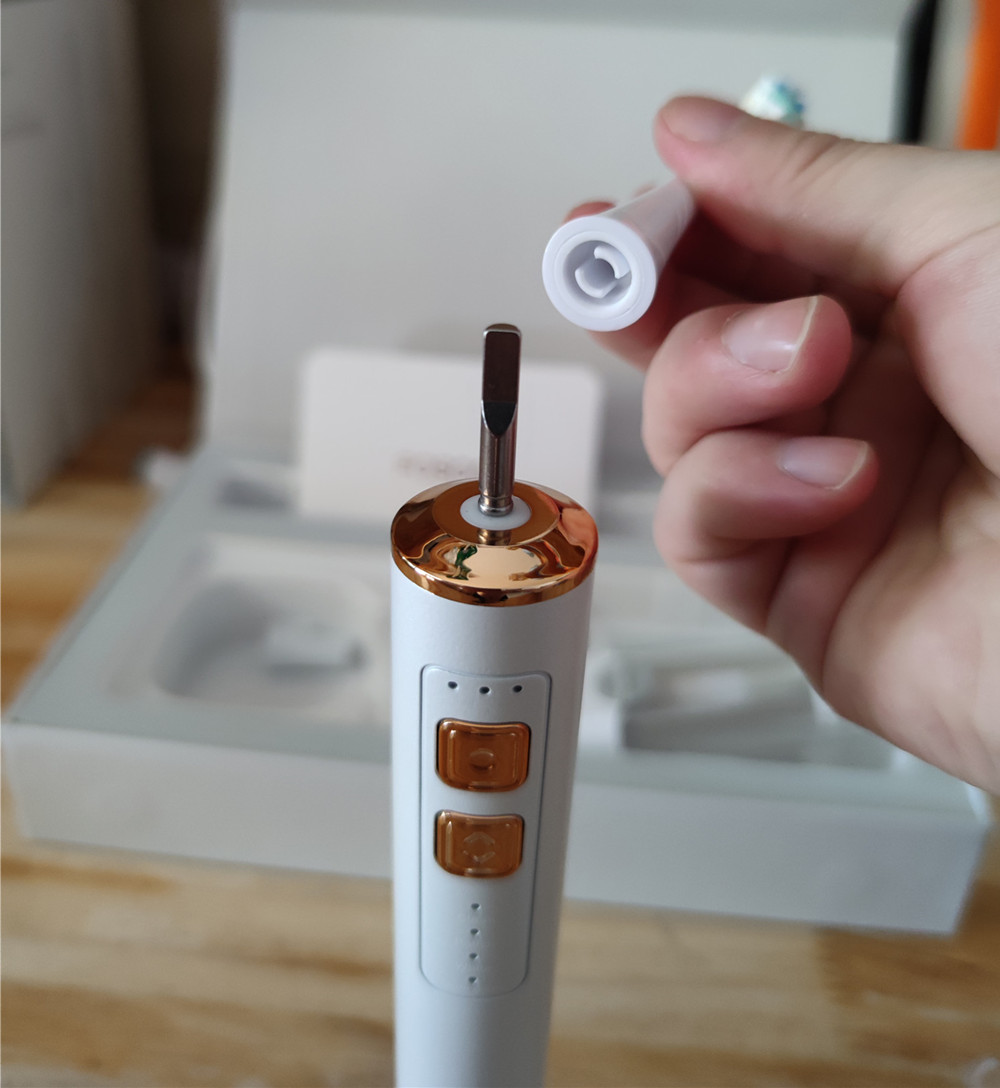 When brushing, FOSOO APEX runs automatically for 2 minutes and then shuts itself off. During these 2 minutes, there is a 30 second timer in all four quadrants of the mouth. The FOSOO APEX vibrates up to 42,000 times per minute and does not exceed 50 dB during operation. Compared to the Philips Sonicare Diamond Clean, the noise level during operation (maximum level) is almost the same. Also, of course, APEX is waterproof according to IPX7.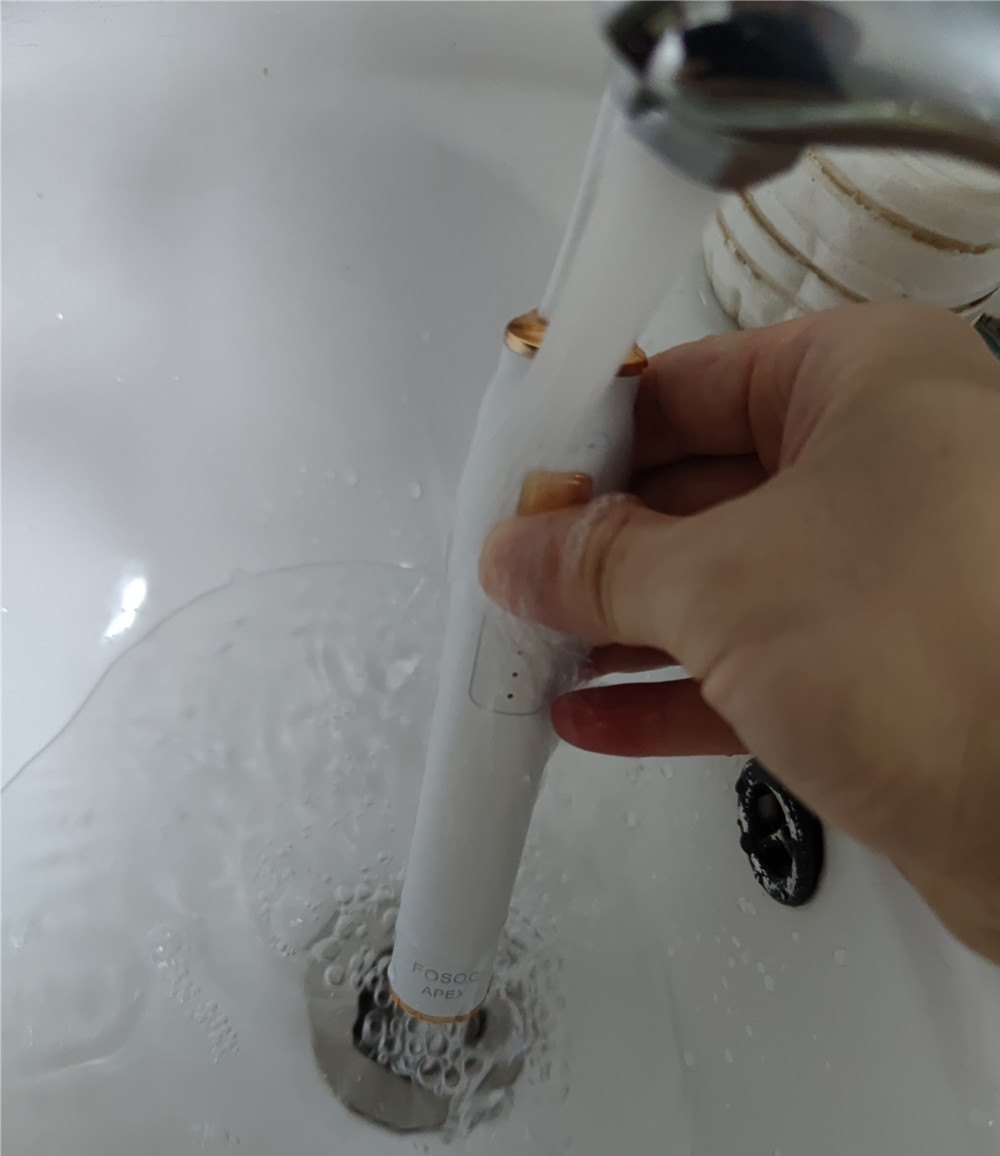 In addition to the white version in our review, there are also blue and pink FOSOO APEX. I personally think that boys will like blue, girls will like pink, and white, will be the most popular color.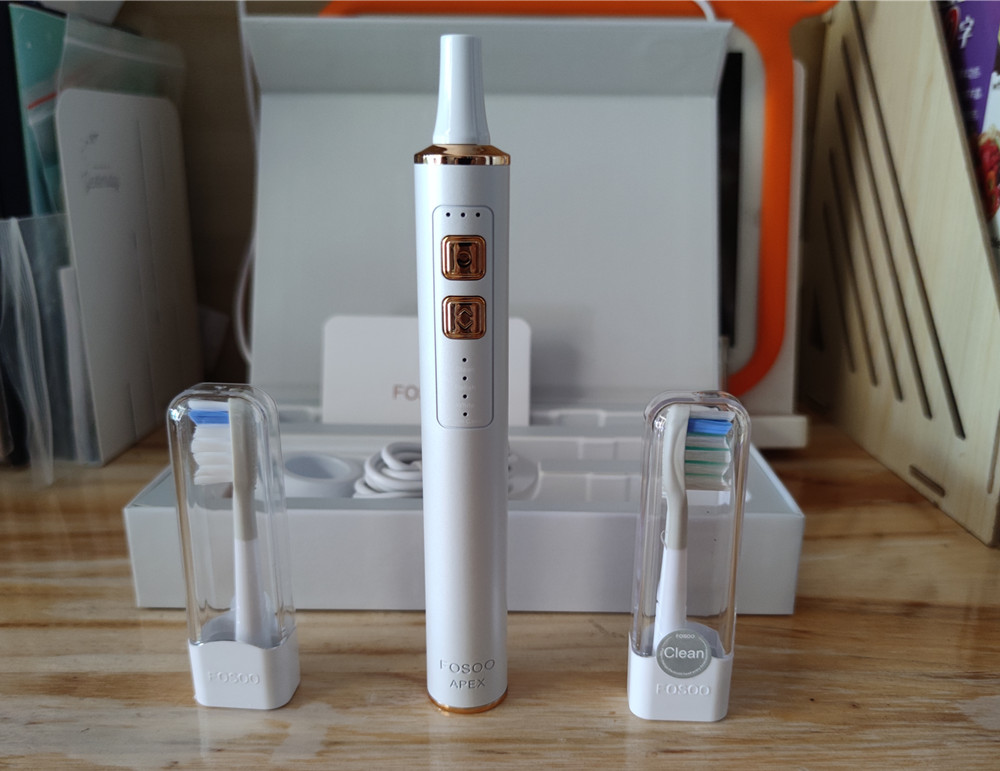 Overall, the FOSOO APEX gives a very sturdy feel, especially when compared to the Philips Sonicare Diamond Clean, which gives a very delicate and lightweight impression. It fits comfortably in the hand and the build quality is undoubtedly exceptional.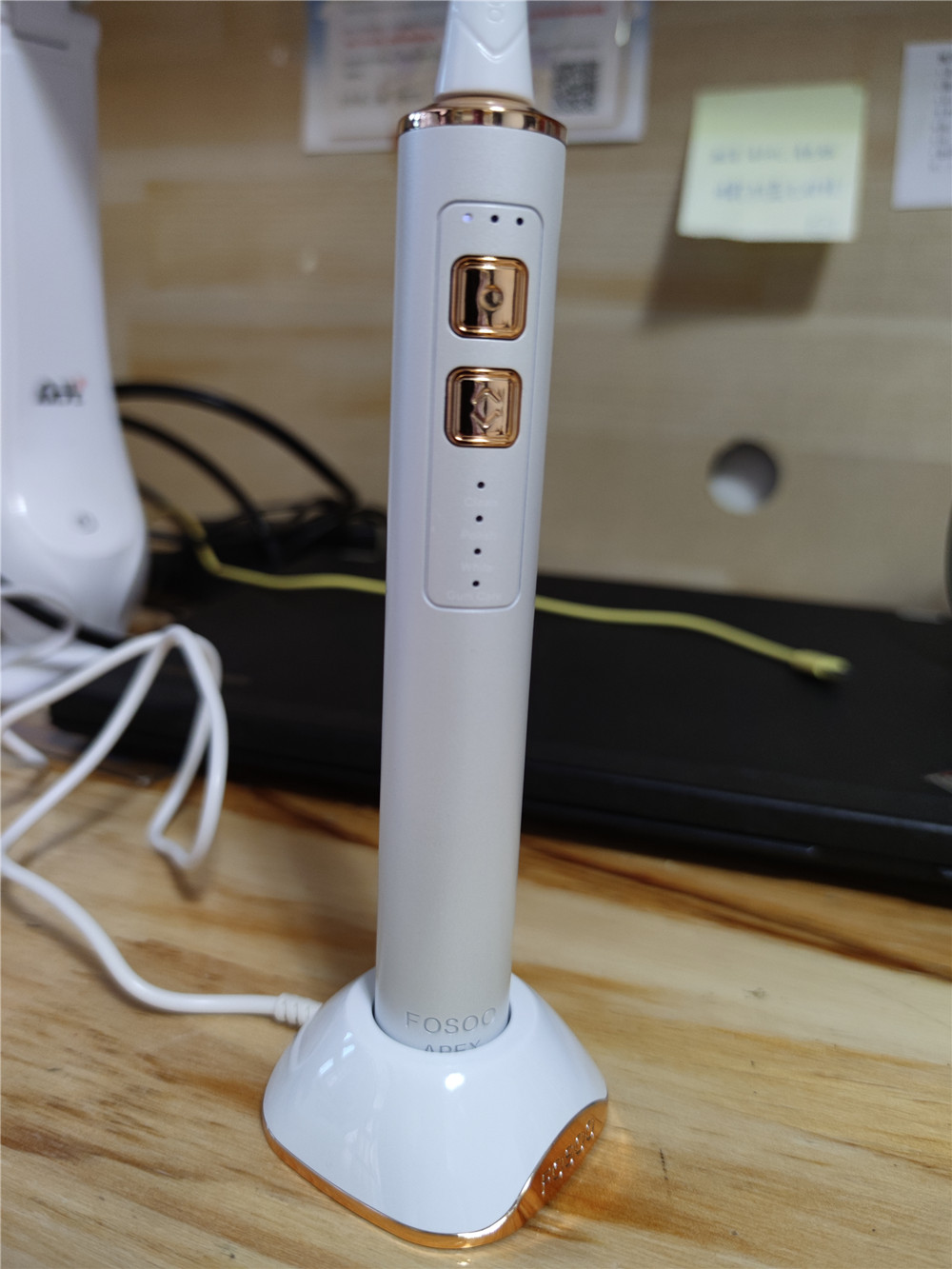 Function and operation
Of course, a sonic toothbrush must first be able to do one thing: clean your teeth. The FOSOO APEX is switched on by the power button on the front (long press for 2 seconds). The brush is always activated in sensitive mode and then gradually switches to the cleaning mode set during the last brushing session. This is to prevent the toothbrush from spilling too much water in the first few seconds before it is placed in the mouth: a very good idea.
Video:
Most people may not know this but the recommended time by dentists to brush one's teeth is 2 minutes, meaning 30 seconds on each quadrant of the mouth, and to make sure that the toothbrush prompts you with a slight vibration indifference every 30 seconds to change quadrants and turns off on its own after 2 minutes.
The FOSOO oral care electric toothbrush comes with a ready-to-use 1 x clean brush head with a travel cover and 1 x sensitive brush head also with a travel cover, hence saving you the hassle of finding the right head for your type of teeth as well as keeping the brush head sanitary.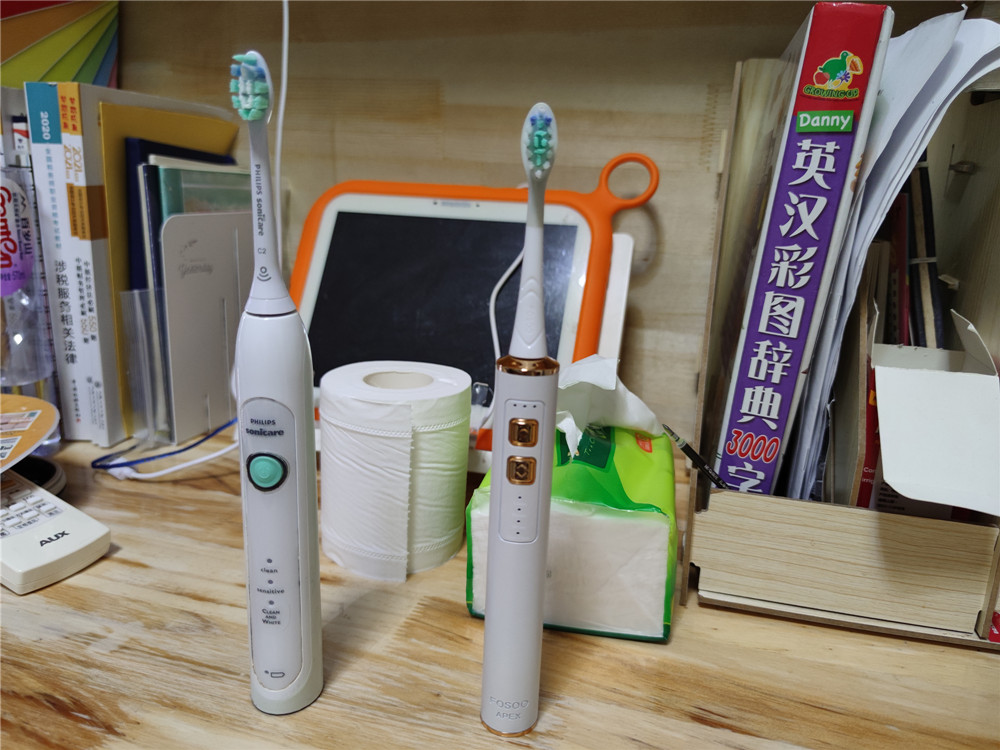 The clean brush head is equipped with triangular-shaped bristles and rounded-tip bristles to get in between the tight gaps of the teeth. Whereas, the sensitive brush head comes with only soft-rounded tip bristles.
However, the one thing that both brushes have in common is the blue indicator bristles that when completely faded mean that the brush head needs to be changed.
Battery
The FOSOO APEX has an 2500 mAh battery, which is supposed to provide a battery life of up to 180 days according to the manufacturer. I used it twice every day and was able to achieve a battery life of 60 days. This is also a really strong battery life compared to the other models.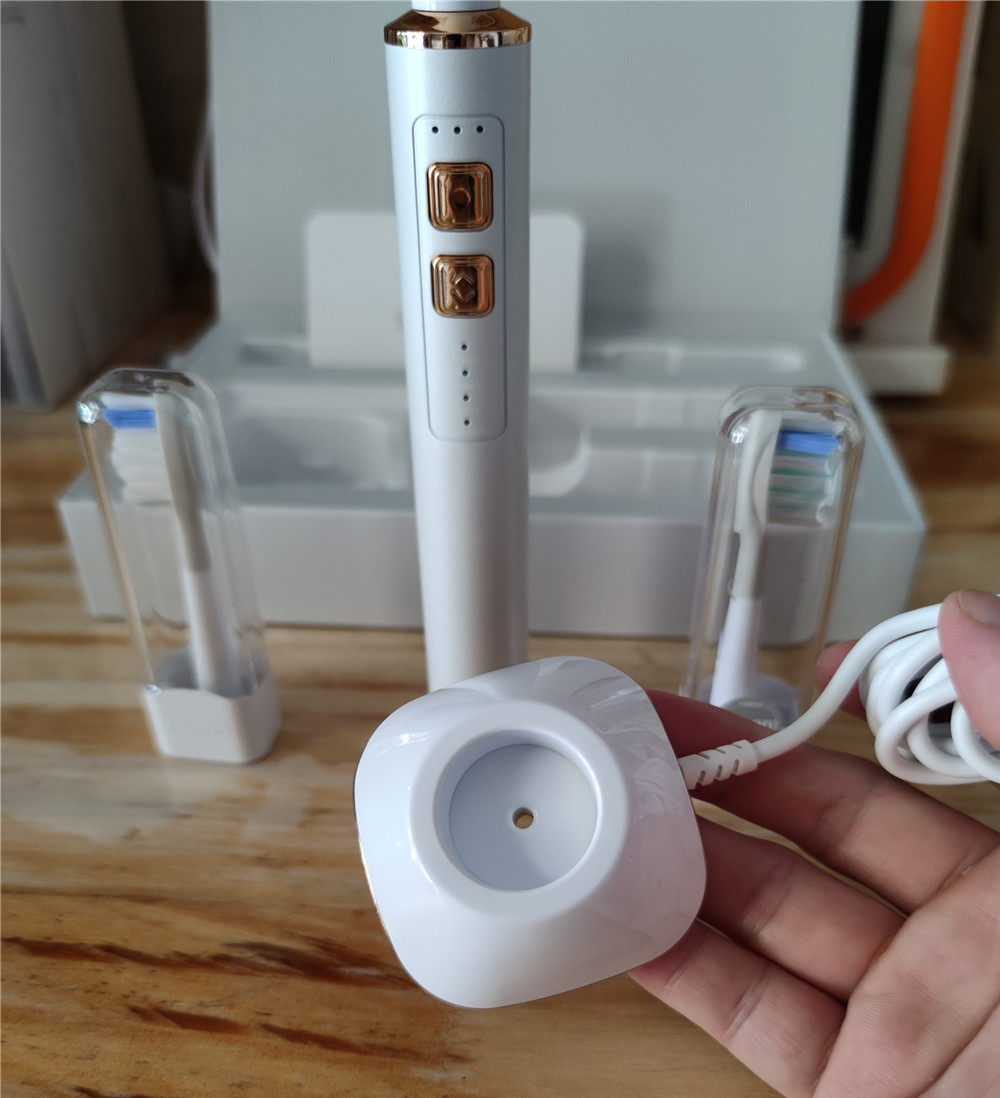 The FOSOO APEX is charged via the included charging pad. This has to be connected to a power supply via an integrated USB cable and then charges the battery completely in two hours.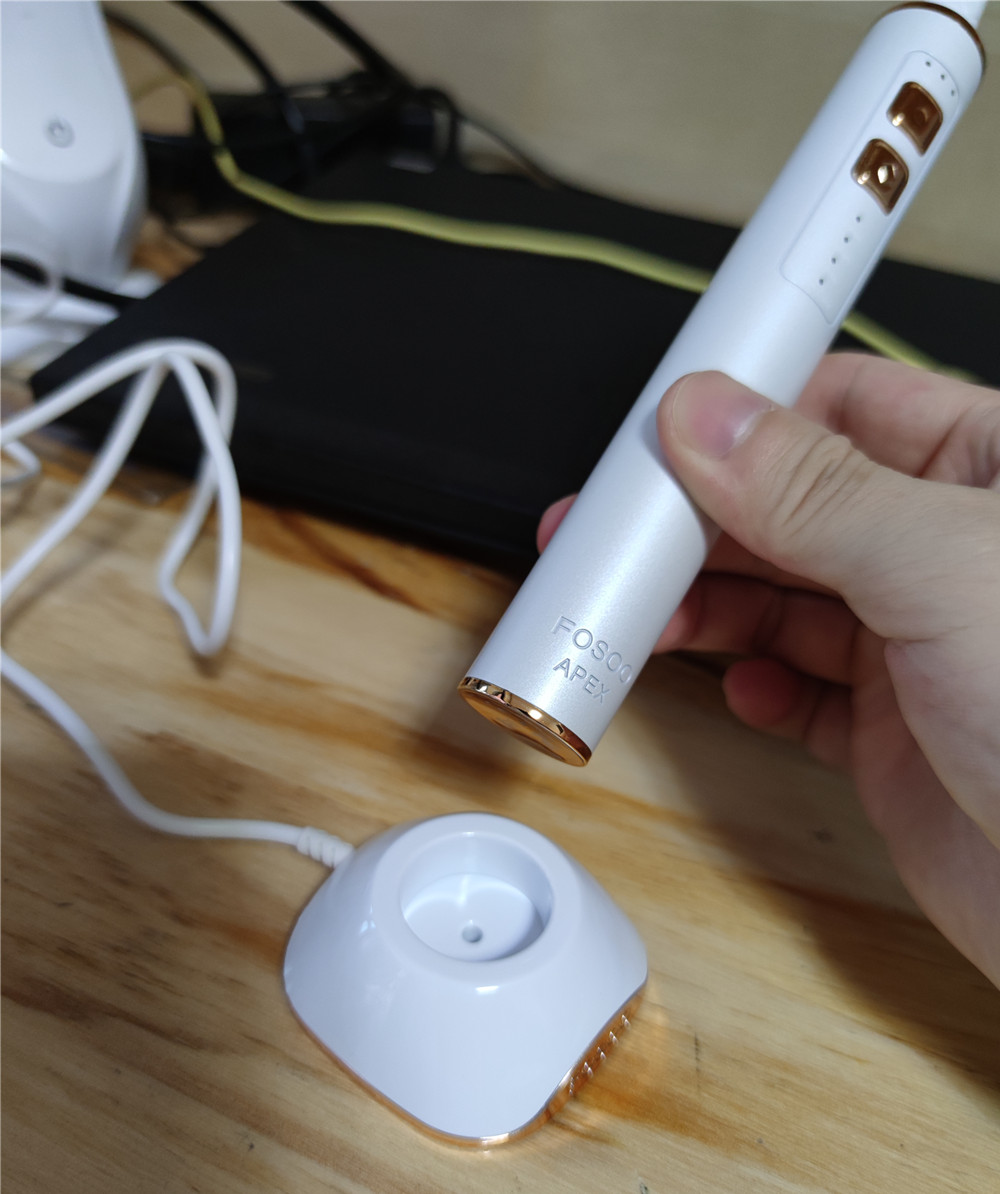 Summary
The FOSOO APEX can be purchased for less than 60 USD. For this price, it is a really good sonic toothbrush and is therefore particularly suitable for beginners in the world of electric toothbrushes. It is very well made and also looks good without being big or clunky. It is easy to use and the cleaning performance is also absolutely fine.
In this price segment, I can unreservedly recommend the FOSOO APEX, because the device does exactly what it is supposed to. In my opinion, a sonic toothbrush doesn't need much more bells and whistles, so you can hardly go wrong with it. Well, you can rest easy because it will only set you back $59.99 on fosoo.com.