Happy summer vacation is coming to an end, and there are just over 20 days to go before the school season starts in September. And while the school season is maybe not affecting most of us directly anymore, we usually have some family members or kids in such category. No matter what, we can always benefit from some early Back to School promo events anyway. And one like that is now available from the Longer brand, who are of course most famous with their laser engravers and 3D printers.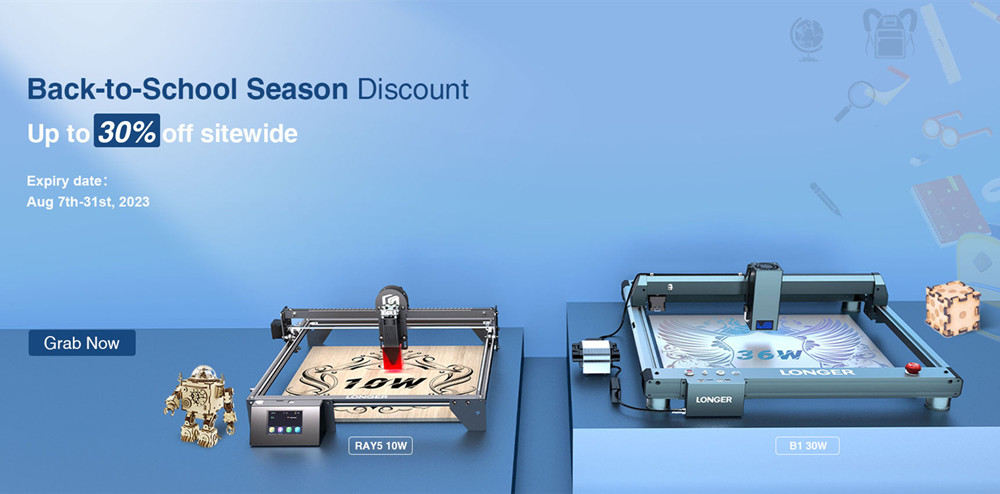 Please note that this sale ends on 31 August 2023. So take advantage of this limited-time offer and visit Longer's store today to explore their range of laser engravers and unlock extraordinary discounts.
Laser Engraver RAY5 Series
The RAY5 series of laser engravers is available in three models corresponding to 5W, 10W and 20W laser module output power. The 5W version uses the latest spot compressed laser technology, with a laser focus spot as fine as 0.08mm². The 10W version has dual beam technology, which provides a stronger laser power and enables better cutting and engraving capacity. The 20W version is also able to cut thicker materials, such as 0.8"/20mm thick wood board and 1.2"/30mm acrylic.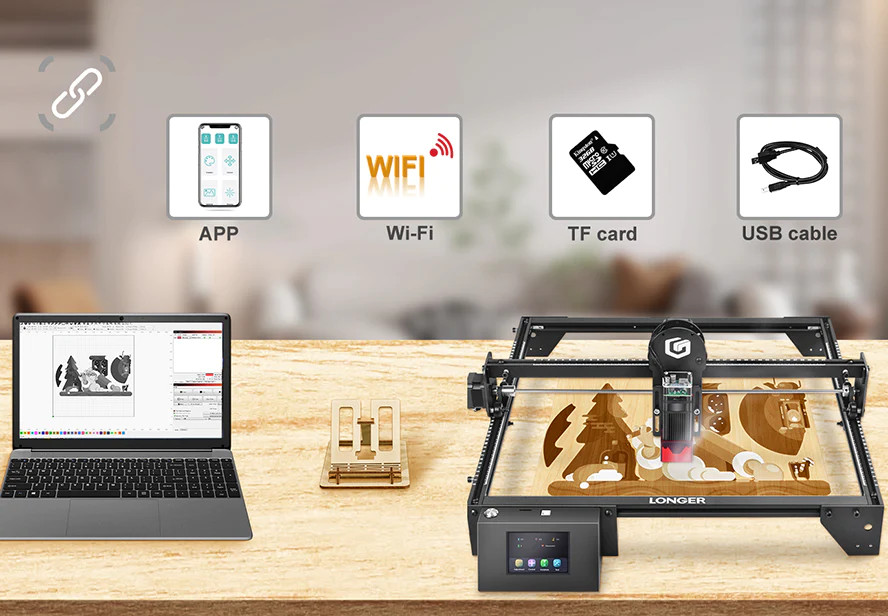 Three versions have a fixed focus with a 30mm focal range. The Ray5 has 400*400mm engraving size. The 5W version has an optical output of 5W-5.5W, while the 10W version has a laser power of 10W. The Ray5 is a versatile and powerful laser engraving machine that offers exceptional precision and performance.
Retail Price: $329.99

Discounted Price: $224.99
Retail Price: $529.99

Discounted Price: $359.99
Retail Price: $999.99

Discounted Price: $599.99
Laser Engraver B1 Series
The Longer Laser B1 is a laser engraver that comes in two models: the Longer Laser B1 20W and the Longer Laser B1 30W. The Longer Laser B1 30W is the more powerful of the two models, with an output power of 33-36W and a 6-core laser head. It has a work area of 450x440mm and a laser wavelength of 450nm. The focal length is fixed at 50mm. The laser beam is highly concentrated, which increases cutting capabilities by 20%, and can cut through 25mm basswood and 50mm acrylic.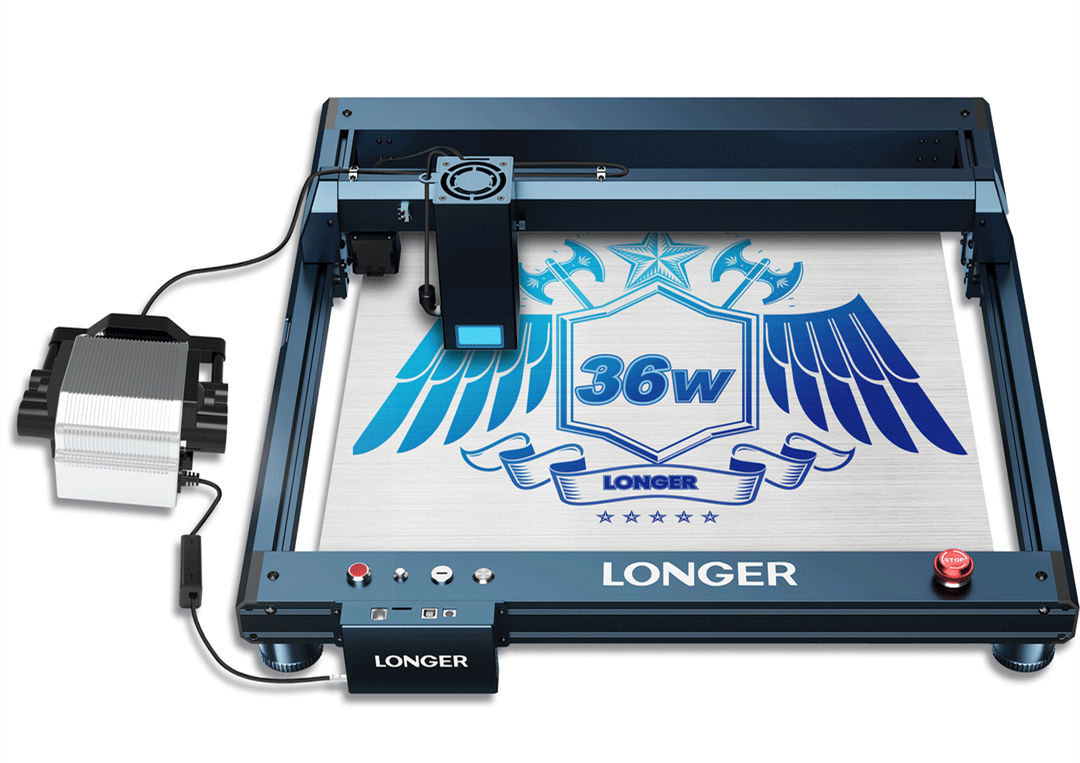 The Laser B1 30W can cut or engrave over 1000 different materials, such as wood, steel, leather, acrylic, cloth, and more. It has a sturdy aluminum frame which stays stable even under high-speed working mode. The Laser B1 30W boasts eight major safety features including Move/ Flame/ Offline/ Motionless/ Security Lock/ Eye Protection/ Emergency Stop/ Zero Reset. The Laser B1 30W is compatible with various mature carving software, such as LaserGRBL and LightBurn. It supports Windows 7+, macOS, Linux; engraving file formats Support JPG, PNG, BMP, G- code, GIF, SVG, NC, GC, etc.
Retail Price: $1399.99

Discounted Price: $979.99
Retail Price: $1099.99

Discounted Price: $759.99
Resin 3D Printer
The Longer Orange 4K is a 3D printer that uses resin to create high-quality prints. It features a built-in 4K mono LCD screen with a resolution of 6480 x 3840 and subpixels of 31.5µm x 10.5µm, which allows for more details and better surface on miniatures. The printer has a print size of 118 x 66 x 190mm and a print speed of up to 30mm/h.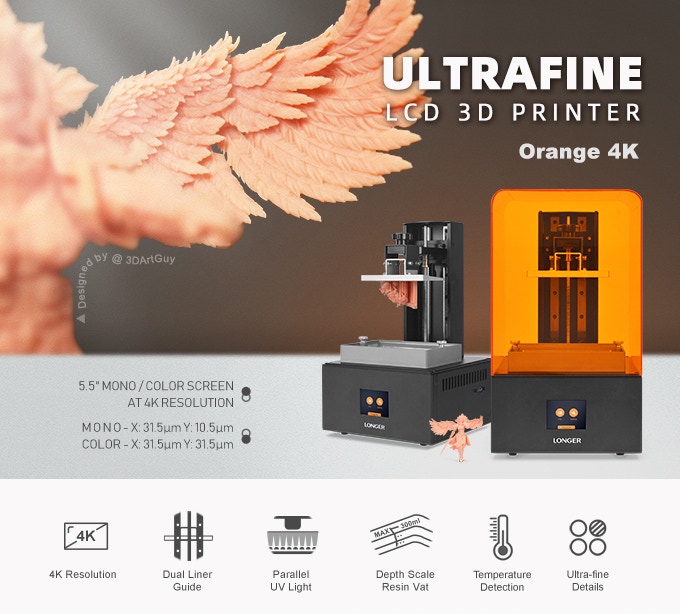 The Orange 4K is built with a full metal body to keep the printing procedure more steady and less wobbly, providing reliable printing quality. The printer is equipped with dual Z-axis linear guides for more steady printing, which allows for better and stable printing of tiny details. The Longer Orange 4K is available for purchase at $199.99 instead of $399.99.