Hey guys, it's been a week since the new year 2023, how are you doing? Laser engraving machine is a great tool, it's a great helper for our DIY work. I was asked by ZBANX affiliate to bring you a nice laser engraving machine today and offer a great discount on Amazon.
We introduced the Atezr P10 laser engraver two weeks ago, a machine with 10W laser power output, which is the mainstream diode laser device in the market today. However, I know that many consumers usually buy not only a single machine, but also some accessories, such as air-assist, such as a roller kit for engraving cylinders, etc.
So, Atezr launched such a P10 10W Combo Set, which includes an Atezr P10 machine, an air pump, and a Rotary Roller. Buying the whole kit will be a lot cheaper than buying them individually.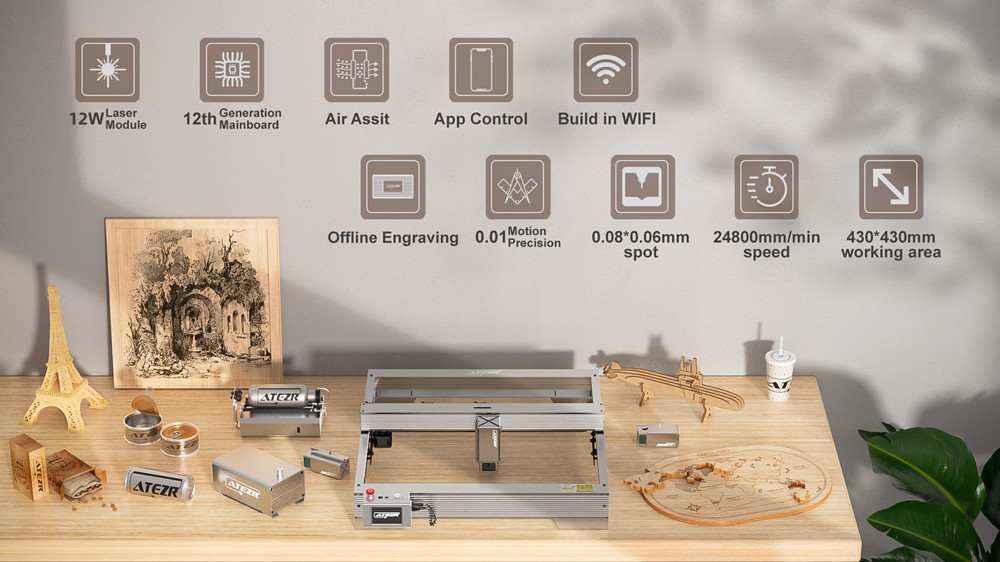 ATEZR P10 10W
Atezr P10 blue laser heads enable you to work on any material you can think of. Whether it's glass, paper, or even metal. It also features a working area several times larger than others on the market, so there's no limit on what you can create. Atezr P10 is a powerful laser with the largest work area ever. This never-before-seen design marries cutting-edge technology with our trademark simplicity, maximizing quality and functionality.
Double compression spot laser power is 10~12W
Cut 15mm wood and 15mm acrylic panels
Large working area is 430mm*430mm
Intelligent work with a 256-colour gradation module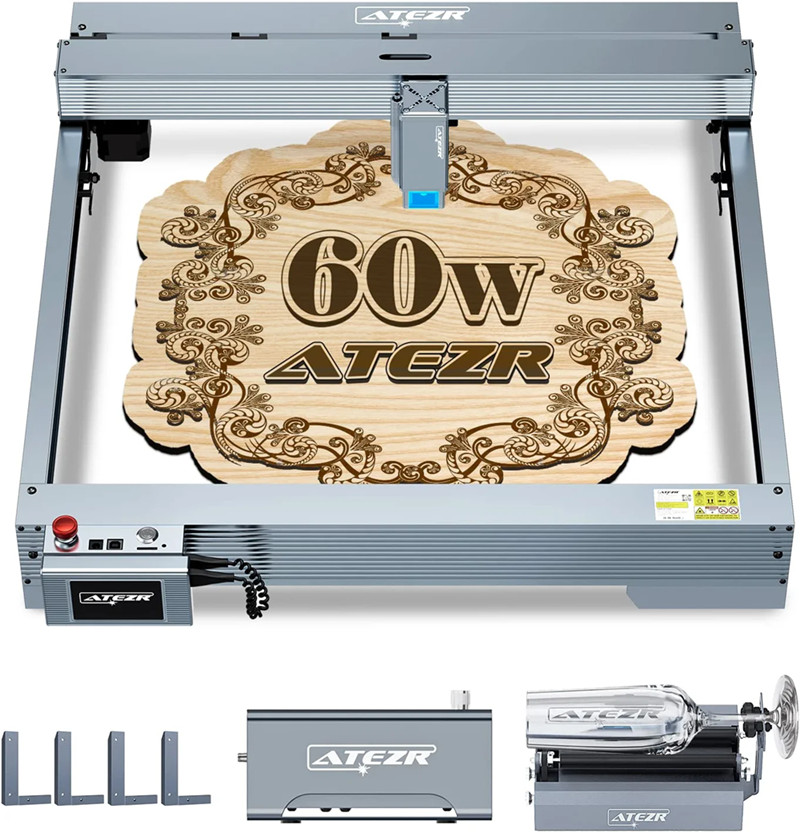 ATEZR KA Air Assist
By optimizing exhaust volume, lens pollution is minimized. As far as the machine's functionality, the built-in air assist design is used to maximize the dissipation of hot smoke, reduce the temperature, and protect the laser head, making for cleaner and smoother cuts. The hose can maximize the working efficiency of air assist and avoid affecting the machine's operation and the final product. Air assist can be adapted to 95% of the machines on the market.
Easy to install and use, follow two steps to install the laser air assist
Compatible with 95% of laser engraving machines on the market
Prevent smoke and dust from attenuating laser energy
Using soft tube to enhance the efficiency of working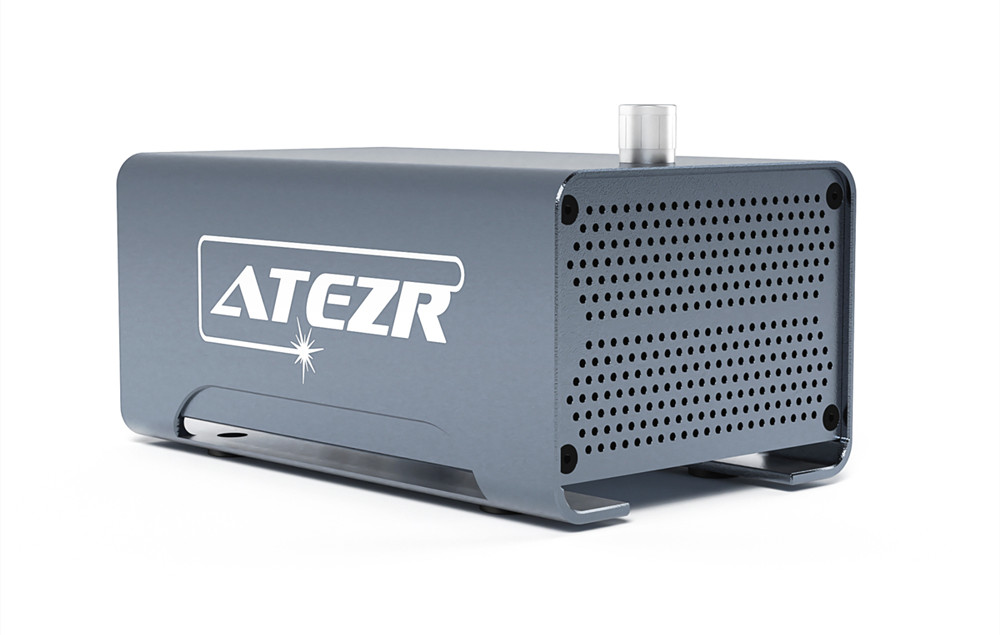 ATEZR KR Rotary Roller
The ATEZR Rotary Roller supports a three-stage adjustment of the roller range. The roller distance can be adjusted from a minimum of 3mm to a maximum of 115mm without the use of any tools, making it easy to operate. Atezr laser rotary axis are wrapped in a rubber material that is less prone to wear and tear. It increases the stability of the engraved item when you use the engraver to rotate the item 360 degrees.
The Atezr Rotary Roller is compatible with 95% of laser engraving machines on the market, and a cable is included in the package to adapt to other engraving machines. It has an extremely wide range of use, strong compatibility, and meets a variety of connection methods and file formats.
Support extra longer materials cutting and engraving
Compatible with 95% of laser engraving machines on the market
Humanized designs: concentric design, adjustment-free timing belt
Rotary Roller can be as small as 3mm, or up to 115mm
Make engraving work smoother when the longer cylinder engraving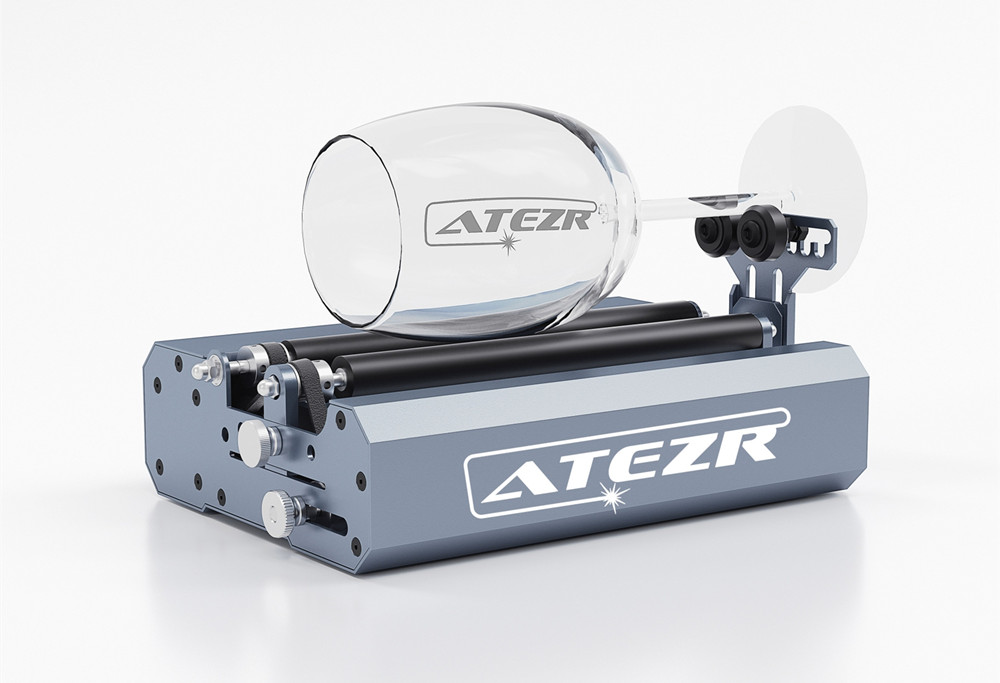 ATEZR P10 10W Combo Set Price
As you can see, ATEZR P10 10W Combo Set = P10 10W Machine + Rotary Roller + Air Assist + Four support feet. Obviously, buying the kit combination will be much cheaper than buying it separately. Please use the coupon: IN150, Original price is $849.99, now only $699.99, enjoy $150 off (Deadline: 2023/2/4).