The apk files are the installers of the applications that we use in our day to day. If we install apps from the Play Store we do not usually see them, but it is possible to extract them and share them using only our mobile.
The apk files are very important. As a general rule, we do not see them if we simply install applications from the Play Store. But if you get used to reading Android Help, you will also be used to see how we tell you to download files from portals such as APK Mirror to get applications not available in the Google store, for example; or that suffer from some regional blockade.
Therefore, if you like to mess with Android, the apk files are part of the daily experience. In the past we have already pulled you more deeply into this same topic, including extracting apk files. However, today we bring you a new option, which is more complete and that will allow you to do a little more. The only thing you need to extract and share apk files on your Android mobile is an app called My APK.
My APK is an application that is available for free in the Play Store. It is an application manager that will allow you to understand in greater depth the apps you have installed on your mobile phone, in addition to doing what is promised: extract and share apk files on your smartphone.
My APK can: offer you a list of all your apps, including those of the system; filter by type of application; sort by name, package name, date of update or size; search for apps by name; back up, export and extract apk files; save apk files to the SD card; extract all information from an app (activities, permissions, signature, minimum sdk); share it by Bluetooth; share the link; create a direct access; uninstall; look for similar apps …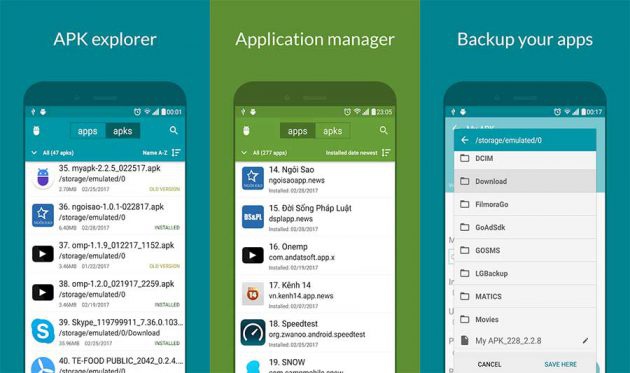 All this together with a Material Design design with support for themes, including a black one suitable for OLED screens. With  My APK you will have everything you need from an application manager if you really want to extract all your information. If not, just the function of extracting an apk file and sharing it with whomever you want will be tremendously useful for many situations. Remember that it is a free application, so it is financed by showing ads.
Download My APK from the Play Store