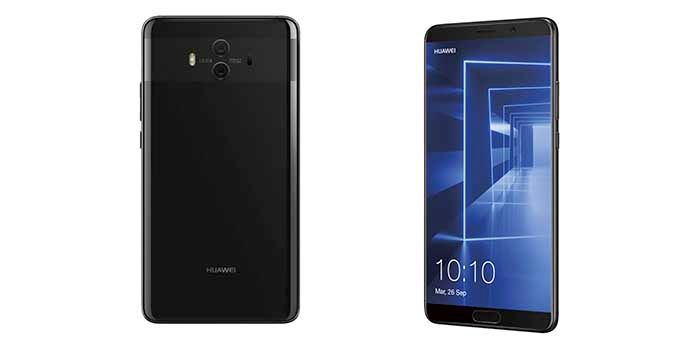 After many rumors and leaks about the new Huawei Mate 10, finally, Huawei has deigned to present, as we all expected, the new Mate 10. You want to know more?
We have already heard of everything and we will tell you if finally this Huawei Mate 10 Pro will be an honest competitor for the Galaxy Note 8 as its price is not going to be anything economic, and we will advance. These new Huawei Mate 10 innovate in certain aspects and look very good.
Huawei Mate 10: How many models are there?
First we will comment that this time there are two models, very differentiated, which are the Huawei Mate 10 and Huawei Mate 10 Pro. Both models are really different both in design and inside, do you want to know more? Let's go with the first one, the real beast.
Huawei has adopted two different phones and not two similar ones, one for the more conservative and one for the more risky, do you want to know which one is yours?
Huawei Mate 10 Pro: the expensive and risky bet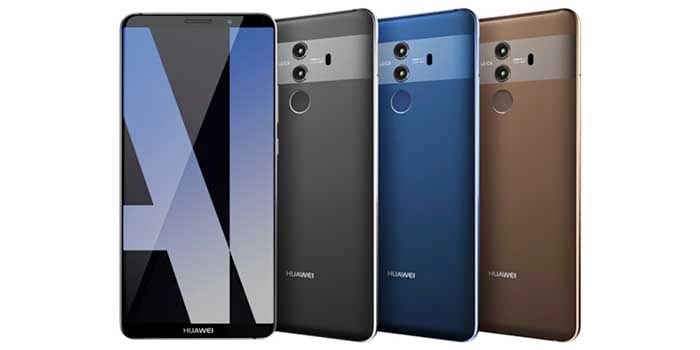 The Huawei Mate 10 Pro is the firm's most risky bet and assembles a 6-inch screen with FullHD + resolution, support for HDR and 18.5: 9 screen ratio. The Pro tag allows us to know that it is the most powerful and will also feature a Porsche Design edition. The design, as not, metallic by some parts but glass by the back, which leads us to notice a feeling of quality and fragility at the same time.
This new Huawei Mate 10 Pro mounts a screen that occupies 81.61% of the front and passes the fingerprint reader to the rear to retain a larger diagonal in the front. Plus it adds IP67 protection and is available in four colors (Titanium Gray, Midnight Blue, Mocha Brown and Pink Gold). Its specifications are really competitive and will make it difficult for the competition.
Specifications of Huawei Mate 10 Pro
6-inch screen with 18: 9 format and FullHD + resolution with a brightness of up to 730 nits, a high-quality OLED panel.
Processor Kirin 970 8 – core 2.4 GHz and 12 GPU cores. A processor that includes an NPU (Neural Processing) unit.
6 GB of RAM and 128 GB of storage that can not be extended with microSD.
Cat.18 (1.2 Gpbs) LTE modem and WiFi dual band.
Protection against water and dust IP68.
Super Charge 4000 mAh battery, with fast charge filling 58% in just 30 minutes.
No doubt it is the best bet of Huawei, a mobile that leaves us at all indifferent and shares camera with the base model, camera which we revealed at the end of the article since we would like to see if DxOMark gives you advantage over the Note 8 camera or the new Pixel 2 camera.
This model also eliminates the headphone jack, something the little brother does not do. Do you want to see it thoroughly?
Huawei Mate 10: Great hardware but more conservative design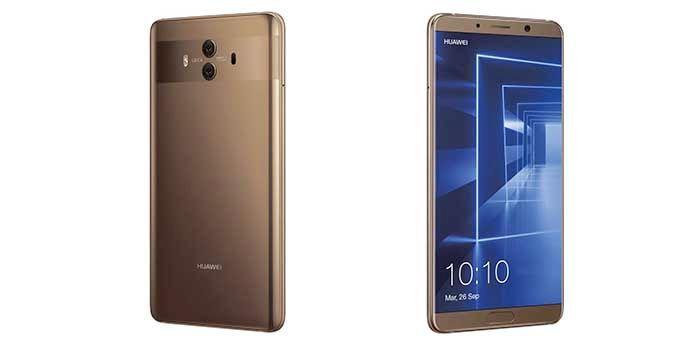 The base model of the family comes with a metallic design and a very good screen ratio, 82% occupancy compared to 77% of the previous generation . This year Huawei has given priority to design but, unlike the previous one, retains some things from conventional mobiles.
On the front we see a large screen and a home button that makes fingerprint reader (in only 0.33 seconds). The rear, on the other hand, has a very pronounced curvature that allows a good grip of the terminal. As for the other parts of the terminal there is a USB C on the bottom, a tray for the SIM on the left (with microSD in the same place) and a headphone jack.
Specifications of Huawei Mate 10
Screen 5.9 inch 1440p resolution with a ratio of 16: 9 and a brightness of 730 nits up (40% more than the previous generation). This panel is IPS.
Kirin 970 8-core processor at 2.4 GHz and 12-core GPU. A processor that includes an NPU (Neural Processing) unit.
4 GB of RAM and 64 GB of storage.
Cat.18 (1.2 Gpbs) LTE modem and WiFi dual band.
Protection against water and dust IP63.
Battery 4000 mAh with quick charge Super Charge Stuffing 58% in just 30 minutes.
Undoubtedly, this bet is somewhat more conservative but shares many details with the older brother as his battery, processor and even the screen diagonal that is practically the same, but with another proportion. We would like you to see his camera, it is impressive. There is also an infrared sensor, something very rare to this day.
The camera of the Huawei Mate 10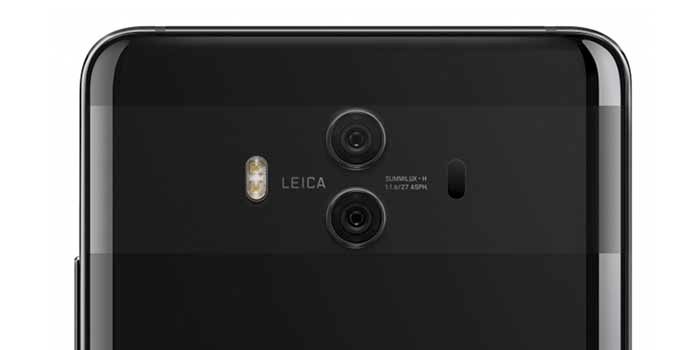 Both have the same camera, a camera that includes Leica SUMMILUX-H lenses with sensors:
20 MP monochrome.
12 MP RGB.
Both sensors feature f/1.6 which will allow you to make great photos in low light environments and get a fast and very precise focus with good light. It draws attention to the separation on both sensors and the RGB sensor has optical stabilizer and hybrid focus, which is aided by the NPU of the processor. It has a very advanced image recognition.
The camera for selfies is 8 MP and also offers a very good performance. The camera application has also been renovated with options like bokeh blur and modes for night or moving photography. The modules also offer 2x zoom.
More details of the Huawei Mate 10
As for the details that both share there are some important as their software, EMUI 8 based on Android Oreo 8.0, a version that is advanced to equate to layers like MIUI and not be left behind, something we have also seen in Samsung skipping generations like the of Note 6. Nor is it at all behind its function to become a PC, something similar to DeX but without an interface.
Price of Huawei Mate 10
And we finally arrived at the most anticipated part. What is the price? Is it within my reach? You should know that the new Huawei Mate 10 have an interesting price:
Huawei Kill 10 – 699 euros.
Huawei Kill 10 Pro – 799 euros.
Huawei Mate 10 Pro (Special Edition Porsche Design) – 1395 euros.
The new Huawei Mate 10 will hit the market in November 2017, in Spain we only have evidence that the Huawei Mate 10 appears this month, the other editions have not yet been confirmed here. What do you think about the new Mate range from Huawei?