Now many people have installed smart cameras in the house to record the home, and even can be used as a video phone calls, at some point, can also play an alarm role, such as to prevent the elderly and children accidents, theft prevention and theft prevention. But these are limited to indoor, I have always thought that outdoor cameras are also necessary to prevent people from staying outside the home, but also can play a good anti-theft effect.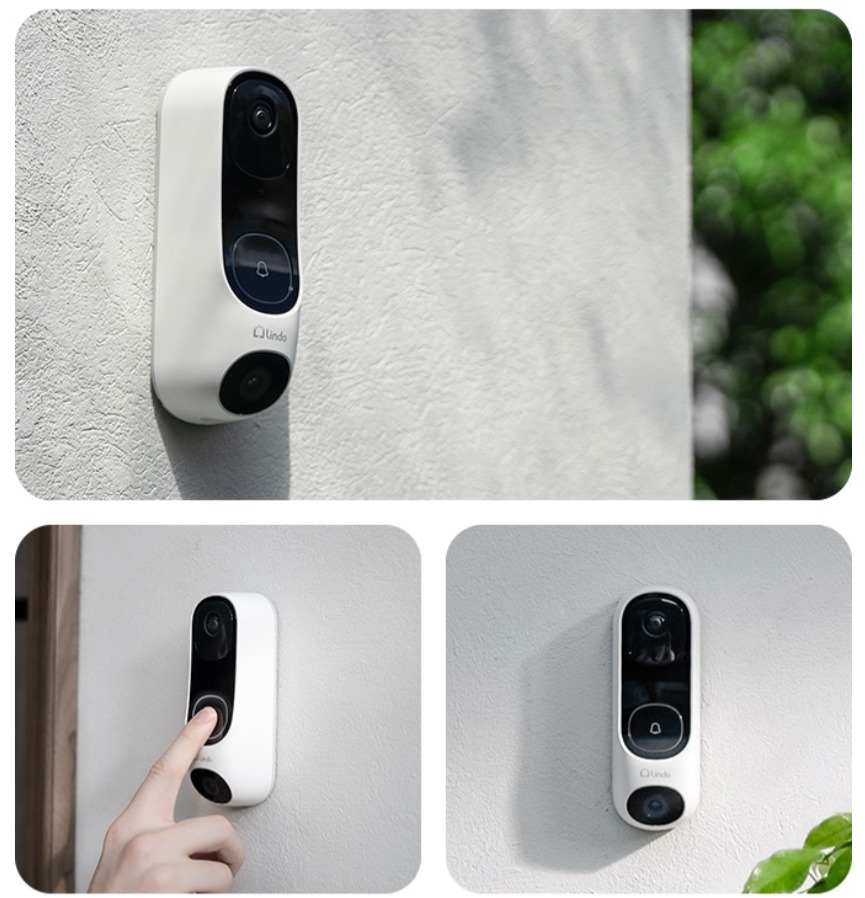 The Lindo Dual Camera Video Doorbell is a unique doorbell with an innovative downward facing camera design. There are many visual doorbells on the market that provide you with 180 degree surveillance. But with the Lindo Doorbell, you can monitor your doorway, including the area near the door, thanks to its dual cameras. Dual cameras ensure that there are no blind spots. Plus, with body and package detection sensors, you can ensure complete surveillance and the safety of your home.
Reference review video
Specification
Lindo Dual Camera Video Doorbell
Model

LVD01

Weight

6.9oz, 195g

Dimension

5.5*2*1.2 in, L140*W50*H30.5mm

Battery

5000mAh

Sensor

PIR & Radar

Detection Range

22ft, 7m

Resolution

4MP, 2K

Field of View

160°

Infrared light

six 850nm Infrared Lights

Weather Resistant

IP67

Operation Temperature

-4°F~122°F(-20°C~50°C)

Audio

Full Duplex 2 Way Audio with Noice Cancellation

Doorbell chime
Model

LDC01

Weight

2.6oz,75g

Dimension

3.7*1.7*1.1in, 96*45*30mm

Power Input

100-240V~, 50/60Hz, 0.3A Max

Volume Range

0~96dB

Operation Temperature

-4°F~122°F(-20°C~50°C)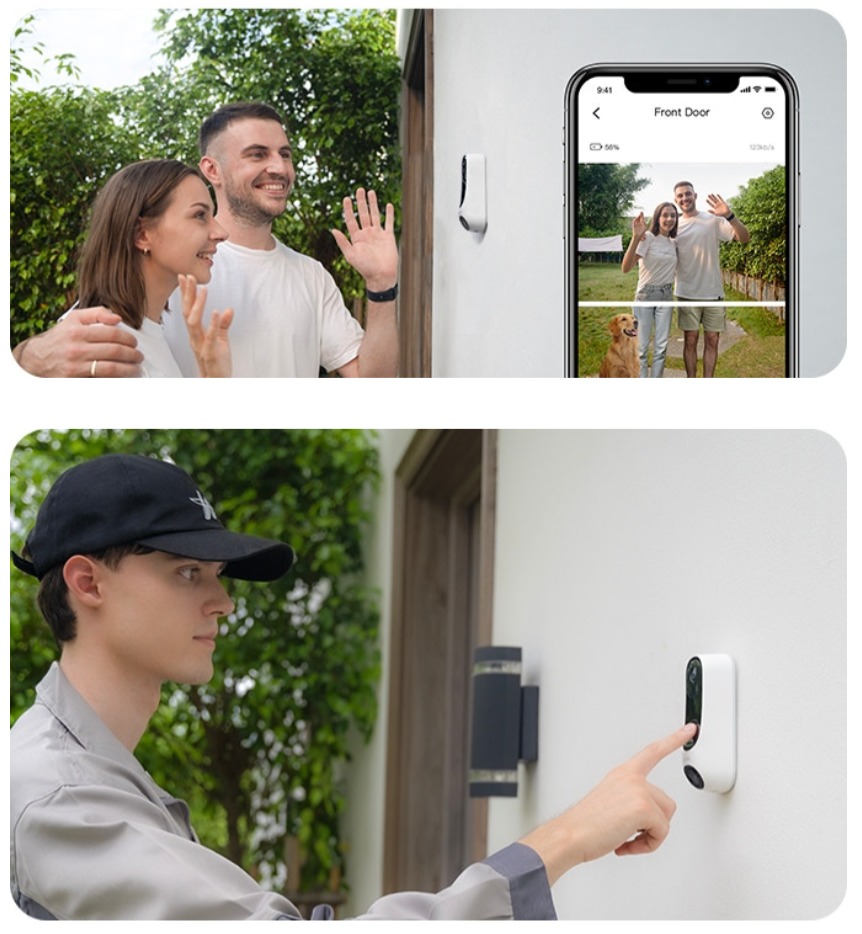 This is a 3-in-1 device that can be used as a traditional doorbell, a universal outdoor camera facing the door, and a special downward facing camera that gives you a complete picture of the bottom and corners of the door where you would normally leave a package. The device can be used not only to survey your guests before opening the door, but also to keep a close eye on your deliveries and packages at your doorstep.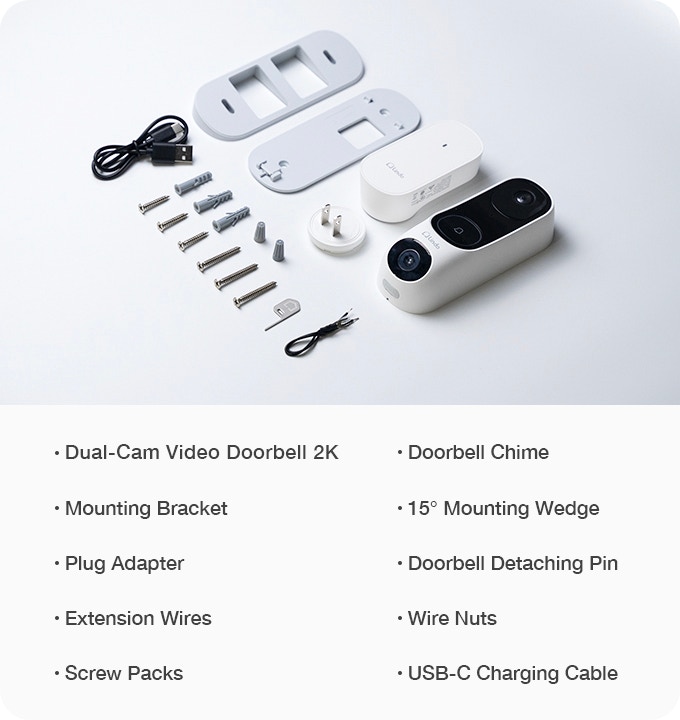 The Lindo Dual-Cam Video Doorbell features a 2K front-facing camera to monitor doorways and a lower camera to detect package deliveries. It also integrates two sensors, a radar scan for motion and a PIR scan for body temperature. Combined with human motion detection, this doorbell reduces false alarms by 95%.
Let's see how it compares with other brands
Name
Lindo Dual-Cam Video Doorbell
Ring Video Doorbell Pro
Arlo Essential Wired Video Doorbell

Number of Camera

2

1

1

Resolution

2K

1080P

1080P

Hardwired

√

√

√

Battery

5000mhA

×

×

Video History

Free 3-Day Video History

No Free Video History

No Free Video History

Motion Detection

√

√

√

Human Detection

√, FREE

×

Need Subscription

Package Detection

√

×

Need Subscription

Video Recording

√, FREE

Need Subscription

Need Subscription

Two Way Talk

√

√

√

Quick Reply

√

√

√

Customized Detection Zones

√

√

Need Subscription

Doorbell Price

Super Early Bird Price: $99




Retail Price: $199.99

$169.99 

$149 

Chime Price

FREE

$59.99 

$65.99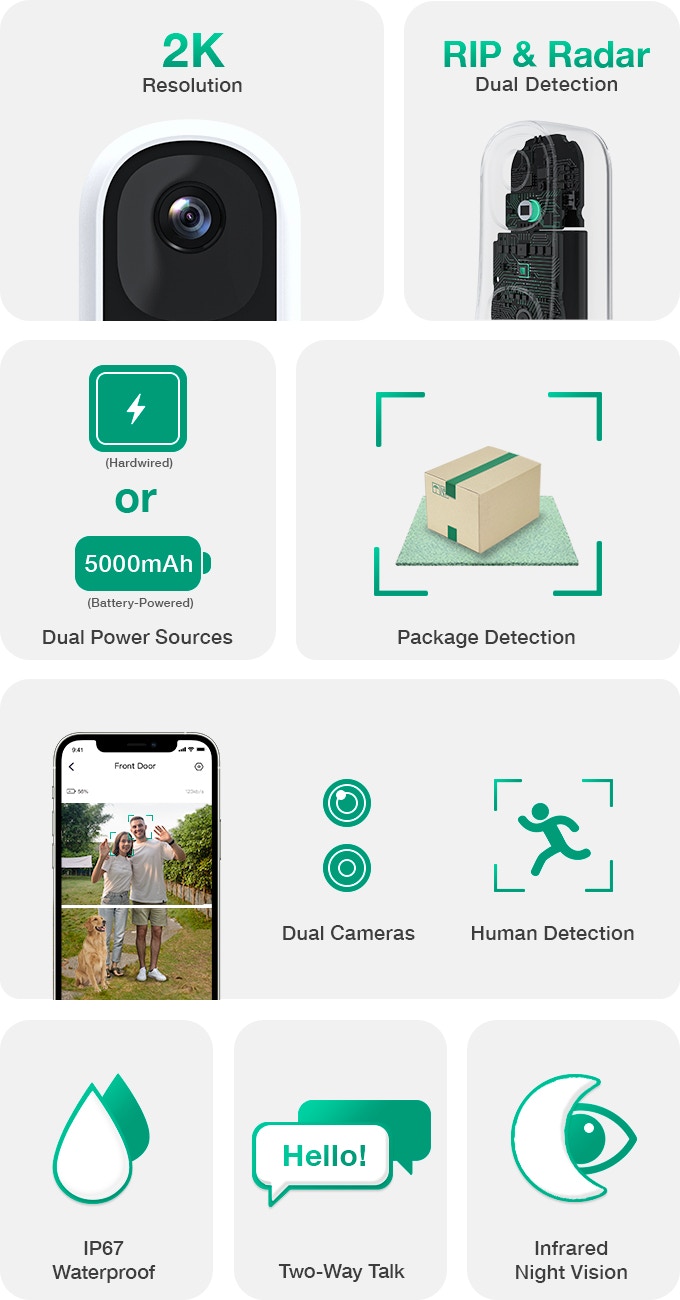 Compared with other ordinary doorbells, let me focus on the main advantages of Lindo Dual Camera Video Doorbell for you:
The dual camera design ensures zero blind spots and gives you complete surveillance of your doorway.
The main camera is a 160-degree wide-angle lens that comes with 2K resolution and gives you a panoramic view.
The dual motion sensors fitted within the device, detect human presence as well as any kind of motion near your doorway and send an instant notification to your phone.
The doorbell supports two-way audio. This means you can talk and listen to anyone whos standing at your door.
Your Lindo doorbell is your first line of defense and safety. Thus it is built to sustain the environmental wear and tear.
The doorbell is IP67 waterproof and works throughout the year in any and every weather condition.
The doorbell is made to sustain rain, sunshine, snow, and winds and is designed for outdoor use with an operating temperature range of -4°F~122°F(-20°C~50°C).
The video doorbell can be easily installed in minutes. Just fasten the screws to install the mounting bracket, align the doorbell and snap it into place.
The device can be accessed and controlled using the Lindo App and supports both wired and 5000mAh battery power sources.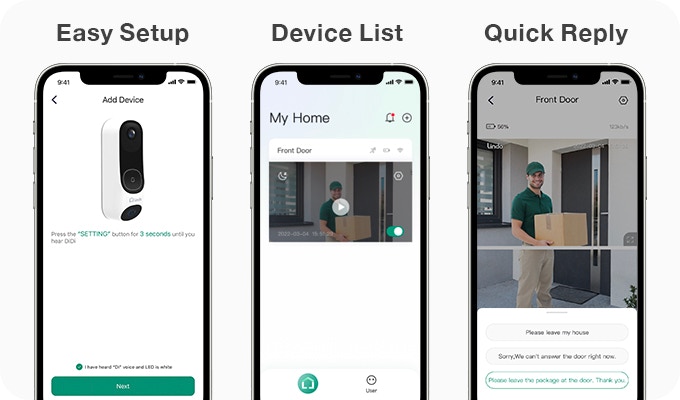 About Lindo
Lindo is a smart home security brand that aims to bring smart living pleasure to people. Lindo focuses on promoting the intelligentization of products to make whole house intelligence accessible to more families.
Early bird price on kickstarter
Please note that the Lindo Dual Cam Doorbell is now crowdfunding on Kickstarter. The device has a retail price of $199.99. However, for early bird backers, you will receive up to 50% off. That means you can get it for just $99. The offer will end on September 30, 2022. So be sure to place your order before the offer expires.