Vacations are over, and students are excited to go back to their schools to meet their school friends and teachers after a long time. They are ready to join their classes with more enthusiasm and excitement. Similarly, teachers are also thrilled to welcome their pupils after their vacations and continue their journeys again. Most teachers love to welcome their students with gifts and presents. They think about various ideas to make their pupils happy and boost their interest in learning and studies.
Teachers can make their students happier by giving them back-to-school gifts. They do this every year after vacations, so they often need to think of some new ideas for the gifts. We have shared some personalized gift ideas for students. Teachers can engrave and print these items using a hybrid laser engraving and cutting machine. Making these personalized products is quite easy, and it will save you a lot of money. Plus, your students will love to use these personalized items in their school.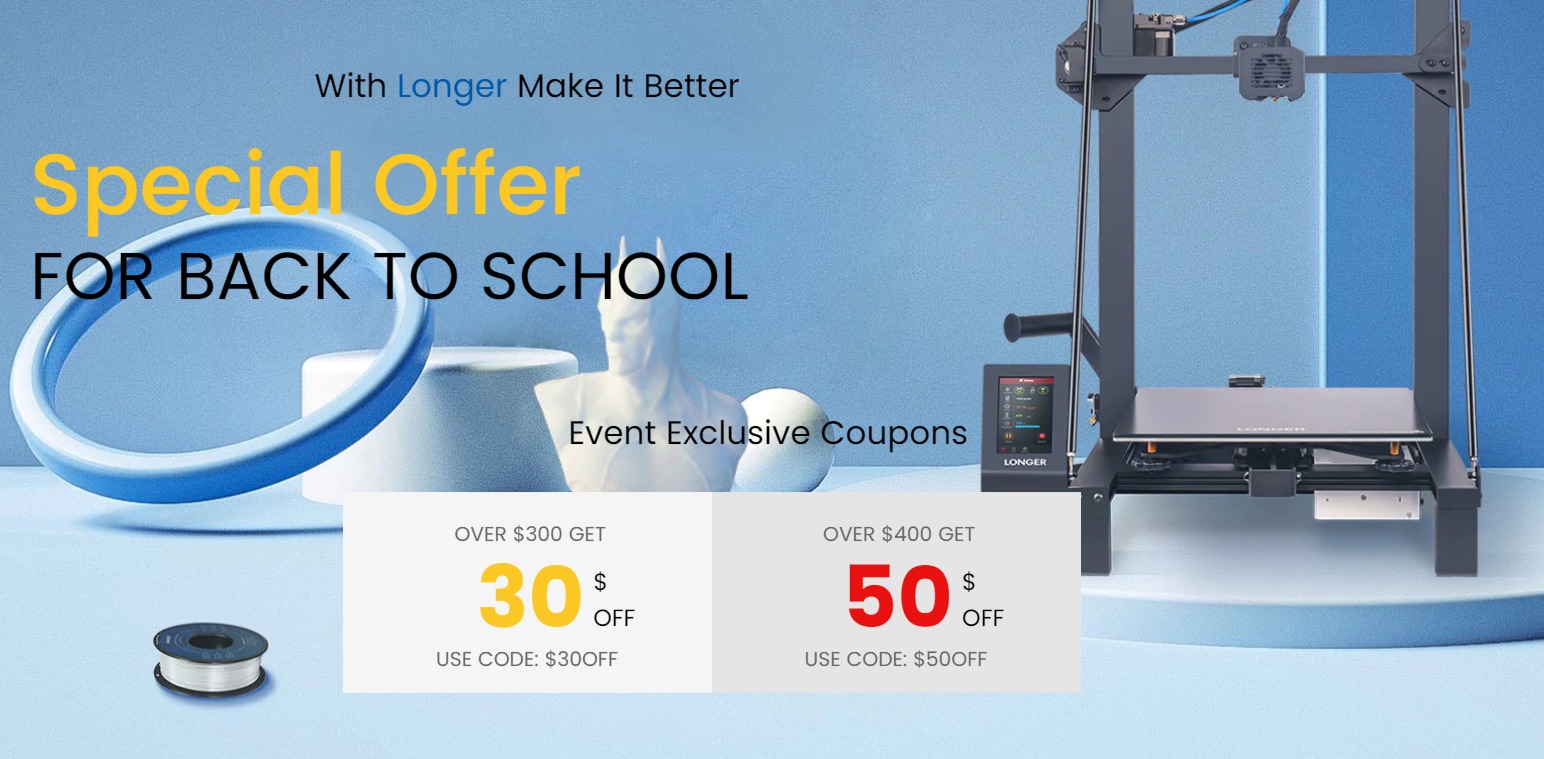 Speaking of laser engraving machines and 3D printers, then I will recommend you the LONGER brand, they are a professional manufacturer in this field and started to try the engraving machine industry in 2020. the LONGER RAY5 as its first engraving machine is now upgraded to 10W optical power. Due to its superb cost performance, this product is popular among consumers on the internet.
So don't miss their opening season promotion, which is probably the best offer yet. Over $300 Get $30 OFF, and Over $400 Get $50 OFF. More Bundle promotions in the product info's part. Event link please click: LONGER Back to School Season Promotion
LONGER LK5 PRO – Biggest and Cheap 3D Printer in the Market
As we all know, the larger the printer size, the more expensive it is to manufacture. The LONGER LK5 PRO has a printing area of ​​300*300*400mm and is priced at $299, which is almost the cheapest printer of this size on the market.
90% Pre-assembled with Stable Triangular Structure – LONGER LK5 Pro is a large affordable 3d printer with 90% Pre-assembled, printing size of 300*300*400mm; With dual inlinced rods to hold z axis as a steady triangular structure for better quality of 3d printing. And it's 90% preassembly in factory before delivery, which will be easier to assemble together and save more time.
Quiet Printing and Open source – The LK5 PRO is integrated with 3kits of TMC2208 chipsets for X / Y / Z axis for quiet printing, of which will be reduced less nosie from motor. Developed with open sources mainboard for LK5 PRO, it will be easier for you to add an optional spare parts onto the 3d printer, such as BLTouch for auto levelling or upgrade with Marlin 2.X version for beta test.
4.3 inch Full Color Touch Screen – This fdm 3d printer is built with 4.3inch full-color touch screen and integrated with better friendly user interface for better interaction with printer, simple operation and easy approach to check the printing process.
LONGER RAY5 10W – Best Budget 10W Choice
Strong and outstanding engraving ability: 10W continuous pulse output power, dual beam technology cut 20mm thickness solid wood board and 30mm Acrylic.
Multiple Security Guarantees: Flame Detector & Buzzer Alarm. Also, Tilt Shift Protection, Motionless Protection and Fireproof Acrylic Cover.
Excellent and convenient engraving experience: 3.5″ Touch Screen for Offline Operation. And it is Compatible with Mac os and Windows systems.
Discount Info: Purchase separately to enjoy 2 discounts
A Machine + 10W laser module + 5W module – $509.99 (after coupon code: $50OFF) – 77 PCS DIY Engraving Material for free as gift.
Honeycomb working table + Laser Rotary Roller – $99.98 (SAVE $20)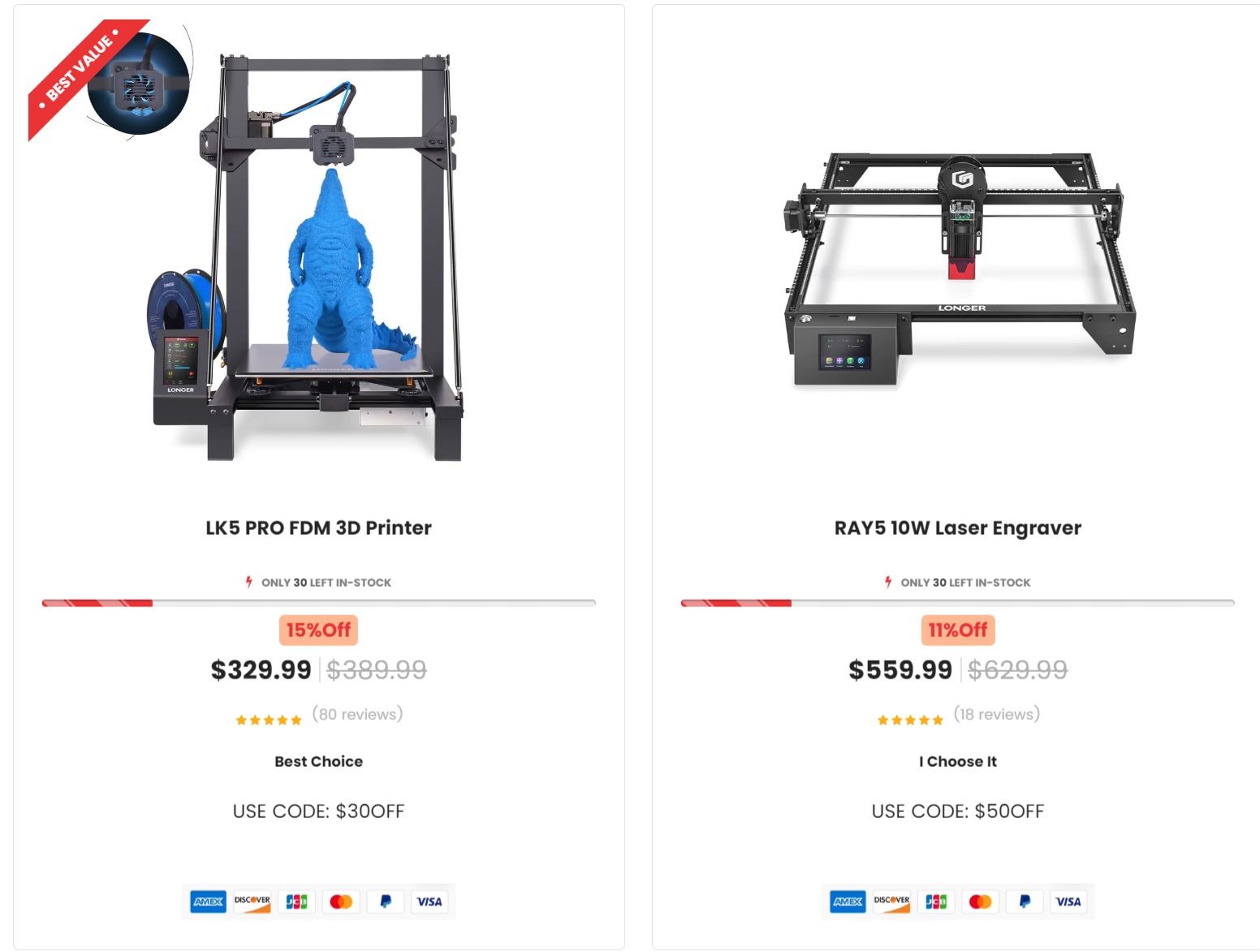 – Tip for the bundle:
5W engraving machine can offer more delicate engraving on some light plates. The 10W engraving machine can help you expand more DIY projects and is suitable for more hard boards. You now have the opportunity to purchase a complete set:
10W Laser Engraving Machine
5W Laser Module
Laser Rotary Roller
Honeycomb Working Table
77 PCS DIY Engraving Material