The Maxtang VHFP30 is a machine with a very sober design, entirely turned towards the dissipation of its integrated processor which displays a 15 watt TDP. We find a black anodized metal frame, covered with dissipation fins to maximize heat exchange between the metal and the ambient air.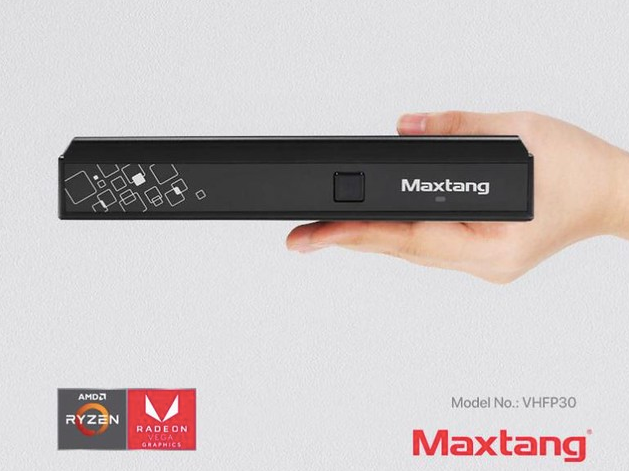 The machine is however accessible since it can be purchased as a barebone without memory or storage from $349.99 or as a pre-equipped version with 8GB of DDR4 and 128 to 512GB of SSD in M.2 2250 PCIe NVMe format. A 2.5″ slot is also available to add a second SSD SATA 3.0 or mechanical disk if required.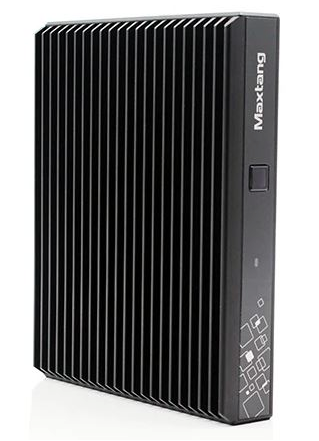 The Ryzen 5 2500U obviously offers interesting performances with its 4 cores and 8 threads on base frequencies of 2 GHz and 3.5 Ghz in Boost. It features an AMD Radeon Vega 8 graphics circuit with 8 cores clocked at 1.1 GHz.
The Maxtang VHFP30's connection system is complete with, on the rear side, 4 USB 3.0 ports, a DisplayPort and an HDMI 2.0 port for UltraHD displays, two Gigabit Ethernet ports, two removable antenna sockets to control the integrated Wifi5 solution and a Bluetooth 4.0 module. There is also a Kensington lock port to ensure the security of the case.
On the right side are two USB 3.0 ports, a MicroSDXC card reader, two 3.5 mm audio jacks for headphones and mirrors and a USB Type-C port. On the left finally, an RS-232 serial port is also present.
Difficult to define this product, the construction looks very clean, the photos are neat and the descriptions almost perfect for their products. However, the Maxtang VHFP30 web page on AliExpress has only a few weeks with a creation on September 10th. With no feedback on previous orders at the moment, it is difficult to be sure that these machines have good tracking or finishing. I will try to contact the seller for more information.

Note that this Maxtang VHFP30 also exists under the name VHKL-30 with an Intel Core i5-7200U processor from $519.99 in barebone version in an absolutely identical case.