The XIDU company is based in Shenzhen, China, in the technological heart of the country, where it operates on over 2,000 square meters with over 300 employees. For two years XIDU has started operating on international markets and currently offers direct support in 15 countries, thanks to the collaboration with selected local partners. In addition to the undisputed quality of their products, the company has begun to make itself known also thanks to the extremely low prices that make the products accessible to a large audience. Furthermore, thanks to the warehouses also present in Europe and America, it is possible to buy from all over the world without having to pay extra expenses for shipping and customs.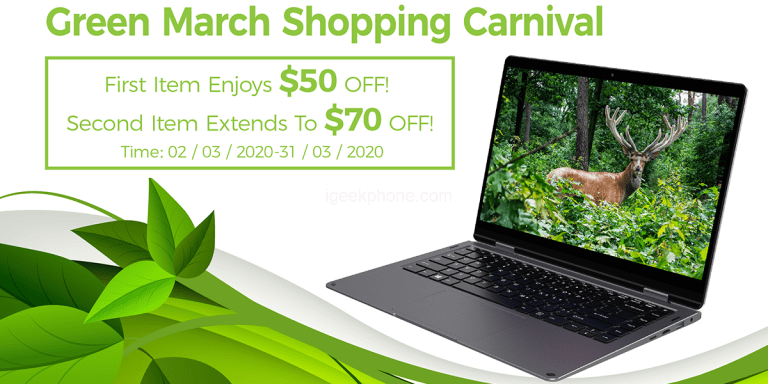 Save on new laptops and tablet. XIDU means to offer this promotional sale between March 2-31, 2020. In this sale, the customers can exploit really amazing discounts. This is one of best times for you to pick up a new laptop and tablets. First Item Enjoys $50 OFF! Second Item Extends To $70 OFF!
We are offering the lowest prices of 2020 for the following 3 products.
Original Price:$349.99, First Item:$299.99, Second Item:$279.99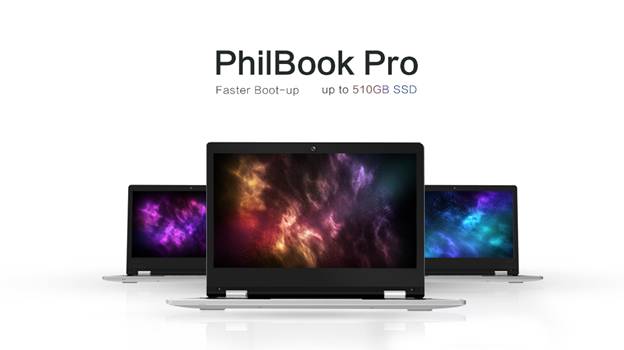 One of the exceptional features of the PhilBook Pro is its 2560×1440 IPS display. A 2K resolution in an 11.6″ display implies higher ppi and incredible clarity. Such a resolution isn't just ideal for the individuals who deal with photographs and video recordings during work but for gamers as well, thanks to the great graphics performance and display. It ought to be noticed that the IPS panel is given by Sharp and that ensures the quality. When discussing the design, we can't disregard the 360° flexible hinge featured by a double torque technology, offering an ideal mix of flexibility and quality so users can easily open the lid with only one hand yet have enough torque for a wobble-free touch experience. Using the 360° hinge takes into consideration different modes like tablet mode, tent mode, and so forth.
Forget shoulder aches from carrying your heavy laptop bag! This laptop is ultra-light, thin and has an elegant design. You would love the feel of holding this and working on it. The all- aluminum-alloy body and clean design makes this one of the sleekest and most stylish laptops you can find out there. Obviously, all the above wouldn't have any effect for the user in the event that they weren't combined with a strong performance. Consequently, the PhilBook Pro is equipped with an Intel J3355 Quad-Core 2.0GHz CPU backed by 6GB LPDDR RAM and 128GB SSD.
Original Price:$419.99, First Item:$369.99, Second Item:$349.99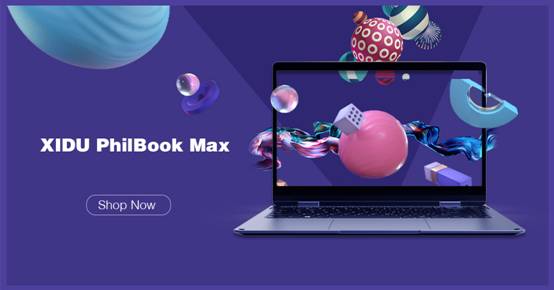 The main feature of XIDU PhilBook Max is flexible hinge and convertible screen. As we already said, you can rotate the display 360 degrees. In general, new XIDU laptop provides three modes: notebook, tablet and stand. The body of the laptop is made of metal. We should note that this is really lightweight laptop – only 3 lbs. The maximum thickness is 0.65".
Although XIDU PhilBook Max is very thin laptop, it has all necessary connectors. On the right side, you can find power key, microSD slot, USB 3.0 and 3.5 mm audio jack. Also, there is DC port, another USB 3.0 and HDMI port on the left side. Another highlight of this laptop is backlit keyboard. It seems that XIDU PhilBook Max has collected all the features of premium laptops. In general, XIDU PhilBook Max looks and feels much better than many other laptops in this price category. Of course, you cannot find another convertible laptop with touch screen under $400. It seems that XIDU PhilBook Max is the only one.
Original Price:$409.99, First Item:$359.99, Second Item:$339.99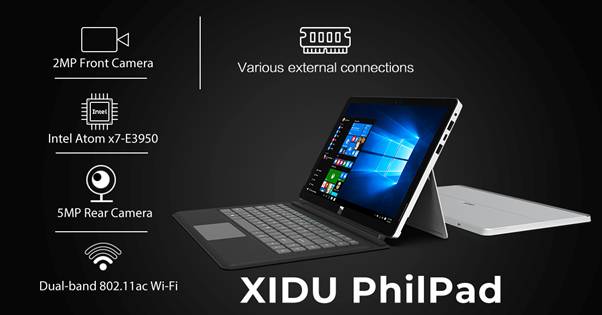 XIDU PhilPad is a business-class Tablet PC designed for those who need a powerful and, most importantly, mobile tool for daily work outside the office or at home. The PhilPad is made of a metal body, it can be transformed to a tablet or a laptop by detachable keyboard to suit your liking or intended use. Its display unit has a special 13.3″ full-touchscreen that is multi-touch supported with 2 K (2560×1440) IPS high definitions. It comes with an Intel E3950 quad-core max up to 2.0GHz, with the new Goldmont processor with 6GB DDR3 RAM, 128GB SSD, extended storage max up to 256GB with TF card provides for users who need more storage.
The set of delivery necessarily includes a stylus and the mentioned keyboard, as well as a licensed Windows 10 operating system, a powerful power supply for fast charging and a nice bonus – branded protective film on the display.
Visit XIDU Official website: https://xidustore.com/