The Longer LK4 Pro 3D printer is a great FDM printer for those looking for an inexpensive entry level machine with a large build chamber. With a print size of 220x220x250 mm and a maximum print speed of up to 180 mm/s, it allows you to quickly bring your most daring creative projects to life.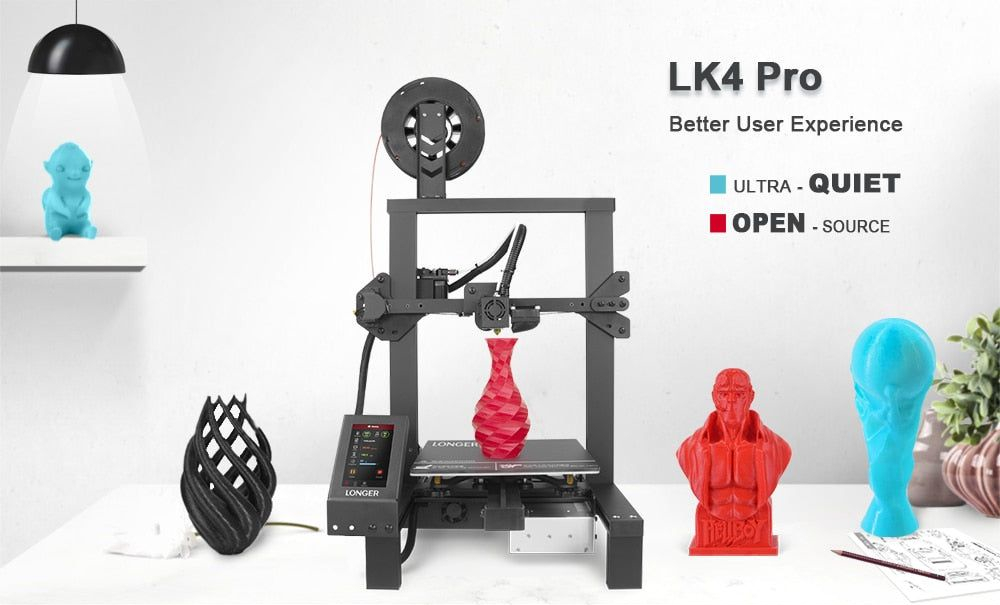 It is equipped with a 4.3-inch large touch screen that greets the user with an easy-to-use interface with intuitive menu tab navigation that provides print presets. This beautiful color touch screen lets you say goodbye to manual controls.
The machine uses the ultra-quiet TMC2208 drive, which reduces noise to the lowest level. The LK4 Pro is designed for quiet printing. If you have troubled with other printer's noise, this one must be your best choice.
Specification
| MODEL | LK4 PRO |
| --- | --- |
| Printing Technology | FDM |
| Printed Size | 220*220*250mm  (8.7″*8.7″*9.8″) |
| Extruder | Single |
| Nozzle Diameter | 0.4mm |
| Printing Temperature | 190-250℃ |
| Filament Detector | Yes |
| Resume Printing | Yes |
| Printing Speed | ≦180mm/s (Suggest 60-80mm/s) |
| Layer | 0.1-0.4mm |
| Slice Software | Cura, Reptier-Host |
| File Format |  G-code, stl |
| Connection | TF Card or USB Cable |
| Net Weight | 7.8KGS |
| Gross Weight | 8.5KGS |
| Printer Dimension | 425*402*505mm |
| Package Dimension | 467*412*187mm |
| Printing Material | 1.75mm PLA/ABS/PETG |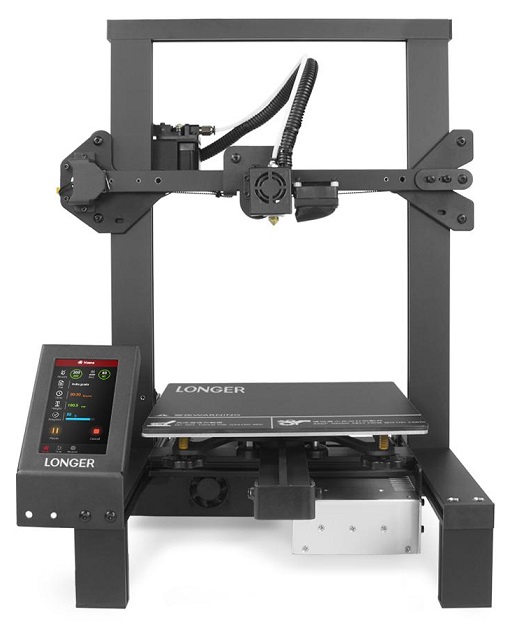 Open source code that allows users to improve their printer based on the source code and share changes in the community. There is a large community of enthusiastic Longer LK4 Pro enthusiasts who are also willing to help with troubleshooting and share software mods further enhancing the device's already excellent potential.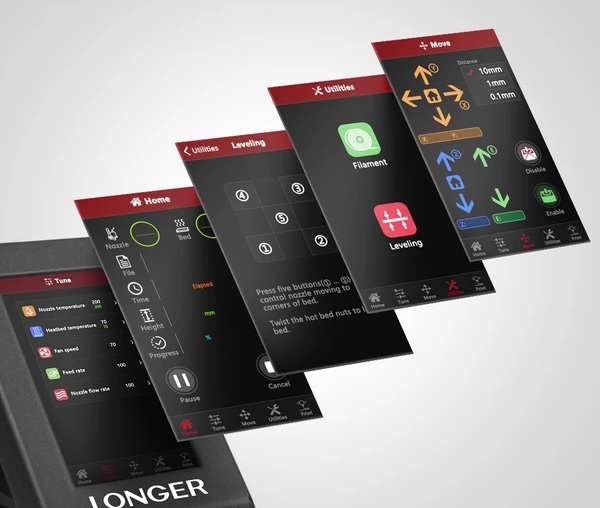 Perfect for kids and STEM projects, the best choice for users who love DIY, creativity, education, research, etc.
Capable of resuming printing after a power outage – the printer will start right where it left off. If thread breaks or when material runs out, thanks to the thread detection sensor system, printing is automatically paused to save time and plastic. Equipped with a built-in power supply that provides stable and sufficient power to heat up the printing platform quickly. Simple and concealed wiring, along with a high-speed turbocharged fan, ensure printing safety.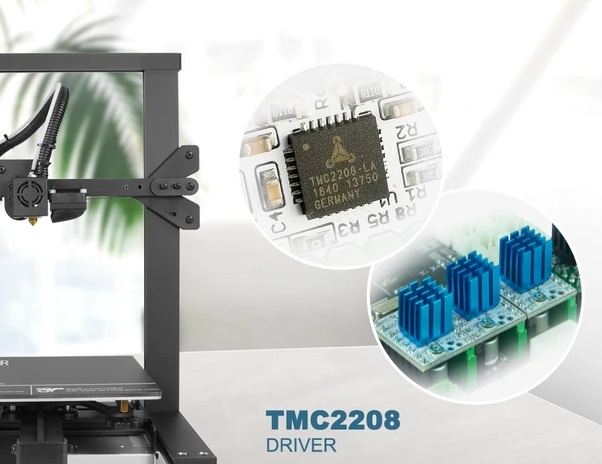 It's using new frame to enhance structural rigidity and stability. With the new design, it will be easier to clean the debris than the V-slot design during printing.
The Longer LK4 Pro offers an exclusive design in a new stylish case with a sturdy aluminum frame that will delight users both in its beautiful appearance and its excellent print quality. Supplied as a self-assembly kit. All complex assembly processes are completed before the printer leaves the factory. The user only needs to complete the process by putting together several pre-assembled modules.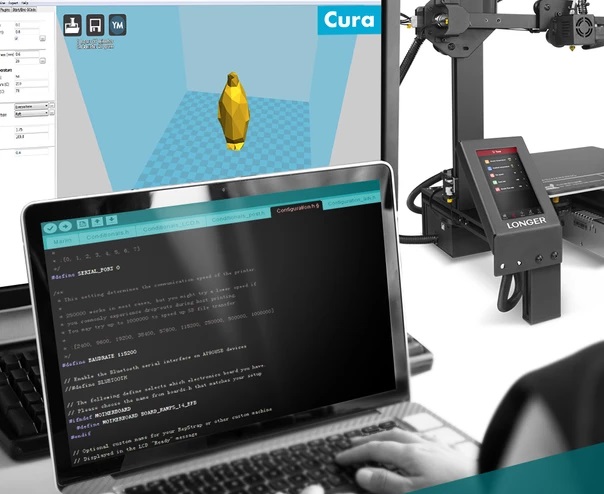 Price
You can find this amazing LONGER LK4 PRO 3D Printer From Official website Longer3d.com at a price of $199.99 with an incredible discount.
Brand Info
Longer was founded in 2016 by Dr. Lao and Dr. He, who were selected by the "Thousand Talents Plan" and MIT PhD for their ability to innovate. Nowadays, Longer is one of the most eminent Chinese high-tech companies globally, with a focus on manufacturing and supplying complete 3D Printing & Laser Engraving Cutting solutions.
As technology leader of 3D Printers & Laser Engravers in China and loved brand by customers across the globe, Longer has built a proprietary factory (ISO 9001 certified) of over 2000 square meters and more than 100 employees, set up its own R&D center, registered over 50 patents. All products are certified with FCC, CE, RoHS, UL, etc., in order to be able to proudly serve tens of thousands of global customers and make the creativeness accessible to the worldwide people. With a team of engineers and more than 10 international warehouses, Longer is committed to providing the best service to its customers, every day.