More and more smartphone manufacturers are beginning to produce their own fully wireless headphones, and very often their creations cause associations with Apple's AirPods headphones. Oppo has become the next of them.
Its new Bluetooth headphones, named Oppo Enco Free, are also very similar to Apple headphones. But that's not the only thing they can brag about.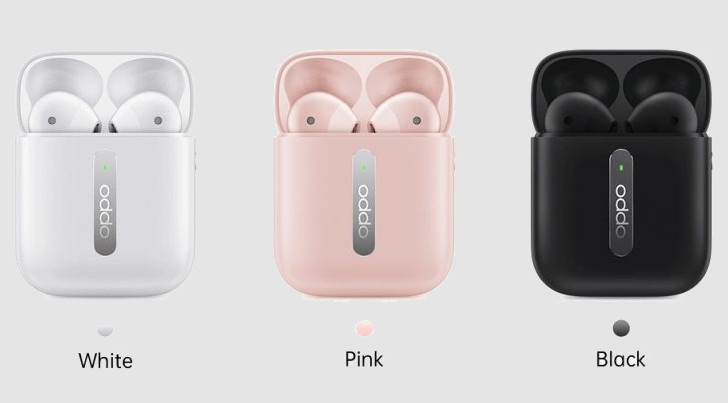 According to the manufacturer, they offer "simultaneous transmission of sound over a Bluetooth channel" with a minimum delay of 120 msec (the sound must be transmitted from the associated smartphone headphones simultaneously to the right and left headphones), "ultra-dynamic transmitter", intelligent noise reduction during phone calls and support for gestures.
As for the latter, Oppo has provided the following features to the novelty:
By touching any headphone twice, you can answer the call and start/stop music playback.
By swiping your finger on the right earpiece you can change the song
By swiping your finger on the left earpiece you can increase/decrease the volume.
The headphones come in two types of earmuffs, each of which has three sizes. The first is an in-ear that provides a perfect fit and allows you to completely shield yourself from external sounds. The second one is less "dense" and provides penetration of external sounds.
Oppo Enco Free uses Bluetooth 5.0 technology, which allows communication up to 10 meters away. The headphones have a 31 mAh battery and the included carrying case has a battery capacity of 410 mAh. The headphones can be charged in 70 minutes and the case in 110 minutes (via USB-C port). The novelty is protected against moisture according to IPX4 rating.
Each of the headphones weighs 4.7 grams. Oppo Enco Free from one battery can play up to 5 hours of music or provide up to 3 hours of voice conversation. The headphones can be recharged using the special case, which increases the battery life to 25 hours and 15 hours, respectively.
The price of Oppo Enco Free in their home country, China, is 699 yuan, which at the current rate is 99.9 U.S. dollars.