On April 11, the network revealed OPPO's new true wireless headphones: OPPO Enco Play, which will go on sale on April 29 at a price of 59.99 U.S. dollars.
The poster shows that the OPPO Enco Play uses the common semi-in-ear design, which does not appear to support active noise cancellation and is not officially advertised, but supports dual-microphone call noise cancellation.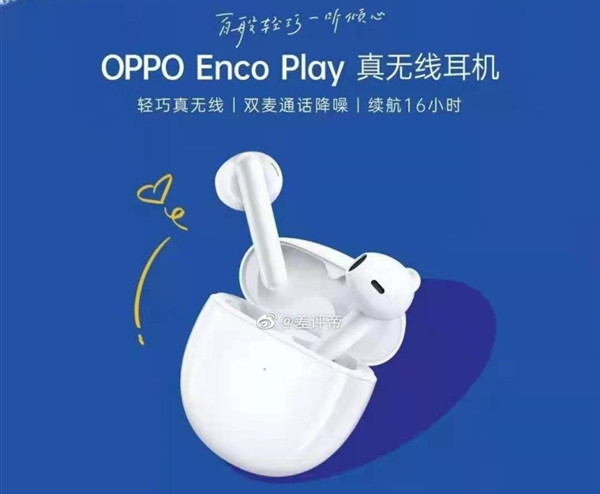 OPPO Enco Play offers Ying Black, Run White and Crystal Blue colors to choose from. 25mAh single headset with 4 hours of battery life and a total of 16 hours of battery life with a 300mAh charging case. Charging, the headphones + charging case takes only 1.5 hours to fill.
In terms of sound quality, OPPO Enco Play is equipped with 12mm dynamic coil, frequency response 20Hz-20KHz, support Bluetooth 5.2, support AAC/SBC Bluetooth codec, effective transmission distance up to 10 meters.
Last October, OPPO launched a true wireless noise-canceling Bluetooth headset: OPPO Enco X, priced at $159.99.
OPPO Enco X true wireless noise-cancelling headphones are equipped with a high-end dual-core digital Bluetooth noise cancellation chip, supporting ANC dual active noise cancellation, with a maximum noise reduction depth of 35dB.
At the same time, OPPO Enco X true wireless noise cancellation headphones by the deep plowing acoustic field for many years of OPPO and the Nordic "sound master" Danner jointly to create a high reduction, real, natural sound quality experience.