Alfawise U20 ONE 3D Printer
The Gearbest brand for household appliances Alfavise has already for the second time been recognized as a unique solution for the international market. This time the company has released a huge 3D printer Alfawise U20 ONE with an incredibly large working area. In addition, the novelty boasts of the fact that it comes in the form of ready-made assemblies, eliminating problems at startup, and does not require serious skills to start working.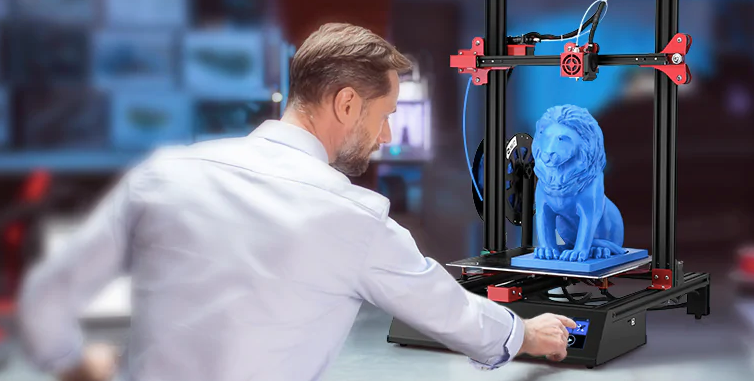 The starter kit includes only 3 modules: a chassis-based desktop, an arch with an extruder and a control unit combined with a power supply. It takes only 5 minutes to assemble the printer, which is exactly how long it takes to connect the electronics and place the arch on the work surface. Alfawise U20 ONE is now ready for the first turn-on and immediate operation.
It is important that all wires, rods, motors are immediately installed on the basic sub-assemblies and connected to their connectors. Thus, even a child can handle the assembly. It also eliminates installation errors – all units are factory-fitted and do not require major adjustments or calibration.

The Alfawise U20 ONE has a standard design of Prisa type: sliding table (0Z axis), arch (0Y axis), extruder axis (0X axis). Work table – heated (working range from 30 to 100 degrees Celsius), which allows you to work with any plastic rod with a thickness of 1.75 mm. Printing is supported by ABS, PLA, PVA, PP, TPU, Wood Filled.
Its axles are made of high quality industrial profiles with a larger cross section, which eliminates the need for additional support of the power elements and makes the construction easier. For the brackets on which the motors are mounted, instead of traditional acrylic, ABS 3D printed parts are used – their strength is an order of magnitude higher than acrylic ones. It is also worth noting that the design of Alfawise U20 ONE has already been introduced the necessary plastic plugs and stops, which most designers for self-assembly of 3D-printer are invited to develop and print independently.

The Alfawise U20 ONE is equipped with a standard 0.4 millimetre extruder, which allows it to achieve 0.012 mm 0X and 0Y and 0.004 mm 0Z accuracy out of the box. Powerful motors allow printing speeds of up to 150 mm/s – this is incredibly important for this model, as the maximum working area of the printer reaches 300 x 300 x 400 mm! However, if that's not enough, Alfawis has a U10 with a 400 x 400 x 500 mm print area.
The printer is equipped with a proximity sensor, so Alfawise U20 ONE can automatically calibrate. Other smart features include Power Outrage Recovery and Filament Run Out Detection. One of them allows you to resume printing correctly at the interruption of the process, the second one is responsible for the same, but in case of problems with filament.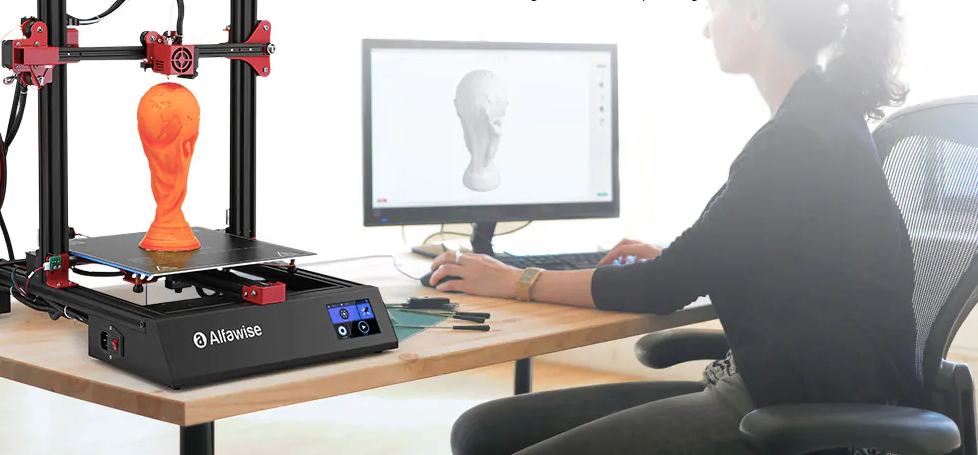 The control unit supports both PC operation with any standard software and stand-alone use. In the latter case, models are loaded into the printer via the microSD slot, and printing is set up and started via the touch screen.
An important competitive advantage of Alfawise U20 ONE is its price. In spite of the dimensional complete set of delivery from June, 15 till June, 19th it is possible to get it for 299 dollars. Exactly so much costs Creality3D or TEVO Tornado of similar dimensions.