APPotronics S2 Laser Projector
Appotronics S2 is a portable projector that uses unique projection technology by combining laser light with an LED lamp. It's capable of delivering realistic Full HD and 4K images, allowing you to create a home theater experience on any wall in your home.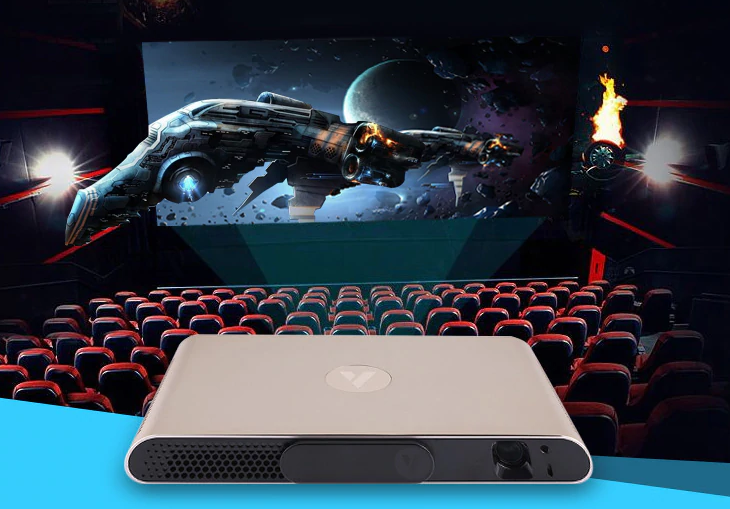 The projector's portability is emphasized by its very compact size: 20.50 x 13.1 x 2.30 cm at 700 grams, so you can take it with you even on a long journey.
The S2 Multimedia Projector is equipped with an aluminum case. The use of this material increases the device's resistance to damage, which is certainly important if you regularly take the device to a conference or business meeting.
The projector is equipped with a powerful 980 lumens LED lamp. The use of laser DLP-technology, the central element of which is a special matrix of microscopic mirrors (so-called DMD-elements) made of aluminum alloy with a high reflection factor – converts any photo and video content into digital format, providing the best image quality.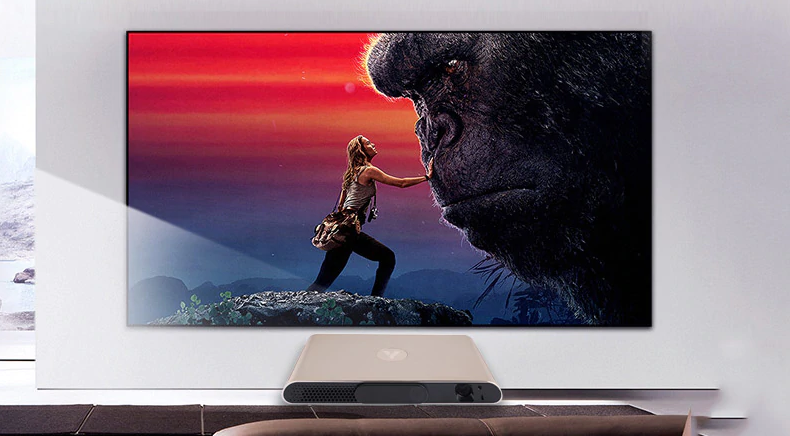 One of the features of the Appotronics S2 projector is the ability to place it at the best angle where you will be most comfortable viewing photos and videos. The projector is equipped with a standard USB port, as well as USB 3.0, HDMI, 3.5-mm headphone jack, which allows you to connect the device to external equipment.
In addition, ALPD provides support for polarized 3D systems, including high-gain screens, which allows you to immerse yourself in the saturation of the image and immerse yourself in the world of fascinating cinema.
ALPD® laser technology has solved a longstanding problem with the RGB laser, which has worsened image quality. As a result, ALPD® laser technology offers a brighter image with high contrast values.
ALPD® laser technology fully supports the DCI standard and meets the required color requirements, and its color uniformity and contrast characteristics exceed those of standard lamp projectors. In addition, the ALPD® laser projection system consumes 50% less power than Xeon and RGB lasers.
In addition, Appotronics S2 allows you to view 3D movies (this requires the purchase of glasses that support this mode), both online and through a connection to other devices. High levels of contrast and brightness can be observed even in a bright room.
You can watch movies online with Appotronics S2 projector pre-installed with Android 4.4 KitKat software, which allows you to install a variety of compatible video viewing applications, including Netflix. In the same way, you can install other programs or games, thanks to an internal 16GB drive.
A nice addition is the ability to use your smartphone as a projector remote control, which requires you to download a special application and synchronize your smartphone with Appotronics S2. By downloading the special application, you can use your smartphone instead of the remote control.
Appotronics S2 is equipped with a quad-core ARM Cortex A9 processor with 2 GB of RAM and 16 GB of internal memory, as well as a Mali 450 graphics processor, which is quite enough to effectively perform any functions offered by the device.
Appotronics S2 can connect to other devices (Android, iOS and Windows). The projector is also compatible with other peripheral devices such as a keyboard and mouse.
The device comes with a handy remote control that is equipped with a laser pointer, which is convenient for meetings and presentations. All image and projection settings can also be made from the remote control.