Bakeey R2 Full Round Touch With Voice Assistant Smart Watch
With its sophisticated exterior, affordable price, and the ultimate in real-world and Bluetooth calling, the Bakeey R2 is a smart watch. But because it has its own speaker, it's essentially a wearable speaker that, of course, also measures heart rate, and knows everything like smart watches in general (and much more).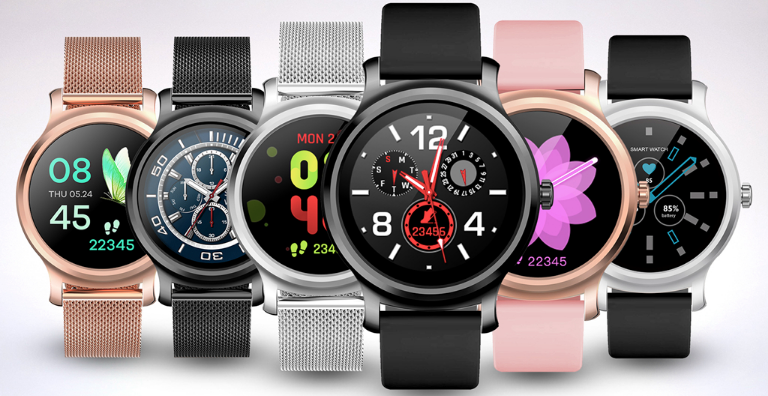 It is an absolutely clear smart watch that is free of all unnecessary stupidity, so it can take on a harsher environment. Available in silicone or metal straps, the watch itself is available in black, silver and gold. It has an IP65 water resistance, so it is not advisable to put it in water, but if you get some water, it will not protrude.
Fitness, Sports and Health Functions: Heart Rate Measurement, Step Counting, Distance Metering, Calories Burned, Sports Modes (Running, Walking, etc.)
Other Health Functions: Blood pressure measurement, exercise reminder, sleep quality monitoring
Notification features: Incoming call alert, App notifications and SMS alert, Incoming message display, Reject call, Bluetooth call and music, Speaker, Phonebook, Dialer, Call recording
Other: Alarm clock, time, date display, camera remote control, gesture control, weather, stopwatch, calendar. calculator
Not only does it display the incoming call, it can also complete a call via Bluetooth, so it has a built-in microphone and speaker. Calls can be recorded.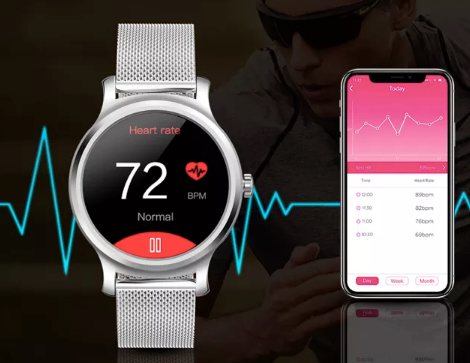 Because the phone transmits voice, it can be used to transmit any voice. This raises some interesting possibilities, because this way you can say a video eg. on Youtube or any app, and if your voice is interesting in particular, we can hang up the phone and listen without the headset. Not necessarily music, because it may not be good enough, but for example a stand-up, audiobook, etc. that is why it is usually enjoyable during classes.
Obviously, if you are able to transmit sounds, then music, which can be not only MP3 or something like that, but also come from some music streaming application. It also has a built-in microphone for voice recording. There is also voice assistant support (Siri).
The IPS's touch screen is a pleasantly large 1.28 inch with 240 * 240pixel resolution. It has a round display, so not just a rectangular display is placed in the round watch face. The clock face can be changed.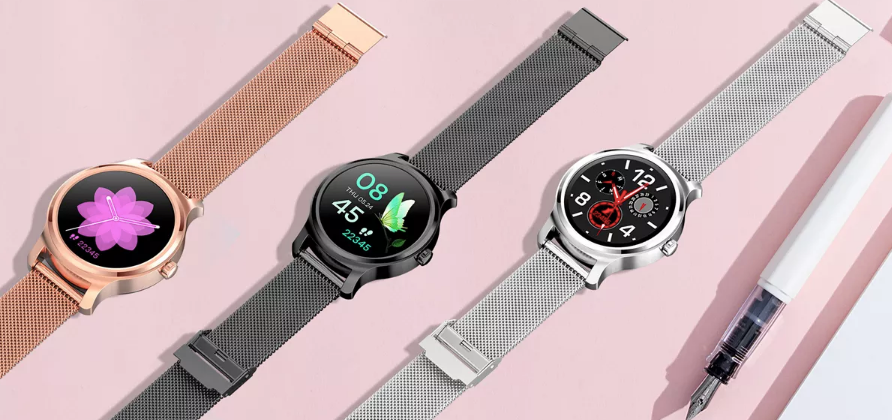 You do not have a genuine operating system (such as Android Wear) and the firmware is responsible for its operation. It also comes with a mobile app (Android, iOS) to help you set up and use it more efficiently. Some functions can be used without any extra equipment, such as pedometer or heart rate, blood pressure measurement and sports modes. The collected data can then later be synchronized with your mobile phone and tablet.
The battery has a capacity of 300mAh, which provides power for up to 5 days.