BlitzWolf BW-FD4 Liquid Dispenser
Blitzwolf's BW-FD4 automatic, touch-free soap dispenser doesn't dispense foam this time, but what you pour in, it puts on your hands one by one, working with almost any liquid.
We've previously seen several more soap dispensers in the company's range, some of which we've written about. One thing they all had in common was that they produced a foam from a mixture of liquid soap and water that was poured in, and pressed it onto your hands in the amount you set. Now with the Blitzwolf BW-FD4 model this has changed, it is no longer necessary to stir and dilute the mixture to be filled with water, but you can just pour it in smoothly, as it is originally. The device can be operated with any liquid, from liquid soap to alcohol-based hand sanitiser.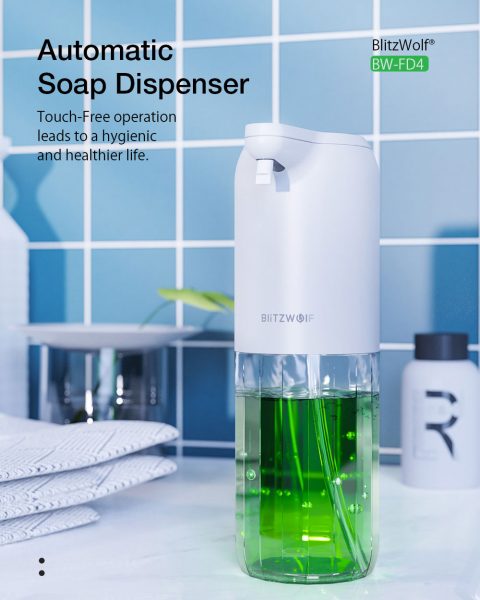 It's important to point out that the BlitzWolf BW-FD4 soap dispenser does not foam your hands, as is the case with many other devices. Specifically, it dispenses it onto your hands in the form that you have filled it into the container. Because it does not foam, there is no need to dilute and mix the liquid before filling. Just feel free to pour in liquid soap or even alcohol hand sanitiser and you're ready to use.
The soap dispensing tank has a relatively large capacity, so you can get up to 500 applications of soap on your hands with a single fill. The built-in sensor is lightning-fast, dispensing soap within 0.25 seconds of placing your hand under it. The motor is quiet but not silent, so that's something to be reckoned with.
The BlitzWolf BW-FD4 runs on 4 standard AA-size pencil batteries, and the LED on the top of the battery indicates when the batteries are low by flashing red (and blue during normal operation).
The BlitzWolf VP4 automatic soap dispenser has IPX4 water protection. This means that it is also protected against splashing water, so you can use it in the immediate vicinity of the tap without any problems, even if it gets flooded with large amounts of water.
You can order the BlitzWolf BW-FD4 automatic soap dispenser from the Banggood online store. For now, you can order it with any delivery, and because of the low price, you don't have to clear customs (until 1 July 2021).