CUBOT KingKong 3 High-end Rugged Smartphone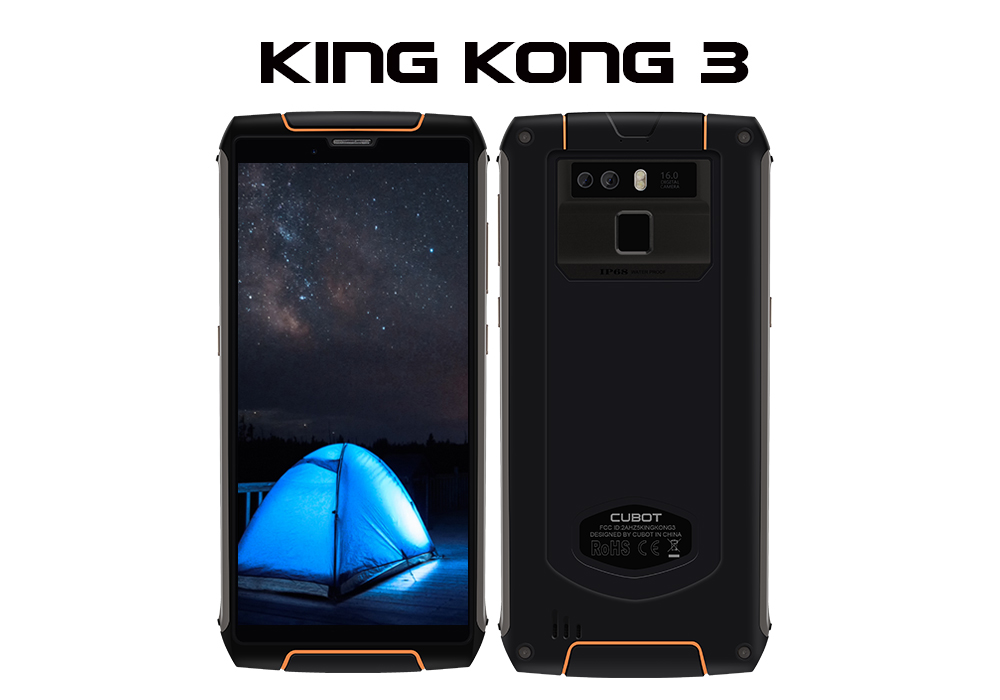 The Chinese smartphone manufacturer CUBOT announced the market launch of its current flagship model in the mid to upper market segment: the Kingkong 3 with water- and dustproof IP68 protection and optimum protection against damage. The CUBOT KingKong 3 corresponds to the latest all-screen design trends and is visually reminiscent of the Samsung Galaxy S8 Active.
Vernee uses one of the most advanced technologies to improve the overall design of the case for greater water resistance and combines an all-screen design with a rugged phone to make the CUBOT KingKong 3 more visually appealing and durable. The CUBOT KingKong 3 has a 5.5" FH+ all-screen with a 1440 x 720 display. The 2.5D Corning Gorilla glass offers scratch and drop resistance and the screen to case ratio has been increased to 81.3%. As a result, a robust telephone can now also be wider and visually more appealing.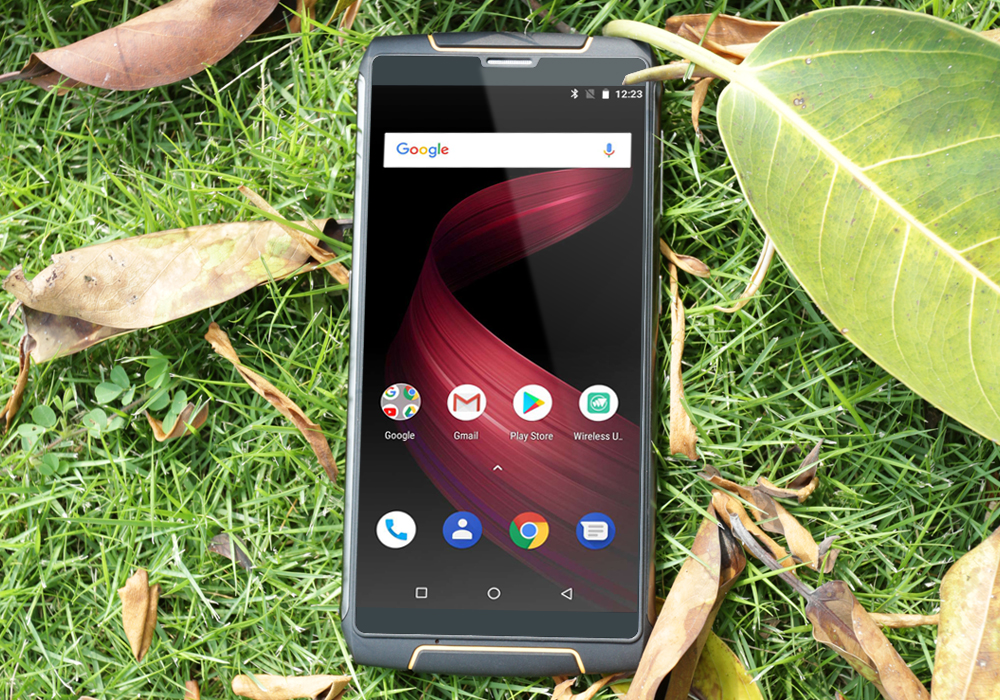 Due to the material of military quality, the excellent sealing technology and complete water tightness, the CUBOT KingKong 3 has improved the interior and passed the test for the international protection class IP68 against ingress of water. It is waterproof to 1.5 meters and works for at least 30 minutes. The robust back of the housing with its unique "Small Dot" design offers protection against deposits and slipping. The CUBOT KingKong 3 is solid and durable thanks to a magnesium middle case with military grade TPU thickened material at the four corners. After almost 2,000 extreme drop tests in six directions, the CUBOT KingKong 3 has been proven to be a robust phone with 360 degree drop resistance. In addition, the CUBOT KingKong 3 is only 12 mm thick. Thanks to the Dual 2.5D curve design, the KingKong 3 fits well in the hand and is more beautiful and modern compared to a traditional rugged phone. It is clearly different from other rugged phones.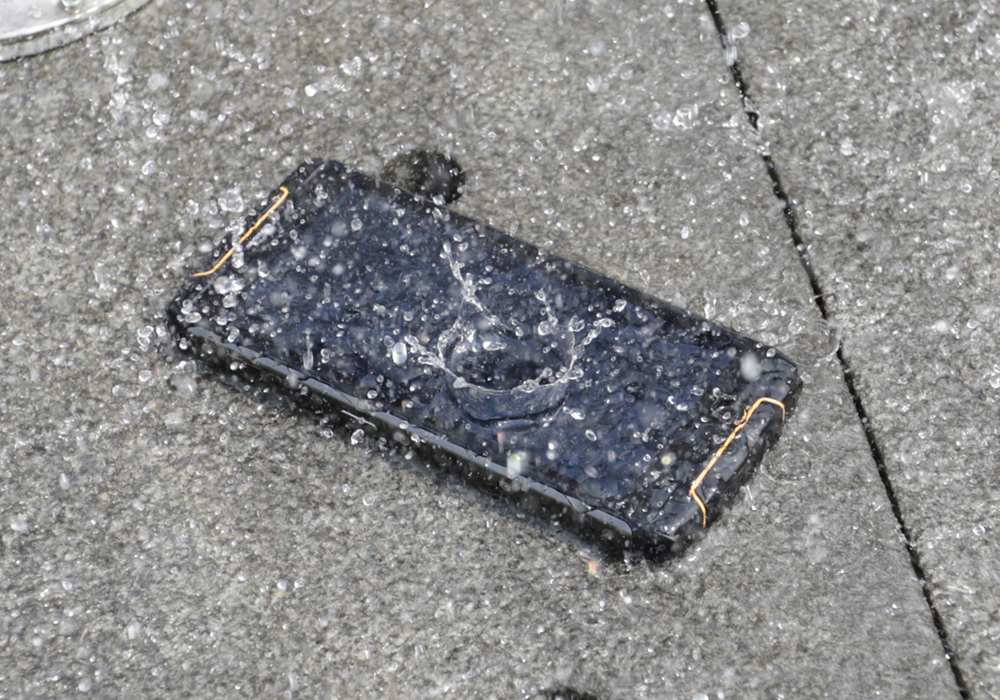 Establish the protective benchmark with military-grade standards
Working temperature range :-30°C ~ 60°C | 1.5m waterproof | 99% dustproof | 6 face anti-dropping
The shell of CUBOT KingKong 3 is made of high-strength polyester, the falling height could be up to 1.5m and it's still safe for the phone. When you walk outside, rainwater soaks, the dust and dirt won't be problems.
Waterproof level IP68
With the highest level of IP68 waterproof certification, KingKong 3 can be kept underwater for 1.5 meters for 30 minutes. It means that when you are outdoors, drowning, swimming, working in the rain, or even underwater shooting, there is no problem.
99% dustproof, even prevent sludge
The industrial design of KingKong 3 achieves 99% dust rating. Thanks to the waterproof of IP68, even in turbid liquids and sludge, KingKong 3 won't be jammed.
Withstand the test of ice and fire
Whether you are in the cold Arctic, the South Pole, or the hot equator, the desert, Cubot KingKong3 could withstand the harsh environment. Because KingKong 3 works normally in a temperature range of -30 °C to 60 °C.
Tough enough to conquer the world
Cubot KingKong 3 is fully armed, 6 sides and 4 corners are covered with material. After passing the 300 times 1.5-meter dropping tests, KingKong 3 looks like a steel warrior with strong power.
Alminum alloy + TPU CD shape screws Military lever
anti-dropping struture Double reinforced Standard
18:9 incell screen, Corning Gorilla Glass
Cubot KingKong 3 features a 5.5 inch 18:9 HD+ incell full screen that is clearly visible in the sun. In addition, the Corning Gorilla Glass also provides a guarantee for the screen strength of KingKong 3.
GPS + Glonass dual navigation system
Geomagnetic / Gyro
Dual navigation system, assisted by geomagnetic and gyroscopes, whenever and wherever, Cubot KingKong 3 will guide you to a precise destination.
It's hard outside but also strong inside
Processor RAM + ROM
MT6763T 4GB + 64GB
As an outdoors flagship phone, Cubot KingKong 3 is equipped with MT6763T (Helio P23) octa-core 2.5GHz processor, aided by 4GB RAM plus 64GB of the internal storage. whether it is the big game or multi-task APP, the device runs smoothly.
Original Android 8.1 no ads
KingKong 3 is equipped with the latest original Google Android 8.1 system without any bloat ware, it has smooth operation and fast startup.
Dual rear camera, front camera with beauty mode
There are dual rear cameras –16.0 MP Sony sensor plus 2.0 MP secondary sensor, a super 1A LED flash, even in the low light conditions, it even works with clear effect.
The front camera has a pixel of 13 million pixels, and it can be in the beauty mode on the outdoor page.
DIY Key
We have a customized button on the left side of the body, you can customize its function in the settings, such as: one-button wake-up camera which could also act as a camera shutter.
0.1S fingerprint unlock
The Cubot KingKong 3 rear fingerprint module enables 0.1S quick unlocking. Support to enter 5 sets of fingerprint data, readable for 360° and it is waterproof.
NFC – only for smarter connections
NFC is the abbreviation of Near Field Communication. We have the latest NFC function on Cubot KingKong 3, which will provide you with a smarter and safer way for life.
Bus subway
Accessing door Card
Bank card payment
File transfer
Globe Nerwork – traveling around the world with King Kong 3
KingKong 3 supports 4G network bands covering most countries in the world, which means you don't need to change your phone when you travel to other countries.
6000 mAh long battery life
With a 6000 mAh high-density battery, KingKong 3 features a power efficient Helio P23 advanced processor for longer battery life.
9V / 2A 18W fast charge
It's a big matter to learn to charge, if the power is too high, it's easy to have safety hazards; if the power is too low, the charging speed is slow. KingKong 3 has 18w fast charge, it charges speedily and it is also safe.
*USB Type-C Cable, reversible port, faster transfers and charging, 4K monitor output and more.