Excelvan Q7 World Cup Memorial Projector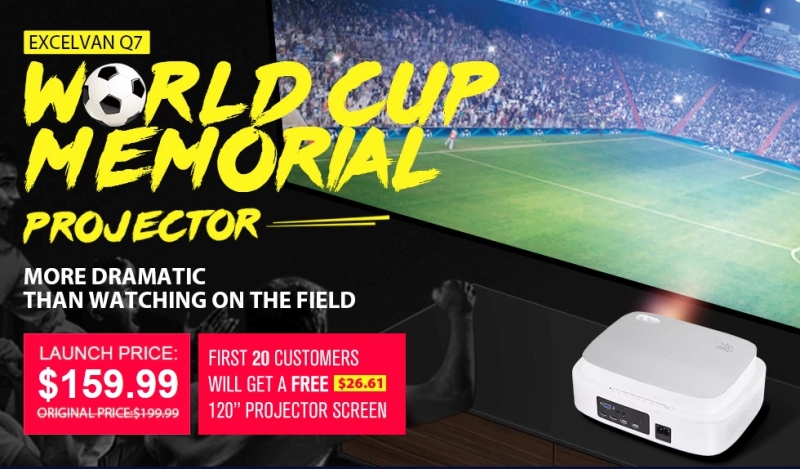 Excelvan Q7 World Cup Memorial is the perfect projector designed for World Cup fans with delicate 2018 Russia World Cup icon, you will not missing the best parts of World Cup matches with this HD 1280*800 native resolution projector, it supports 1080p videos projection, and will show you crystal clear image with 1.67 millions stunning color.
Surely, Excelvan Q7 is not only for 2018 World Cup watching,but also for home entertainment, you can watching movies,TV shows and playing PS4 games at home or outdoor in dark environment. With the high equipment of brightness of 200 ANSI lumens and 1000:1 contrast ratio, this projector can create an amazing private home theater for you.
Eyeable cake-like cute appearance, Excelvan Q7 can be a most sweet gift for your friends and relatives. Moreover, it is really a practical versatile home appliance with various interfaces including 2*HDMI, 2*USB, VGA, AV, Audio out, etc. It supports connect to plenty of multimedia devices like U disk, DVD player, TV box, PC, tablet, smartphone, game consoles, and so on. Every interfaces is ready to make you a wonderful viewing experience.
Equipped with the upgrade LED source projection technology. The LED lamp with an impressive lifespan of 20000 hours, which means you can use it for many years without LED lamp changing. Besides, its screen size can be adjust from 55 inch to 160 inch within the projection distance from 1.8 to 5 meters, the image size can be changed freely as you wish!