Hohem iSteady Pro 3-axis Handheld Gimbal Stabilizer 12h Run Time
Hohem iSteady Pro Gimbal is a new action camera stead designed to add stability to your amateur videos. The device combines versatility, affordable price tag and good quality stabilization. This steak is a great choice for most modern GoPro action cameras. What kind of beast is this? Is it worth buying?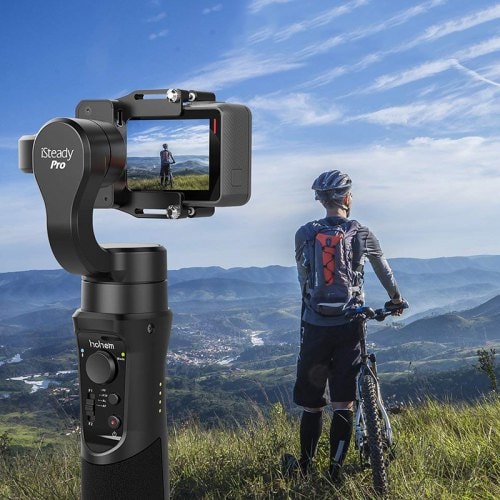 Hohem iSteady Pro is delivered in a quality box, and the steadders themselves lie in a case that can be used for storage and carrying of the device.
Steadicam has pleasant materials of the case – high-quality plastic, and its handle includes a rubber insert with a texture reminiscent of the skin. It is assembled with high quality – it does not have any backlash or crunchy appearance, and it lies in the hand pleasantly, does not slide and it is very convenient to hold it.
There's one here:
Joystick for turning the head of the steadicum itself;
Button for switching modes;
Function slider (F1-F2);
Power button;
Bluetooth connection indicator;
Mode Indicator.
On the left side there is a standard tripod thread, as well as a rubber cover, under which the USB ports are hidden – input and output.
The built-in battery can be charged from the input, and the output is designed to charge external devices, such as action cameras mounted on the stabilizer. In addition, there is another port, miniUSB, on the camera holder itself.
It can also be used to charge the installed action camera. The only question is why the miniUSB in 2018? Why? Okay, not Type-C, but why not microUSB? It remains a mystery. On the right side there is a built-in battery charge indicator.
The lower end has a standard tripod thread. The end itself is made flat and even without a tripod, Hohem iSteady Pro can stand on the table quite steadily.
For its price, Hohem iSteady Pro is a very interesting solution. It combines the high quality of materials, a well-thought-out control system and a convenient mobile application. If you have one of the GoPro cameras, or a Chinese analogue, and you like it, but still feel a lack of stability in the video, then this steak can be a good addition to your favorite camera.