IPASON F – MIGRATE Office Game Mini PC
As they struggled to find Intel processors in comfortable quantities to work on their ranges, noname manufacturers finally cracked and turned to the solutions offered by AMD. The first MiniPC with AMD Ryzen 3 2200GE is now available. The Ipason F-Migrate offers a versatile processor, with a very good graphics circuit, accompanied by 8GB of DDR4 RAM and 240GB of SSD in a 2-litre format.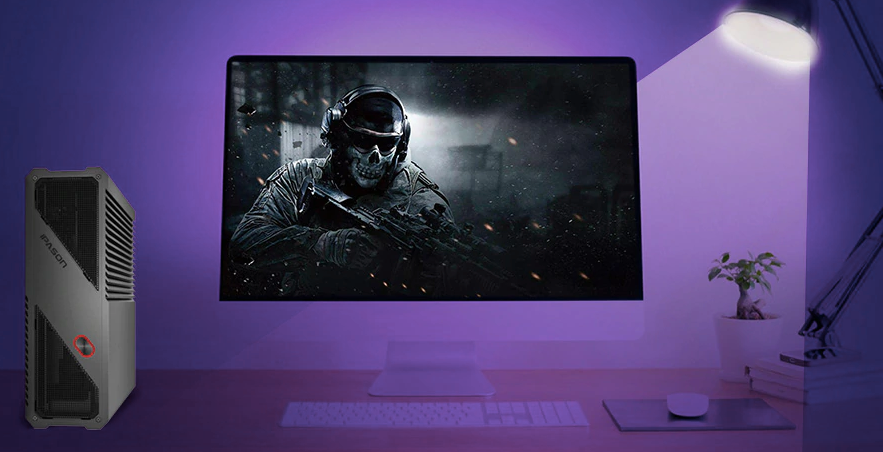 Black metal chassis with small fins to help dissipation, the Ipason F-Migrate is a larger MiniPC than a conventional NUC. At 18.5 cm high and 6 cm wide by 17.8 cm deep, it is not a monster. Stack two milk cartons on top of each other by the slice and you will have a very good idea of the 2-litre space requirement of the machine.
Inside this chassis, we discover an original solution compared to our habits. An AMD Ryzen 3 2200GE processor replaces the usual Intel solution. This 35-watt TDP chip features four cores clocked at 3.2 GHz with a 3.6 GHz boost mode. With 4 MB of cache memory and above all an advanced graphics circuit, it is a very interesting solution from a family MiniPC perspective. Capable of all the classic tasks of a machine of this type, the Ipason F-Migrate will also offer solid performance in 3D games. The Radeon Vega 8 chipset clocked at 1.1 GHz is indeed very powerful in this range of low-power chipset.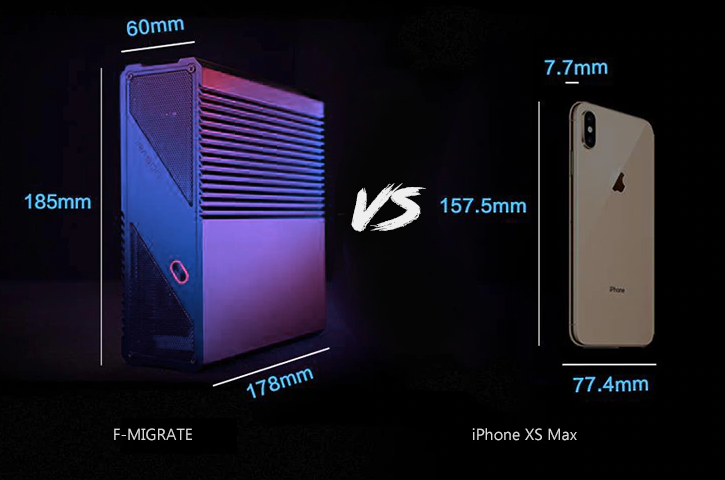 With 8GB of DDR41 RAM and a 240GB SSD storage base, the machine offers a very solid architecture that will be able to fit in a living room as a mini PC game console or in an office as a work machine. A slot 2.5″ SATA will allow to add additional storage in SSD or mechanics to extend the possibilities offered.
For the rest, the Ipason is well equipped: a very classic dual-band Intel 3165 Wifi5 module will offer good wireless speeds and a Gigabit Ethernet port will offer to connect the device to a trouble-free wired network. It will also offer a Bluetooth 4.2 connection and good compatibility with various operating systems.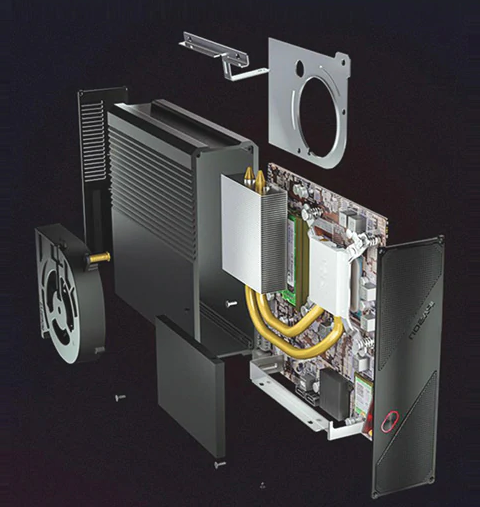 A small drawback for the lack of connectivity on the front panel, only the start button seems accessible, which may force the use of wireless controllers in living room use. At the rear of the chassis, however, there is a fairly wide range of connectors: four USB 3.0 ports, an HDMI 2.0, a serial port and two audio jacks for headphones and microphone. The power supply is managed by an external power supply unit. The presence of this serial port challenges me, is it an industrial design recovered by the industry to develop it in a consumer version? Or does the manufacturer intend to offer this machine in different sectors with a different discourse and thus save on custom designs by offering a single motherboard.
In short, a complete, well-equipped, scalable and above all capable of supporting many recent 3D games in a completely correct way at the price of a few graphic concessions in HD and up to FullHD definition.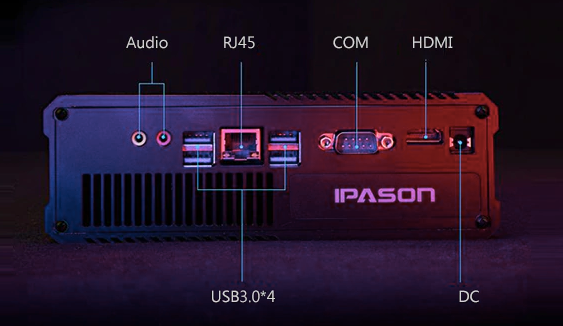 To see how effective the chip is, you can browse the list of videos produced by TechEpiphany with a lot of titles and of which I have put some excerpts above. There are still some questions about the overall finish, quality and robustness of the chassis. Although Imation seems to certify that it has undergone several quality and strength tests.
There is also a lack of information on the ventilation of the machine and especially on the noise it generates. The brand offers a classic heat pipe system that deports heat from the AMD processor to fins that are cooled by the circulation of air pushed by a fan. The metal frame probably has a slight impact on the process, the fins being glued to it. Note that the MiniPC is delivered with a stand to be able to position it vertically or horizontally.