KINGKONG/LDARC AK123 122mm 3S 3 Inch Toothpick FPV Racing Drone
This nano racer is one of the devices with spartan equipment to weigh as little as possible. It is based on a carbon structure of 12.2 cm diagonal from motor to motor. At the heart of the device is a flight controller based on an F4 processor, flashed with Betaflight, with an active OSD, coupled with a 12A 4-in-1 ESC. The motors are 1103 to 6500KV brushless motors, for an axis of 1.5 mm, with 7.5 cm diameter two-bladed propellers.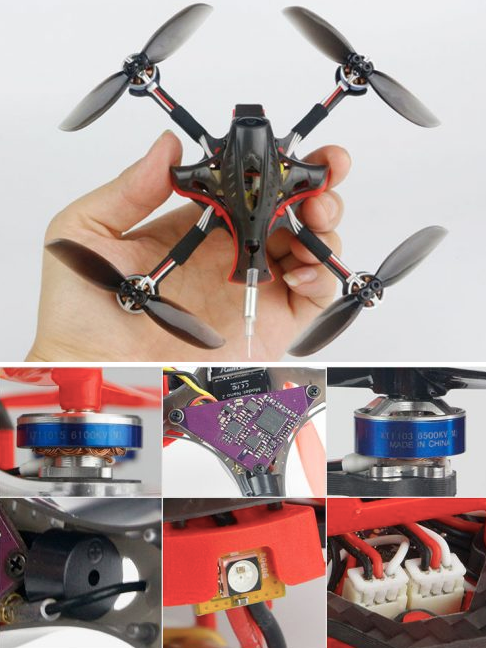 The camera is a RunCam Nano2 700TVL that can be tilted between 18 and 40°. It is associated with a 48-channel 5.8 GHz video transmitter capable of transmitting at 0 mW (pitmode), 25 mW (the maximum allowed in France), 100 mW or 200 mW, compatible with the IRC Tramp protocol to control the settings from the remote control, and equipped with a dipole antenna. LDARC adds a LED and buzzer, useful to find the device in tall grass.
The plastic compartment under the device is designed to accommodate a 300 mAh 3S battery with an XT30 connector. The AK123 is delivered in a transparent plastic box. It is available in a version without a radio receiver, or with an AC2000 receiver compatible with Futaba, FrSky D16 EU-LBT and Non-EU. Weight ? 55 grams without battery and receiver, 81 grams in flight order… The price? It will be offered from $119.99 at Banggood.