KingWear KC06 4G Smartwatch Phone
After several months of absence of new devices from KingWear company, the manufacturer introduced a new model of smart watches called KingWear KC06. In our detailed review we will analyze all aspects of smart watches and identify the main disadvantages and advantages.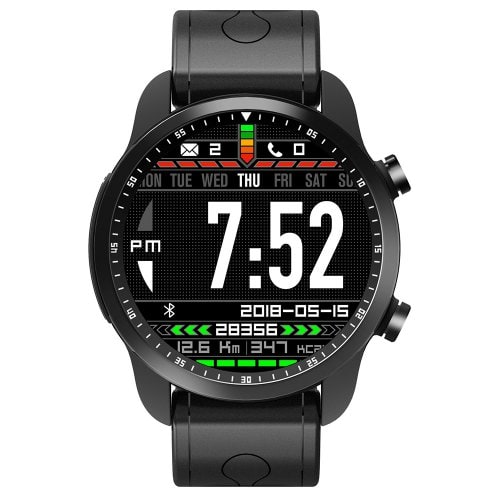 Smart and multifunctional watches continue the same line of elegance and sophistication to which we are accustomed from the Asian origin. And in this test, KingWear KC06 explores the main characteristics of the new KingWear smart watch to find out what has changed in relation to its predecessor. The watch will be available for sale soon and the price is likely to be lowered. If you are looking for an elegant, multifunctional and inexpensive smart watch with a price tag of $110, then KingWear KC06 will be a great option to consider.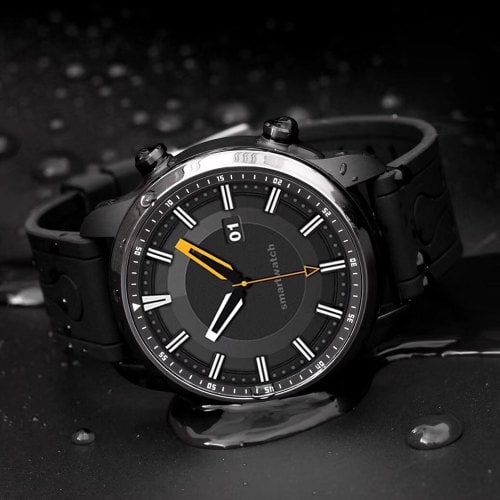 The watch is equipped with a very elegant and modern design, on the front panel of the screen with AMOLED technology and a good autonomy of 620 mAh. The watch is also equipped with several health monitors that will display detailed information about your physical activity on a daily basis. Let's get started with our review and start with the technical specifications.
We received a very interesting gold shimmering box, with Smart Watch on the front side. KingWear KC06 comes with everything you need to get the most out of it from day one. The following components were found in the package: the smart KC06 watch itself in a protective cellophane, a USB 2.0 charging cable, a screwdriver for a SIM card and an operating manual in English. In general, it is standard equipment for its price. But I would also like to get a protective film to prevent scratches on the screen. Let's move on to the look of a smart watch.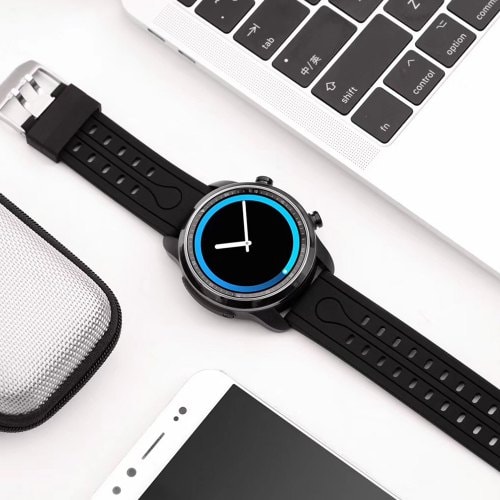 There are no significant changes in this design section that will be highlighted. The new KingWear KC06 retains the same exquisite design of its predecessor. In this sense, it has an elegant round dial that is coated with stainless glossy steel to ensure greater durability. The strap of KingWear's smart watches is made perfectly of high quality silicone and velvet inside. It has a very pleasant softness and ergonomics when you put the watch on your wrist.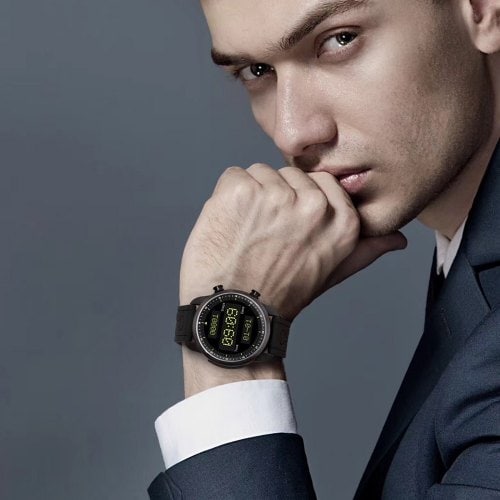 If you need a smart watch with features such as water and dust spray protection, then the KingWear KC06 is the best choice, as the KC06 has IP67 splash water protection. This means you may not be afraid to wet your watch in light rain, but I don't advise you to bathe in a pool or wash your hands with your watch.
The size of the smart watch is 27.5 x 4.8 x 1.4 centimeters and weighs only 67 grams, which is not much different from KingWear KW99. The watch is very comfortable and lightweight to wear.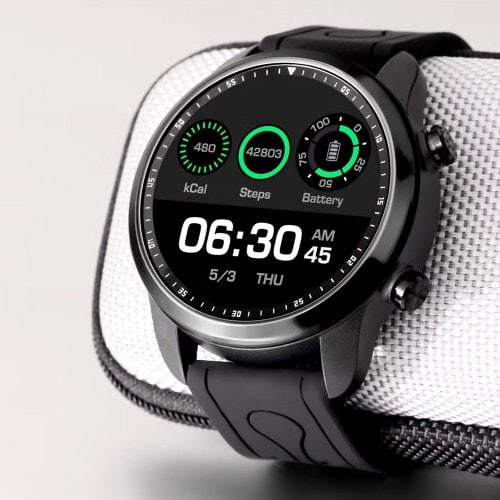 As for the control buttons, there are two buttons on the right side of the smart watch, the switch on and the move back. On the left side there is a SIM card slot that can be unscrewed with a screwdriver. On the back of the watch we see a heart rate sensor, a four-stroke connector to charge the watch and a speaker. In general, all design elements and material qualities are well made. During our testing we did not find any defects.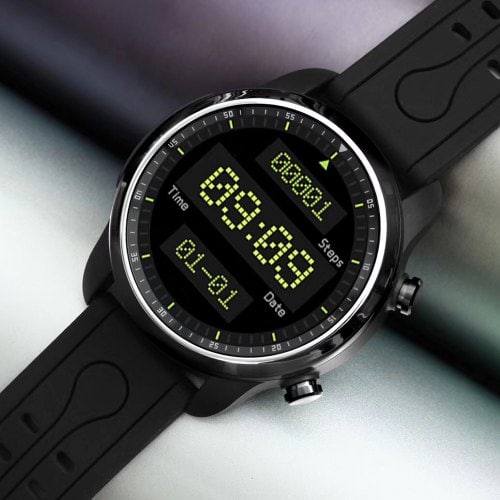 The smart KingWear KC06 has a 1.3-inch, 360 x 360 pixel AMOLED multi-touch panel. Therefore, the screen provides a much brighter color rendering (up to 26,000 colors), a more saturated black color and lower power consumption compared to conventional LCD panels. You can select three brightness modes in the settings. Average brightness can be used in the room. It is better to use the maximum brightness outside and the screen is very bright and readable in sunlight.
The performance of KingWear is the responsibility of the MT6737 processor from the renowned MediaTek company, and it is chosen to provide optimal performance on a daily basis.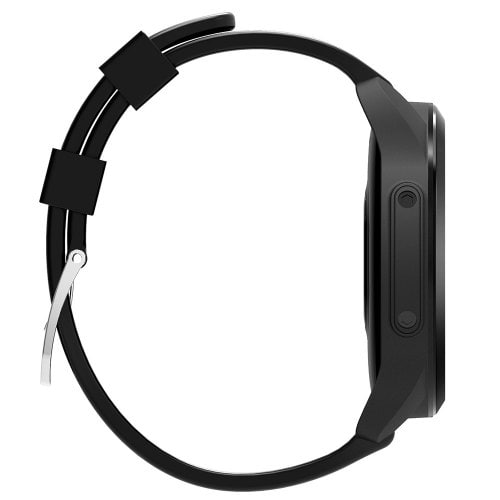 The processor runs thanks to 4 cores with a clock speed of up to 1.2 GHz. For smooth and multitasking, 1 GB of RAM is installed, which will be sufficient to run applications that are compatible with the device. As with its predecessor, when it comes to content storage, you will have 16GB of internal memory. This space will be more than enough for smart watches to be used.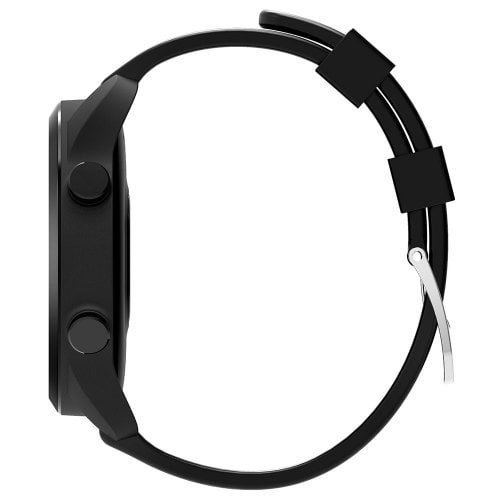 In particular, the watch is equipped with the Google operating system running Android 6.0. Like any Android watch, you get a useful opportunity to use the Play Market with the installation of almost any application. Also in the user interface you can use a lot of built-in health monitors. These include a heart rate monitor, a pedometer that measures steps and distances, a calorie counter, a sleep monitor, and a reminder of sedentary lifestyles.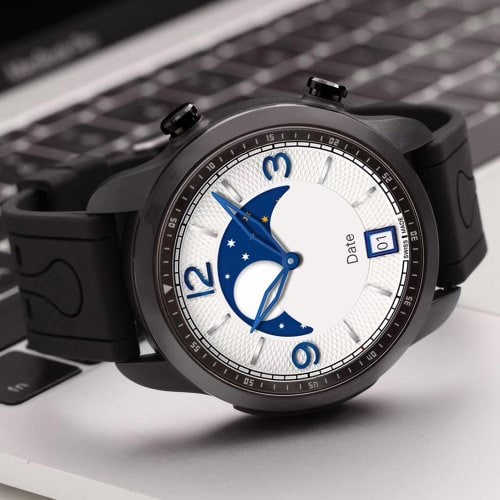 In addition, being a multifunctional smart watch, KingWear KC06 can connect applications to your smartphone. Applications are able to receive notifications in social networks, receive calls and text messages.
As for the battery, we have an improved battery capacity and now it is 620 mAh. With this capacity, the duration of KingWear KC06 is estimated at about 10-12 hours in normal use and up to 2 days in standby mode. While it can be charged via the 4 magnetic contacts on the back of the watch.