LEMFO LT04 Bracelet Wireless Bluetooth Headset 2 in 1  With Chip IP67 Waterproof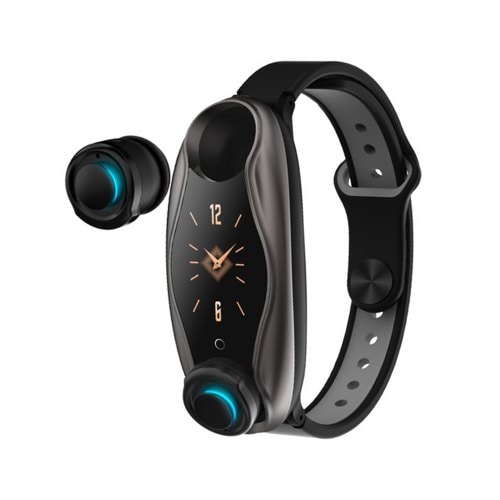 There are not too many new developments in the field of smart bracelets, but the LEMFO LT04 smart bracelet is a two-in-one gadget: a smart bracelet and a wireless headset! Or a pair of earphones because it has two pieces. That way, you can always have a smart bracelet, activity meter, and wireless headset at your fingertips. Currently available for $ 34.99.
Basically looks like any bracelet and is available in not only one but two colors: gray, black. But the earphones can be removed at any time (magnets hold them in place).
It contains standard wireless headsets (Bluetooth 5.0) that can be used as usual. They also include a microphone, so they can be used for calls and automatically connect to the previously paired device, except for the bracelet. Its display is large enough with a resolution of 0.96 inch and 160 * 80 pixels.
If you do not have a genuine operating system (such as Android Wear), the firmware is responsible for its operation. It also comes with a mobile app (Android, iOS) to help you set up and use it more efficiently. Some functions can be used without any extra equipment, such as pedometer or heart rate measurement, sport modes. The collected data can then later be synchronized with your mobile phone and tablet.
The bracelet of LEMFO LT04 has a battery capacity of 160mAh and can be used for up to 15 days. The headset has a battery capacity of 35mAh and can be used for approximately 3 hours.