MXQ Pro TV Box
The MXQ PRO 4K TV BOX runs on a fresh Amlogic S905W processor. This budget processor is designed to compete with the RK3229 processor and is now gaining increasing popularity. Under the name MXQ PRO, several inexpensive models of TV set-top boxes have already been released that run on Amlogic S905 and Amlogic S905X processors. The new model should take its place in the market, which was flooded with cheap TV boxes on the Rockchip platform.
The MXQ PRO except the SoC Amlogic S905W with a quad-core Cortex-A53 processor with a frequency of up to 1.2 GHz and a Mali-450MP graphics processor, contains 1GB of RAM and 8GB of internal memory for storing files and installing applications. Of the network capabilities, the console has 100M Ethernet and Wi-Fi 802.11 b / g / n. Works console operating system Android 7.1.2 which has good stability and high performance. The main distinguishing feature of this console from the mass of similar – is the presence of as many as 4 USB ports, which should be enough to connect all the necessary devices.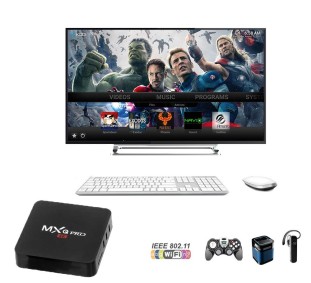 Thanks to dual-channel Wi-Fi (802.11 b / g / n / a / c) with an operating frequency of 2.4 GHz and a speed of up to 150 Mbps, you can create a high-speed connection with both your home network and additional accessories. And using USB version 2.0, connect any headset ranging from remotes, joysticks and ending with cameras and printers.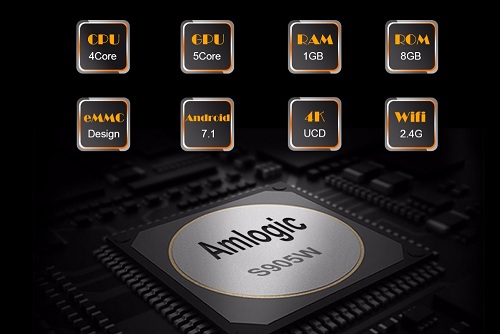 MXQ Pro is a new generation of Smart consoles, featuring good power and low cost. 1 GB of RAM is more than enough to watch TV channels, online videos, movies, TV shows and Youtube. The basis of the device is a high-performance processor of the new generation Amlogic S905W. This is a quad-core 64-bit platform, which has an integrated graphics system Mali-450.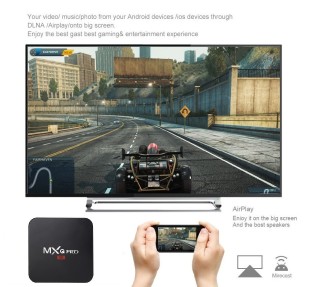 The Mali-450 video processor used in the MXQ-Pro smart console provides excellent performance, even in the newest games. This allows you to enjoy great image quality. And thanks to the many wireless connections, you can use any additional accessory as a control.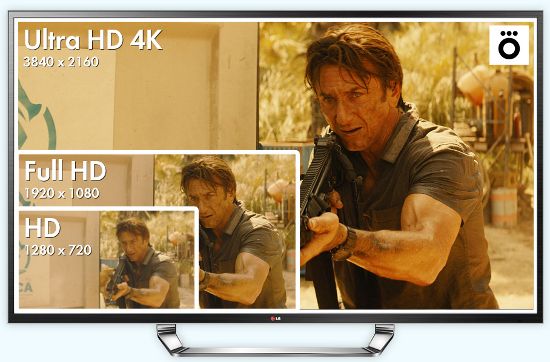 The MXQ-Pro is a powerful, high-performance device with fundamentally new features among devices of its class. One of the main features of the MXQ-Pro minicomputer is support for playback of the video stream in the latest 4K Ultra HD resolution format and support for the modern H.265 HEVC video decoding format. In terms of functionality and performance, the MXQ-Pro is the leader among smart consoles.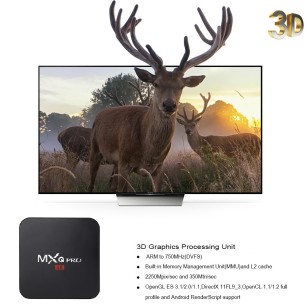 There is no reason to worry about the lack of 3D content. The MXQ-Pro prefix provides unusually high quality when converting a two-dimensional image into realistic 3D. Enjoy viewing 2D content with three-dimensional depth.
The smart TV BOX MXQ-Pro is an excellent option for creating a multi-functional media center based on a TV. The set-top box is connected to the TV via HDMI-2.0A or via the AV output.
Connection to the Internet is possible in two ways:
1) through a standard LAN connector;
2) via WI-FI. The console has 4-USB port version 2.0 for connecting any equipment.