Orimag P8 DLP Small Home Pocket Projector
Today we want to talk about the Orimag P8, a portable projector that fits in the palm of your hand. But beware, do not be fooled by its small size; It is capable of projecting a screen of up to 120 inches. With 1080P maximum resolution, it is a 100% recommended device for both home and business use, but better yet, as a gift for young people to design their smartphone games; a true gem to be able to enjoy all kinds of content anywhere thanks to its WiFi connection.
The Orimag P8 is a small projector with a very modern design and an elegant touch that has personally conquered me.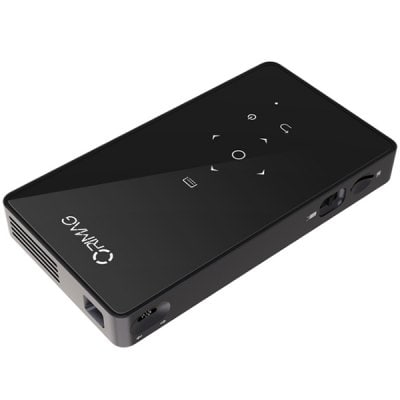 In different colors (black, silver, rose gold and pink) and made of aluminum, just look at the design and we realize that this is a small projector very simple and convenient to use.
In the upper part we find a series of tactile buttons and on the side we have a roulette to manually adjust the focus, as well as a slot to insert a TF card. On the front is the Orimag P8 lens and on the back, a micro USB port and a 3.5 mm headphone jack.
We are facing a device with a very compact design, with measures of 4.3 cm in width, 4.3 cm in depth and 4.5 cm in height. As for the weight, it is only 113 grams; It fits in the palm of one hand.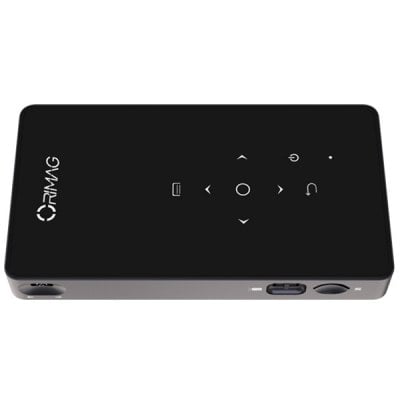 Picture quality
Let's get to know a little more closely what the Orimag P8 offers us. It has a native resolution of 845 x 480 pixels and has a contrast of 1000: 1; the aspect ratio is 4: 3.
When you go to buy a projector, one of the most important aspects to assess is the size of the screen and the distance at which you need to place the projector. Well, in the case of the Orimag P8, the screen size ranges between 5 and 120 inches, and the projection distance is between 0.3 and 3.5 meters. Larger projectors require a much greater distance, so this model is a fantastic option for a small space.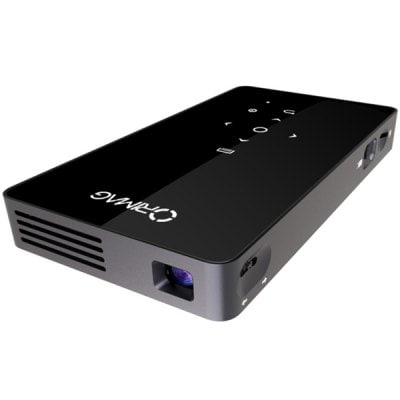 As for the brightness, it offers 80 lumens; The truth is that it is a minimum amount but we must take into account the type of device we are talking about. Maybe in broad daylight the images do not look too bright, so, given this number of lumens, our recommendation is that when projecting any type of content in the Orimag P8, it is done in a space that is relatively in the dark. The life expectancy of the lamp is 30,000 hours; taking into account that a film lasts an average of 2 hours, we can enjoy with this portable projector of 15,000 films, nothing more and nothing less.
Regarding the video formats, it supports: TS, FLV, VOB, MPEG, WMV, AVI, MKV and MP4. The image formats supported by the mini projector are JPEG and PNG.
Connectivity
The connections of the Orimag P8 are the following: micro USB port, a TF port and 3.5 mm headphone jack.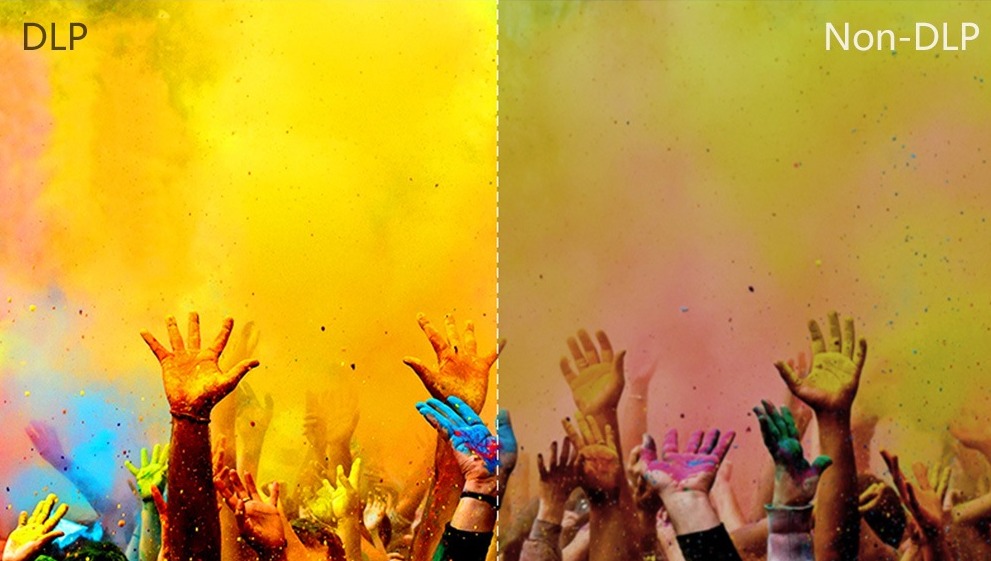 I think a fantastic portable projector to take it for example on vacation. You can store a series of movies on your tablet and then connect it to the projector thanks to its 2.4 and 5 g WIFI connectivity; In this way, you can enjoy the movies on the big screen, projecting them, for example, on the wall of the hotel room.
Projector sound
The brand does not only provide information about the sound power, which is 5 W; something considerable considering that even high-end projectors offer, on many occasions, a lower power.
Supports audio formats: MP3 / AMR / RM / M4A / FLAC and other formats not specified by the brand.
Functions
At software level, the Orimag P8 has Linux as OS. It seems to me a success because this is characterized by being one of the most stable operating systems and provides better performance.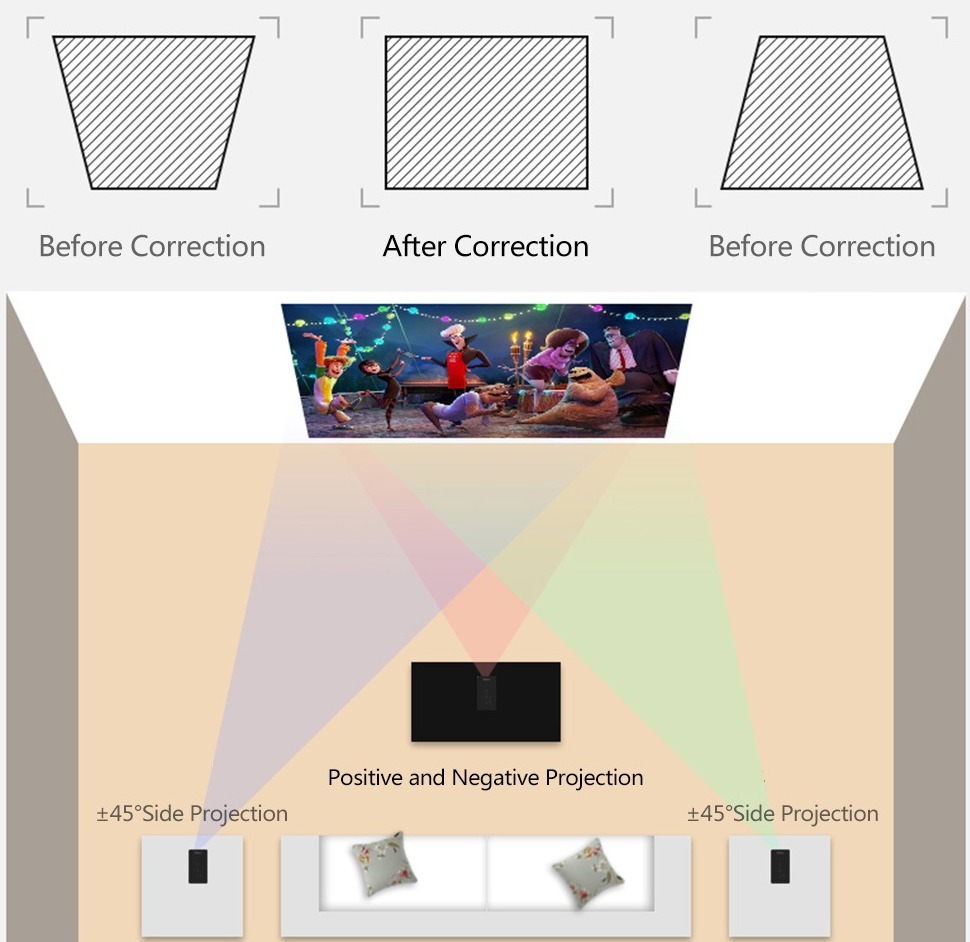 This for domestic use, but at a corporate level I also think it is a projector that is very worthwhile. Instead of being up and down all day transporting a large projector from one meeting room to another, the Orimag P8 is a much more convenient option if you do not want spectacular results, as would be the case.
It is compatible with smartphones, tablets and PC. Compatible with Android, iOS 5.0 and higher and Windows 8.0 and higher.
In addition, it has protection of the eyes , which is a great point to take into account to avoid eye fatigue. It incorporates a lithium-ion battery of 2000 mAh that provides a range of 1.5 hours.
Summary
If you are interested in the Orimag P8 as a portable projector, when buying it it includes a series of accessories that I think are great, really. We are talking about a power adapter, a USB cable, a tripod, an OTG cable and a storage bag for transport.
The fact that it includes a tripod seems to me a great point in favor; taking into account the small size of the device, it allows you to adapt it a little in height to the wall where you want to project the content.