Siroflo C800S Mini DLP Smart Projector
Siroflo C800S is the tiny portable 100 Lumen Pico Projector. It realizes mobile projection by mating a lithium ion battery with DLP Projection technology. This portable projector can deliver high quality images both plugged in or on battery power. The C800S features 100 Lumen optical engine powered by 30000 hour Vibrant Color LEDs and a native HD resolution of 854×480.
This optical power house enables the C800S to deliver vivid 100″ displays in dark areas and usable displays in brightly lit areas with the large projection scope from 20 to 120 inch. Variety of media formats output, such as audio, video, image and flash, can be supported for business presentation or home enjoyment.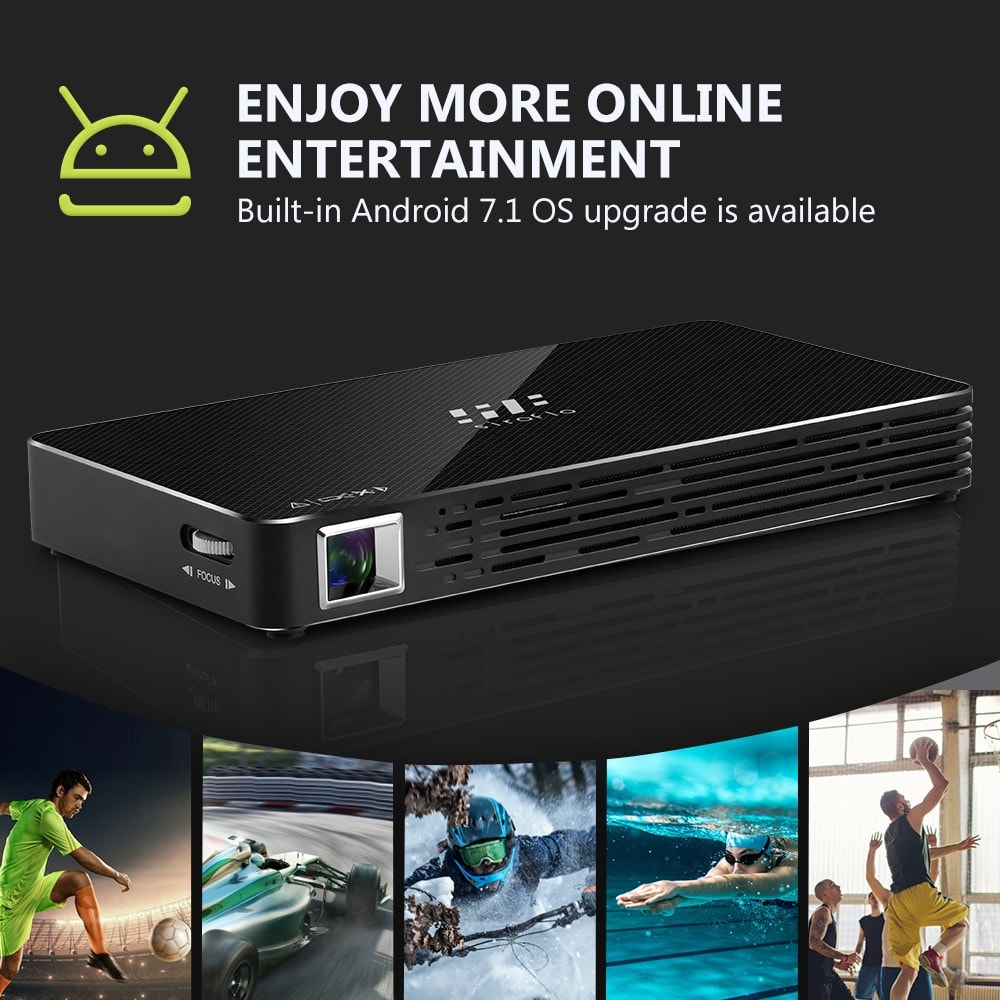 Image processing system
Adopt DLP 0.3 "DMD Technology, which uses advanced Multi-Color technology, providing exceptional contrast ratios.OSRAM LED lamps with a lifetime of 30000 hours have a brightness of 100 ANSI lumens, FOFO 2000: 1 Contrast and resolution of 854 * 480, supporting up to 1920 * 1080 (for 1080P video, allowing you to watch your favorite movies in high definition), giving you the projection size up to 120 inches.
Really wireless
Siroflo C800S supports 2.4G and 5G Dual Band WiFi up to 1000M / s, the movie never stops, no more waiting. Its Android system allows you to
Off-axis Ray Engine, imported equipment; Adopt Advanced Optical Engine, which is imported from America and uses the latest non-singular technology with 0.3-inch EM for horizontal projection, non-slip feet, providing a much better user interface.
Lightweight and compact portable
Take an easy and compact portable design, the C800S DLP projector has a palm size (16.0 * 8.0 * 1.8 cm). Insert the entire home entertainment system into your pocket. You can easily carry around, watch all your favorite movies or make impressive business presentations anytime and anywhere.
High battery capacity and durability
Built-in rechargeable battery with a capacity of 4200 mAh, working for more than 2 hours with full full charge, when external power is not available.