ThundeRobot 911 Air Gaming 15.6 inch Laptop with Intel i7-8750H NVIDIA GeForce GTX1050 Ti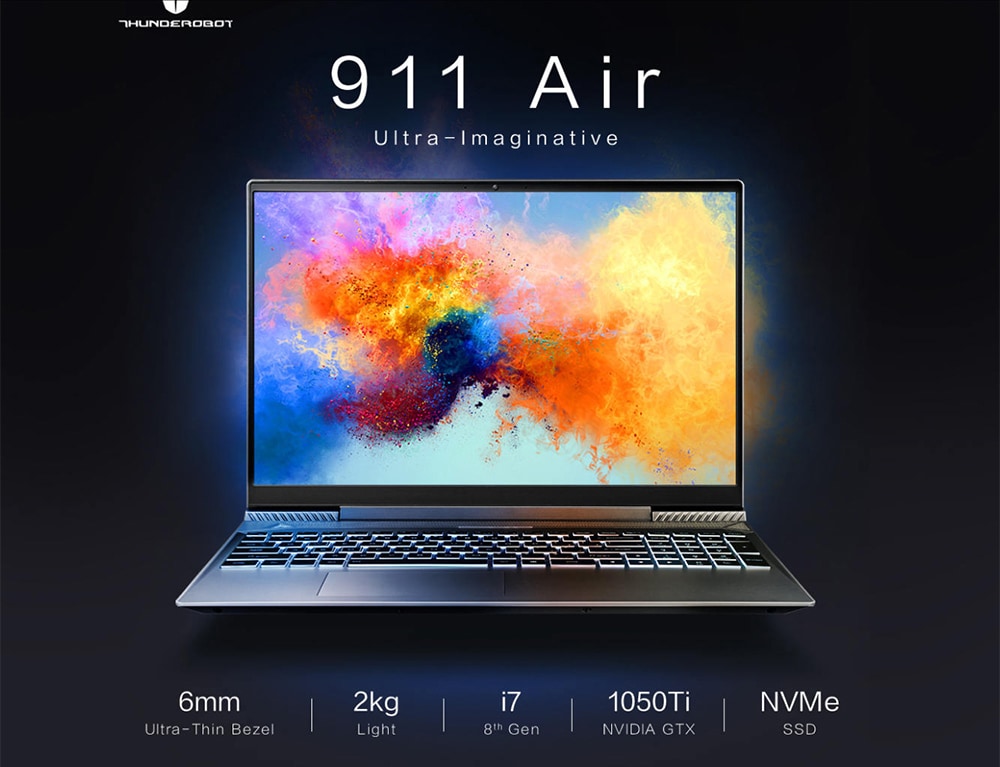 THUNDEROBOT fans, the press and customers of the company gathered in Beijing at the Beijing Dong Yi Tian Hong Performing Arts Center to attend the next generation of THUNDEROBOT gaming laptops. The company announced the release of five gaming laptops with an Intel® Core ™ processor of the 8th generation, among which the new 911S and 911 Air are the lightest and most compact.
THUNDEROBOT 911S – incredibly fast laptop in a lightweight package
Prepare to be demolished by the impressive performance of the THUNDEROBOT 911S gaming notebook, whose processor rating is 1218cb in Cinebench R15 and P13186 in 3DMark11. 911S is 10 percent faster than a typical notebook with an Intel Core i7 processor of the 8th generation, thanks to a specially designed 180W power supply, powerful enough to unlock the maximum system capacity. The 911S is equipped with three 8 mm cooling tubes made of pure copper, as well as two cooling fans, which ensure stable operation of the notebook without overheating.
The 911S continues the tradition of the design concept in the style of spaceships and is equipped with a premium chassis of the case from milled aluminum, a keyboard with RGB-backlight, customizable for all tastes and any game mood. Graphics processor GeForce GTX 1060 6GB GDDR5, 15.6-inch IPS matrix with a refresh rate of 144 Hz, RAM 16 GB DDR4-2400 RAM, solid state drive 128GB M.2 PCIe SSD and HDD 1TB, fast Wi-Fi 802.11ac and Blutooth 5.0 with these characteristics, the thickness of the notebook is 25 mm, and the weight is only 2.4 kg Which makes THUNDEROBOT one of the thinnest gaming laptops with the highest performance, confirming the slogan of the company Born for Gaming.
THUNDEROBOT 911 Air – 15.6″ display in a form factor for 14″, uncompromising performance
You have not seen a gaming laptop, such as this one. The side of the screen frame have a size of 5 mm, thus 15.6-inch Full HD IPS-fit in the display enclosure 14-inch notebook. The maximum thickness of 911 Air is only 20 mm, the weight of the laptop is 3 kg. This is a thin and light gaming laptop that is easy to take with you.
But despite the ease and compact dimensions, the 911 Air – very efficient laptop, it is equipped with Intel® Core ™ processor and 8-generation graphics card GeForce GTX 1050Ti 4GB GDDR5, excellent connectivity options WiFi 802.11ac and Bluetooth 5.0, and enough memory to store data – fast 128 GB SSD and 1 TB HDD. Moreover, full-size keyboard 911 Air Conveniently digital section also has RGB backlight. It is an ideal machine for work and play.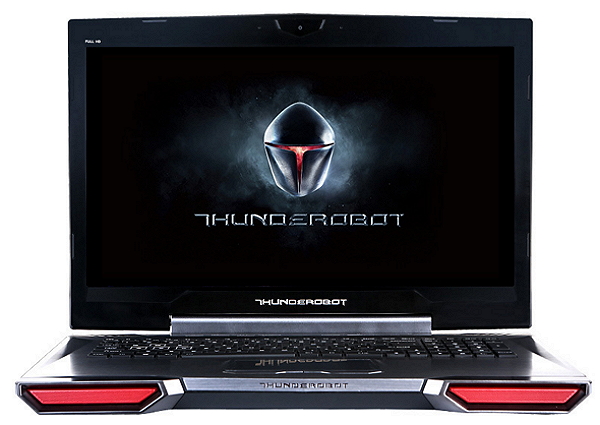 The DINO, 911GT and ST Plus are equipped with the best Intel® Core ™ 8 processor
In addition to the release of new 911S and 911 Air notebooks, THUNDEROBOT updated the notebooks DINO, 911GT and ST Plus with a new Intel Core i7-8750H processor. DINO is also equipped with fast memory DDR4-2666MHz RAM, and all models now transfer data faster over WiFi 802.11ac and Bluetooth 5.0.