WEEDO F150S 3D Printer
WEEDO F150S is a smart 3D printer designed and operated for the enterprise and education market, which greatly reduces the user's operation requirements, so that home users, even children, can easily enjoy the fun of 3D printing.
WEEDO F150S printing technology is FDM (ie, melt stacking technology), the component size is 280mmx200mmx200mm, the printing precision can reach 0.1mm, and the nozzle diameter can reach 0.4mm. The recommended nozzle temperature is 220 °C. The whole machine looks very strong in technology and weighs 25 kilograms. The whole sheet metal frame is very solid.
When printing the first model, in fact, the F150S has already been pre-installed at the factory, and the consumables can be used to start the F192 to start the 3D printing journey! However, we still need to manually complete the final operation of the installation. 1. Assembling the wire to take out the tray and the rack, put the rack shaft into the tray and put it into the rack together. One end of the wire is taken from the tray and fed into the feed hole on the back plate of the printer until the wire is passed out from the other end of the tube.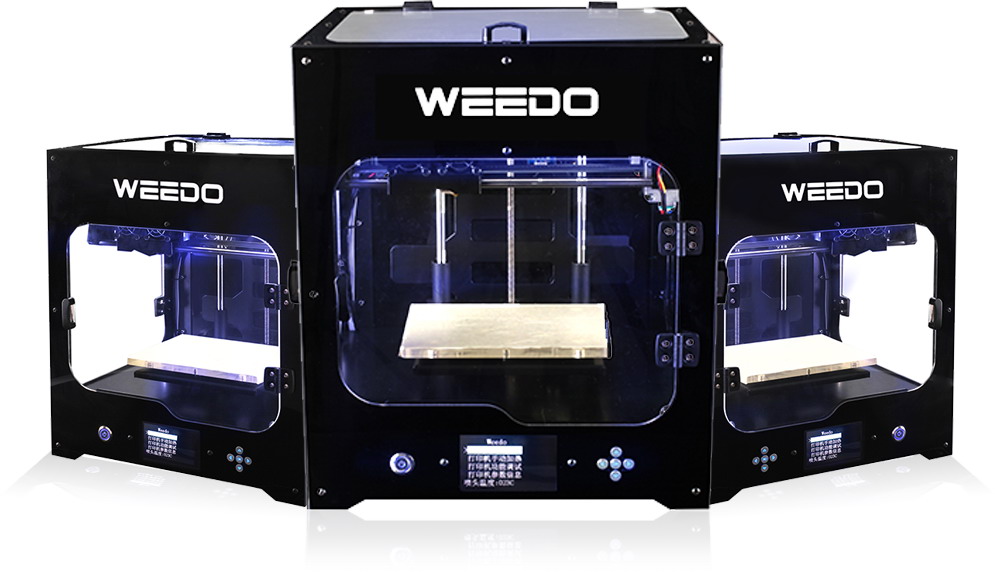 WEEDO F150S has the following characteristics
• Patented fully enclosed body, four-way opening design, simple and generous, easy to maintain.
• Equipped with a patented air filtration module, certified by a professional laboratory to ensure environmentally friendly and non-toxic.
• Patented nozzle design, cooling air duct, excellent print quality, MTBF (mean time between failures) >500H.
• Equipped with a series of functions such as automatic shutdown, real-time temperature adjustment, real-time speed regulation, and overflow protection to provide a first-class experience.