Xiaomi Cepheus – a new flagship Xiaomi is coming
The Xiaomi Cepheus is a new, top Xiaomi smartphone, the release of which must be approaching in great steps, as we learn more about the secrets of this model. It seems to be Xiaomi Mi 9, because the released elements of the specification coincide with the previously published information.
We entered already in 2019, and that means the upcoming release of a new generation of smartphones. Today I have a portion of interesting information about the upcoming Xiaomi flagship, which is hiding under the name Cepheus.
What is Xiaomi Cepheus? Based on the available data, I am ready to take the risk of saying that we are talking about the successor of Xiaomi Mi 8, which is most likely to be called Xiaomi Mi 9. I think so, because the new information coincides with the report from a few days ago. But that's not certain, so let's just assume that we're talking about a new Xiaomi flag ship – that's how it's going to be safer.
Xiaomi Cepheus appeared in the GeekBench benchmark database, which revealed a partial specification of the phone. Its heart is to be the latest Qualcomm Snapdragon 855, a processor with eight Kryo 485 cores at up to 2.84 GHz, compatible with Adreno 640 GPU. The tested device uses 6 GB of RAM, but there will be 100% variants with more memory.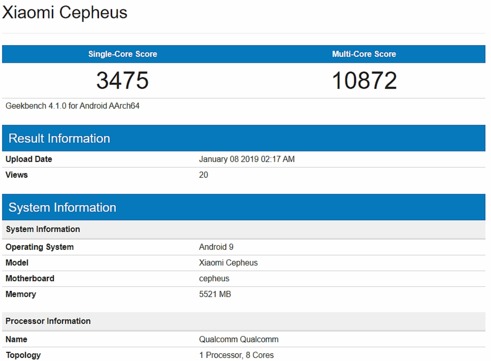 Cepheus of SD855 scored 3475 points in the single core test and 10872 points in the multi-core test, heralding high performance. Of course, similar results will be wrung out by competitors with the same processor, and there will be many of them. It is worth adding that the tested model worked under the control of Android 9 Pie.
An additional portion of information about Xiaomi Cepheus was provided by the XDA portal. It turns out that this smartphone is to be equipped with an AMOLED panel supporting the Always on Display function. The screen is to conceal a fingerprint reader, which in 2019 will become quite a common element of equipment for top-of-the-range smartphones.
Xiaomi Cepheus will also receive a camera with a 48 MP resolution. What is interesting, similar camera parameters are to be offered by mid-shelf smartphones, so the war on megapixels is coming back with doubled power. Time will tell whether this will have an impact on the revolutionary development of smartphones or whether we will be dealing with a mere marketing trick.