M2 Fingerprint Sliding Lock from Xiaomi
Xiaomi is always wanting to innovate and is one step ahead of the competition, introducing a new product for the home that ensures comfort and convenience, this because it focused on making improvements to products for simple household tasks to adapt to new demands of users, because of this he has paid meticulous attention to detail to meet beyond what is necessary and impress with his incredible gadgets of excellent reliability, such as the Xiaomi Zero AI, which can automatically detect anyone at our door, giving us a greater sense of security. Taking into account the same idea of improving simple items, they developed the fully automatic Xiaomi M2 Lock, which has fingerprint detection to open the door.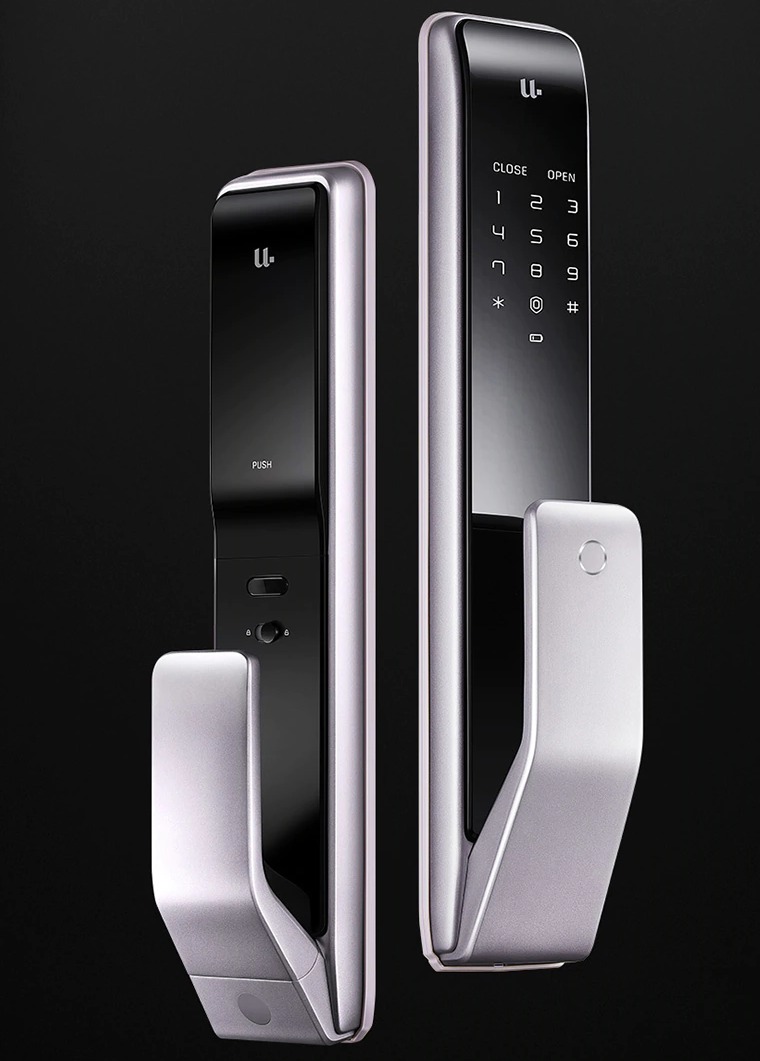 The Xiaomi M2 Lock comes in a box that presents the following dimensions: 9.00 x 5.00 x 43.00 cm (length x width x height), with a weight of 7.00 kg, this package is designed simply because its only use will be to keep our product protected at all times.
The Xiaomi M2 Lock was designed with a traditional look, but with a very elegant and modern aesthetics at the same time, ideal to give a sophisticated touch to the door that is installed. It has measures of 7.60 x 2.90 x 40.00 cm (length x width x height) with a weight of 6.50 kg, it is impressive the care they took to choose such a beautiful palette of very sober colors such as a metallic gray that wraps around the contour of his figure and in the center a tone of black that adorns it in a sublime way, this makes it attractive to the eye of all.
To give it a more current touch, this has an electronic touch panel where you can find the numbers from 1 to 0, here we will introduce the security key of the equipment, another detail to mention is that the screen can show when the battery is low and other symbols as well.
In addition to this, it has a handle with a platinum surface and a small circle with a white contour, being this the bio-dermal sensor, something that stands out is that the handle of this device is quite special, because it is designed to reside inside the space of the door, with an outstanding exterior manufactured in a plastic very resistant to daily use, in addition, has an integrated push-pull design, anti-lock inner chain, something important to keep in mind is that inside the lock, we have an exit slot Micro-USB in case you need an emergency recharge.
The Xiaomi M2 Lock is very interesting because it is an electronic device that allows us to secure our home, something particular about it is that it does not work with the use of keys, instead offers us three ways of unlocking, each designed to ensure maximum security, the first mode is through the digital keypad on which we enter the key or PIN encrypted in a 32-bit system, something very useful is that it has a button (X) to cancel if you make a mistake when entering the number, as well as a verification symbol to confirm the code.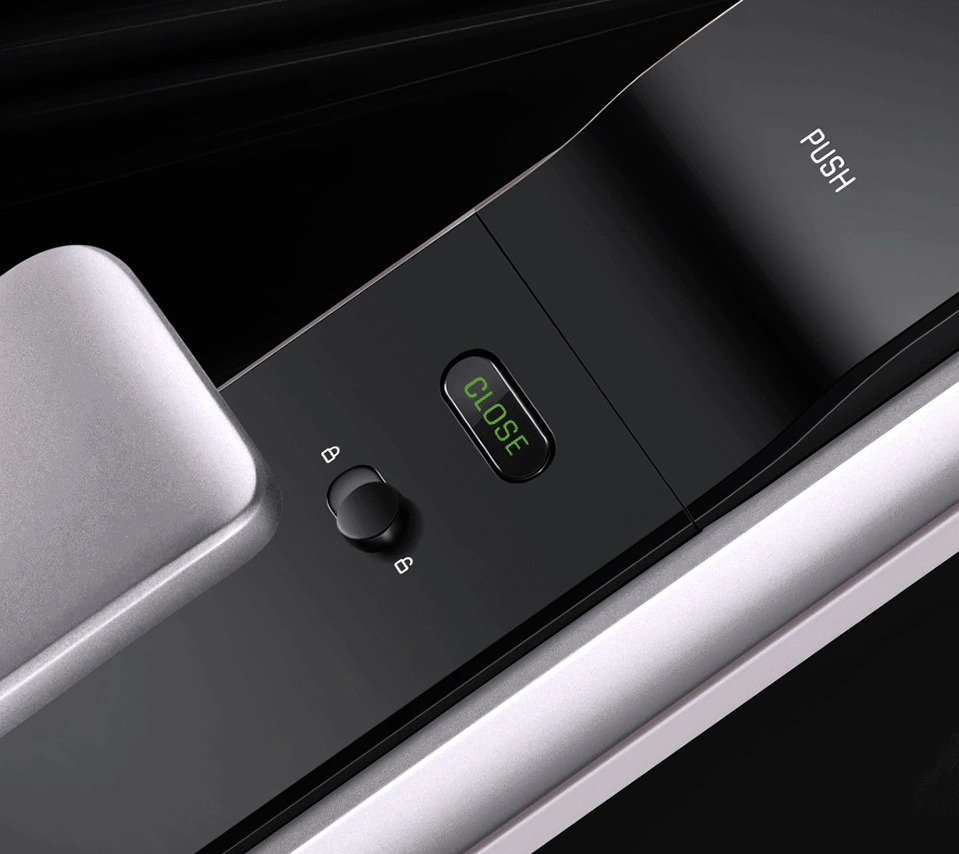 The second way to open the lock of the equipment is by means of a sensor that is lodged in the handle of the gadget, which works with an algorithm that identifies the fingerprints of the owner at a surprising speed, being able to recognize it in just 0.3 seconds, this allows it to stand out in this market that is in constant evolution.
Another thing to keep in mind is that its algorithm has the capacity of self-learning, being able to distinguish the fingerprint from any position in which you place the finger, giving it a very wide spectrum of vision.
The third way to open the lock is the most exceptional, through the Mijia Mi Home app you can interact dynamically and directly with the lock, giving us information on the current status of the computer, giving us the ability to easily set a password, as well as send a temporary password remotely, just as we can know and record the status of the door (whether it is open or closed), and of course, open the lock distance through Bluetooth.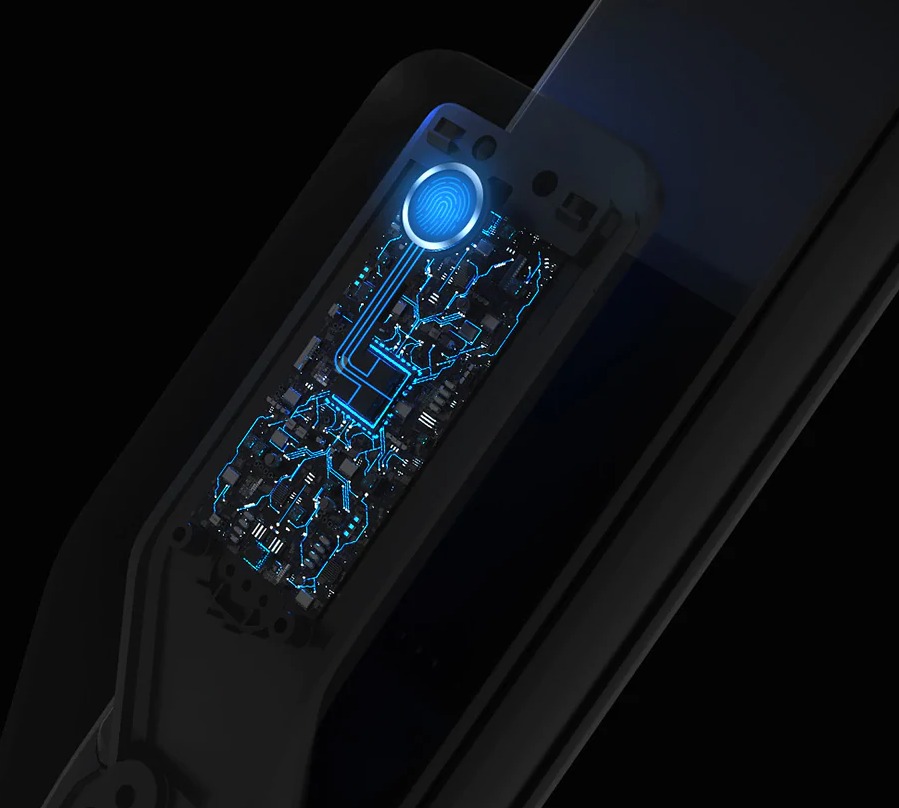 Something impressive to mention is that these three methods can be combined to ensure greater security. Also, the lock has an alarm with 7 heavy protections, including encryption by means of the industrial grade Mijia chip.
Something cool is that it has two very useful features, which are Micro-USB output slot in case you need a recharge and a display that can show when the battery is low and other symbols as well. Finally, the lock is powered by 8 AA batteries (not included) that give it a long lifespan.