XShuai T370 Robotic Vacuum Cleaner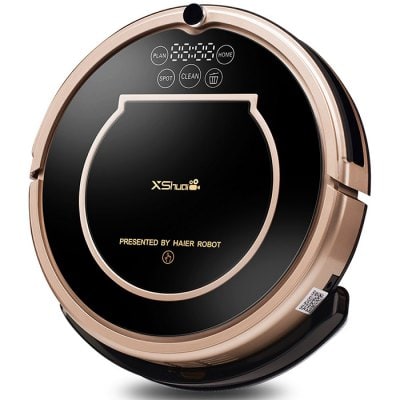 Robot vacuum cleaners have ceased to be exotic, now there is a good choice of models of different price segment. A number of models can be taken even at a comparable price with conventional vacuum cleaners. Robots in the service of man, is not this just been a fantasy dream? Now a small assistant without a headache and a bad mood is ready to schedule cleaning of the apartment and regular cleaning. One of the curious models is Haier XShuai T370, which is now a participant of the action on GearBest.
Coupon code:

GBXSH01

50pcs, Expired date:31st Aug
Classic round design with docking station included. An informative display and a set of buttons are displayed on the top cover of the vacuum cleaner. According to the manufacturer, he can clean an apartment up to 150 square meters. On the perimeter of the Haier XShuai T370 case, sensors and sensors are detached, which determine obstacles and walls, choosing the most effective route.
Under the lid is a battery with a capacity of 2600 mAh, which is enough for 2 hours of active work. When the charge is depleted, the Haier XShuai T370 returns to charging itself and after 1.5 hours it becomes ready again to continue cleaning. The design of the case and wheels allow him to call at a 15-degree angle. Several cleaning modes are supported.
There is a separate wet-cleaning regime. For liquids there is a special container and nozzle. When cleaning, the noise level, published by Haier XShuai T370, does not exceed 60 dB. You can control the voice.