Zeblaze THOR PRO 3G Smartwatch Phone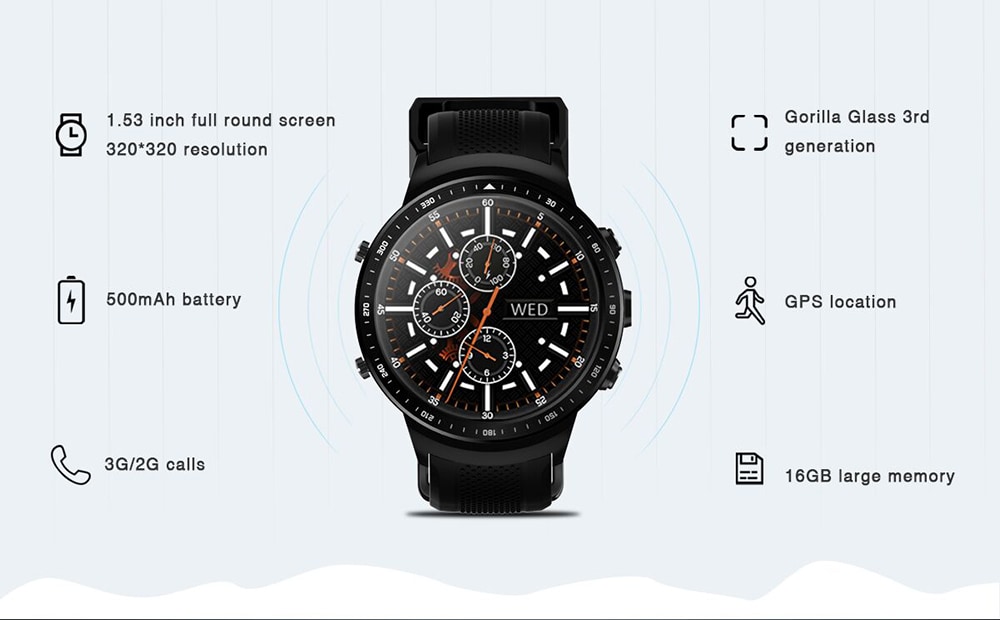 From time to time we love to get rid of our daily life to start new adventures, but we will not cut off all communication with the outside world, so it is always good to have at least one method to contact us or contact us to someone and as expected, Smartphones can be a bit clumsy for this type of retreat, as we seek freedom and comfort, a couple of faculties that we may not get along with our usual terminal, although to meet this need we will have a second option, the Smartwatch Phone,small devices that we carry in our wrists which open us to receive calls and notifications from our contacts as if it were a Smartphone, the focus of this section being the Zeblaze Thor Pro, an economic and durable device, which we will know what throughout this appointment.
The Zeblaze Thor Pro is presented with a design that manages to combine perfectly the art of sport along with the classic elegance of an important meeting of work and in fact, this pair of features are quite unusual in the same device and as a result manages to attract attention of many users. This Smartwatch Phone is outlined in a single color, black, which remains the standard in terms of personalization we refer to, although we must add that we would have loved a couple of other options. On the other hand, this device has the following dimensions: 9 centimeters in length, 4.70 centimeters in width, 1.34 centimeters in thickness and aweight of. 0.083 kg, positioning itself as a fairly light and comfortable equipment to use regardless of the situation.
The Zeblaze Thor Pro is made of 316L stainless steel, so it will offer an incredible resistance against shock, falls and scratches, this being a more than accurate option in view that this device will be immersed in repeated occasions that could put test its durability, because as we remember, this Smartwatch is designed primarily for users more athletes, those who are passionate about the most extreme activities. Finally, we must add that the ring that surrounds the screen is built with the technique of electroplating, providing it with various metallic layers that will improve its resistance.
The Zeblaze Thor Pro has a 1.53-inch IPS touch screen with a resolution of 320 × 320, so we will enjoy unquestionable quality in terms of visualization, especially due to the IPS technology, which is responsible for falling in love with more vivid and clear colors thanks to avoiding the loss and leakage of light, a phenomenon that usually degrades darker colors. Another striking feature is the Corning Gorilla Glass 3 protection , which ensures greater resistance against bumps, falls and scratches, greatly improving its durability. Finally, we must highlight that we have 200 wallpapers, which offer us striking styles that will stand out in style.
The Zeblaze Thor Pro delights us with a performance that can be easily compared with any low-end terminal, since its main function lies in the latter, stand out as a Smartwatch Phone that allows us to enjoy all the standard features of any Smartphone, although of course is that it must continue to maintain its essence as an intelligent watch. First we will have the processor, this being a MediaTek, specifically the MTK6580 that works with 4 cores at a frequency of 1GHz, in terms of RAM, we have a basic configuration of 1GB that is complemented with a ROM memory of 16GB and unfortunately, the latter is not expandable by any method.
The Zeblaze Thor Pro offers us the free operating system of Google, Android 5.1 (Lollipop), which is outlined with slight tints of customization by the manufacturer in view that being a Smartwatch Phone, this software should be optimized to take advantage of all the benefits it has to offer us in this device, although we must emphasize that the essence of Android remains intact and we can verify this by visiting its most characteristic feature, the Google Play store , which stands out with a section of ideal applications to improve our experience, being any of these: Facebook, Gmail, Twitter, Instagram, among others.
The Zeblaze Thor Pro has a lithium-ion polymer battery with a capacity of 500mAh, which can be extracted simply with the help of the screwdriver included in the purchase of this device, which gives us the option of going with a Second battery and exchange them when necessary, so we will not be left without a load in any of our adventures. We must add that it is even superior to the battery that Zeblaze Blitz offers, the account with a load of 480mAh and this model has proved to be quite popular among many users for its extensive autonomy, so we can draw our own conclusions regarding the latter.
The Zeblaze Thor Pro comes equipped with a single camera that is located on the right side and it offers a resolution of 2 megapixels, and although it does not have the best sensor or the highest power, we must add that with the appropriate lighting and focus right, our photos will be a true wonder, a feature that is basic in a low-end smartphone, being a Smartwatch Phone happens to be a luxury that we should thank.
The Zeblaze Thor Pro being a Smartwatch Phone, has the possibility of attaching a micro SIM card, which we will place on the back once we remove the security screws. Thanks to this card we will access the key functions of an average Smartphone, which allows us to receive and make calls, send and receive text messages and we will even synchronize with other devices through Bluetooth connection version 4.0,  finally, we will present the bands compatible with it:
2G:  GSM 850/900/1800 / 1900MHz
3G:  WCDMA 850 / 2100MHz
The Zeblaze Thor Pro has several functions that will complement our experience, being these really useful both for entertainment and to keep us in shape. First we will start with the standard functions such as the MP3 player and the MP4 player, a couple of fantastic applications to listen to music and play videos, on the other hand, we will enjoy a standard browser to search the Web and in case of viewing images, can support the JPG format. Now going to sports functions, we will have the heart rate sensor, ideal to keep a detailed record of our heartbeat and prepare a proper routine of exercises.
We will also attach the pedometer, an application that allows us to accurately count the number of steps we have taken during the day, which will be grouped by different filters, such as the total distance traveled, among other options and finally, although it is not a totally sporty function, we must add that in this Smartwatch Phone we can easily focus on it, we are talking about the GPS, which will always keep us informed of our location, being more than ideal for when we are traveling climbing a mountain.