I no longer count the years of good and loyal service of my Shuttle XS35V, I had to buy it at the end of 2014. Since then, it has been running like a clock, without a sound and without flinching, like a mini fanless server. The brand has somewhat changed the design of these machines and has upgraded its equipment, but the services provided by these machines are more or less the same.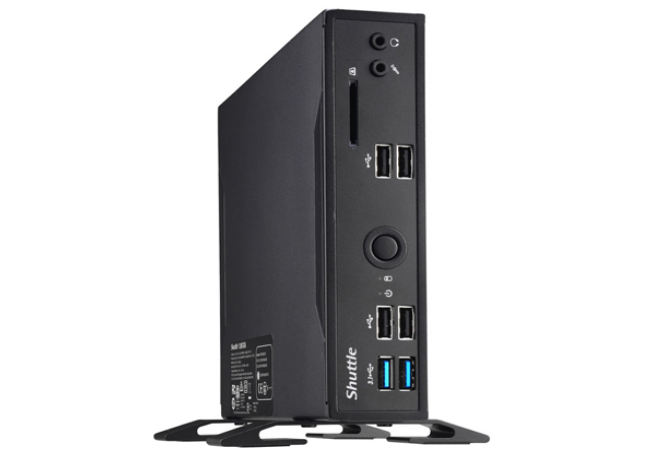 The new Shuttle DS10U therefore takes up the recipe of these machines without ventilation that we will slip somewhere before we can totally forget them. No noise, no clutter, good connectivity and more than correct performance. The box measures 20 cm deep, 16.5 cm high and 3.95 cm wide. 1.3 litres in total. A real recipe for a mini-machine that is also combined with a great deal of scalability and accessibility.
Four distinct chips will be offered by the brand for this Shuttle DS10U series:
The DS10U on Celeron 4205U: 2 cores, 2 threads 1.8 GHz, 2 MB cache and Intel UHD Graphics 610 circuit
The DS10U3 on Core i3-8145U: 2 cores, 4 threads 3.9 GHz, 4 MB cache and Intel UHD Graphics 620 circuitry
The DS10U5 on Core i5-8265U: 4 cores, 8 threads 3.9 GHz, 6 MB cache and Intel UHD Graphics 620 circuitry
The DS10U7 with Core i7-8565U: 4 cores, 8 threads 4.6 GHz, 8 MB cache and Intel UHD Graphics 620 circuitry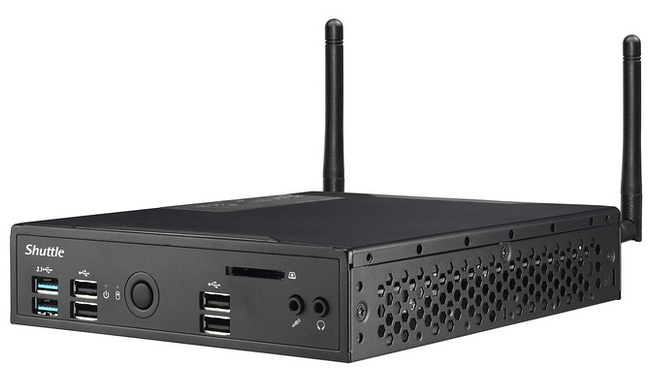 For the Celeron 4205U, we will find a USB 3.1 Gen 1 at 5 Gbit/s and the Core of USB 3.1 Gen 2 at 10 Gbit/s. All these Whiskey Lake chips obviously have a lot in common, one of which is to operate in a 15 watt TDP. Basically designed to equip portable machines, these processors offer a real range of performance to the different models while offering the brand a unique passive dissipation system.
The possibilities of use of these DS10U Shuttles are very wide. Their connectivity is very complete with on the front panel two USB 3.1 ports, four USB 2.0 ports, an SDXC card reader, 3.5 mm audio jack jacks for headphones and microphones as well as activity indicator LEDs and a large start button. This button is explained by the possibility of fixing the machine in VESA behind a screen. It must be easy to handle even without seeing it and this size therefore improves the user's comfort.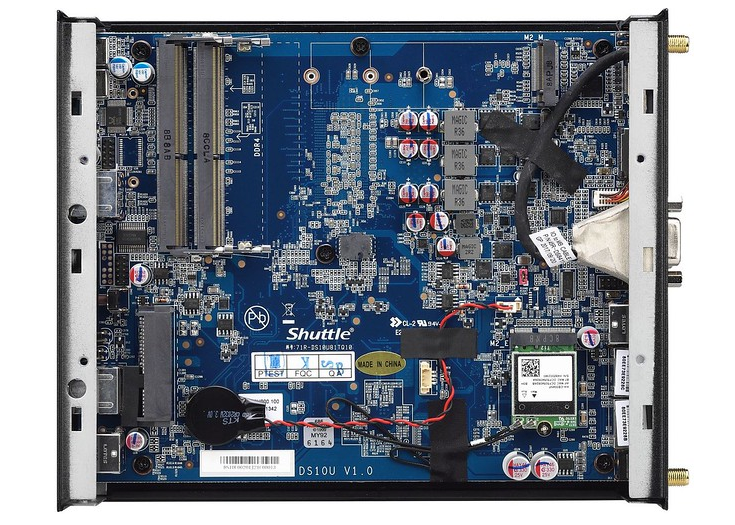 On the rear side, there is also a very wide connectivity with two antenna ports to drive the Wifi5 and Bluetooth 4.0 embedded on an M.02 2230 support internally. A pair of Gigabit Ethernet ports are also available to drive two separate networks. There are two additional USB 3.1 ports, an HDMI 2.0a output, a DisplayPort 1.2 and a VGA port. As the chips can support 3 displays, the DS10U Shuttle will be able to manage complex displays. The brand has also added a COM port for more professional use. There is also a 4-pin socket to remotely switch on the machine, do a reset or power another device from the MiniPC with 5 volts. It is possible to choose a configuration without a VGA port for a dual serial port solution. The pinout required for a second COM is integrated into the motherboard.
Inside the Shuttle DS10U, there are two dual-channel DDR4 RAM slots for up to 32 GB. Storage will be divided into several units with a 12.5 mm thick 2.5″ support in SATA 3.0 and an M.2 slot that supports both SATA and PCIe NVMe formats in 2242, 2260 and 2280.
Access to these components will be as simple as removing the two panels held in place by a simple screw. The machine can be positioned flat but a vertical support seems to be the most suitable for its fanless operation. Standing on a support or fixed in VESA, it will benefit from a more efficient natural convection.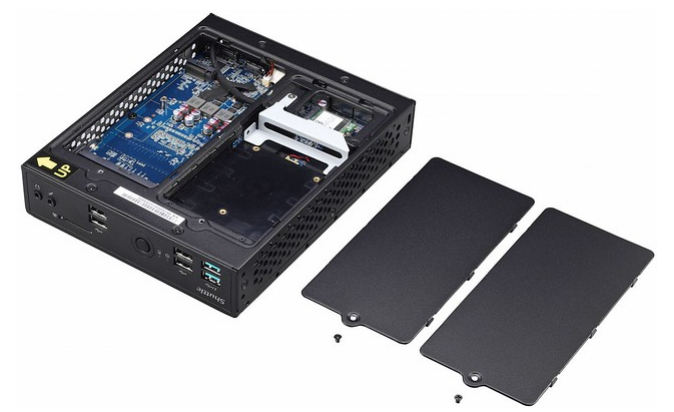 A lot of points make these DS10U Shuttles machines with a very wide range of uses. The brand ensures, for example, that these machines can run 24 hours a day, 7 days a week, but also that they can be started as soon as they are powered by a simple jumper on the motherboard. In the event of a power failure, the machines start up again immediately when the service is resumed. It is therefore quite conceivable to make it a compact and inaudible personal server. The machine can also drive various professional external solutions thanks to its varied connectivity. The machines will also be able to run crates or act as thin clients
But it is also possible to use it as a classic MiniPC for office, multimedia and leisure uses or as a home PC due to its inaudible side and its UltraHD capabilities.
Sold in barebones, these machines are traded at fair public prices in view of the proposed configurations. The Shuttle DS10U under Celeron is announced at 239€ HT, the DS10U3 under Core i3 at 448€ HT. The DS10U5 under Core i5 at 556€ HT and finally the DS10U7 under Core i7 at 712€ HT. Not the cheapest machines on the market but a robust construction with a real steel chassis, operation without quality ventilation and well thought-out advanced functions. The machines are compatible with Windows and Linux.