To celebrate the company's 40th anniversary, TCL has released several categories of products in 2021, the most notable of which is the smart home product line. I found two of TCL's air purifiers, breeva A2 and A3, on the crowdfunding platform indiegogo. Luckily, I got a sample of breeva A2 Air Purifier from TCL, and now I'll tell you in detail how much I love it.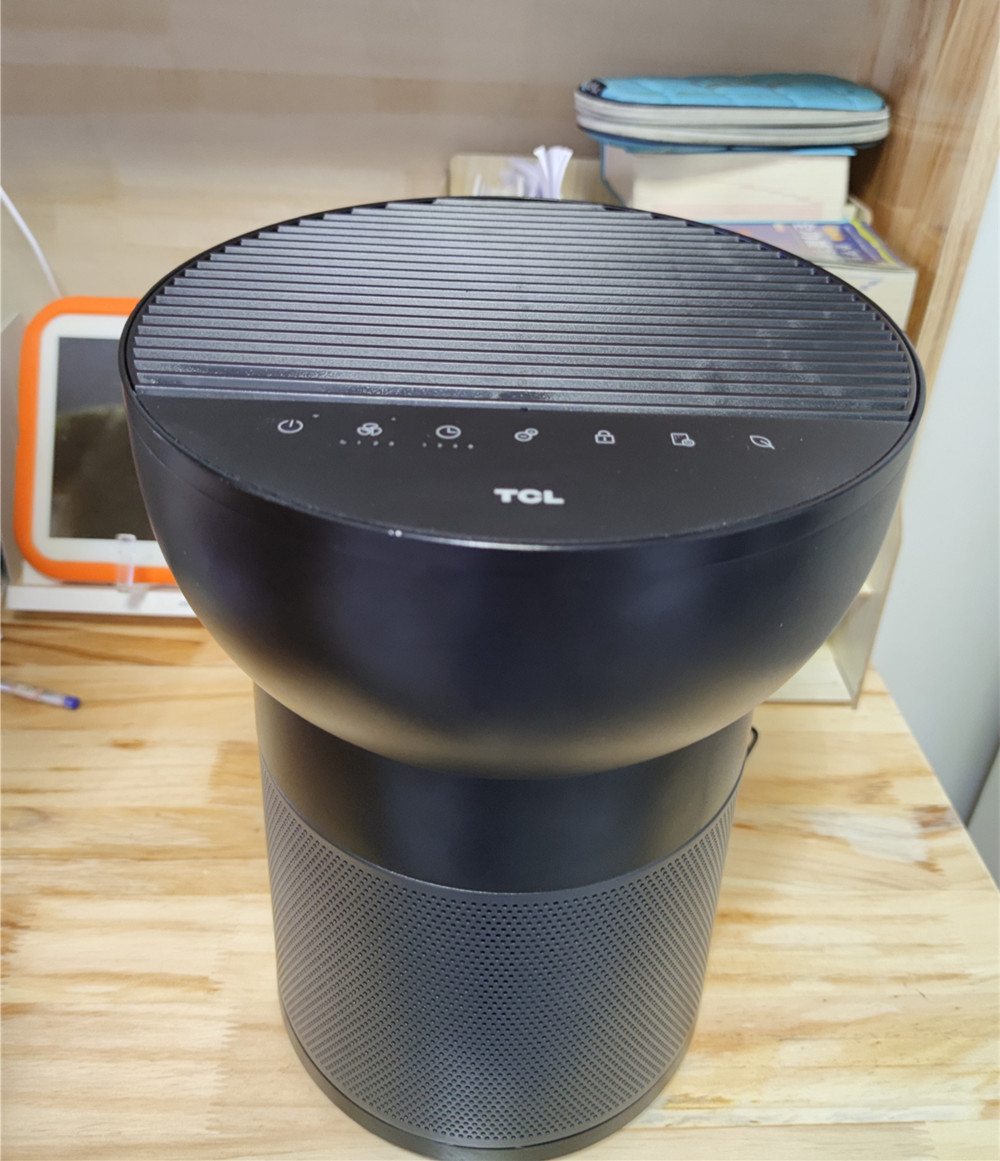 Although an ordinary air purifier has a large air purification area, many families prefer to purchase multiple purifiers with smaller size and less noise to be used in multiple rooms. Therefore, it is only logical to launch a mini version to meet the purification needs of small rooms.
So, as a mini version of breeva A3 Air Purifier, breeva A2 came into being. Its shape is more compact, with a bottom area of 260×260 close to the size of A4 paper, and a height of 520mm can be perfectly hidden in the corner. But its function is still powerful, 48 square meters of the room is more than enough for it, PM2.5, formaldehyde, odor, pollen, sterilization, negative ions … It has so many features.
TCL Official video
A2 VS A3 Specs
| | | |
| --- | --- | --- |
| Specifications | breeva A2 | breeva A3 |
| Dimensions | 262 x 208 x 348 mm | 250 x 250 x 480 mm |
| CADR (m³/hour) | 200 | 270 |
| Wind Speed | Sleep, Low, Medium, High | Sleep, Low, Medium, High |
| Air Quality Sensors | Infrared dust sensor, VOC sensor | Infrared dust sensor, VOC sensor |
| Voice Control | Alexa, Google assistant | Alexa, Google assistant |
| Filter Efficiency | Removes 99.97% of particles > 0.3 microns | Removes 99.97% of particles > 0.3 microns |
| Noise Level | 26dB (Sleep mode) | 26dB (Sleep mode) |
| Air Quality Display | White, Yellow, Red | White, Yellow, Red |
| Wi-Fi | Optional | Optional |
| Filter | Pre-filter + HEPA (H13) + Activated Carbon | Pre-filter + HEPA (H13) + Activated Carbon |
| Filter Life | 2160 Hours | 2160 Hours |
| Ambient Light | NO | YES |
Design: sensors all over the body
With a nordic style, this air purifier series will go perfectly in any space. It is very minimal and sleek with its pure black color and simple icons.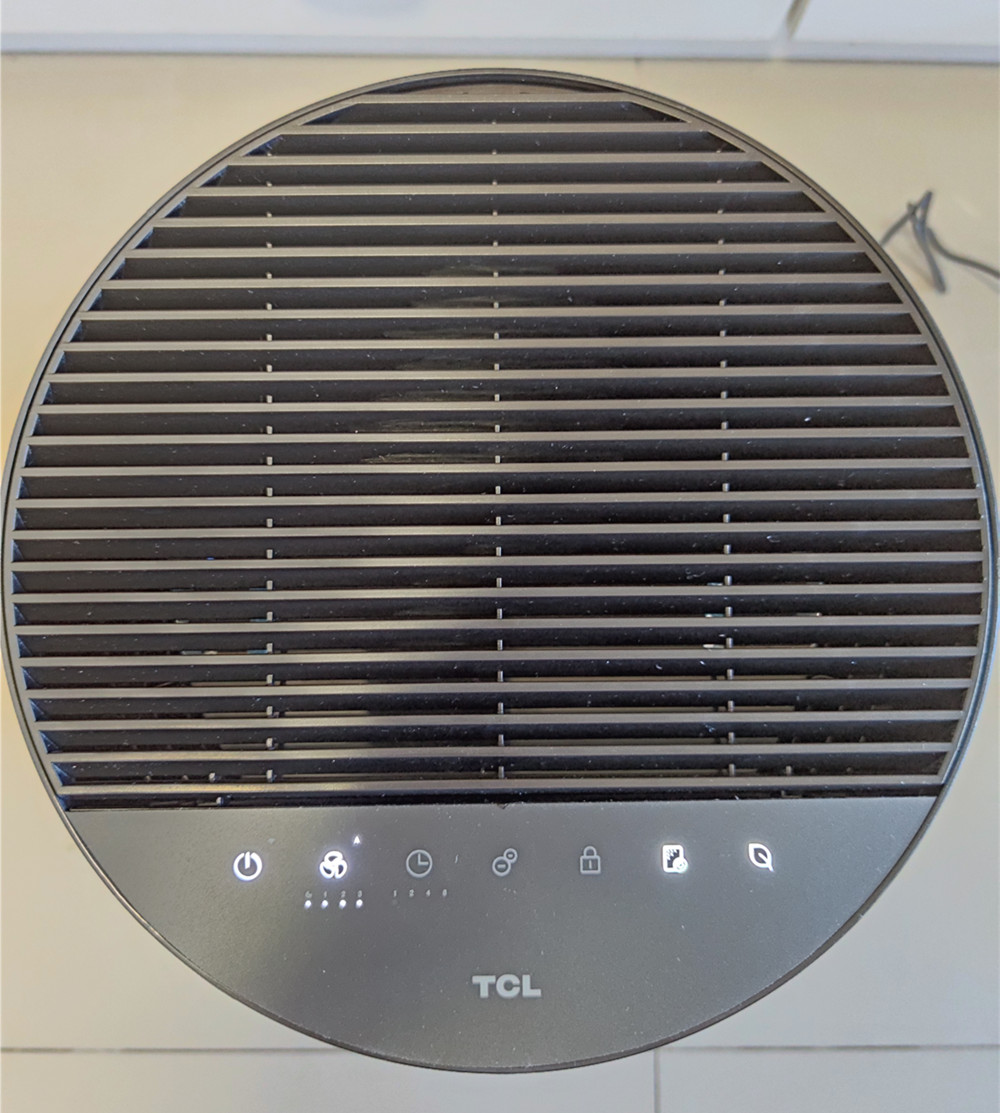 The breeva A2 has a touch control panel and is on a flat panel with the air outlet. I like this design, when you switch the wind gear, you can use your hand to feel the wind changes.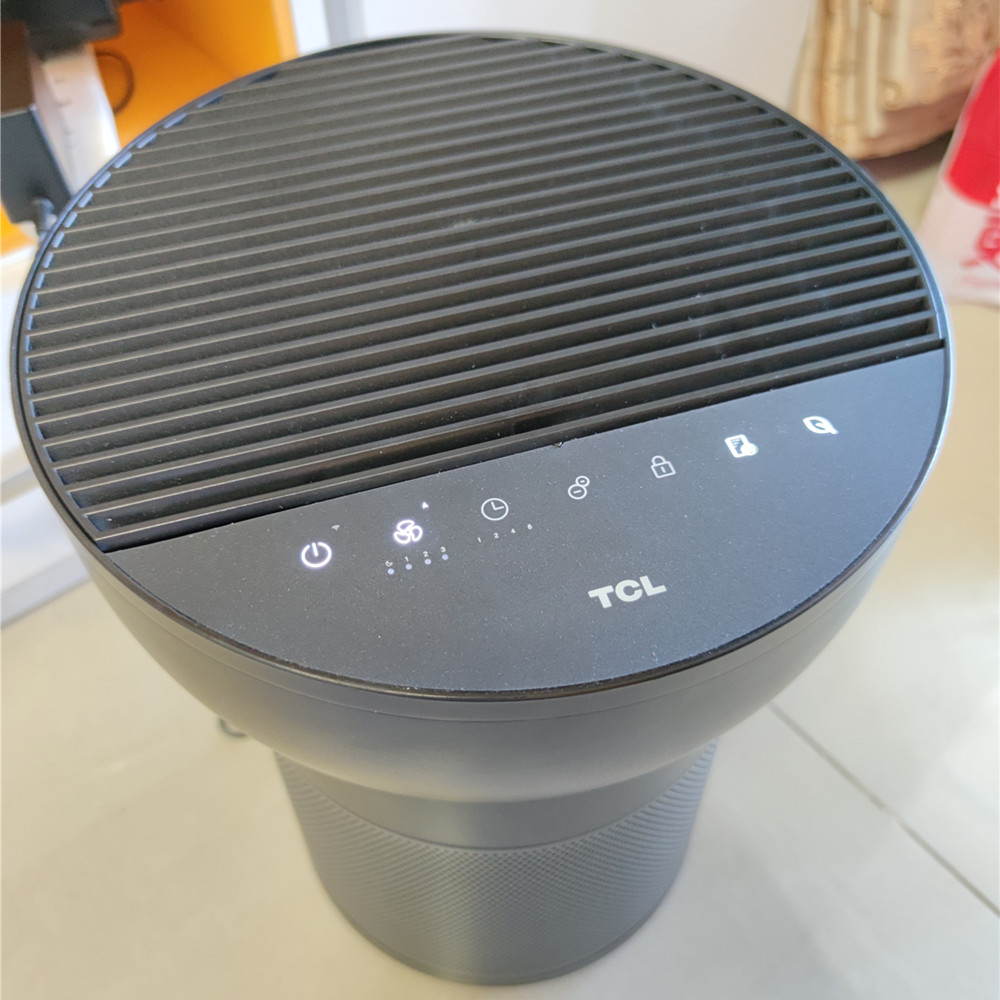 Large head and small bottom, it was easy to carry, and I carried it into the bedroom.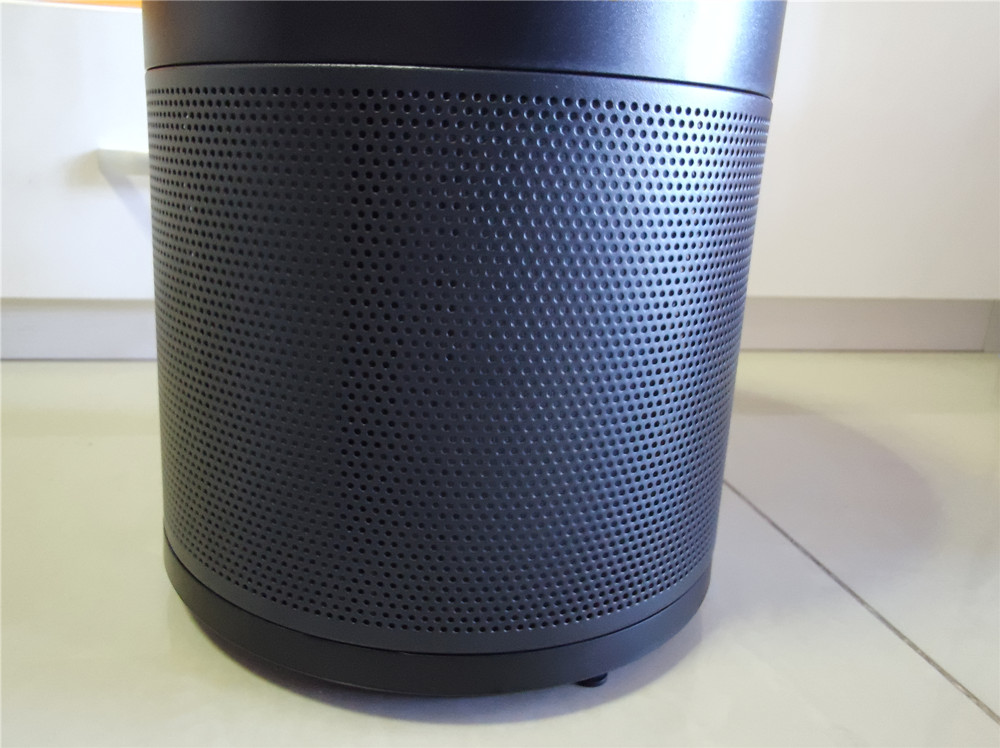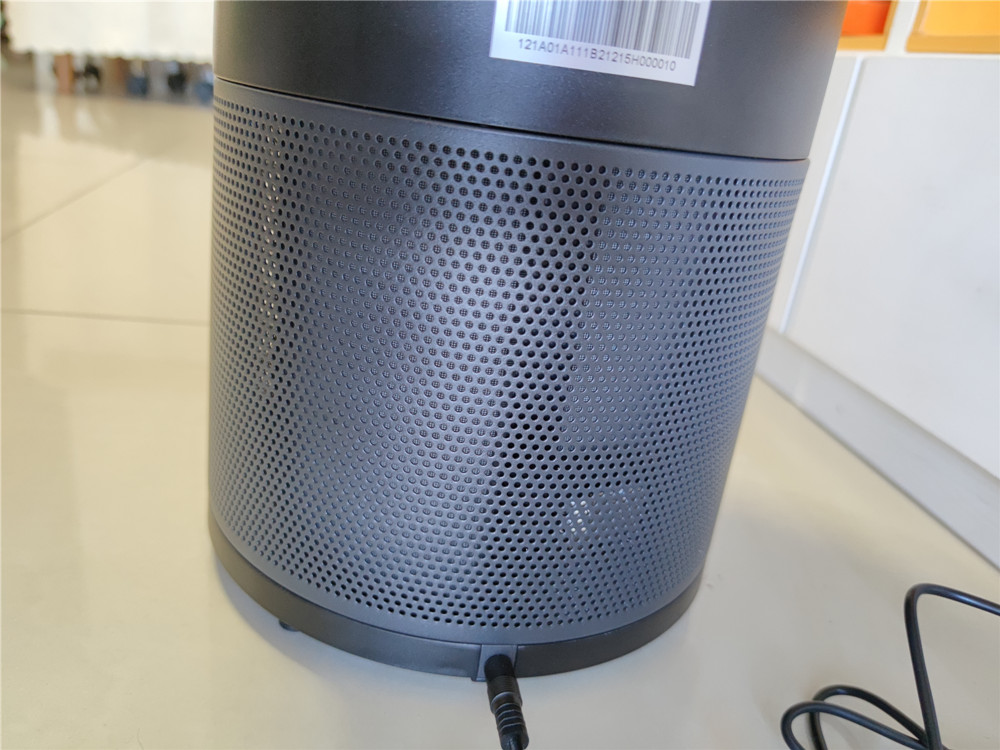 The cylindrical skeleton air inlet grille set with a roller type HEPA filter placed inside, the wind path goes in through the cylinder and out through the filter from the top.
Internal Structure
Its internal structure is really simple, with a snap at the bottom, making it easy to replace the filter.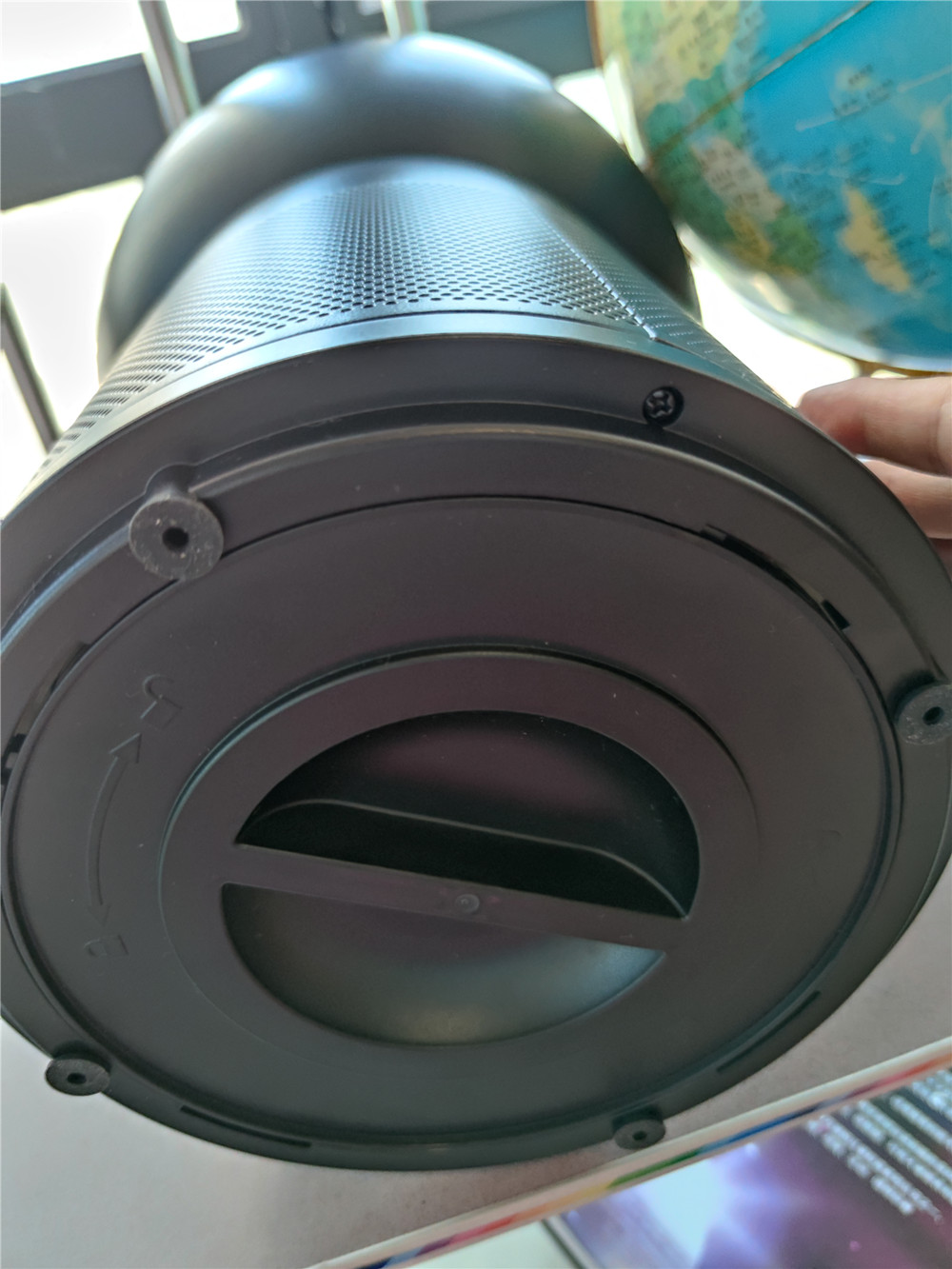 You can see the knob snap at the bottom, remember it is clockwise rotation to open. If it is turned counterclockwise, then you can close the snap.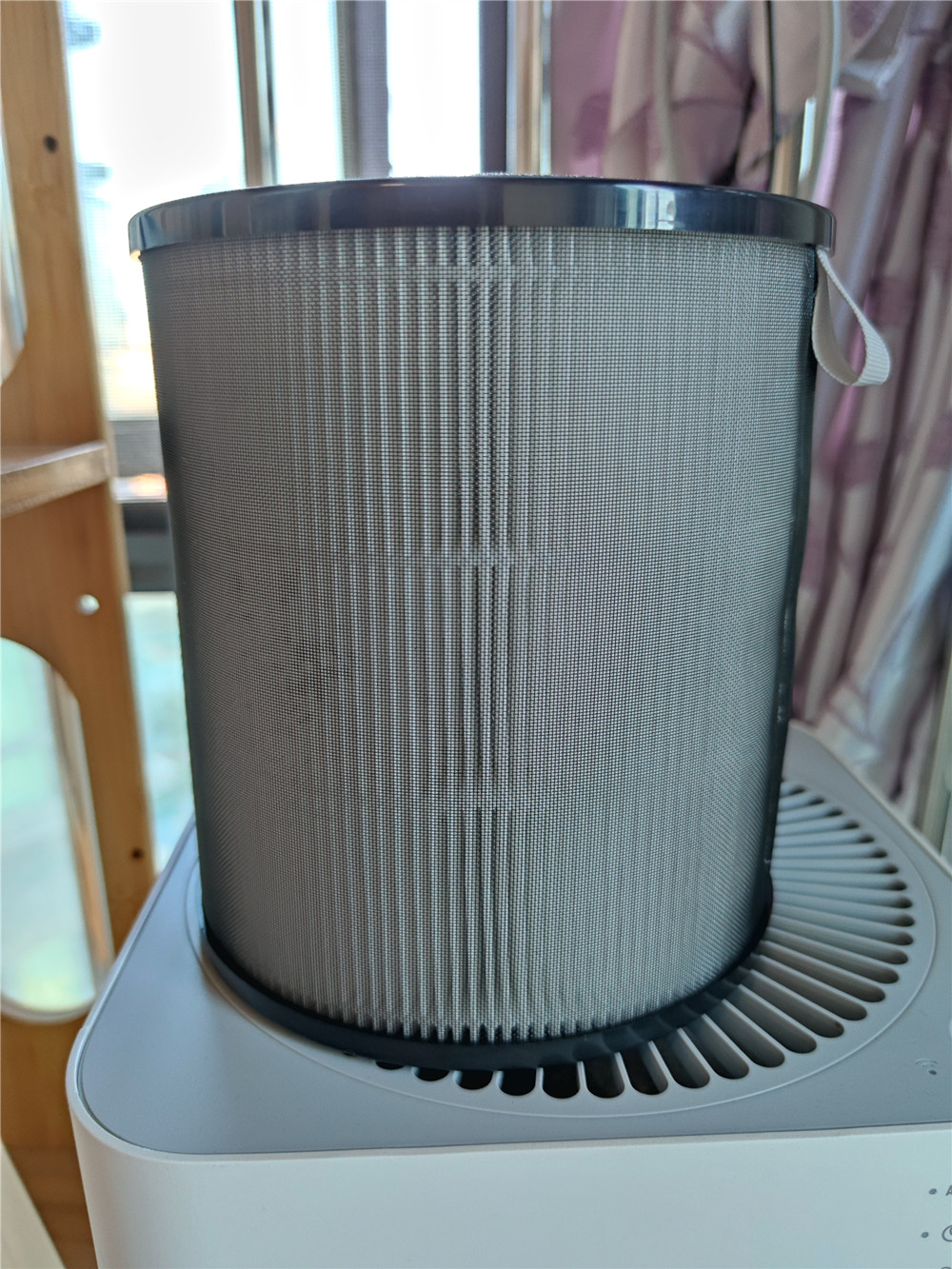 This is the cartridge screen that comes in the package and it will last for 2160 hours. If the time is up, you need to consider replacing it.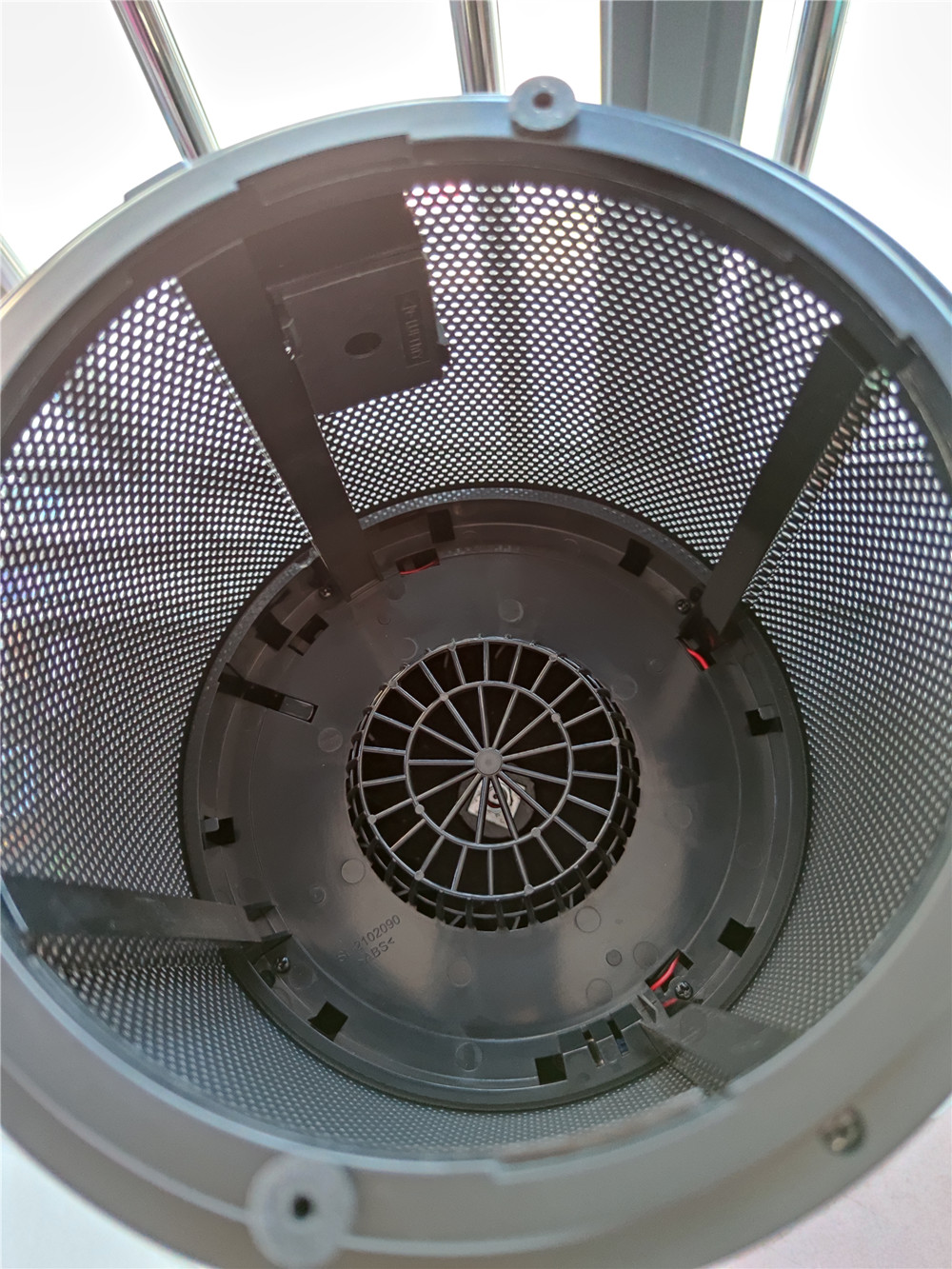 Take out the internal structure of the cartridge mesh, the design is very simple.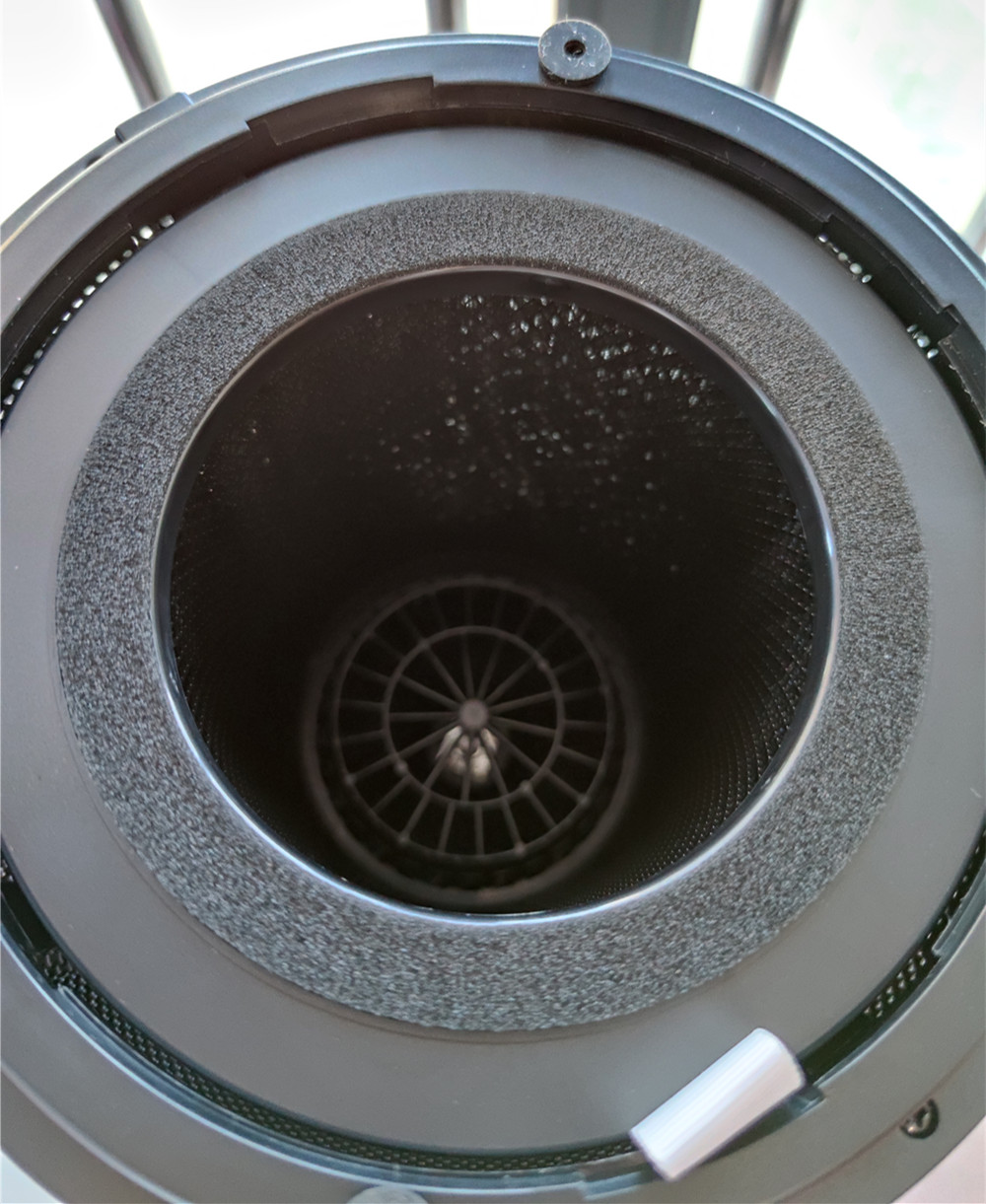 Put the cartridge in, there is a pull ring, easy for consumers to pull it out, this is a humane design.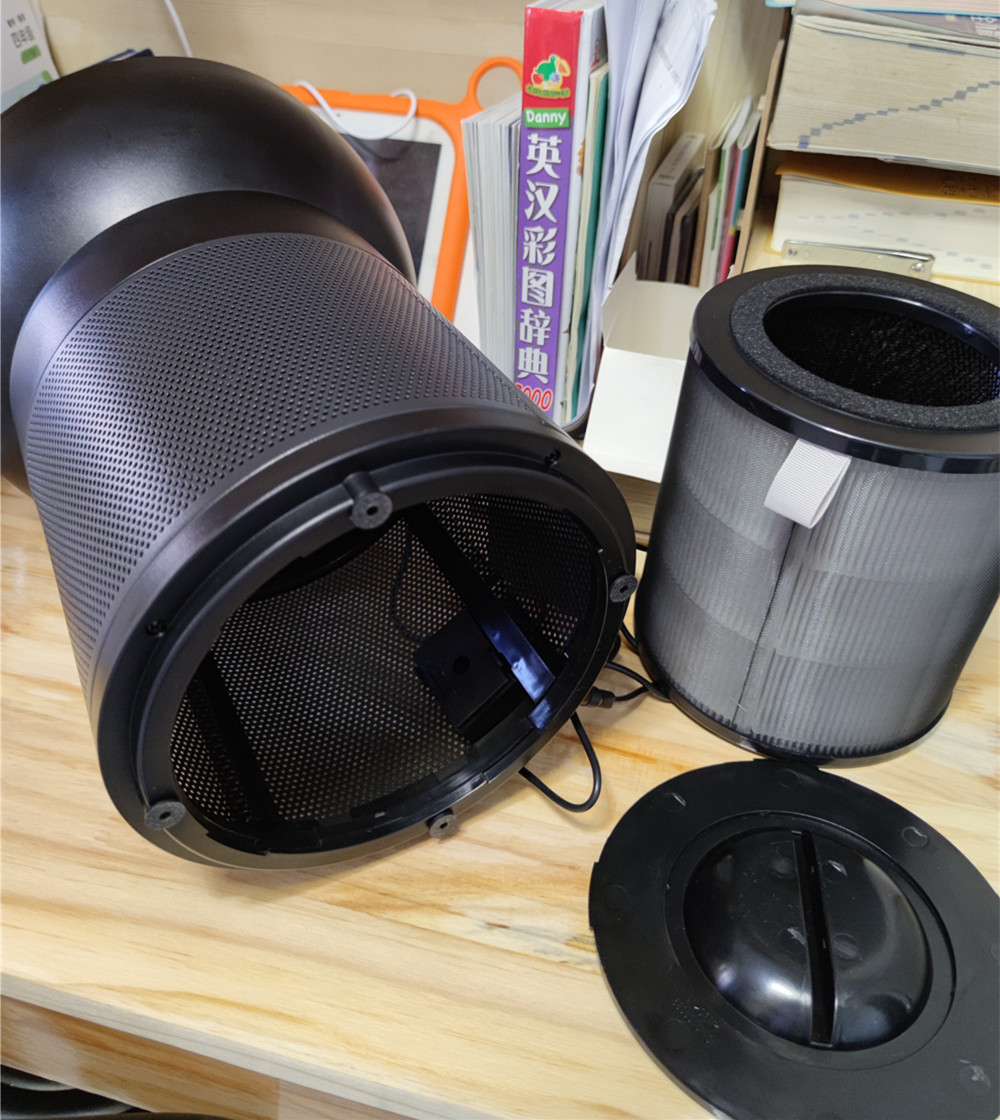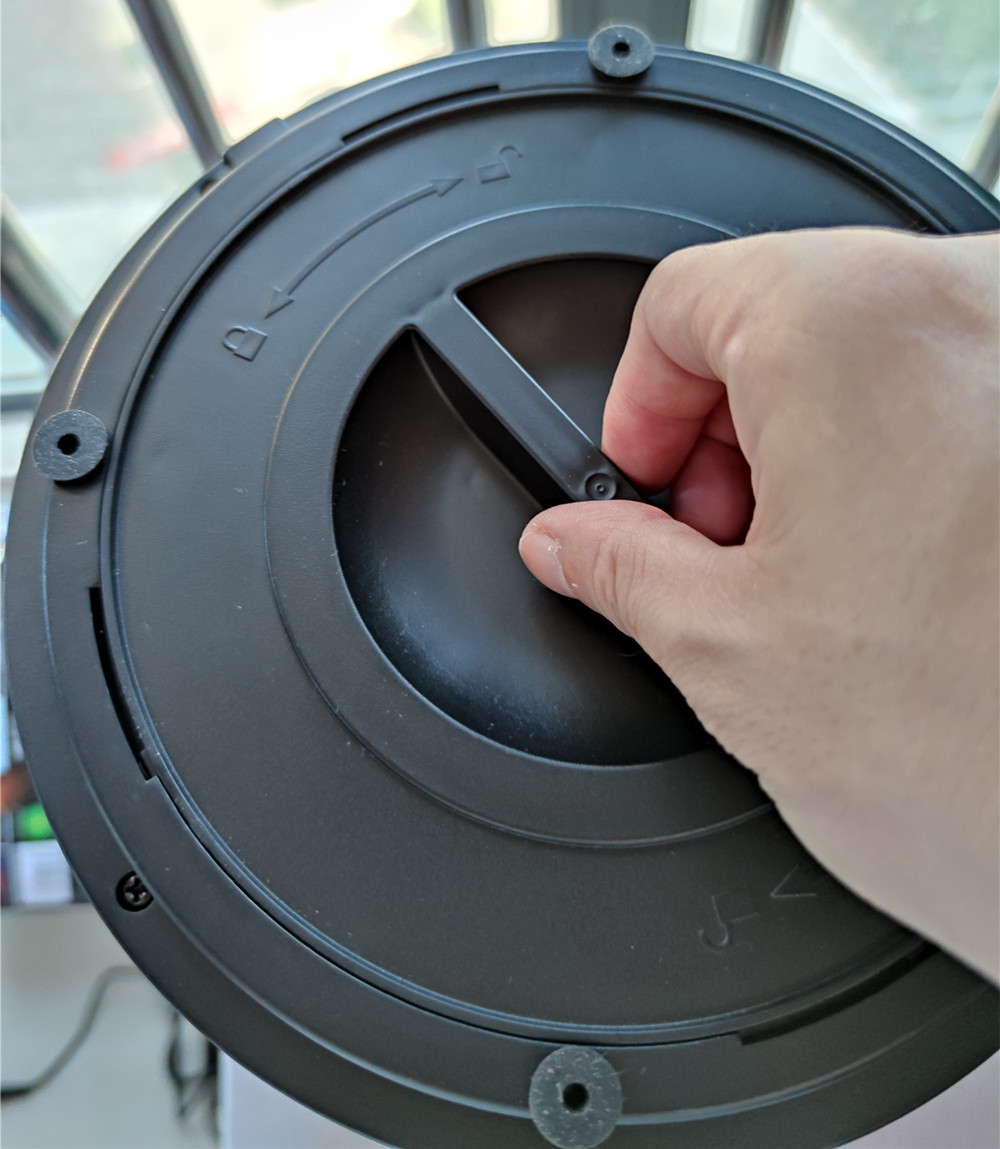 Turn the base counterclockwise to hold it in place. At this point, you can flatten it and power it on to use it.
Power supply equipment
The A2's power supply is really easy to use and I like the design. It has a very small power supply, somewhat similar to the small plug design of a laptop.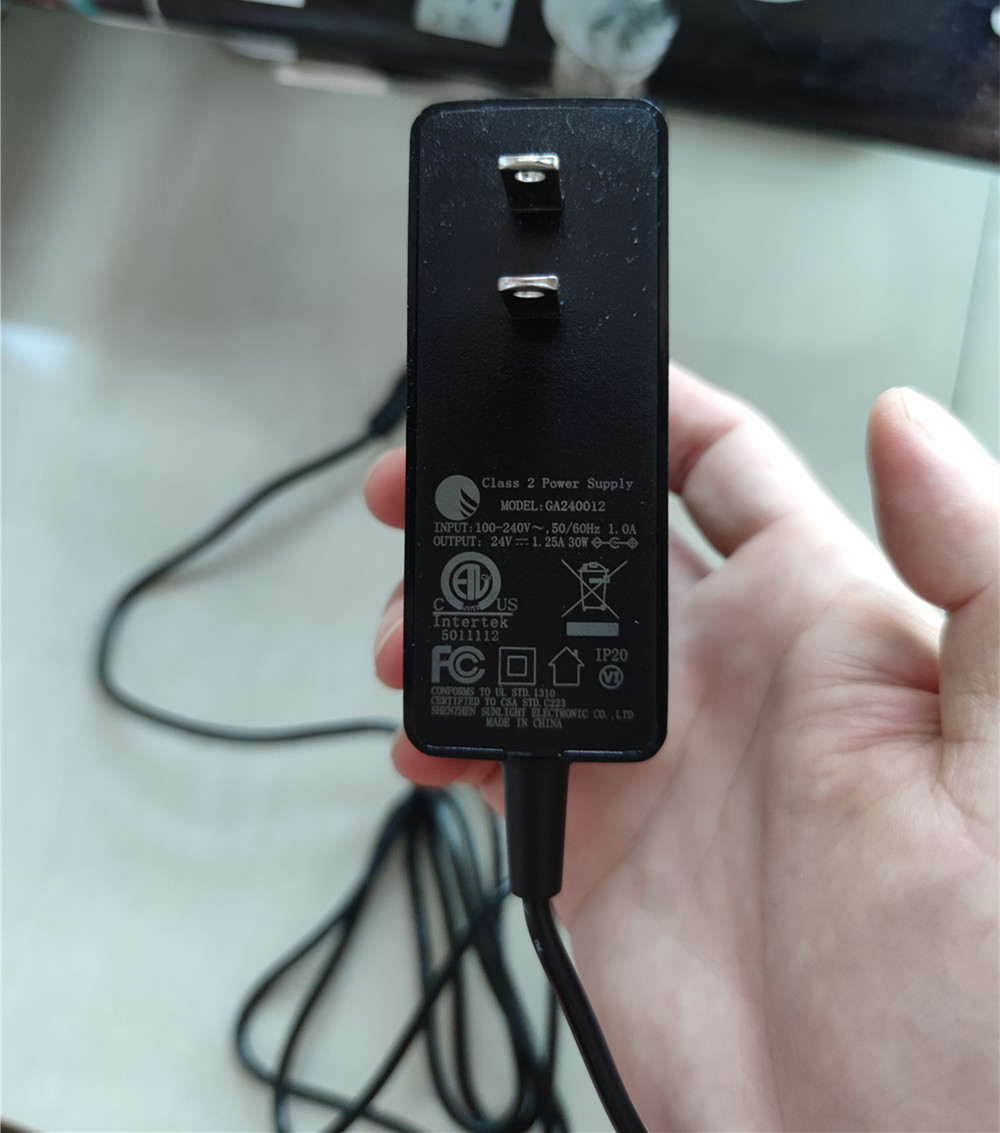 It supports 100-240V voltage input and 1A output current, with a maximum power of 30W.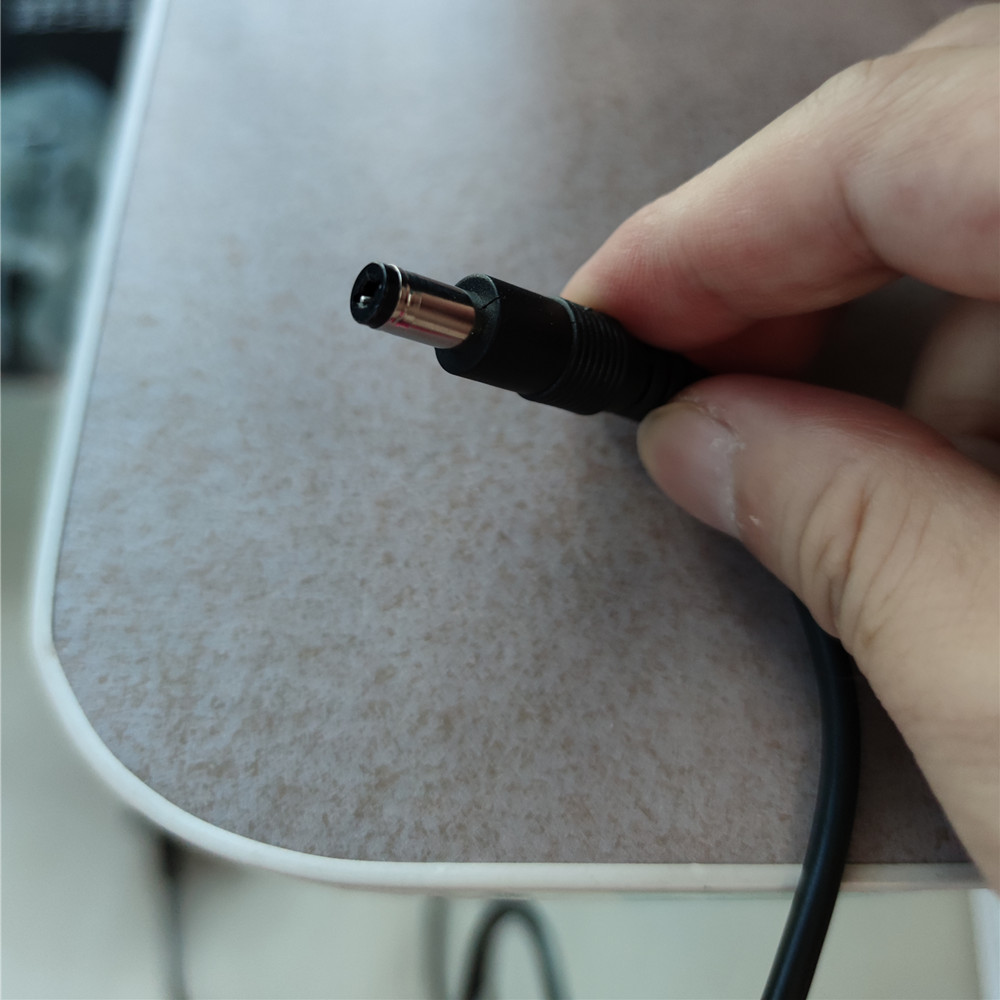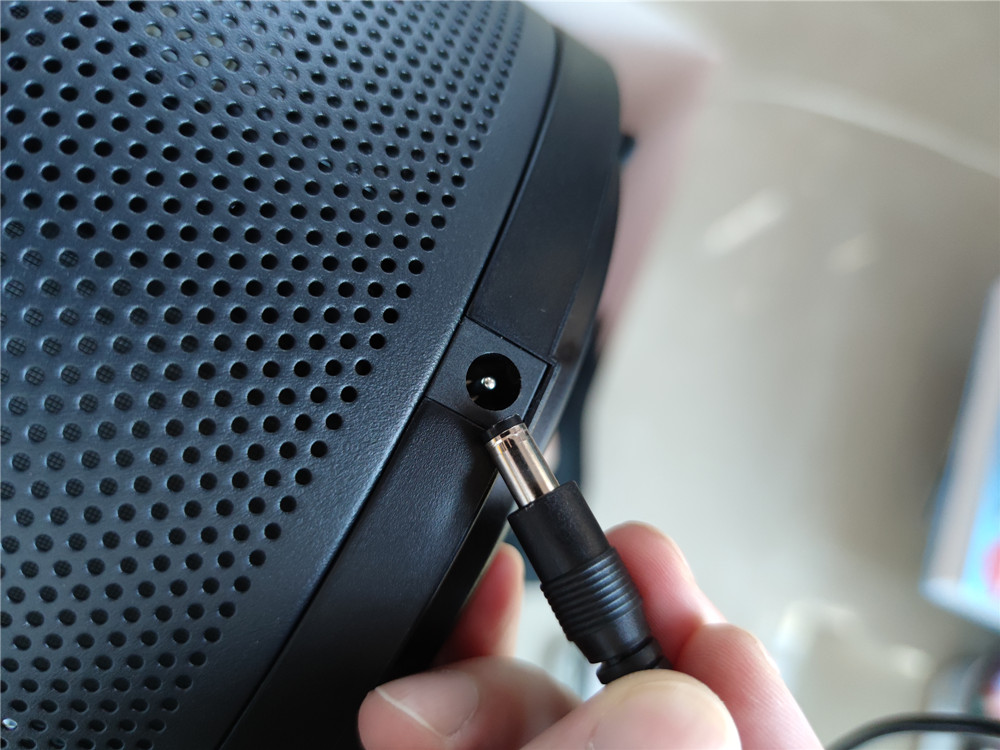 Input power connector, we can see for the pinhole type, similar to the razor-style charging, easy to store.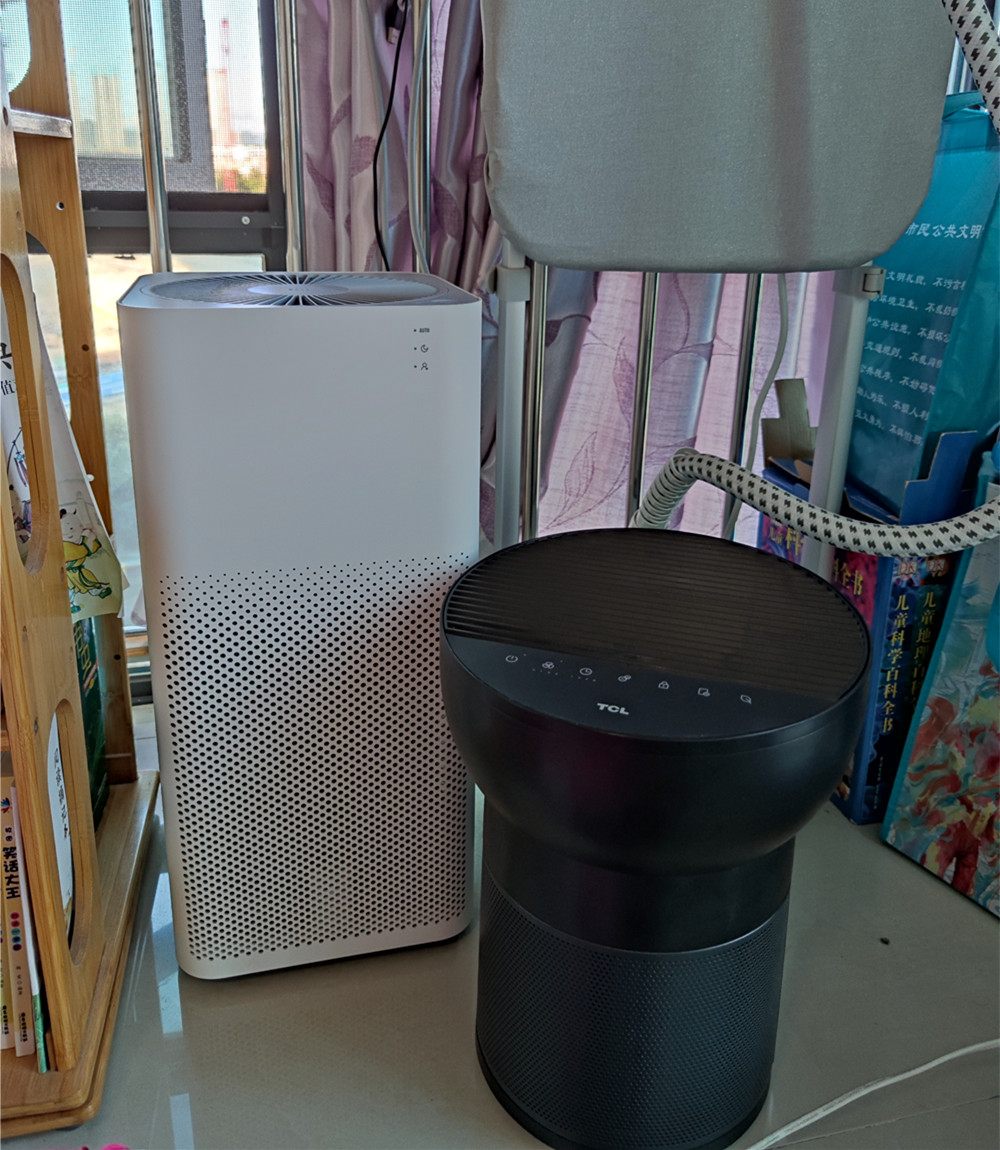 TCL breeva A2 Air Purifier VS. Xiaomi Air Purifier. Honestly, I prefer TCL, because the same function, its design is more innovative, more compact and does not take up space.
TCL Home APP
When we connect the TCL breeva A2 Air Purifier to the power supply, press the on button at the top and it works. The only button on the body can complete the function of start-up, shutdown and mode switching, and it can be used without mobile app.
But to fully experience all the functions of TCL air purifier, you have to use TCL Home APP.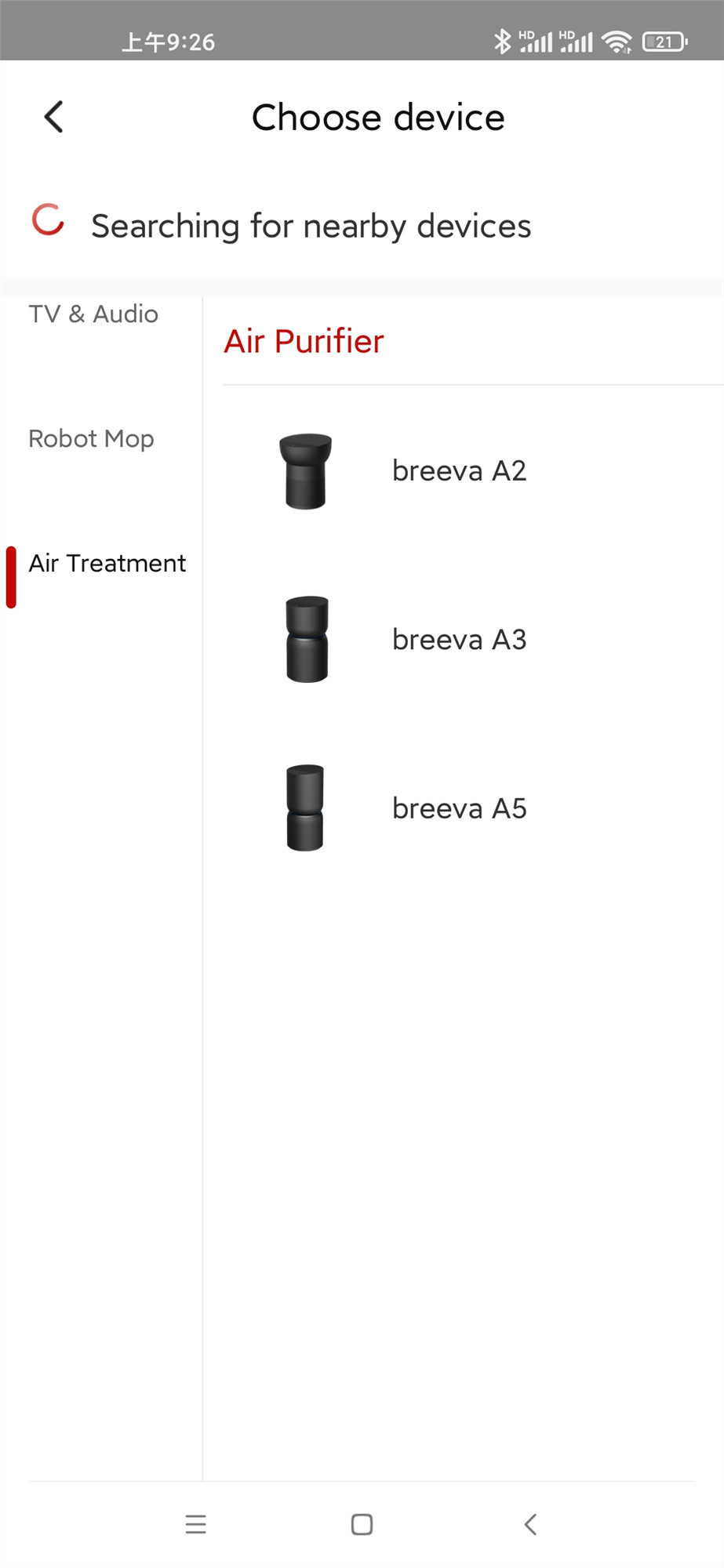 Open the interface of TCL Home APP and connect the smart devices you want via Bluetooth and WIFI. As we can see, TCL currently has TV and audio devices, floor sweeper devices and air purifier devices. Let's find the option of breeva A2 and just connect it.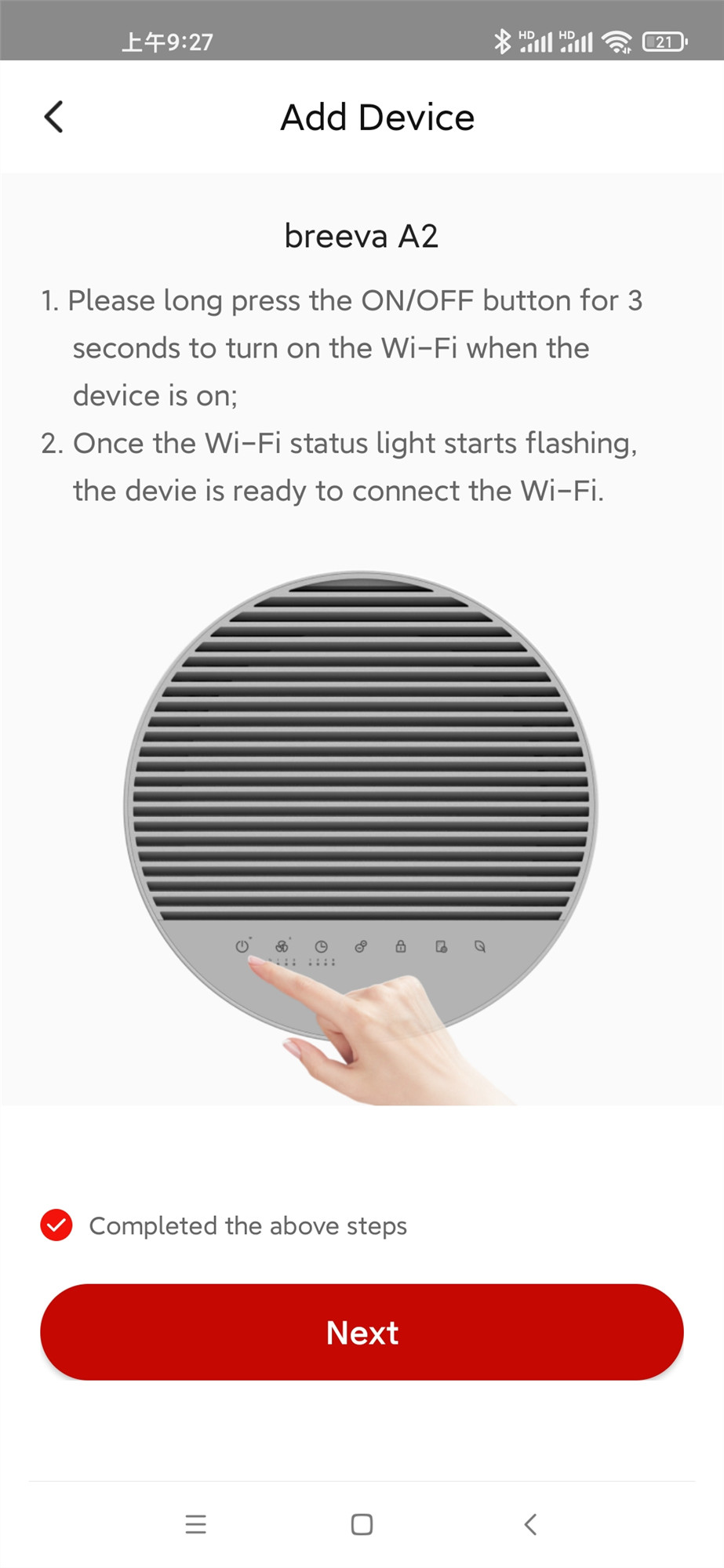 Press and hold the on/off button for 3 seconds to turn on WIFI and connect.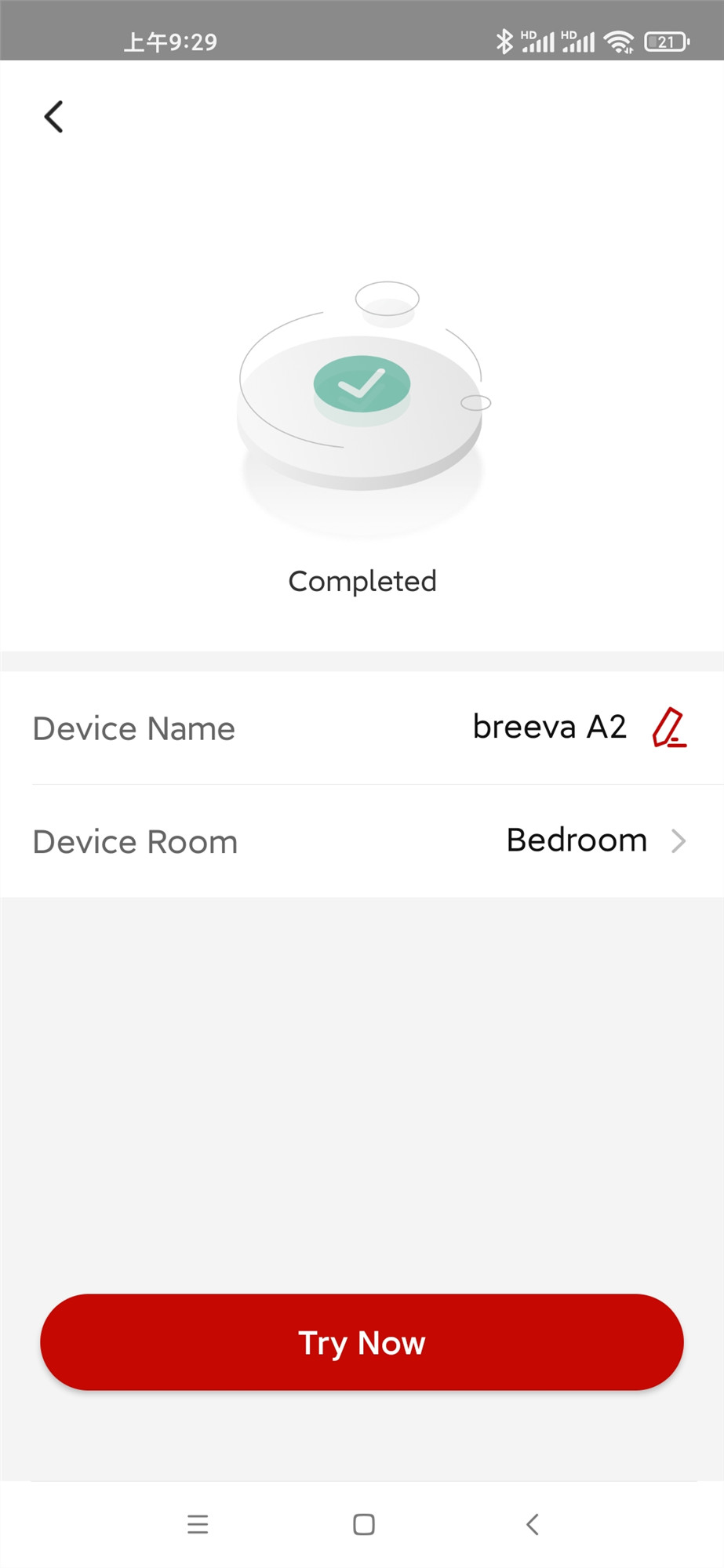 Once connected, you can choose the scenario to use. For example, living room and bedroom. This A2 air purifier, suitable for use in a small bedroom, while TCL breeva A3 is obviously more suitable for living room use.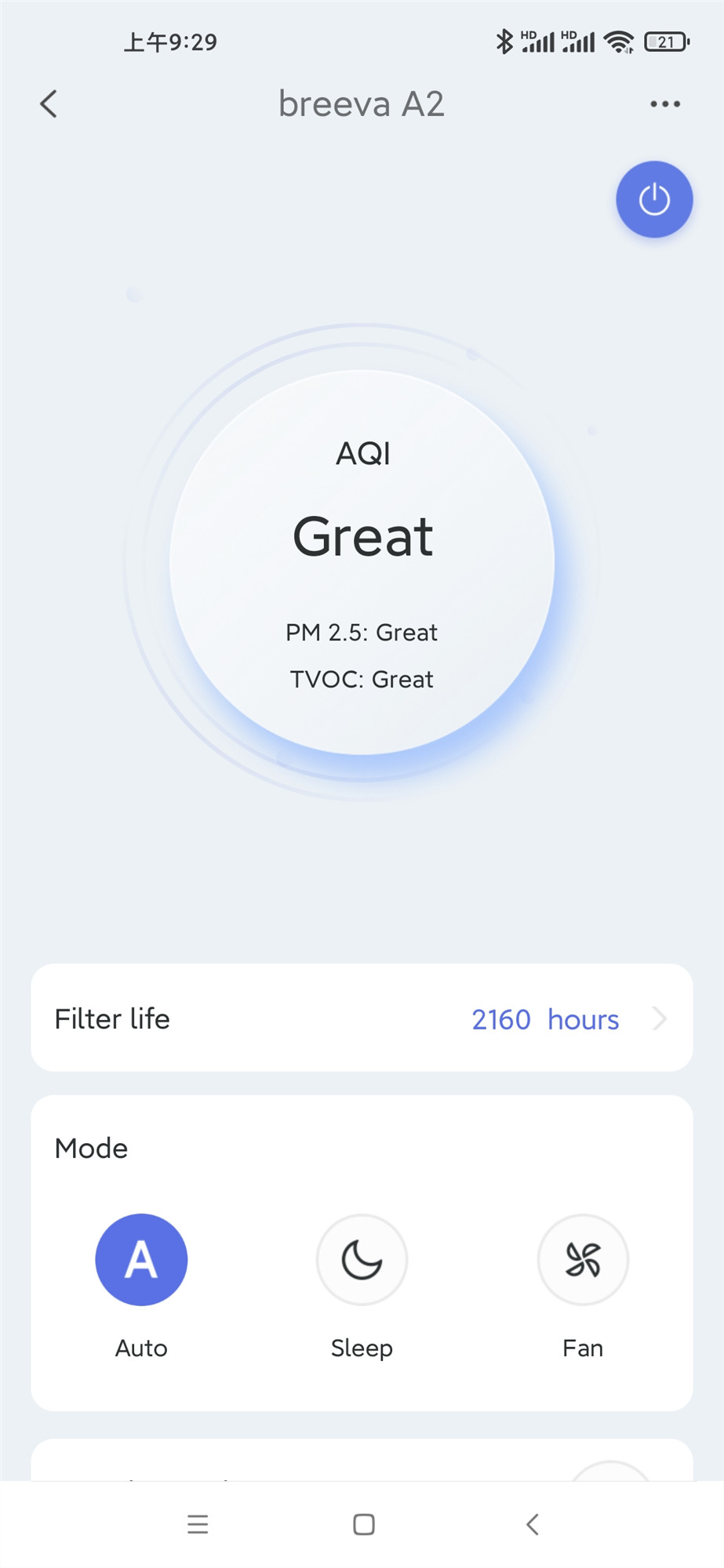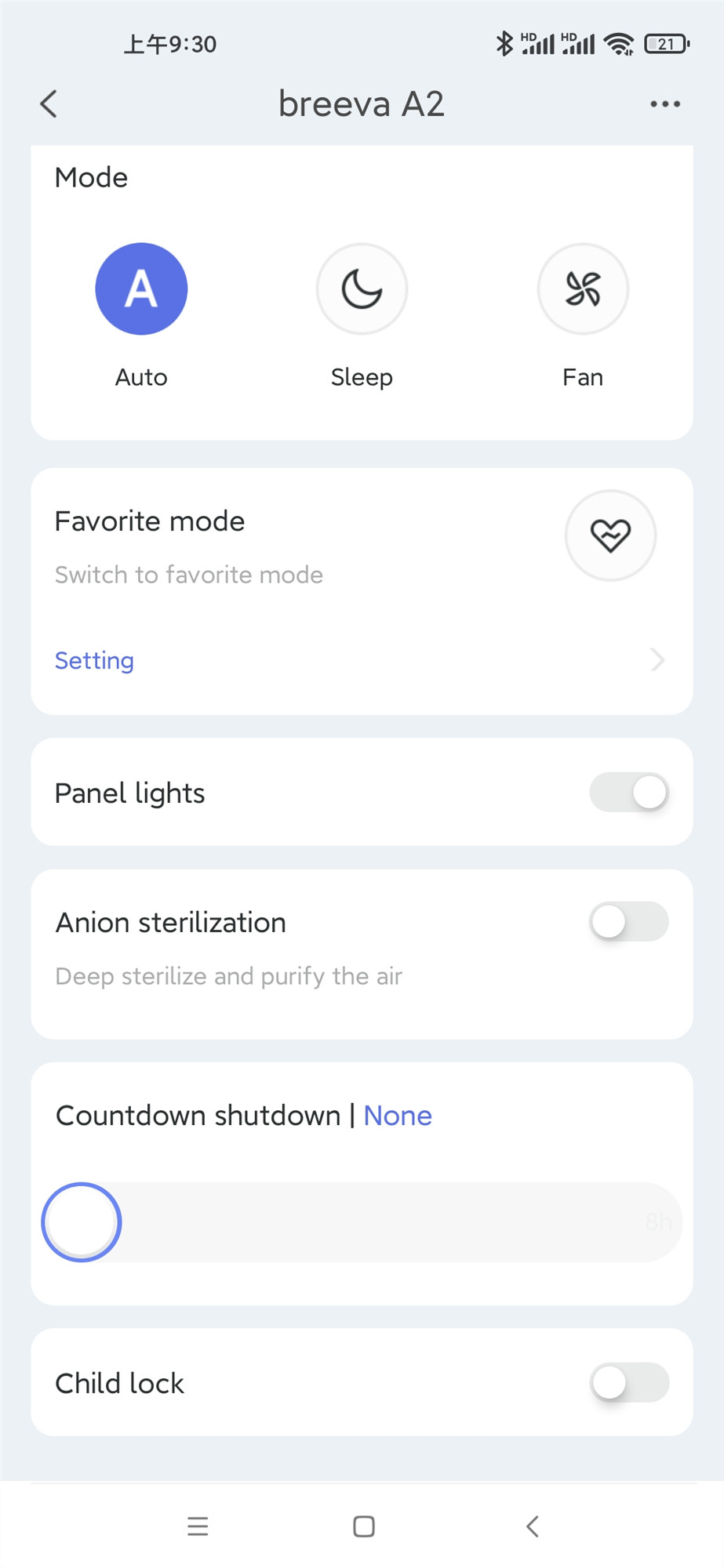 We can use the APP to know whether the air quality of the current environment is good or not, and we can also see the life time of the filter cartridge and other information.
Features
breevaShield: The magic behind the breeva lies in its patented ultra-strong purification system – the breevaShield. Featuring 3 filter layers and protective layers, breeva can capture up to 99.97% of allergens and pollutants, and destroy microbes, molds, and harmful particles as small as 0.3 microns. Meaning, it can protect you from dust, pollen, pet dander, odors, smoke, and VOCs.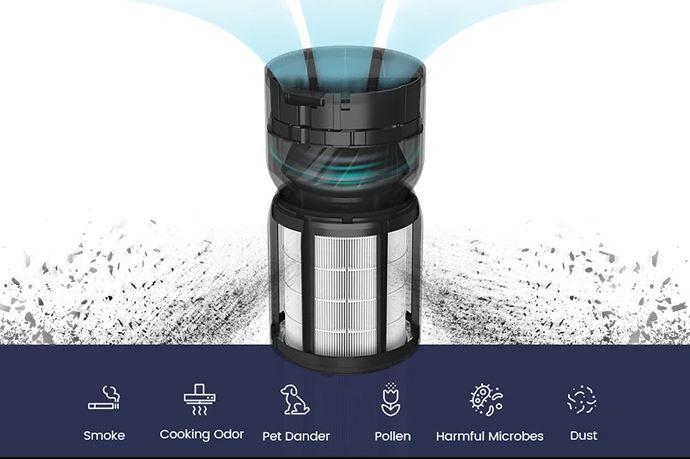 H13 HEPA Filter: breeva uses a medical-grade H13 HEPA filter, which can efficiently remove all particles as much as 99.95%. This filter can last up to 2,160 hours and requires to be replaced every 6 months. A replacement for the breeva A2 costs US$33 and US$40 for the A3.
Dust Sensor: The breeva air purifier can automatically detect second-hand smoke, gases, and airborne particles through its laser / infrared dust sensor and VOC sensor. The laser sensor also allows the breeva to precisely find harmful particles in no time.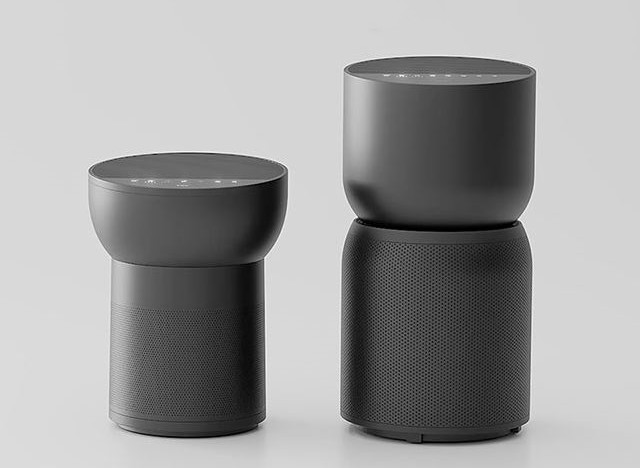 Auto Mode: With the breeva, your every penny is well spent. The air purifier's Auto Mode will automatically adjust the fan speed in real-time to the max cleaning level whenever the air quality in the area is poor.
Smart Control: You can connect and remotely control your breeva with both Google Assistant and Alexa. You can also use the TCL Home application to control and adjust the air quality in your home in real-time, regardless of where you are. So even if you're out shopping, taking a walk, or at work, you have your air purifier readily available at a touch of a button.
Summary
With its product performance, technology, reliability, and overall affordability, the TCL breeva series is a great steal. It's also a plus that it comes from an already known and established company, so you can be sure they'll be around even after the product's campaign ends on Indiegogo. This means the application, filters, and customer support will always be available to you no matter what. Thus, you'll have fewer things to worry about.
Where to Buy
We currently found TCL breeva A2 and A3 Air Purifier in the famous indiegogo platform launched a crowdfunding (breeva A2 is $109, A3 is $119), you know, crowdfunding price will be the most beautiful, if you are interested in it, then hurry up to buy it, the deadline: June 11.