Small and strong, the Zotac Mek Mini range continues its strategy of enclosing high-end components in a tiny box. The newcomers are 25.9 cm high, 26.1 cm deep and 13.6 cm wide and yet offer impressive components.
The first model includes a ninth generation Intel Core i5-9400F processor. A six-core clock from 2.9 to 4.1 GHz. A Coffee Lake generation chip launched in the first quarter of 2019 with 9 MB of cache memory and a 65 Watt TDP. This solution has the particularity of not integrating an Intel graphics circuit, so it is accompanied here by an external Zotac Gaming GeForce RTX 2060 SUPER graphics card with 8GB of dedicated 256-bit GDDR6. A powerful duo for multiple uses ranging from gaming to the production of advanced 3D or multimedia content.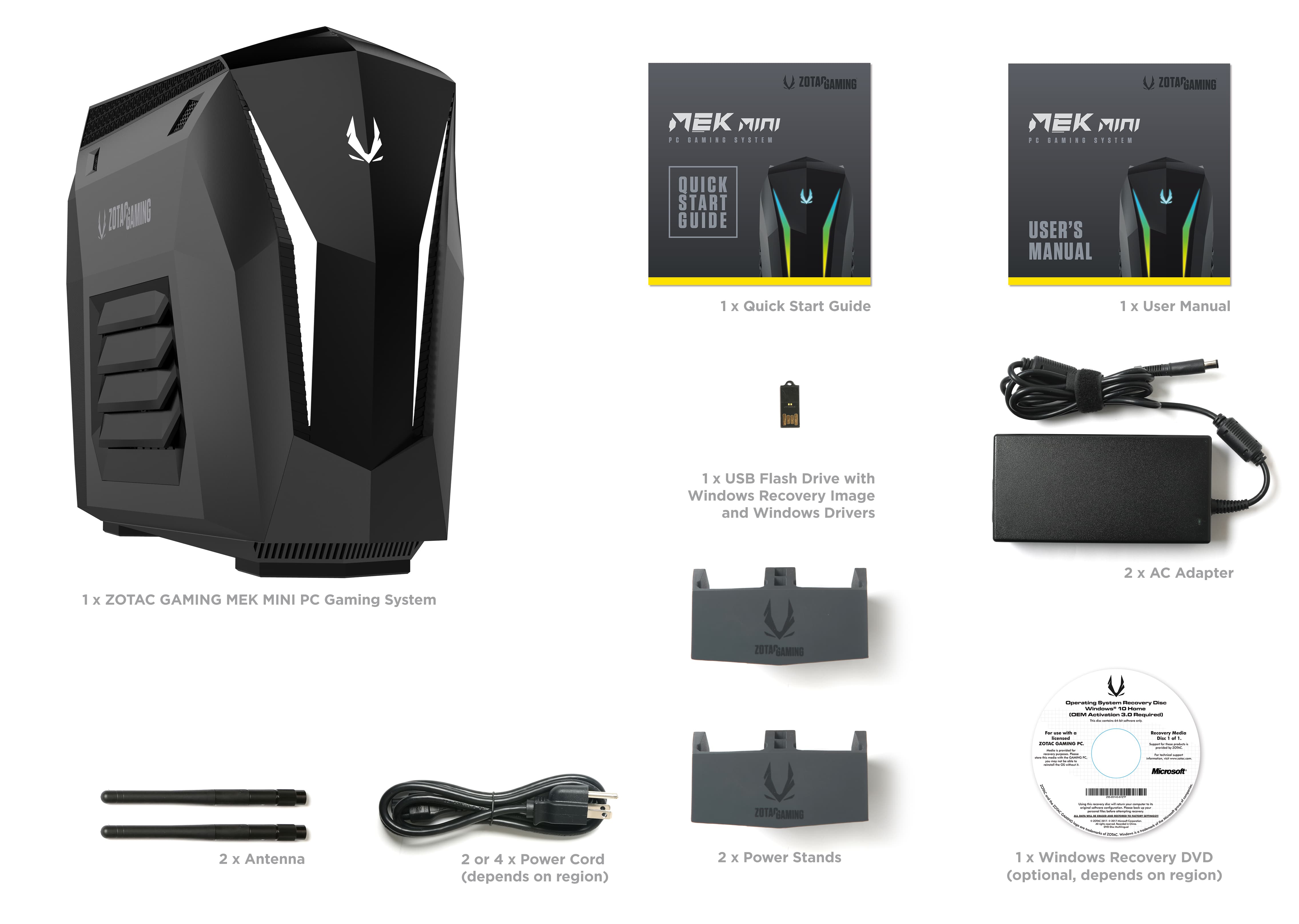 To support this calculation base, this first Zotac Mek Mini will offer 16 GB of DDR4 2666 MHz RAM and a dual storage solution. A system solution where Windows 10 will be deployed in 240 GB NVMe M.2 PCIe M.2 and a second mechanical storage of 1 TB.
The second configuration will be identical but will change components with the use of a ninth generation Intel Core i7 not detailed but it should be an i7-9700 at 65 watts TDP as well. An 8-core solution operating from 3 to 4.7 GHz with 12 MB of cache that will feature an Inel HD 630 graphics circuit this time. Associated with this chip, the brand decided to embed a more powerful Zotac Gaming GeForce RTX 2070 SUPER graphics solution with 8GB of 256-bit GDDR6. The storage is always on two units: a 240 GB SSD PCIe NVMe M.2 and a mechanical disk that goes up to 2 TB this time.
The connectivity of the two Zotac Mek Mini remains as good as ever with a host of connectors at the rear, there are two Gigabit Ethernet ports to drive two networks independently. Three DisplayPort 1.4 video outputs and one HDMI 2.0b port. Two removable antenna ports for the integrated 802.11AC Wifi5 Killer 802.11AC.
On the front, on top of the machine there is access to a USB 3.0 Type-A port, a USB 3.0 Type-C port and a welcome SDXC card reader in addition to the classic 3.5 mm separate jacks for headphones and microphone. Activity LEDs are also present if you do not want to light the carnival LEDs below.
Underneath the machine, we discover a large fan that will help push fresh air into the core of the machine to optimize its natural convection. Except for the front part, all the sides of the machine are widely open and allow as much air as possible to pass through in order to accommodate the TDP watts of the on-board components.
No price information at the moment. Nor on the actual availability of these little monsters. In any case, I am quite impressed with the result because the machines are less than 10 litres1 and will nevertheless offer formidable performance. Note that the machines will be offered in full version only, no barebones. And that the brand will deliver ninth generation Zotac Mek Mini Core with a Gaming RGB keyboard and mouse duo.