GearBerry's online store is mainly dedicated to selling products related to DIY and creative hobbies, but it also offers other interesting items. Kaiweets products are distributed by Gearberry, which can also supply infrared thermometers, multimeters and crimping tools from their European warehouse.
The KAIWEETS KDC01 Crimping Tool is a self-adjustable wire crimping tool that comes with a high-efficiency ratcheting mechanism and a professional crimping die. It has four triangular body crimping jaws that can finish the crimping work quickly and easily.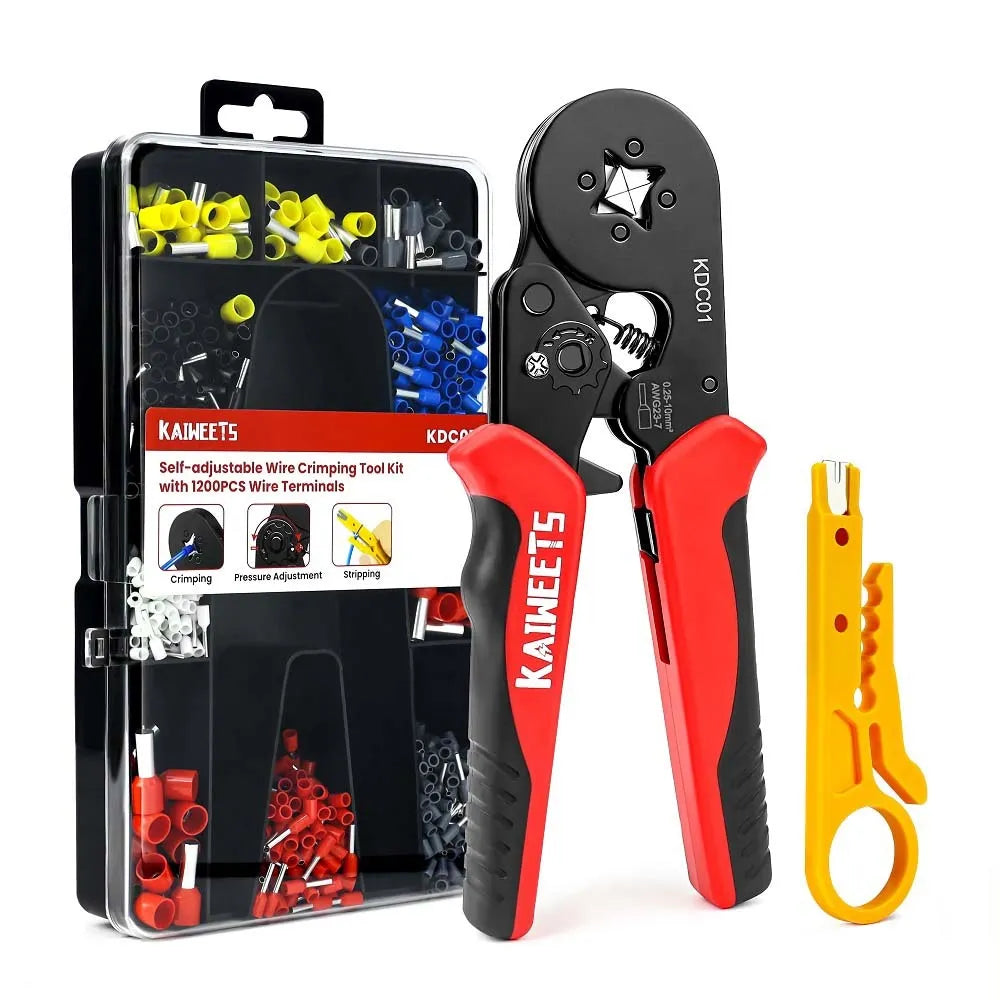 The tool can be used to crimp 0.34-10mm²(22-8 AWG), insulated and non-insulated ferrules. It also has an adjustable pressure knob that helps you to crimp the common size of wires or cables easily. The tool has a quick-release handle that locks the crimper when you press the handle till 3 "Click" sounds up and arrow metal straight.
The KAIWEETS KDC01 Crimping Tool is suitable for electrical maintenance work in workshops, car electricians, machines, automobiles, electric welding, or electrical industries. The package includes 1200x crimp connector, 1x crimper plier, 1x Small Stripper, and 1x collected case.
The KAIWEETS HT118A is a digital multimeter that measures AC/DC voltage, AC/DC current, resistance, temperature, capacitance, frequency, duty-cycle, diodes, continuity, and NCV (non-contact voltage testing).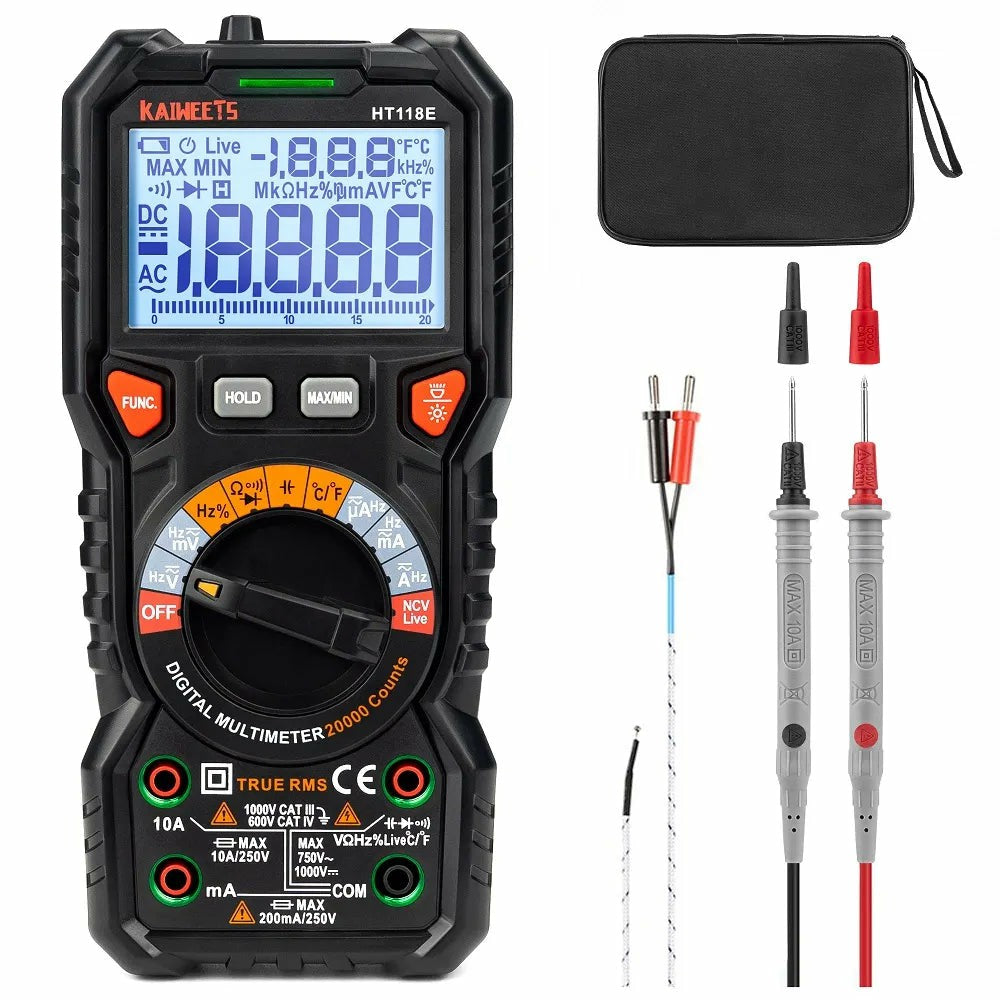 It has a large display for easy reading, and it comes with decent probes and a carrying case. The HT118A has a 6000 count resolution and is auto-ranging, which allows for more accurate measurement results. It also has a flashlight on the back for use in dimly lit places, and a stable kickstand, pen slot on the back, low battery prompt, data retention, and auto power-off.
The HT118A is a value-priced multimeter that is user-friendly, suitably rugged, and has unique features that make it stand out in a crowd of multimeters. If you need a reliable and easy-to-use multimeter, the KAIWEETS HT118A is a great choice.
KAIWEETS Apollo 7 Infrared Thermometer
The KAIWEETS Apollo 7 Infrared Thermometer is a non-contact temperature gun designed for industrial and home use. It is not intended for measuring human body temperature. The thermometer has a simple one-button measurement, premium feel, and two temperature units (℉/℃).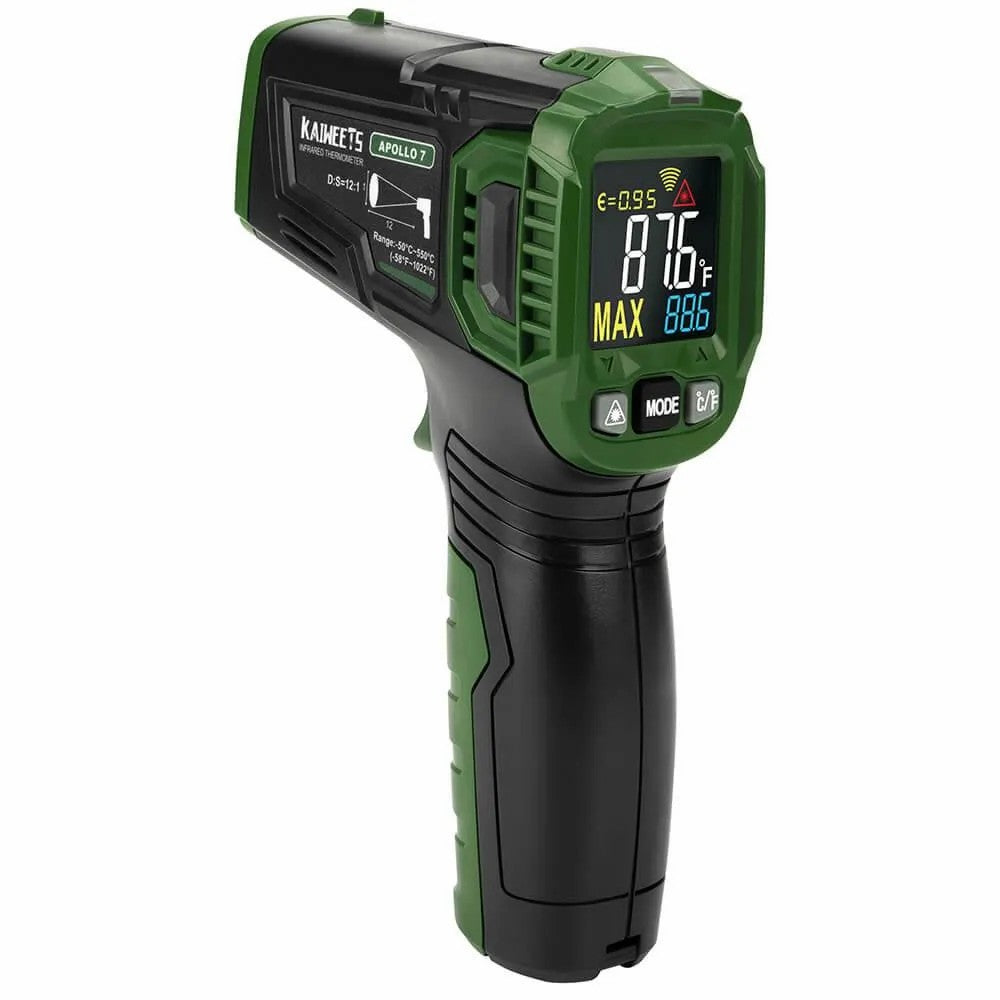 It can measure the surface temperature of inanimate objects with high accuracy up to ±2% in only 0.5 seconds. The temperature range is -50 to 550℃/ -58 to 1022℉. The thermometer is compact and easy to operate, requiring only one hand for all operations. It is suitable for cooking, household maintenance, HVAC issues diagnosing, soap making, water temperature measurement, car engine repairing, and more.
The thermometer has a distance spot ratio of 12:1, emissivity of 0.10~1.00 (adjustable), and response time and wavelength of 0.5 seconds. It also supports both Celsius and Fahrenheit units. The thermometer comes with a waist bag, two AAA batteries, and a user manual.