Unbeatable price – XIDU 13.3″ PhilPad
XIDU 13.3″ PhilPad brings all-day battery life, a 2K (2560×1440) touchscreen display with IPS panel, and easily upgradeable storage, all for $339.99. If you don't need the Bluetooth that the ASUS VivoBook offers, this should be your first pick.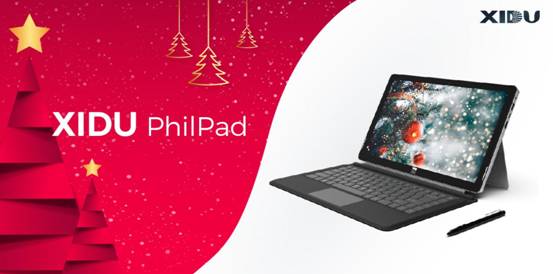 Pros:
6GB RAM
All-day battery life
2.4 GHz processor speed
2560 x 1440 Display Resolution
Integrated Graphics
Keyboard Input
2.75 lbs weight
IPS panel display
Cons:
Bluetooth selection lacking
Processor count – 2
Bluetooth selection – ASUS 14″ VivoBook

ASUS VivoBook with the price of $ 550.68 has a Bluetooth selection. The 4GB RAM size will likely drive most people to the XIDU unless ports and network are a top priority.
Pros:
Pentium processor
Bluetooth selection
14 in Full screen size
Processor Count – 4
Cons:
4GB RAM
1.1 GHz Processor Speed
1920×1080 Display Resolution
2.87  lbs weight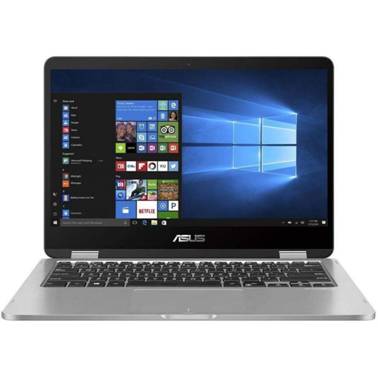 These two laptops have different price, and they both have their perks and downsides. Let's take a close look at exactly why you might want to opt for one or the other.
XIDU 13.3″ PhilPad vs. ASUS VivoBook tech specs
| | | |
| --- | --- | --- |
| | XIDU PhilPad | ASUS VivoBook |
| Operating System | Windows 10 | Windows 10 |
| Processor Series | Intel Celeron | Pentium |
| Processor (CPU) Manufacturer | Intel E3950 Quad-core | Intel |
| Processor Speed | 2.4 GHz | 1.1GHz |
| RAM | 6GB | 4GB |
| Graphics Coprocessor | Intel HD Graphics 505 | Intel UHD Graphics 605 |
| Graphics Description | integrated | —— |
| Hard Disk Description | emmc | emmc |
| Hard-Drive Size | 128 GB | 64 GB |
| Wireless Compatibility | 802.11ac | 802.11ac, Bluetooth |
| Processor Count | 2 | 4 |
| Item Weight | 2.75 lbs | 2.87 lbs |
| Item Dimensions | 13.3 x 7.9 x 0.4 in | 9 x 20 x 3 in |
| Human-Interface Input | Keyboard, Touchscreen | Touchscreen |
| Display Resolution Maximum | 2560 x 1440 | 1920×1080 |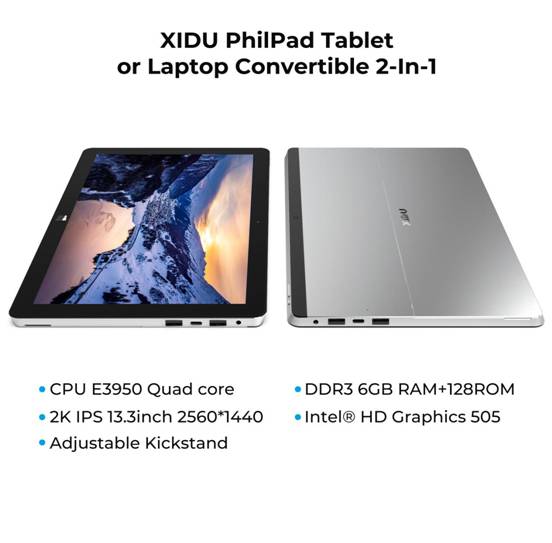 XIDU 13.3″ PhilPad vs. ASUS 14″ VivoBook Design
With 17mm-thickness and 2.75 lbs, XIDU's PhiPad is slightly thinner and lighter than that of ASUS's VivoBook. But it is undeniable that both are portable and can be hardly noticeable when packed into a laptop. Featured by metal silver shell,they all can provide better and clearer visual experience.
Both have a hinge design, and where the XIDU's lid only opens to about 135 degrees, the ASUS's lid reaches back far enough to lie flat. But PhilPad comes with two modes, laptop, and tablet mode respectively. Move the detachable keyboard, adjust it to tablet mode and watch your favorite TV series in your spare time. At work time, assemble the keyboard and enjoy the smooth and pleasant experience of PhilPad while you operate various software at the same time. Featured by ergonomic soft keyboard, it is comfortable to type on a compact device and the 135° Rotatable kickstand enables you to use it at various angles. Other than two modes for spare and work time, XIDU's PhilPad is also equipped with a keyboard and pen which make it a perfect choice for your daily life and work (please prepare a AAAA battery for the Pen).
Although the ASUS easily wins with its Bluetooth selection, offering Intel 802.11b/g/n/ac (2×2), Wi-Fi and Bluetooth 4.1 Combo, 1 USB 3.1 Type-C, Gen 1 1 Micro USB 2.0, 1 Micro HDMI Headphone out/audio in combo jack. These ports make it easier to connect external accessories without a docking station or USB hub. While the XIDU's 1 USB Type-C, 2 USB 3.0, 1  Microphone Jack, 1 MicroSD card slot, 2 Speakers, 1 Power button, 2 Volume +/-, 5MP Rear Camera, and 2MP Front camera are not inferior in any respect.
XIDU 13.3″ PhilPad vs. ASUS 14″ VivoBook Display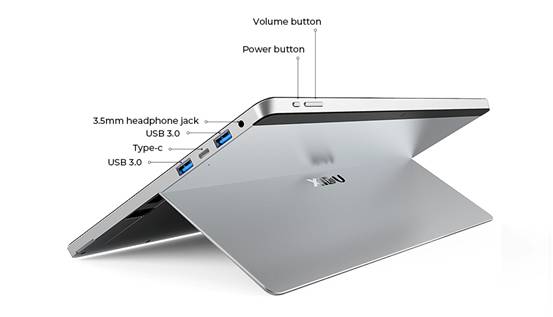 Budget laptops usually see a low-resolution display to help keep costs down, but these two laptops step up the screen with 2K (2560 x 1440) which shows clearer images than ASUS's VivoBook (1920×1080). There is something in common, that is, the type of panel in use. Both XIDU's PhilPad and ASUS's VivoBook adopt the IPS screen which works well when viewed from the side and offers much wider viewing angles, making it easier to see for anyone who's not directly in front of the screen.
Brightness is about the same in both laptops, and you might have some issues working in a well-lit room. As far as budget laptops go, both laptops deliver an above-average viewing experience, though the PhilPad 13.3 inch does edge out the ASUS.
XIDU 13.3″ PhilPad vs. ASUS 14″ VivoBook performance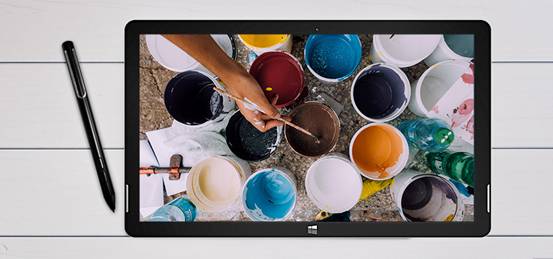 When picking out a laptop less than $500, it's expected that performance won't handle much more than lightweight productivity tasks, like word processing, web browsing, and video watching. The PhilPad's Intel E3950 Quad-core processor max up to 2.4GHz, which delivers 30% more processing and 45% better graphics performance on Windows versus previous-generation processors. Even heavy games can run smoothly and clearly on this laptop. What's cooler is its four cores that can handle multitasking easier than the dual-core Intel CPU in the VivoBook. laptops Compared with 4GB RAM adopted by VivoBook that only can handle non-intensive work, the PhilPad has 6GB RAM, demonstrating fast and high-class experience. Will you notice a difference in performance? Likely not, but it's still notable.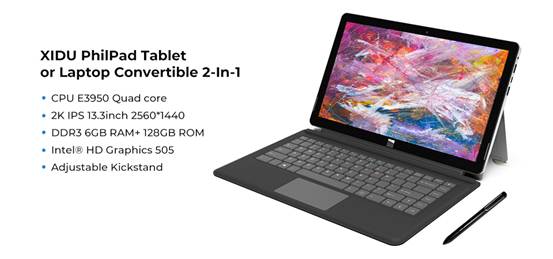 Wanna know more XIDU Products? Please refer to : https://xidustore.com/products/xidu-philpad-2-in-1-touchscreen-laptop
We also have Amazon US, UK, FR, ES, IT, DE stores and Aliexpress store that offer great discounts.Don't miss out on the perfect New Year gift for you!
And snatch XIDU Coupon codes here.