The CO2 laser machine market is about to witness a revolution with the launch of xTool P2, a smart, cutting-edge, and incredibly powerful desktop CO2 laser machine from xTool. This amazing device will shake up the whole industry with its unique features and technology.
It will raise the bar for CO2 lasers and offer some innovative and futuristic capabilities that have never been seen before in CO2 or any other kind of desktop laser on the market. The teaser video has already created a lot of buzz among laser enthusiasts and small business owners who are eager to get their hands on this masterpiece and take their business to the next level. Let's take a look at some of the stunning features of xTool P2.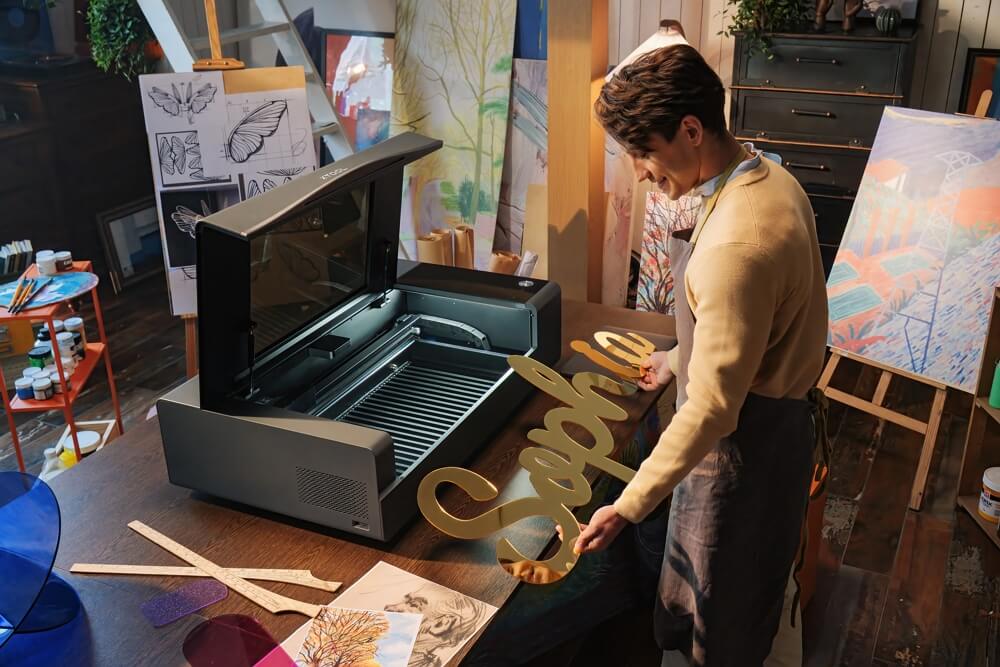 2. What Makes xTool P2 Stand Out from Other CO2 Laser Cutters
Auto-passthrough
Due to this feature, the material can be entered from one end and taken out from the other. The length can be infinite as long as you can hold the material. You can also get the conveyor feeder to feed the material automatically.
Curved Surface Engraving
With other laser machines, you can only engrave flat objects. There is no option for curved objects because the focal length remains the same.
By using advanced technology, xTool has taken laser engraving to another level. The machine can construct the 3D model of the curved object automatically. Then, it can easily engrave it by adjusting the focal length as required. You get clean and perfect results without extra effort.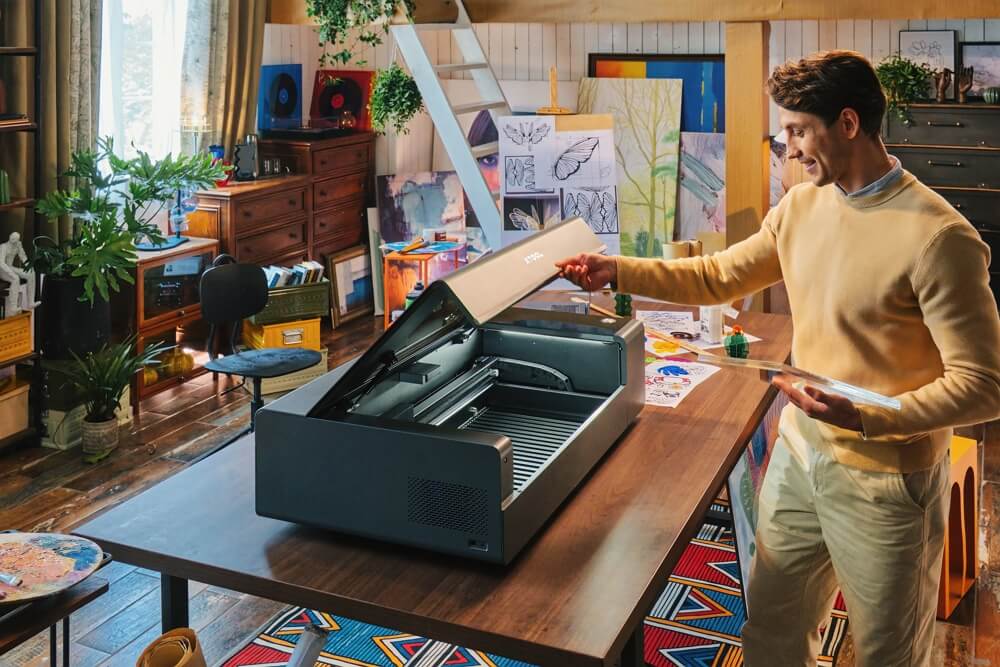 Cuts Like a Hot Knife Through Butter
The laser machine is immensely powerful. Its optical power is 55W, which can easily cut thick objects in no time. You can easily cut up to 18mm black walnut and 20mm acrylic in only one pass.
Due to high power, the maximum engraving and cutting speed of the machine can reach up to 600 mm/sec and 250mm/sec. It can cut at 6 times the speed of a common diode laser machine. You can make products and items in less time, which increases your overall productivity.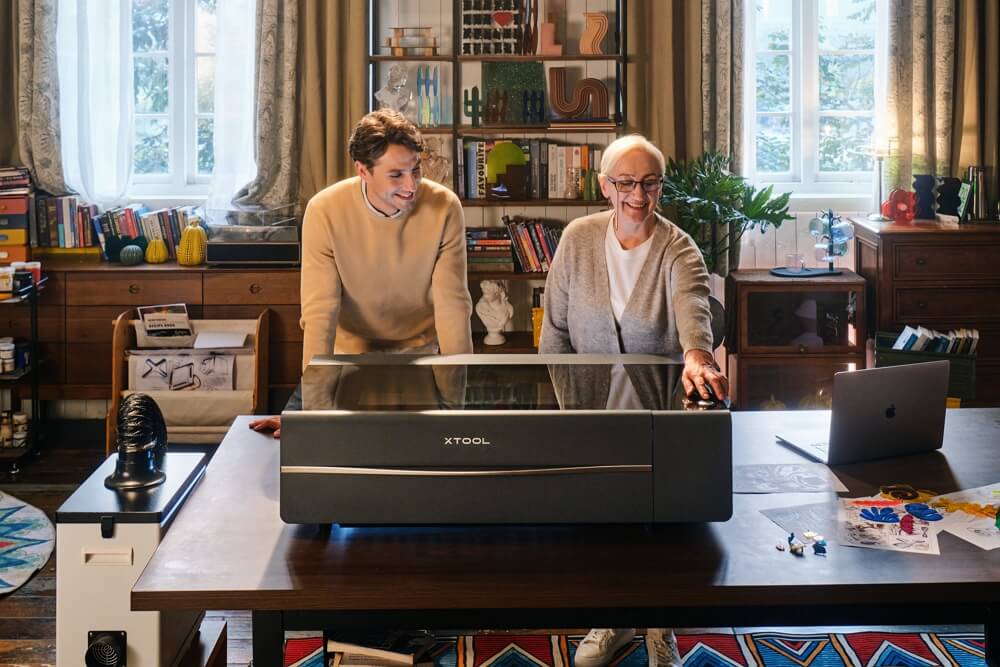 Larger Bed Size
The commonly available CO2 laser machines have a very small bed size, which is why you are limited in the objects/products you can make.
The processing area of xTool P2 is 23.6 inches x 12.1 inches. It is more than enough for most of the products. Secondly, the auto-passthrough helps you engrave and cut infinite long objects.
The height of the object can be up to 2.7 inches. But if you want to engrave higher objects, it is not a big deal; just attach the riser base and start engraving whatever you want.
Thus, you can make a wide variety of products and turn your imagination into reality without any boundaries and limitations.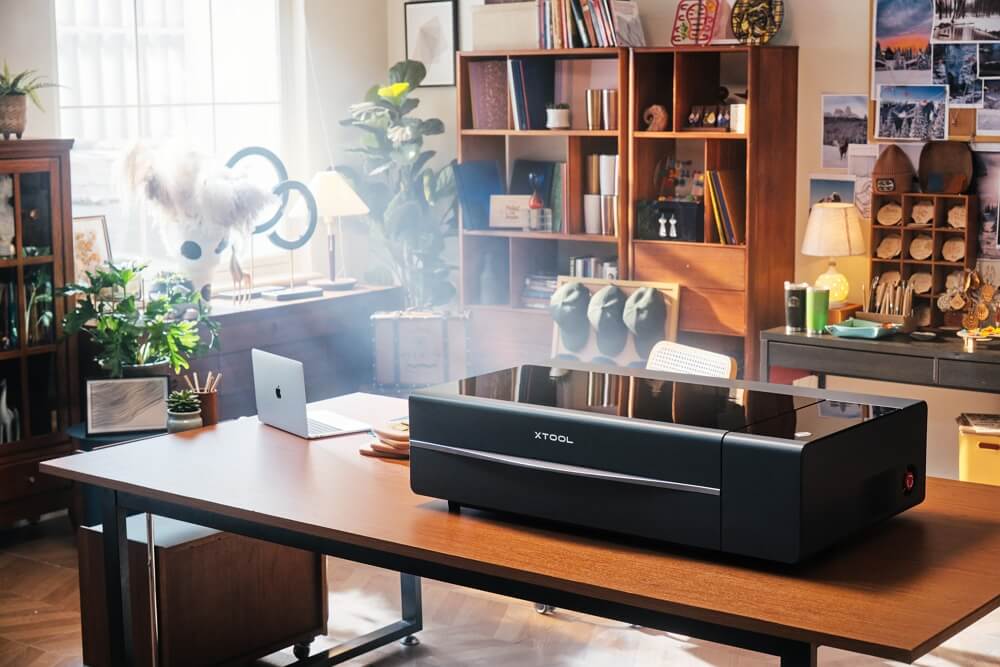 Multiple HD Cameras
The machine is equipped with two 16MP cameras. These help in making the machine more advanced in terms of features, including auto-focusing, curved engraving and batch processing. It ensures high accuracy and makes focusing the laser machine easier.
Through the Panoramic camera, the machine can capture the whole working space in seconds. You get a complete real-time preview that helps you alight the design on the objects and get perfect results.
Surprisingly, if you want to get a closer picture of any spot, you can use the close-range camera. It moves along with the laser head and captures whatever you want. You won't find this in other laser engraving machines.
4-in-1 Rotary Engraving
The machine is compatible with RA2 Pro, which is the world's first four-in-one rotary attachment. It helps you engrave 90% of the cylindrical and spherical objects.
The rotary can work as a chuck rotary, roller rotary, sphere rotary, and ring rotary. With that being said, you can engrave tumblers, mugs, wine glasses, balls, baubles, rings, or whatever you like. This one rotary is a versatile attachment.
Safety and Cleanliness at Their Peak
xTool has paid extra attention to the safety of the users. Firstly, the laser head is completely enclosed, so there are no chances of harming yourself. You can even watch from the light-filtering lid.
The lid of the machine is automatically locked to ensure the safety of kids and pets. Moreover, there are emergency features, such as the emergency stop button. Additionally, you can attach the auto fire extinguisher. It will detect the flame or fire and extinguish it on its own at the right time without harming the machine.
The machine also has warning systems for users. It helps them keep the machine up to mark to prevent accidents.
There is nothing to worry about the smoke as the machine is completely enclosed. Secondly, there is a powerful built-in air assist and an exhaust fan to remove the smoke and other particles.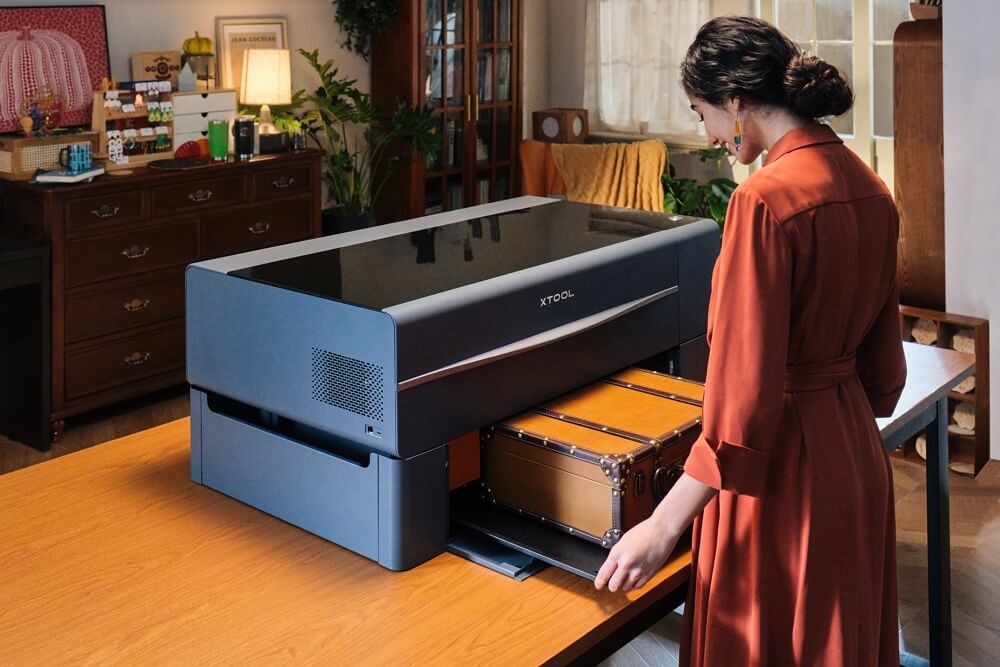 Work on More Materials
xTool P2 is a versatile CO2 laser machine that can cut and engrave various materials with high efficiency and precision. Thanks to its high wavelength (10,649nm), CO2 laser has better absorption than diode laser on materials like acrylic, glass, wood, and rubber. This means xTool P2 can cut acrylic of any color and engrave directly on glass without any extra steps. The machine can also work on coated metal, anodized aluminum alloy, and anodized titanium steel. You can even mark stainless steel by spraying coating on it first. With xTool P2, you can expand your product range and unleash your creativity.
User-friendly Software
Whether you are a laser novice or a veteran, xTool P2 has you covered. It is compatible with both beginner-friendly software xTool Creative Space and expert software Lightburn, giving you the freedom to choose the best option for your needs.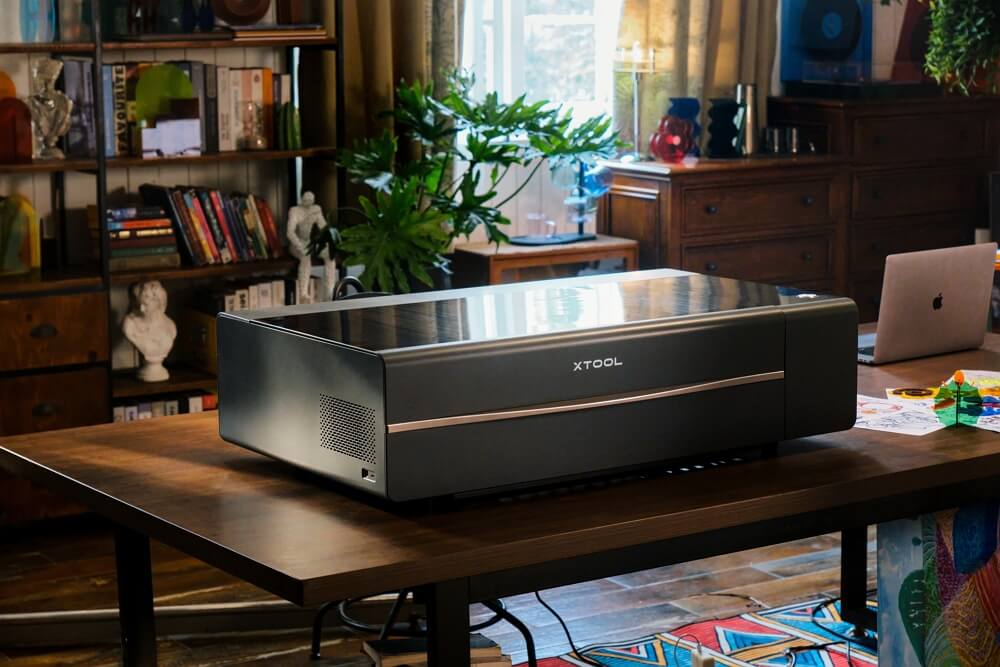 3. Use xTool P2 to Start or Grow Your Own Laser Cutting Business
You can take your laser cutting business to the next level by upgrading to xTool P2. It is an immensely powerful, extra intelligent, and versatile machine. You can work on a wide range of non-metals as well as some metals (engraving only).
It offers advanced features that enable you to make a variety of products and cut different materials in minimal time. It eliminates boundaries and makes your work much faster, cleaner, and perfect. The best part is that your safety is ensured, and you can use the machine without any prior experience or extensive knowledge.
If you are thinking about a small laser business from your some, check out these laser business guides and success stories.
Happy Earning!