With a volume of 2.65 litres, the Zotac Magnus EN targets both the general public looking for an ultra-compact, high-performance solution and professionals. The solution presented in two flavors – Core i5 RTX2060 or Core i7 RTX2070 – will correspond to different uses of a modern computer in a fraction of its volume.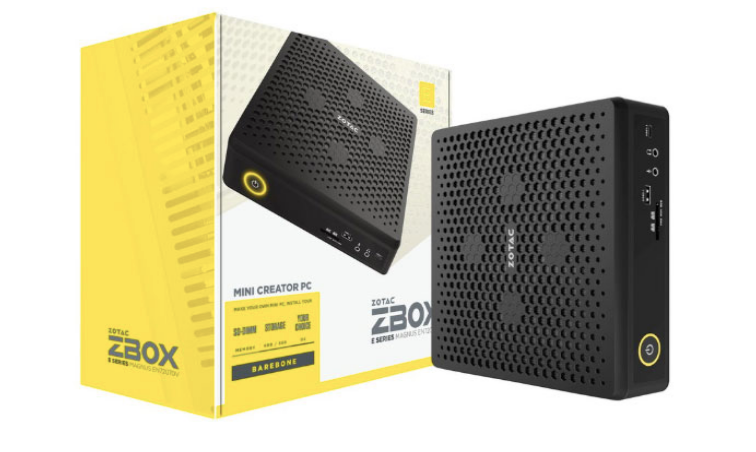 With a width of 21 cm, the smallest side of an A4 sheet of paper, by 20.3 cm deep and 6.22 cm high, the two mini machines will be offered as usual in several versions by Zotac. The first will be a bare barcode that allows you to easily add the components of your choice to storage and RAM.
Two DDR4 SoDIMM slots are available for a maximum of 32 GB of embedded memory. The storage will be composed of three elements with a 2.5″ SATA 3 slot but also a port supporting PCIe x4 or SATA3 formats for a very fast SSD in M.2 2280 and a second slot to add an Intel Optane cache solution. With this trio, it will be possible to build a good storage base with, for example, a very fast NVMe SSD for the system and a SATA3 SSD improved by Optane of 1 or 2 TB for larger elements to store.

The Zotac Magnus EN52060V features an Intel Core i5-9300H, a mobile sector chip with four cores and eight threads with 8 MB cache and rotating from 2.4 to 4.10 GHz in a 45 Watts TDP. It will be combined with a Nvidia GeForce RTX 2060 graphics solution with 6 GB of 192-bit GDDR6. A duo muscular enough to offer great performance to a machine of this size.
The Zotac Magnus EN72070V uses the same recipe but with an Intel Core i7-9750H. A processor still from the mobile sector offering six cores and twelve threads with 12 MB of cache memory still in a 45 Watt thermal envelope. The embedded graphics circuitry is upgraded with a Nvidia GeForce RTX 2070.

Enough performance for the brand's many tasks with this range: video editing, graphic design, image editing, streaming, 3D animation and of course the classic private use of video games or multimedia playback.
The connectivity offered is, as always, quite wide at Zotac with an SDXC card reader on the front, a USB 3.1 Type-A port and a USB 3.1 Type-C port as well as separate 3.5 mm jacks for microphone input and headphone output. In the back, we discover a festival of ports. Two Killer Gigabit Ethernet outputs. The first one in Killer E3000 and the second one in KillerAX1650 for maximum throughput and the possibility to address two networks. Practical for controlling, for example, an exit to the Internet on one side another local network with its NAS data storage.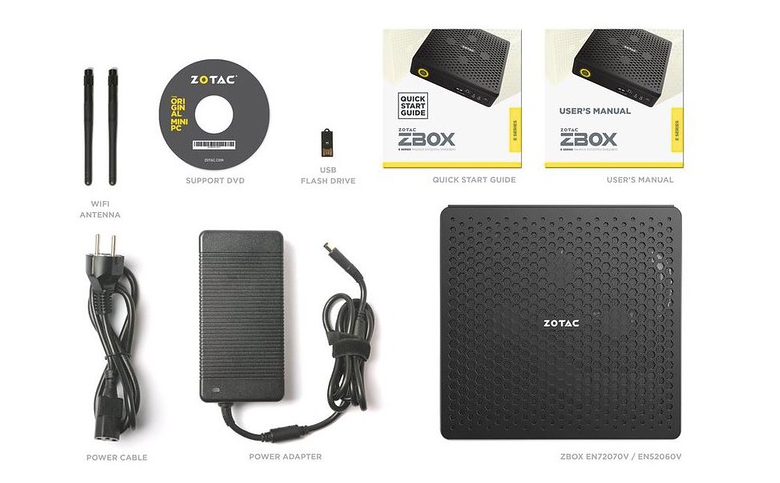 Two removable antenna ports are also included to drive the AX1650 Wifi6 on-board network associated with a Bluetooth 5.0 module, two HDMI 2.0B outputs, a DisplayPort 1.4 output and a USB Type-C port with data support and video signal support capable of supporting direct displays or HDMI or DisplayPort extensions. Four USB 3.0 Type-A ports complete the picture. A range of machines that is completed with this new series, remains to be seen the prices of these bugs and their actual release date in store.