Same chassis as the rest of the range, the Zotac ZBox Pico PI430 is an impressive compact machine. It plays on the same board as the Pico PI335 model, for example, which features a Celeron Gemini Lake N4100. But unlike this one, the brand chose an Amber Lake Core m3-8100Y processor.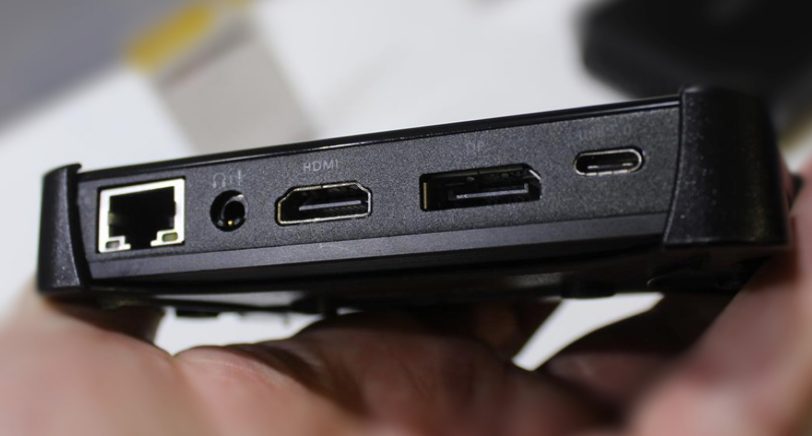 We find the same chassis 11.5 cm long by 7.6 cm wide and 2 cm thick. As well as the same hanging system that allows it to be fixed in VESA behind a screen or on a piece of furniture or fixed to a wall as here. The Amber Lake chip is a dual core 1.1 GHz with 3.4 Ghz in Boost mode developing 5 watts of TDP. It is equipped with an Intel UHD 615 processor.
Inside the Pico PI43 chassis, a complete system with 4GB of DDR3L and 128GB of storage. This is enough to run the Windows 10 delivered by default. The connectivity is very complete. One HDMI 2.0 output and one DisplayPort 1.2 for video outputs. One USB 3.0 Type-C port without video signal management however, two USB 3.0 Type-A ports as well as a power jack and a MicroSDXC card reader. The mini machine offers a Gigabit Ethernet port as well as a Wifi 5.0 and Bluetooth 5.0 module.
The 5 watts of the processor provide the ZBox Pico PI430 with 100% passive operation. It will therefore not generate any noise and will not break down due to wear and tear on mechanical parts.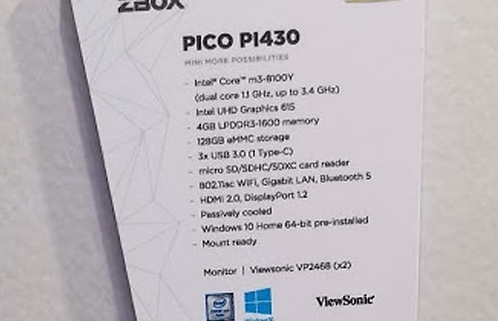 Clearly oriented for professional use, this solution could be followed by new, more muscular versions in the future. It could also be oriented towards a box stamped "pro". In the absence of any scalability, however, this remains a choice to be made with tweezers for a classic private use. It will be better to move towards more open machines for traditional uses. In any case, it is a real evolution since the Pico Pi335 which was fighting with 32 unfortunate gigabytes of non-evolving eMMC… The 128GB allows to consider multiple uses for a device of this caliber, even for a private individual.