The sleight of hand is quite fun, the Compal Voyager is still a prototype presented to the IF Design competition by the manufacturer. Like its Fullvision and its PivoBook, it is a concept of machine intended to arouse the interest of the customers of the brand without it being known if they will be manufactured one day.
The biggest selling point of this machine is the keyboard. When you unfold the screen, the keyboard will deform accordingly, split into two parts, rotate 90 degrees and then combine them together. The advantage of this design is that the conventional 13-inch notebook keyboard can be placed on the 11-inch notebook, which can not only ensure the feel of the keyboard key positions, but also ensure the compact body. This is somewhat similar to the ThinkPad 701C "Butterfly Machine" of that year, but the design is more ingenious and exquisite.
The Compal Voyager is an interesting and original machine in its approach. The basic idea is to take the dimensions of a classic 11.6″. You have to understand what Compal means by that. The machine corresponds to the dimensions of an 11.6″ from a few years ago, when the screen borders were still a good centimeter and a half. This explains how the brand can slide a 12″ screen into this frame which would otherwise be too narrow. Nothing new about that. Other brands have played this game in recent years and this is how we saw 15.6″ appear on the blog since they used the usual 14″ format.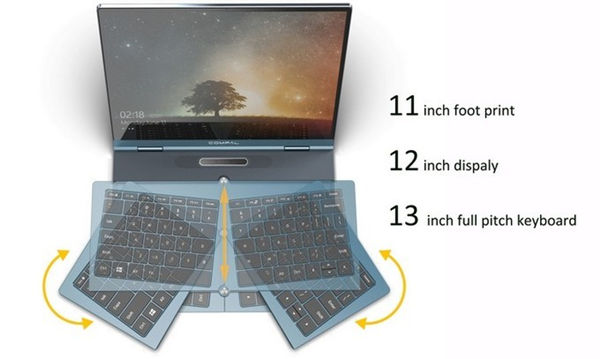 What is more original, on the other hand, is the use of a 13″ keyboard in this same chassis thanks to a solution that deploys as needed. We remember the "Papillon" keyboards from IBM. Here, Compal uses a different solution with a system that rotates each side of the keyboard in an original way. This allows for a more comfortable typing in a space that is always reduced.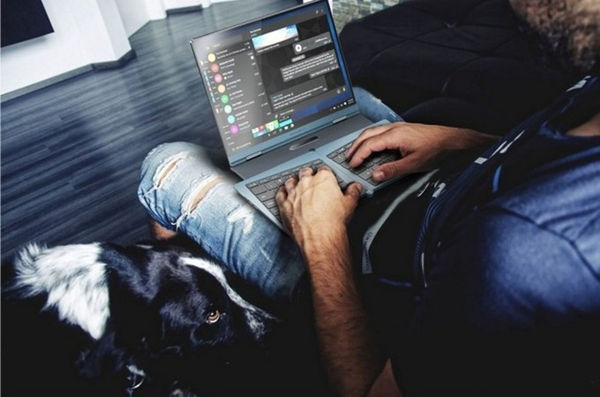 Another key point, the keyboard is more ergonomically arranged by placing the keys on each side with a slight inclination relative to the axis of the screen. We find a provision specific to Ergo solutions from keyboard manufacturers. The idea is good even if this kind of mechanism is always a little scary over time. Difficult to know how this kind of solution will work after 500 or 1000 openings and closings. But the overall idea is pleasant.