ADO A20 350W 36V 10.4Ah 20 inch Electric Bike
Launched via a online store on Banggood, the new ADO A20 Electric Bike is now available. It is a folding electric bike that features a minimalist design, light weight and high range, suitable for city riding.
Although billed as a new model, the ADO A20 appears to be more of a minor upgrade to the ADO Z20C, the model released last year. I say this because the technical specifications are the same, the design is unchanged, and the only changes are to the folding system and the handlebar display.
Compared to last year's model, the ADO A20 brings a completely new folding system. Now both handlebars and frame can be tightened, the folding system is similar to that found on Fiido bikes. This allows it to even sit in the trunk of the car, which was impossible on the previous version that only had folding handlebars.
The battery is removable, integrated into the frame, which means it can be removed for charging at home. A full charge takes 6 hours. It has a capacity of 10.4Ah and according to the specs, should give a range of up to 80 miles on a single charge, used in 'Assist' mode – the motor helps for easier pedalling. It can also be used as a classic bike, for this purpose it has 6 gears and a Shimano derailleur.
HIMO Z20 VS. ADO A20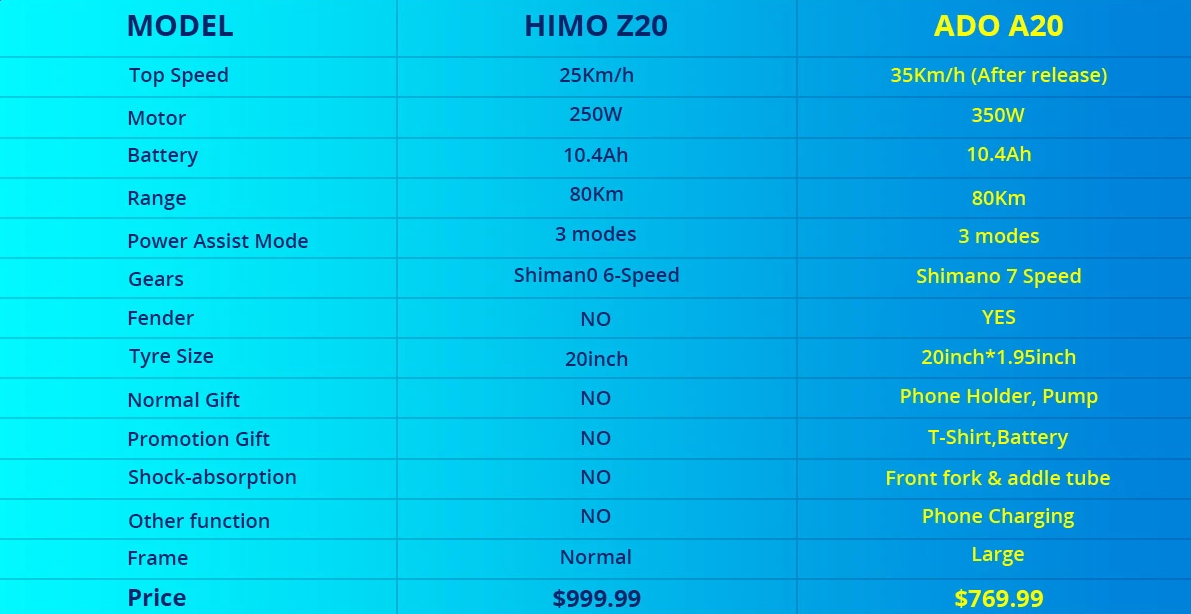 The wheels are 20 inches and the brakes are disc brakes on both the front and rear wheels. The saddle is height-adjustable and the bar inside also works as a pump. Another new feature that the ADO A20 brings is the LCD display on the handlebars, which has better quality. It promises to be visible even in daylight. Its features don't lack the headlight and the stopper.
Thanks to its very good road holding and its wide tires, we quickly take confidence, and it is true it is difficult to fall with this bike, however that does not mean that it will never happen, especially if you are the stuntman type. You should not be negligent on the elements of protection, a helmet is essential, elbow pads and knee pads will certainly not be too much.

Super Surprise ( May 6th – May 31th )
Super Surprise-A:
During the promotion period, the first ten customers everyday who purchase ADO A20 electric bicycles can get an extra battery for free. A limited number of free gifts, first-served basis.
Super Surprise-B:
During the promotions, we will randomly select 10 lucky customers every day to give a high-quality ADO cycling T-shirt ( Random color )